Opinion
Will Vaughan Gething's leadership hopes survive a grilling at the Covid inquiry?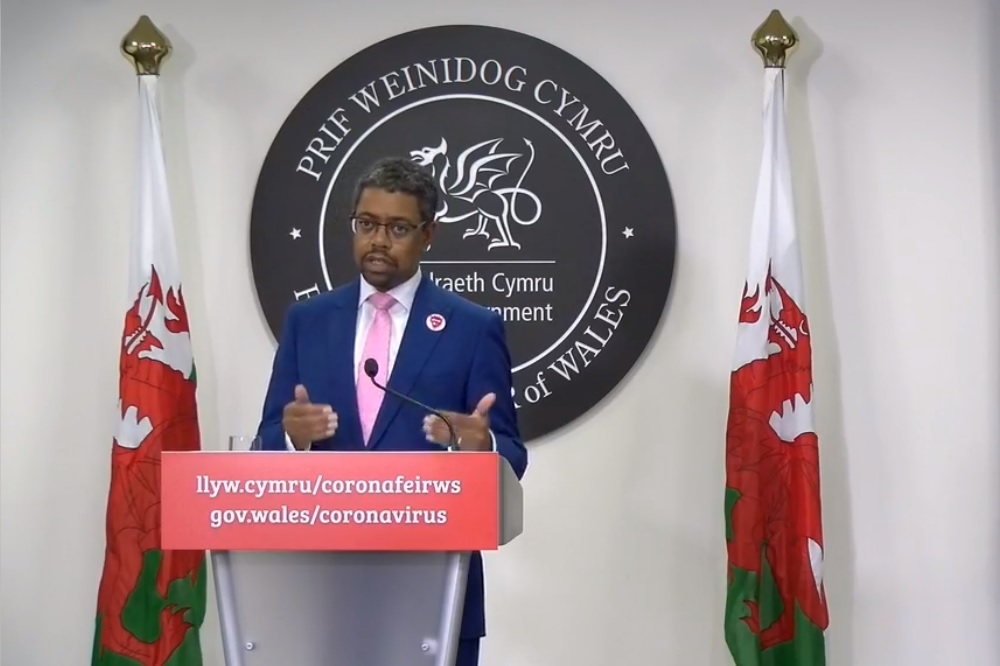 Martin Shipton
If Partygate hadn't happened, would Boris Johnson's reputation have survived intact?
It's a pertinent question to ask in the week when public hearings began at the UK-wide Covid Inquiry.
Johnson was brought down by his flagrant breaches of lockdown rules and the lies he told in a ludicrously ill-judged attempt to cover his tracks. Like a mediaeval king surrounded by sycophantic courtiers, he believed himself to be unassailable. He was convinced that the same adoring public that he had seduced into voting for Brexit and had then given him an 80-seat Commons majority would forgive him his little Downing Street parties.
But with large numbers of people mourning lost loved ones, the issue was too serious for Johnson's usual buffoonery to work and his extraordinary run of luck came to an end.
Yet even without his own personal transgressions, the likelihood is that catastrophic mistakes in the handling of the pandemic would have caught up with him in due course. He delayed the start of the inevitable public inquiry until there was no chance that its outcome would be published before the next general election.
But the inquiry is now underway and while history has already made its mind up about Johnson, other reputations are on the line.
The Welsh Government decided not to commission a Wales-specific Covid inquiry and we are having to make do with a UK-wide one. Anna-Louise Marsh-Rees, the lead spokeswoman for the organisation Covid-19 Bereaved Families for Justice Cymru, which has been granted core participant status, is in no doubt that the Welsh Government, and in particular First Minister Mark Drakeford and former Health (now Economy) Minister Vaughan Gething will have their reputations severely tarnished by what emerges from the inquiry.

Lack of preparedness
The questioning at this early stage of the inquiry will relate to the government's lack of preparedness for the pandemic.
Ms Marsh-Rees said: "It's not just lack of preparedness in preparing to respond to a pandemic. It was also a total lack of even thinking about how to prevent it happening in the first place.
"That was their focus – 'we didn't know enough to know what we didn't know'. That's the usual logic.
Even in response, they didn't think about a whole system response.
"They treated Covid like flu – but they were unprepared for flu, they were unprepared for a generic virus. But they must have known people were going to die. They hadn't prepared for dead bodies, to be very crude. They hadn't prepared for lots of people dying in wards and care homes. They hadn't got enough body bags, they hadn't got enough morgue space. They hadn't thought about funerals and worship and bereavement and mental health. They hadn't even considered it.
"So even at the very best of what they did, they'd only thought at a very high level about what might hit hospitals. But they hadn't in any way prepared for what was going to happen.
"Everyone thinks preparedness is just stockpiling some gloves, some pinnies and maybe some respirators at a push. But it isn't. Not one of them had thought about lockdowns – even the possibility of a lockdown.
"They hadn't thought about schools being closed and educational requirements. People not being able to work – furloughs. A lack of food and the supply chain impact. And that's on top of 'how do we get a vaccine out as quickly as possible' and the non-pharmaceutical interventions, as we call them."
Asked how she expected Mr Drakeford and Mr Gething to perform under cross-examination when they make their appearances in a few weeks time, Ms Marsh-Rees said: "They will come out of it badly. I can assure you they will come out of it badly."
Opening statement
In its opening statement to the inquiry, the Welsh Government sets out how it will defend itself against the allegations of ill-preparedness. The argument is low-key and reads more like mitigation than robust defence. It says: "The pandemic touched the lives of everyone, but none more so than those who lost loved ones.
The bereaved, in particular, are seeking an answer to the question which lies at the heart of this module: were the governments of the UK, including the Welsh Government, adequately prepared for the Covid-19 pandemic?
"The question will not be a straightforward one to answer. There is no established benchmark in this country or elsewhere against which to judge an 'adequate' state of preparedness for responding to a public health emergency the scale of which has not been seen for more than a century since the outbreak of "Spanish Flu" in 1918-1919 and which required the mobilisation of the state's resources and the imposition of limitations on individuals' rights to an extent not seen in the UK since the Second World War. One of the more complex issues with which the Inquiry will have to grapple is how best and against what standard to judge governments' responses critically yet fairly at this early stage of its investigation.
"An important (but certainly not the only) element of the answer will be the fact that Covid-19 presented the governments of the UK and across the world with uniquely demanding challenges. The nature of the virus was novel and in its initial stages, there was limited understanding of its science, its pattern of spread and its duration.
"In meeting those challenges, the Welsh Government was able to draw upon its experience of previous pandemics and outbreaks and its preparedness planning (including exercises such as, but not confined to, Cygnus in 2016). Planning, testing and review of those plans provided the foundation for Wales' response to the pandemic and from which the more dynamic decisions and policies could be made as knowledge and understanding of the virus developed.
" … In considering whether and, if so, what more could reasonably have been done by the governments of the UK to prepare the country for the pandemic, the inquiry's investigations will undoubtedly be informed by the very considerable demands placed upon those governments and the civil contingency community by Brexit. It is clear that the work of central government's Pandemic Influenza Preparedness Board was 'paused' due to the significant demands of preparing for the UK's departure from the EU and, in particular, for the prospect of a 'No Deal Brexit'.
"Although Brexit-related work undoubtedly provided some benefits in preparing the country for a significant emergency, the scale of those demands and their intensity in the years following the 2016 referendum should not be underestimated. They will form an important, sometimes dominant, feature of the context in which preparedness should be evaluated."
Structures
What we can glean from this is that while the necessity of setting up structures to manage the risk of a pandemic had been accepted and acted upon, such bodies were not functioning properly and were, in any case, put on hold because of what were seen as the much more important contingency arrangements for Brexit.
There is clearly ample scope for searching questions to be put to Messrs Drakeford and Gething.
What could the political fallout be? Mark Drakeford has already signalled his intention to step down as First Minister well in advance of the next Senedd election in 2026. At this stage of his career his reputational focus will be on securing a legacy based on respect.
For Vaughan Gething the stakes are much higher. Currently seen as the frontrunner in the next Welsh Labour leadership election, he could easily lose support if the evidence that emerges suggests he made bad decisions that had severely negative consequences.
---
Support our Nation today
For the price of a cup of coffee a month you can help us create an independent, not-for-profit, national news service for the people of Wales, by the people of Wales.