Sport
Charting the remarkable rise of The Red Wall – built to last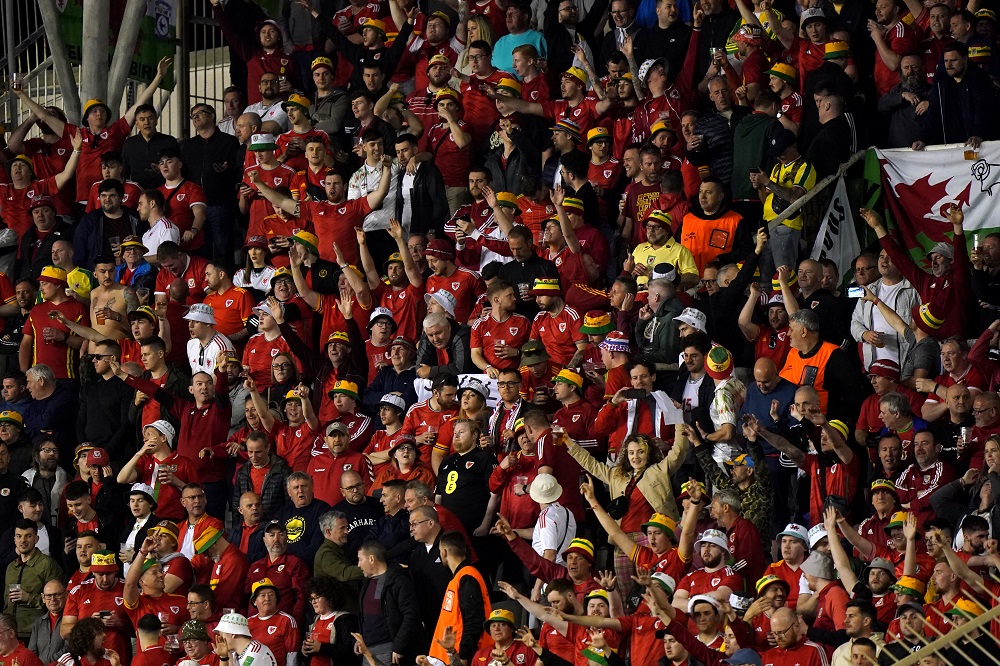 Leon Barton
Picture the scene. It's a qualifier versus Armenia at the (then-named) Millennium Stadium in 2001. 18,000 rattle around a 75,000 capacity venue, but there might as well only be 1,800 for all the noise they make. To be fair, the 0-0 bore draw that those who did bother to turn up are served up does very little to set pulses racing.  To make matters worse, later that day England hammer the Germans 5-1 in Munich, delighting the 'Wales in rugby, England in football' brigade. Those who think we should stick to the oval ball are given more ammunition. For Welsh football fans it's all a bit depressing.
The contrast with 2023 is stark.  And this is without the presence of any Welsh players in the latter stages of the Champions League.
Our captain Aaron Ramsey has had a decent season, with 42 appearances to his name, but his club, Nice, only finished 9th in France's Ligue 1.  Probably our best performing player in the English Premier League, Nottingham Forest striker Brennan Johnson, played for a team that finished 16th.  In short, our current squad has a distinct absence of stardust, and yet, a game versus unglamorous Armenia (currently 97th in FIFA's rankings) has sold out over two weeks in advance.
And yes, I know the CCS is half the size of the Millennium Stadium, but there will still be twice as many people at the ground tonight than there were in 2001.
"We call it the Red Wall. To see the stadium like that, our colour, it is like a home game and it is incredible.  And then we see on the big screen fans crying and you can see it means so much, not to just us as players but to us as a nation" said Gareth Bale during Euro 2016, and 'The Red Wall/ Y Wal Goch' moniker was born.

Terminal decline
Only five short years earlier Welsh sports journalist Delme Parfitt penned an article titled 'Wales football team is in terminal decline' in which he bemoaned the "unprecedented level of apathy among the general public". This, as he saw it, was just one of just several problems in Welsh football of which there was "no realistic way out".
Although Parfitt's article received criticism, what wouldn't have been foreseen at the time – by even the most optimistic Wales fans – was English football journalists such Ben Fisher describing the Cardiff pre-match rendition of 'Hen Wlad Fy Nhadau' as "one of the game's great sights and sounds" in a World Cup preview piece a little over a decade later.
The Red Wall is slowly becoming to Cymru what The Great Wall is to China; one of the nation's most interesting and talked about features. This was brought home to me last summer on holiday in Pembrokeshire, when I bought a 'Where's Wally?'-style picture book, called 'Ble Mae Boc?' (Boc being a tiny red dragon) for my 4 year old son at Saundersfoot beach.
Amongst scenes including Yr Wyddfa, Castell Caerffili and Portmerion is Y Gem Fawr – Y Wal Goch.  Even in a Welsh language picture book, this would have been almost unimaginable before 2016.  Pre-France, the nation was much more inclined to define itself by rugby union but that's simply not the case anymore.
While some complaints about the atmosphere during March's 1-0 victory over Latvia were murmured, surely a full stadium of over 33,000 for a midweek game against lowly opponents is worth celebrating?
After all, only 22,000 were present for the 2-1 victory over Cyprus in 2014, a key moment in the quest to end the 58 year wait for major tournament qualification.
The Latvia win came four days after Nathan Broadhead's last minute (of injury time) goal on debut had earned a highly creditable 1-1 draw in Croatia.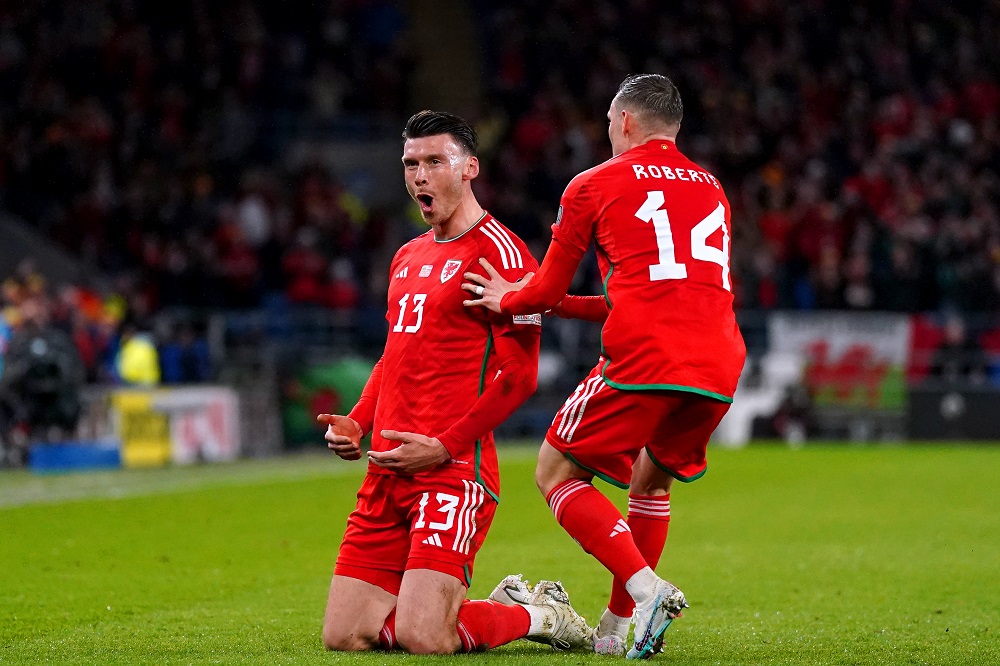 These results, as no Wales fan will need reminding, came off the back of a World Cup in which Wales' performances can only really be described as "godawful". And that's me being generous. Despite the disappointment of Qatar, the vociferous away support in Split, followed by the sell out crowd for the Latvia match suggests the vibrant fan culture that's sprung up around the national team in recent years remains in the rudest of health.
This culture was described by FAW Chief Executive Noel Mooney during an appearance on the Elis James' Feast of Football podcast as "something organic, that the FAW had very little to do with, that the fans have done themselves".
Mooney, an Irishman, was working for UEFA during Euro 2016, and in attending some of our games "kinda picked up on this vibe with the Welsh fans which was like a fashionista, music, culture, social conscience (thing)".  It was something he was to appreciate fully when he arrived in Wales in 2021: "That's when I realised how special the supporters are, that they've got their own movement.
"We (at the FAW) don't need to get anywhere near it.  The closer we get to it, probably the more of a balls we'll make of it. So we're better off to leave them to do what they're doing. They've built up this lovely thing with the bucket hats and the music and the Welsh language…"
In mentioning the bucket hats, Mooney puts his finger on one of the Red Wall's most distinctive aspects; the look.
The first time I realised a different sort of fan culture was possible to the one I saw in Britain was when three thousand orange-clad Dutchmen and women invaded Wrexham for a World Cup qualifier in October 1989. It helped that they had a wonderful side to watch but even before the teams took to the pitch, those bouncing, swaying, chanting fans seemed to be having the time of their lives.
Then I looked around at the six thousand or so largely silent Welsh fans in grey and navy C&A jackets, and the 11 year old me felt profoundly jealous. At that moment I desperately wanted to be Dutch. Pass me some Edam.
Luckily, other Wales fans felt the same way, but were much more proactive in doing something about it.
Fans such as Tim Williams, founder of the Spirit of '58 clothing label.
If "The Red Wall" has a ground zero, it's arguably September 3rd 2010, Montengro 1 Wales 0; John Toshack's final match as manager.
"One of the reasons I started the label was because I felt there was nothing on offer. I remember looking around our away support in Montenegro and all I could see was replica shirts. Not everybody likes a replica shirt, so I thought there was an opportunity for me to bring out designs that I thought would sell that would appeal to me and fellow Welsh fans' Williams says.
A T-shirt celebrating the magnificent 4-1 victory over England in 1980 was the very first SO58 product, with an initial run of 100 that sold out much more quickly than expected. "After that I produced the very first bucket hat and it grew and grew".
After losing to the Republic of Ireland in 2017, scuppering Wales chance of going to the 2018 World Cup in Russia, Williams' had people ask "what are you going to do now?".  His reply was that he started the label after a tame defeat in the Balkans years earlier.
Basically,  the label hadn't started as a response to success on the pitch. If anything, it was more of a contributing factor. The growth of SO58 has been helped by the fact Williams is unquestionably a genuine fan himself, someone who's in it for all the right reasons. He's been attending away matches since travelling with a group of friends from Bala to Belgium in 1991.
Around the same time Williams sorted "the look", The Barry Horns sorted "the sound".  Again, it was something that longtime Wales fans, frustrated with the lack of atmosphere at games, took upon themselves to do something about.
Formed in March 2011 in order to "unite Welsh football with the power of horns" and "put tunes on the terraces" the BH's have galvanized a previously quiet support with their passion, humour and musicianship.
As saxophonist Chris Leek, aka 'The Man from Uncle', says "I think we've contributed massively… we don't need plaudits but we feel like our work is almost done. But it's not done yet".
Look and sound sorted, away from the stadiums, it was time for the media to much more accurately reflect the fans' proactive passion for the national team.
While the likes of Rob Phillips and Chris Wathan had (and still have) a commitment to Wales that couldn't be questioned, much of the professional media were more inclined to either ignore or patronise Welsh international football. It created a situation whereby fans didn't see, hear or read people who loved Cymru at anything like the same level as they did.
Enter the Podcasts. Russell Todd founded Podcast Peldroed in the summer of 2014; "I was interested in listening to more podcasts about the Wales men's football team and there didn't appear to be any from the perspective of the fans.
"My career is in community work, one of the key elements of which is local people coming together and, with a 'do it yourself' ethos, trying to improve things. So I figured, if there isn't a Wales podcast, why not start one? Nine years and over 150 episodes later, it's still going".  And has since been joined by several others to create a vibrant independent media scene.
The 0-0 draw versus Bosnia-Herzigovina in October 2014 was perhaps the first time in the modern era that the fans helped Wales get over the line.  Up against quality opponents, just off the back of an appearance at the World Cup, and with the Welsh midfield decimated by injury (both Aaron Ramsey and Joe Allen were missing), a hard-fought defensive effort ensured the points were shared and a platform for qualification was put in place.
The following year, the utterly magnificent 1-0 victory over Belgium contained an extraordinary moment when the crowd's in-game rendition of the anthem "stopped the Belgians in their tracks" as Barry Horne put it in the commentary. 'Time seemed to stand still for a while then'.
Then, in France in the summer of 2016, with the foundations firmly in place, the Red Wall stood tall for the whole world to see and our GOAT gave it a name.
Six years after Bale slid the ball under Thibaut Courtois, the fans at the Cardiff City Stadium was still spooking the Belgians. "I would say that without the crowd that maybe we don't concede that goal" manager Roberto Martinez told the media following the 1-1 World Cup qualifying draw in 2021.  A result which got us a home tie in the first World Cup play off, giving the Red Wall a chance to play their part once again.  Against Austria they did that in fine style.
This was noted after the game by Guardian journalist Jonathan Wilson: "What an asset Wales have in their choral tradition. As soon as things get tense they can just flip through the hymn book and start singing something stirring and melodic, an inspiration to those on the pitch and a distraction for those off it". Wilson went on to say that "there is a sense of togetherness… that is extremely rousing".
The Red Wall's most recognisable face in the mainstream media, Elis James, has said several times that growing up he was jealous of The Republic of Ireland's "green army". It's indicative of the change of culture over the past 13 years that his friend, Irish football journalist, Barry Glendening, stated in 2021 that he was jealous of Wales.
Post-Bale, can the culture remain this vibrant? Early indications are promising. New captain Aaron Ramsey was quick to pay tribute to 'Y Wal Goch' following the 1-1 draw in Split, for creating an atmosphere many of the longtime Wales away-ers described as possibly the best they've been a part of.
As Chris Leek states, 'we have to keep this Red Wall thing going. It's amazing'.
Such a solid construction is difficult to demolish. Y Wal Goch looks built to last.
---
Support our Nation today
For the price of a cup of coffee a month you can help us create an independent, not-for-profit, national news service for the people of Wales, by the people of Wales.