Sport
Georgia are the new Wales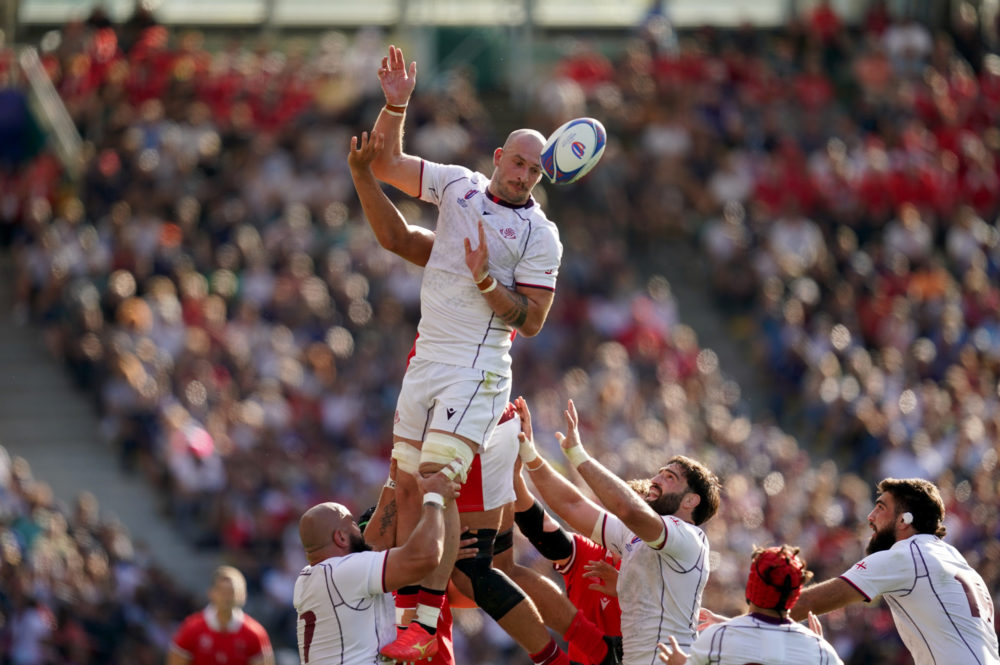 Ben Wildsmith
We need Georgia in the Seven Nations ASAP, don't we?
The Rugby World Cup, traditionally, has been where rugby shows its professional face to a global audience. The game is branded, blow-dried and World-In-Unioned  to resemble a product that sits alongside other sporting occasions as a fitting vehicle for corporate advertising and slow-motion montages that have been filmed in advance.
ITV today tried to lure us into its American football coverage.
'Is it too simplistic to suggest that fans of rugby would enjoy its American variant?' the presenter asked.
Well, yes butt, clearly.
It always feels a bit wrong to me. Weird, unfamiliar presenters speaking with that over-earnest urgency that accompanies Premier League football, adverts all the time, and, often, a cautious brand of rugby that jars in a game that's all about adventure.

Well-drilled machine
Wales fancied a bit of that today. Now that we're a well-drilled machine of the global game, routinely racking up victories wherever we go, it was time to execute the plan against a second-tier nation before assuming our inevitable berth in the quarter finals.
'Just drill the ball relentlessly into the 22 and wait for Johnny Foreigner to make a mistake,' has a rather English tone to it but banal efficiency is the name of the game once a side operates in the rarified atmosphere that Wales finds itself in. Another day, another routine win in service of the ultimate goal.
Can't lie, I'd got the kick-off time wrong. At ten to two, I was still in my pyjamas, planning a trip out to watch the game somewhere picturesque. How quickly success breeds complacency! One minute you're weeping into your Butty Bach as Georgia consign us to the scrapheap and less than a year later, you're so relaxed you've forgotten what time the game's on.
Fortunately, the pub is within wheezing distance, so I made it in time and found everyone else in cheerful laxity too. With no peril to enthral us, conversation was varied. Who, for instance, is employed by TV companies to scan the crowd for attractive women to train the camera on during breaks in play? More pertinently, how has this practice survived into the 21st century?
Georgia looked lively towards the end of the first half, but Wales continued to impress with their intensity exemplified by Tommy Reffell, who gave a timely reminder that Jac Morgan has to be world class to keep him out of the side.
Indian summer
Outside at half time, the Rhondda smiled in the embrace of an Indian summer. So, when Rees-Zammit took advantage of an interception to glide home for one of three tries, there seemed little wrong in the world. His easy grace seemed of a piece with the day and less obsessive pub-goers turned their conversations away from the game.
'You know what his missus is like…'
Georgia weren't having it, though. The commitment they showed in the second half was unending. Employing wild physicality and 19th century facial hair stylings to terrifying effect, they took apart the Welsh defence as no other side has been able to during this campaign.
The mid period of the second half suggested that they might just pull off the impossible as the Welsh scrum creaked, and Georgia built momentum.
With jeopardy restored, the pub once again became a rugby crowd, gasping and shouting with every collision. We even experienced the nostalgic treat of a 30-man brawl that resulted in a yellow card each for the sides.
When Wales eventually stretched away, I reflected that the Georgian experience mirrored many that we've all had supporting Wales. They were a step below us in class but skilled, fierce, and inventive. As we advance to the quarters let's hope that it's not long before this fine rugby nation joins the top tier of European rugby.
Put the Lelos into the dark, wintertime tumult of the Seven Nations and they'll surely deliver.
Who fancies RyanAir flights for a weekend in Tblisi?
---
Support our Nation today
For the price of a cup of coffee a month you can help us create an independent, not-for-profit, national news service for the people of Wales, by the people of Wales.