Sport
Remembering Wales and Manchester United player Alan Davies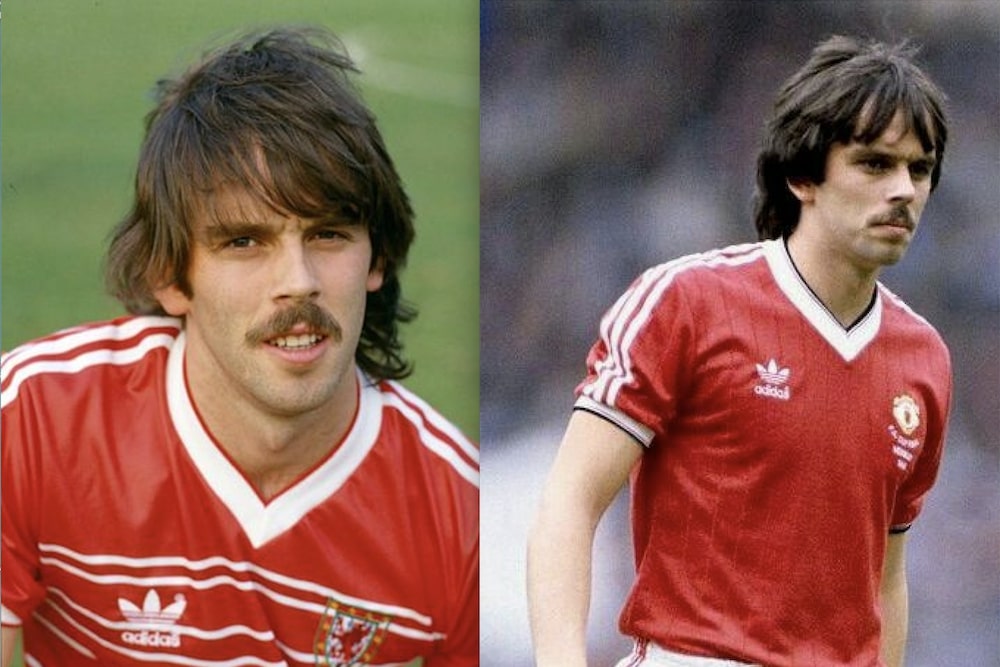 Leon Barton
With Manchester United playing Brighton and Hove Albion in the FA Cup at Wembley today those with memories that stretch back 40 years may be reminded of the 1983 final.
United were big favourites to win the trophy for just the second time in 20 years (they'd beaten Liverpool in 1977) against a Brighton team who had just been relegated from the top flight.
Nevertheless, an injury crisis was causing consternation for United manager Ron Atkinson. England international Steve Coppell was the most pressing concern; his knee problems would soon force him to retire at the age of just 28. It left Atkinson casting around the United squad for a player who could fill Coppell's berth on the right of midfield.
Alan Davies was 21 year old with the look of a rock musician about him – shaggy hair, thick moustache – you could almost imagine him playing bass guitar for Status Quo or Rainbow. Manchester born-and-raised with parents from the north of Wales (his dad came from Corwen, the same small town in Denbighshire that current international Harry Wilson hails from), he'd signed for the Red Devils after leaving school in 1978. By the May of 1983, he'd made just one first team appearance though. He then played in two of United's final three First Division games of the 1982/83 season to put himself in contention for the Wembley showpiece. Davies' very first appearance in the FA Cup came with a start in the final.
The game was a classic.
A Gordon Smith header opened the scoring for the Seagulls but United fought back and Davies was at the heart of it. A lovely lay off to Mike Duxbury down the right hand side led to United's equaliser, with Frank Stapleton bundling home.
A Ray Wilkins solo stunner put United in front before Gary Stevens equalised late on for Brighton.
Extra time is best remembered for it's dramatic finale. With the referee about to blow up to end the contest, Brighton's Michael Robinson squared the ball to his fellow forward Gordon Smith in space in the penalty box. 'And Smith must score!' went the famous commentary. He didn't, with goalkeeper Gary Bailey gratefully gathering the Scottish striker's shot after it rebounded off his legs. The commentators line at least provided the name of a Brighton and Hove Albion F.C. fanzine.
Back at Wembley four days later Smith was to rue his wastefulness in front of goal. The 1983 final was the third in a row to go to a replay and this time the favourites were in no mood to offer up such similar gifts.
Davies was in the thick of the action throughout. After 25 minutes he laid the ball off for Bryan Robson to smash home the opener. Four minutes later fine Davies play following an overhit corner created room for a cross that Norman Whiteside headed in. A second Robson goal just before halftime put the game beyond Brighton with Arnold Mühren adding a penalty in the 65th minute for good measure. Davies very nearly had a hattrick of assists when a Whiteside shot was tipped onto the bar late on.
The following day, Davies joined the Wales squad for the very first time. He was met by a round of applause from the players and staff when he entered the dining room.
Five days after the replay he made his international debut in a 1-0 victory over Northern Ireland in Belfast. This was quickly followed by another 90 minutes in a Wales shirt as the team drew a memorable game 1-1 against the mighty Brazil at Ninian Park. The game had been hastily arranged and nine first-choice Wales players unavailable as a result. In the circumstances the Welsh performance was exceptional – four days earlier the Brazilians had hammered Portugal 4-0 in Coimbra.
It had been an incredible few weeks for the young midfielder but sadly, disaster was just around the corner. Just ahead of the 1983/84 season – a season in which he would have had well-founded hopes of establishing himself as a first choice United player – Davies broke his leg in a pre-season friendly.
He came back in time for make three appearances in the league, also featuring in United's Cup Winners Cup semi final versus Juventus in the April 1984. In the first leg at Old Trafford, he was to score what turned out to be his only goal for the club when he equalised late on after coming on for John Gidman. But in those days of only one substitute, he didn't even make the match day squad in Turin two weeks later – Ron Atkinson preferring Norman Whiteside as the option from the bench. United would lose the game 2-1, going out 3-2 on aggregate.
The season would end with a highlight though as Davies started in the midfield alongside Robbie James and Mickey Thomas as Wales took on England in the final ever edition of the home international Championship. Making his debut that day alongside Ian Rush and Gordon Davies in attack was Davies's club mate Mark Hughes. The United pair would combine on 17 minutes with Davies's pinpoint free kick from the right picking out Hughes unmarked in the box for the young striker to head home a debut winner at the Racecourse Ground, Wrexham. 39 years on, it remains Wales' last victory over the big boys next door.
The following season, Davies didn't make any appearances at all for United, which led to a move to Newcastle in the summer of 1985 for a fee of just 65,000 pounds. During his seven years with the Red Devils, Davies had made just ten appearances but two of them had been FA Cup finals, whilst another had been an ECWC semi final against Juventus. A fairly extraordinary ratio of big games to not so big ones.
The Newcastle move didn't turn out well. In his two seasons in the north east of England he would make only 21 first team appearances in the league before former Wales captain Terry Yorath signed him for Swansea in 1987.
Bradford City in 1989, back to Swansea in 1990 – Yorath would take Davies with him everywhere he managed over the next few years with his admiration for the midfielder extending to an international recall. After winning eight caps between 1983 and 1985 under Mike England, Davies had found himself in the international wilderness during his unfulfilling spell at Newcastle. But after Yorath took over the national team on a part-time basis in 1988 he won another five caps over the following two years. Wales assistant boss Peter Shreeves was quick to remark that as well being being a joy to work with, 'the lad could play'.
Yorath was sacked by Swansea in 1991 (he was at least then able to focus fully on his role as Wales manager) with Frank Burrows taking over. During this time Davies began picking up more and more injuries and by the Christmas of 1991 found himself in the reserves at the Third Division club. His final first team appearance came against West Bromwich Albion in January 1992.
A week later Yorath received a phone call from one of his old Swansea players, Steve Thornber.
'The little fella's taken his life'
'Who?'
'Al' was Thornber's sombre reply.
Alan Davies was just 30 years old. After dropping his four year old daughter Katie off at school, he'd driven to a beauty spot on the Gower where his fume-filled car was found later that day by a local farmer. A suicide note had been scrawled on the back of an envelope. His wife Deborah was eight months pregnant at the time.
Yorath was left shocked: 'There was never any hint of a depressive side to his character.. he was a prankster, he liked to have a gamble on the horses and he'd always join a card school if there was one going… if I thought he was looking a bit gloomy, I'd ask him what was wrong. He always said he was fine. He seemed so laid back but obviously not'.
The day before he died Davies had burst into tears in the kitchen of his home in Gowerton – telling Deborah he was fed up. He spent the evening watching videos of his time at United, including the 1983 FA Cup final.
'I think his fall from grace – from Manchester United to Swansea's reserves – was too much for him and watching the videos probably tipped him over the edge' Yorath wrote in his autobiography 'Hard Man Hard Knocks'. The Wales manager attended the funeral in Manchester, as did United's Welsh internationals Mark Hughes and Clayton Blackmore.
Another former United player who knew Davies well was Mickey Thomas: 'He was a very quiet individual, but a very intelligent guy and an intelligent footballer as well' he told the Daily Post's Thomas Lewis last year.
Despite being Manchester born and raised, to Thomas, Davies was 'another one off the North Wales production line… we had a fantastic team with Wales in those days, and we really took Alan into our group with open arms'.
Davies's daughters Katie and Sophie (born six weeks after his death) have raised money for mental health charities by taking part in half-marathons and 10k runs. It's a cause both feel passionately about. Katie told the Manchester Evening News '(Dad) didn't confide in anyone, but that was the norm in those days I suppose'. She sounds a more upbeat note in saying 'more and more people are talking about their feelings. I think that's quite apparent recently. Sophie never met our dad but she's the one who is really positive about it'.
33 years gone, Davies is still much missed. As Mickey Thomas states, '(Alan) was such a warm individual. I loved him to bits. He had a great smile on him and he could play as well. He had so much more to give'.
If you are struggling with your mental health, help is available:
Samaritans – call free on 116 123
Contact MIND UK HERE

---
Support our Nation today
For the price of a cup of coffee a month you can help us create an independent, not-for-profit, national news service for the people of Wales, by the people of Wales.