Sport
Rhys lightning and how Wales defied the stats to beat Italy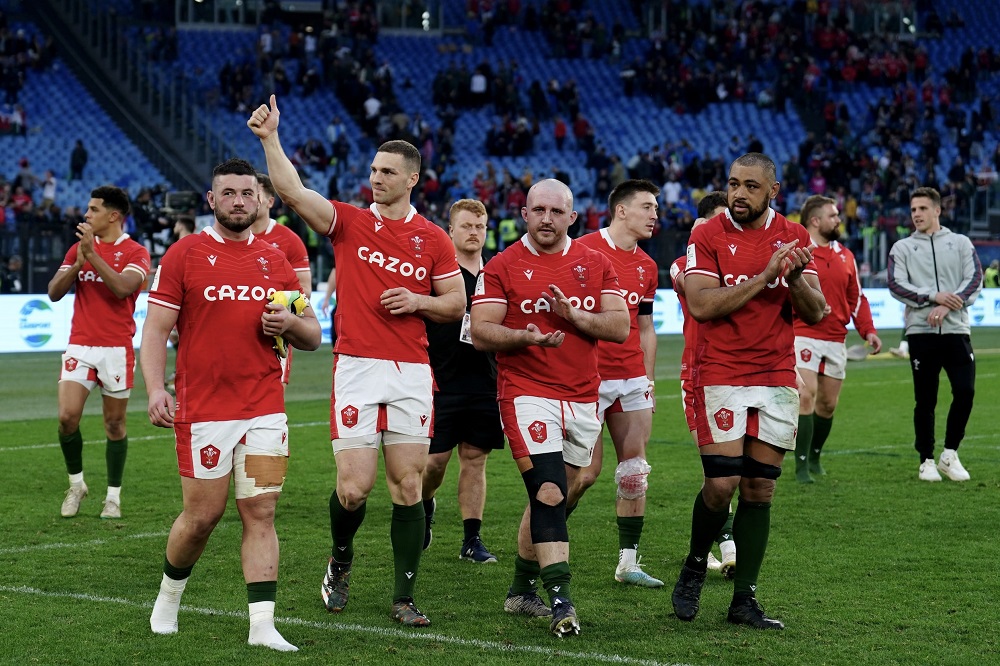 Simon Thomas
Ultimately, there's only one stat that counts in rugby – the final scoreline – and you won't find many better illustrations of that than Saturday's Six Nations clash in Rome.
If you were to look through the various facts and figures from the game without knowing the result, you would be forgiven for thinking Italy must have come out on top.
The stats are overwhelmingly in their favour. They ran for 524 metres compared to 343 by Wales, they were well out on top in terms of defenders beaten (35-13), clean breaks (10-4), passes (182-85) and runs (114-65), while also enjoying 55 per cent possession.
Yet they lost the game 29-17. It just goes to confirm that old adage about lies, damned lies and statistics!
So given all these tallies, how did Wales win?
Well, one crucial factor was a significant turnaround from what we had become used to during their first three matches in the Championship.
In each of those, the opposition – Ireland, Scotland and England – were far more clinical when it came to converting 22 entries into points.
Clinical certainly wasn't the word you would use for Warren Gatland's team in those encounters, with a succession of gilt-edged scoring opportunities being spurned.
They had posted just three tries and one of those an interception.
Yet, on the weekend, the roles were to be reversed. Now it was their opponents bombing the chances – and a shed-load of them at that. The approach work was there from the Italians as they repeatedly cut through, particularly in the wider channels, but they just couldn't finish things off, only managing to cross twice.
Irish legend Brian O'Driscoll summed it up well during ITV's coverage, saying: "They will be properly annoyed with themselves. They created so many chances, three or four try scoring opportunities that they didn't put away and they only lost by 12 points. Kieran Crowley (coach) will be very frustrated with another game that goes begging."

Limited
As for Wales, well they still remain very limited in attack when it comes to creativity. They are fairly one-dimensional with ball-in-hand, generally looking to a hard carry from Joe Hawkins at 12 as their go-to move, amid echoes of Warrenball.
And, in the main, the ball doesn't actually go through the hands that much, but rather up in the air, with their kick tally being close to double that of Italy.
But they did score four tries and that's a significant step up from what we have seen so far in the campaign. Compared to what has gone before, they were much improved in the red zone.
Their kicking game was also a lot better, in terms of the accuracy and the chase, with Rhys Webb having a big part to play on that front.
Making his first Championship start in six years, he more than made up for lost time as he produced a Man of the Match performance.
The fact he picked up that award despite leaving the field on 54 minutes showed what an impact he'd had up to that point and the role he had taken in establishing a winning lead.
His kicking from the base and out of hand in general was pinpoint and intelligent, as best illustrated by two examples.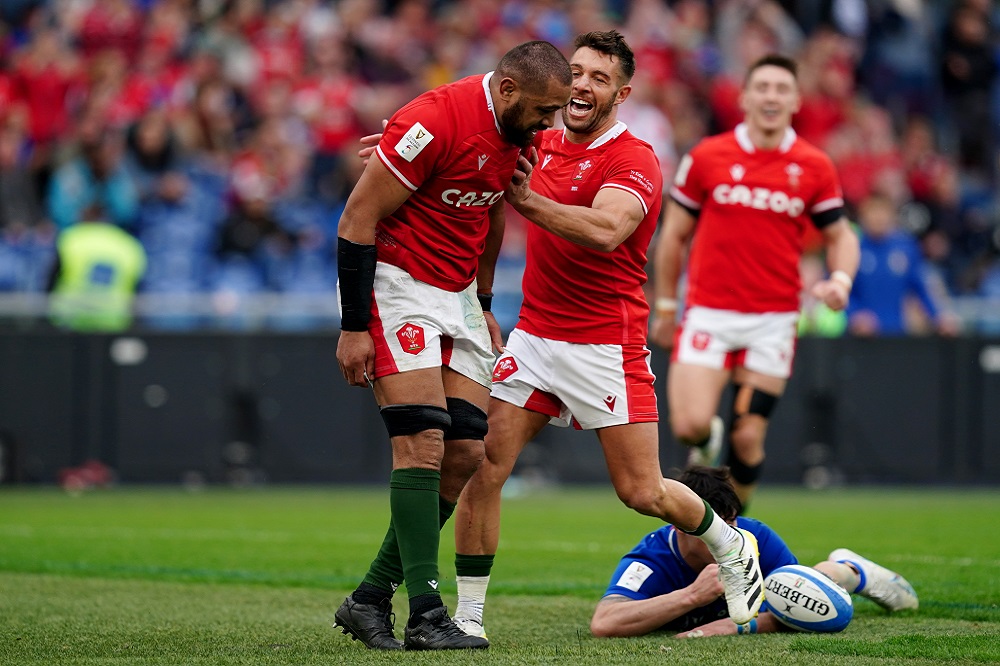 On nine minutes, he was presented with slow ruck ball after Mason Grady was knocked back in the tackle out on the left. Looking up, he instantly surveyed the situation. Spotting the Italian defence had come up, he dinked a perfectly weighted kick over the top into the corner. It was then all down to the capricious nature of a bouncing rugby ball and the chase from Rio Dyer.
Winger Dyer had initially started running infield, but then took a sharp turn and set off in pursuit of his scrum-half's kick, showing real gas to get to the ball ahead of the cover as it took a wicked bounce infield.
Then, on 35 minutes, there was further evidence of Webb's vision and precision as he capitalised on the lack of a blue-clad defender on the touchline by pulling off a 50:22 to maintain Wales' momentum and take them into half-time with a healthy 22-3 lead.
He was also to provide proof that his eye for a gap is still as sharp as ever with the ball in his hands.
With Italy down to 14 men following their second yellow card of the match, there were going to be holes and Webb found one in decisive fashion on 50 minutes.
Throwing a little trademark dummy, he sniped through at the side of a ruck and he was away, drawing the last man before sending the tireless Taulupe Faletau over the line.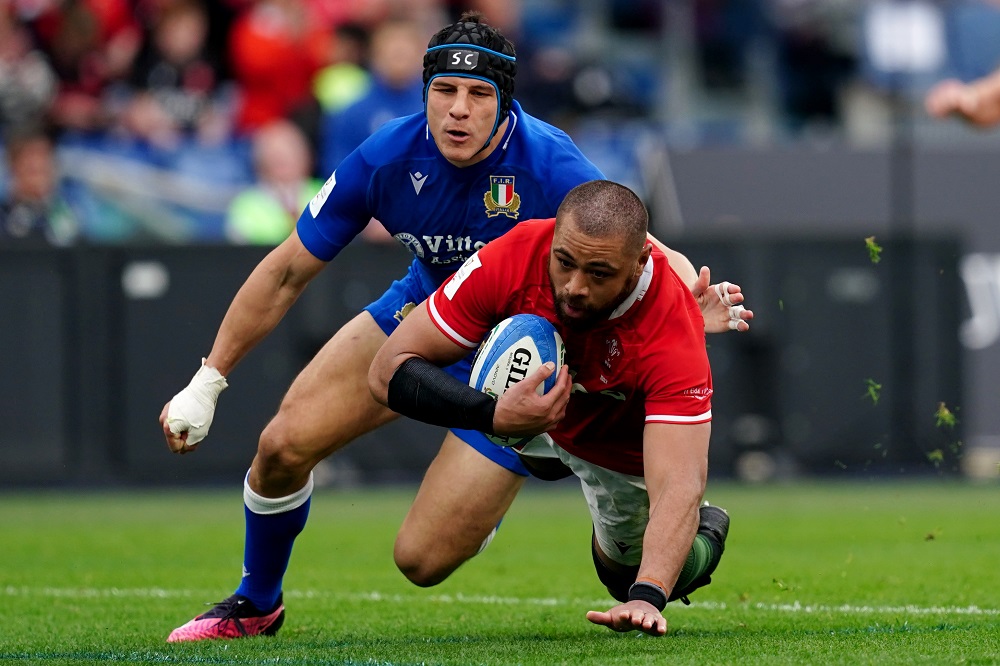 Speaking on commentary, former Ospreys team-mate Shane Williams said he'd lost count of how many times he had seen Webb make that kind of break and it's clear the Bridgend boy still has it in his locker at 34.
He also played his part in defence amid Wales' enhanced line-speed, notably by getting up in the face of Tommaso Allan to force the turnover that led to their second try.
What he brought above all was the experience and leadership that comes from all his years in the game, as he cajoled and marshalled the pack to good effect, while also picking the right pass or the right kick at the right moment. He was the hub around which Wales' game-plan revolved.
Head coach Gatland was full of praise for his No 9 after the match, saying: "I thought he played outstandingly well. His decision making was excellent, he kicked well, he didn't force anything and kept us on the front foot. When the opportunity was there, he made a nice break that we ended up scoring from. I thought he had a really good game. It was a great contribution by him."
It's been a long wait for Webb, who hadn't started a Test match since October 2020 and had spent a couple of years before that in ineligible exile out in Toulon.
But he has kept plugging away, with his consistent form for the Ospreys earning him a recall from Gatland following his wilderness days under Wayne Pivac. Now handed the chance to show what he could do in the starting spot, he may well have made it his own through to the World Cup.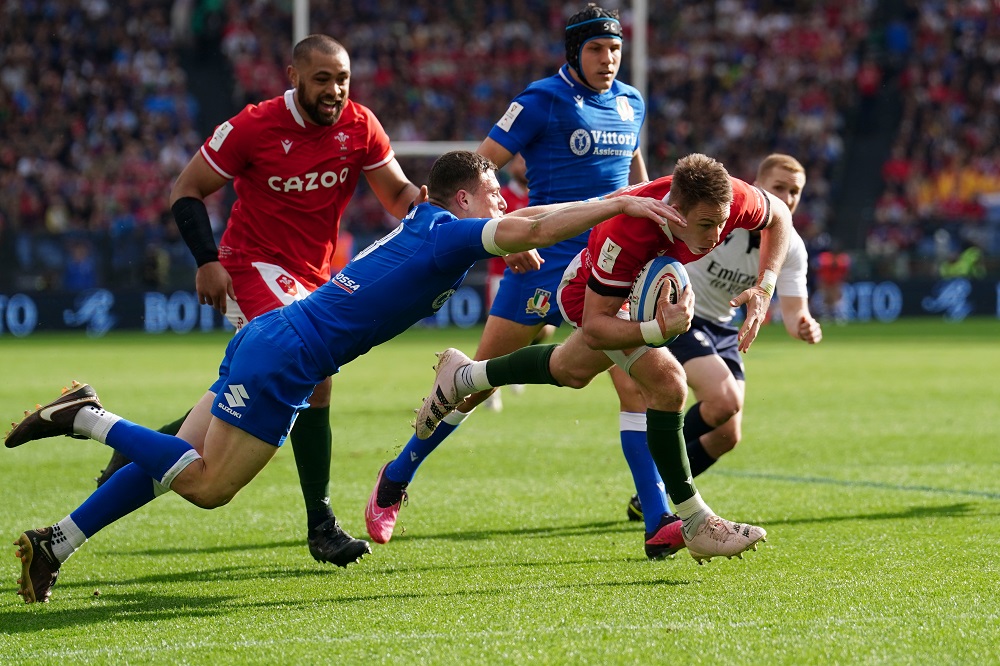 It was also a pretty positive afternoon for another thirtysomething who has been in and out of the side of late. After being omitted against England, Liam Williams was restored at full-back and he too looks to have nailed down the berth again provided the bump he took to his clavicle isn't too bad.
He contributed to Wales' aerial improvement with his contesting and chasing, while he produced a quality finish for their second try off the turnover induced by Webb's harrying of Allan.
Taking Faletau's long pass on the bounce out on the right wing, he had a lot to do but did it superbly, evading five attempts to collar him.
He stepped inside Lorenzo Cannone, brushed off Stephen Varney, hurdled over Cannone's brother Niccolo, evaded a second go from Varney and then rode the tackle of Paolo Garbisi to touch down. This was a real predator at work.
Wales' other try, on 33 minutes, was a further example of coming away with points from the opposition 22, in contrast to their profligacy in the opening three games.
Showing ambition by kicking to the corner rather than for the posts, they were rewarded when a powerful lineout maul drive earned a penalty try with No 8 Lorenzo Cannone sin-binned for illegally bringing it down.
As for other plusses, the ruck-speed and recycling were quicker amid better clearing out, there were three lineout steals and the scrum came on strong in the final quarter to help see them over the line.
Missed tackles
So, overall, a definite improvement, but there are still areas of real concern, in particular the number of missed tackles – no fewer than 35. The ease with which Italy broke the line was disturbing and Wales were fortunate their hosts were so wasteful.
It's safe to say France will not spurn such scoring chances, given their ruthless demolition of England at Twickenham. So Wales simply must tighten up their defence, both in terms of one-on-one tackles and organisation out wide. If they don't, Paris in the springtime could prove a brutal assignment.
But at least they will be travelling there with a win under their belts and a potential whitewash avoided. There were many who thought that would not be the case, as skipper Ken Owens alluded to in his post-match comments.
"Nobody gave us a chance," said the Scarlets hooker, who led by example with a huge shift.
"I'm just very happy – not to prove people wrong because I don't care what people say. We've put the effort in and I'm just proud of the guys to get a good performance and a good victory.
"Some people have said there's been no effort, that we don't try, but we have been trying over the last seven weeks.
"We work very hard as a squad, also the management team, and we've been building.
"We still have to improve. France will be a big challenge next week, but it's much easier to prepare after a victory."
Gatland added: "I thought we deserved to win and we end up with the bonus point which was great. There's still a massive amount of growth in this team in terms of them going forward. A lot of players will have learned a lot about themselves and it wasn't a bad Italian side."
Now it's off to Nice for a training week and to see just how much more growth can be displayed next week at the Stade de France.
---
Support our Nation today
For the price of a cup of coffee a month you can help us create an independent, not-for-profit, national news service for the people of Wales, by the people of Wales.