Sport
Robert Page: 'I felt we let the supporters down if I'm being honest'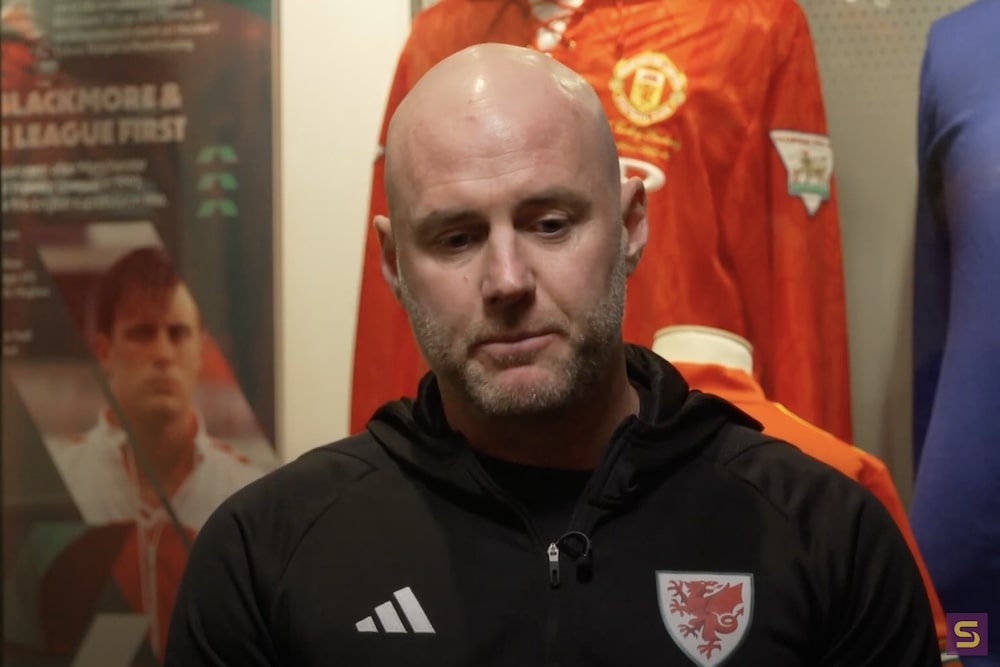 Cymru boss Robert Page has spoken about his side's showing at the World Cup in Qatar and admitted: "I felt we let the supporters down."
During a wide-ranging chat with Sgorio's Sioned Dafydd, he spoke honestly about how he has struggled in the wake of his Cymru team's exit from their first World Cup in 64 years, but how the hurt will motivate everyone heading into the European Championship qualifying campaign.
In the interview, filmed at the Football Museum for Wales in Wrexham, he also spoke about how he sees the future in the wake of Gareth Bale's retirement and how it's now time for the younger members of the squad to step up as he plans to promote youth.
SD: Everyone's had a fair bit of time out to reflect so what would you say is the overall emotion when you look back at Qatar?
RP: We've got to be immensely proud of of qualifying for the World Cup It's an unbelievable achievement. But, I was a little bit disappointed because I honestly didn't think we showed a true reflection of what we're capable of doing. And that was my frustration along with the players as well, you know, they would have come away with exactly the same feelings as me. And I just thought the way we planned for it was excellent and the hype and the buzz and the excitement surrounding it. And I just felt a little bit disappointed. I did, and I can't hide that. And I struggled. I couldn't watch a game back for the first couple of weeks. It hurt that much, but that's football and you got to learn from it. And we will and it'll make us bigger and stronger moving forward.
SD: Is it more about what lessons can be learned rather than looking back and thinking what we could have done differently?
RP: Yeah, of course. There's a lot of talk and the biggest thing that people have picked up on is athleticism. Of course we've got to be able to cope with the intensity of teams that we played against. The athleticism of the USA's midfield three and you look at teams like Canada who didn't pick up a point, but who really impressed with how athletic they were and and that's the way the game is going. But the winners Argentina were probably in the bottom three of all teams who qualified in distance covered. So we can't just get carried away with how athletic you have to be to win games of football. We know there are lessons to be learned. My frustration was that if we would have played anywhere near like we did against Belgium at home. Even Holland away. If we'd have got anywhere near those levels of performance, I would have been really proud that we'd have shown everybody what we were capable of doing. And I just think we didn't and there's no way we'll do that again. We won't allow that to happen again.

SD: Why do you think we didn't reach those levels?
RP: I've asked that question myself a million times and there's a multitude of factors that will that will have an impact. You know, the first game against USA. First off, you know, we have to change at halftime because tactically they changed how they pressed. I went to Spain watch them play against Saudi Arabia funnily enough, and and they changed it completely from how they pressed so we had to think on our feet and we did and we made the change which made us better second half. Albeit for the professional foul on Gareth we could have gone on to maybe win the game but there was more positives in the second half performance going into the Iran game. The disappointment of the Iran game was that we were chasing the game and then there was the sending off late on, and then of course we conceded two late  let goals but, we went all out to win the game. We weren't just happy with the point. We knew that going into the England game we would have to win. We changed the shape and a couple of the personnel and I thought first half we went toe to toe with them. We limited the opportunities they created. They didn't have really any open chances considering the goals they'd scored in previous games before that. I thought we limited them to half chances. And then through our fault, when you give top teams opportunities like we did at that level, you're gonna get punished. It's gone from the easiest team talk at half time to to within five minutes thinking this could now be a disaster. And they didn't deserve that the players. When you give good teams opportunities like that you're gonna get punished. So lessons learned, like I said, and you're right, we're not looking back. We are really looking forward to a European campaign.
SD: You mentioned at the start personally it was difficult for you. We've seen how much of a family man you are. When you got home how important was your support network to you because I can imagine it must have been a difficult couple of weeks.
RP:  It was hard because we had all the build up going out, Tylorstown Welfare Hall, all that was was absolutely the right thing and I just felt we let the supporters down if I'm being honest. And yeah, that was quite hard to take but like I said, that's football, that's life. You have to roll your sleeves up and and get on with it and make sure that we don't let that happen again, for whatever reason. Was it the the opportunity to play in a World Cup,  was it a bit too intimidating for some of the players? I don't know. That might have been a factor. But we've addressed it and we'll make sure that it doesn't happen again.
SD:  Have you spoken to the players during this period, you know, how are they feeling? Have you had time to have a proper debrief yet?
RP: No, and we won't until March now because we've got Croatia away, and that's going to be an extremely tough game. So things will be addressed at the right time, and then we box it off, and then we move forward.
SD: Since the World Cup not much has happened! Just a small matter of Gareth Bale retiring. How did it come about and were you expecting it?
RP:  I wasn't if I'm honest. I did wonder if he'd do it. I hadn't had conversations before. All the conversations we did have and talking to other members of staff was the he was looking forward to the next campaign and him wanting to be a part of it, which was great. I would still have absolutely used him. The dynamics of it might have changed. It might have not been the case that we're pushing him from day one to make sure that he's right for the game on the Saturday and to play 90 minutes. It might have been to have somebody of Gareth's quality coming on for 20-25 minutes at the end of a game. It's a massive statement to the opposition. They'll stand up and take note and it gives our players a buzz as well when they see somebody like Gareth coming on to the pitch for that for the last stages of the game. So that would have been my plan moving forward. But he showed me the respect on the Sunday to give me a ring, to give me a heads up before he announced it on the Monday. And yeah, I agreed with him. What he's done for Welsh football is incredible but it's a mixture of emotions isn't it. There's sadness as well because you won't get to see him play football again for Wales and put the jersey on. Knowing what it means to him, it must have been the most difficult decision, because I know what playing for Wales means to him. So I just reassured him and said look, I think it's the right thing to do. You've gone out you've scored in a World Cup. You've done everything that Wales would want to do. And you should be very proud and I'm privileged to have had the opportunity to work with him.
WATCH ROBERT PAGE'S INTERVIEW WITH SIONED DAFYDD
SD: You know he is a once in a lifetime player. I was nine when he made his debut so I can't remember Wales without Gareth Bale. So what does Wales look like now without Bale?
RP: It's exciting, Sioned. Honestly. It's exciting. And that's the message I want to give to the supporters. You know, one thing Gareth did say to me as well in the conversation was it's now an opportunity for the young ones to step up. And I got nothing but respect for him for that as well. You know, he's thinking of the next lot of young players coming through. So that was part of his processes as to why he didn't want to be in the way of, you know, hindering the development of some of the younger players. In the formation we played the build up to the qualification for Qatar. it was Gareth or Brennan. So it's now an opportunity for the likes of Brennan to step up to the plate and, and grab that jersey.
SD: Does it make your job easier that Gareth retired?
RP: No, I mean, listen I would never have retired Gareth. You can't retire Gareth. I remember a conversation John Toshack had with myself and John Hartson. He said, look, you're great lads, I'll always love you in the squad, but I can't guarantee you're gonna play and then that puts a decision on us. It's like, right, okay, well, we've got young families, do we really want to travel around Europe and not not play? It's a big commitment and we made that call in the end. And I would have probably done the same, to have Gareth involved in some capacity in the squad. Like I said, it might mean him coming on for 20 minutes. I would have relished that opportunity, certainly in the first you half a dozen games this year, then going into the autumn this year as well with the Euro qualifiers to use him in some capacity
SD: And the captaincy, Rob?
RP: I've thought long and hard about it.I was asked that question today. I'm spoilt for choice because I've got a great blend. I've got young players Ethan on so many caps that he's got as a young lad. He's a model professional. He's captain material. I've got the likes of Ben Davies, outstanding professional leads by example, on and off the pitch. I've got Aaron, who's been a captain before. Joe Allen, one of the senior senior players. I have made my mind up but I'm not going to say now. There'll be a time and a place when when I do it. I don't think it would be too surprising if I'm being completely honest. So we'll have to wait and see.
SD: What qualities does a Rob Page captain need?
RP: No different to what Gareth brought really. You know, no egos in the changing room. We're all equal. We won't tolerate nonsense. Lead by example, when you train your train, work hard. The minute you step off the white line, relax. And I think that's one thing we pride ourselves on, from Chris (Coleman) in 2016. All the way up to now. I think we've got that balance really well. And when we work, we graft. And then when you come back off the white line, go and play table tennis, go and play darts, have a laugh, enjoy each other's company. That's what builds that team spirit and environment. And the captain has to lead that by example. Gareth did that really really well, and my next captain will will do the same
SD: Looking ahead to March Rob, Euro 2024 is less than 18 months away now. Does that actually make things easier that you haven't got much time to dwell on what happened out in in Qatar and the games are going to come thick and fast?
RP: Yeah, we can't wait. When you have a disappointment. You want the next game tomorrow. You want the next game straightaway. We haven't got long to wait now. It'll be on us before we know it. We've already made the plans and we've already organised travel. We had a two day meeting in Chester a couple of weeks ago and got all the staff together. And I went through the planning for not only March but for June as well. And I can't wait now to get the squad back together. There'll be a few additions as well. I'm going to start promoting now some of the young ones through and there might be a couple of tweaks to it, but our principles will be the same and we want to get off to a winning start. It's a great challenge for us to go to face a team in Croatia that has done really, really well in the World Cup. But we want to go up against the best and they fall into that category. Looking at the first four games, we're going to want seven, eight points from that minimum to give ourselves a chance then going into the autumn fixtures,
SD: Croatia, World Cup semi finalists, lost to the eventual champions, Argentina. That's quite a ruthless challenge, isn't it for the first game with a campaign and to have to go out to Split as well?
RP: Yeah, it is but we know whenever you play in tournaments, there's no easy games and and that would be a really, really tough test for us. But if we want to continue to compete and qualify for major tournaments, we have to go and compete against teams that we've done in the past. We went to Holland and I think surprised them. All right, we went a couple of goals down, then with Brennan's goal and an equaliser later on I don't think they expected that and, and they had to change tack a little bit in, you know, to get the winner, which went a little bit more direct than what they would normally do. So, we've proven in the past, if we're organised, hardworking, we've got the quality, we've got the quality to score goals as well and you look at the players that we've got now in the Premiership, albeit again, we could do with a couple of more having more minutes, but you know, we've got a team that will compete with the best.
SD: It's hard to manage expectations at the moment, by qualifying for two consecutive Euros, qualifying for the World Cup, Wales have really shifted now from being a team with a happy to be there mentality, to now we want to be there and we want to be there every time. Is that hard to manage?
RP: That's that's been the change, Not only have we got the players today we've now got the belief off the back of three consecutive major tournaments. We've now got the belief and confidence that we can go on and do it again. Gareth has retired, nobody else, so we'll use all the experience to help the younger players. I believe Gareth has a place to play as well, in that environment in whatever capacity. That's a conversation I'll be having with him. So the mindset has changed. We are Wales and yet everybody says you know we've we're punching above our weight, but this is our level now.
SD:  Have you had any inkling or any hint from other senior players following Gareth's retirement that perhaps, you know they're heading towards making a similar
decision?
RP: No, not at all. Not one player. If anything it's quite the opposite, every member of staff I speak to who has had contact, from the medical team checking in on the players, or our head of recruitment who has been to see Joe Allen a couple of times whoo is probably playing the best football he's played at the minute. People that spoke to Aaron he said that he can't wait to meet up again. So there's been no inclination at all that any other senior player will want to retire.
SD: There has been a change on the pitch off the pitch Kit Symons has departed your backroom staff, Is that the beginning of a different look for the backroom staff?
RP: That was a really difficult decision for me as well because, you know, I've worked with Kit, I've played with Kit. He's a top top bloke. Two years ago when I brought him in, he was first class. There was myself, there was Albert (Stuivenberg) and there was Kit that was the link between the players and myself and I thought hewas first class. Now I just I just want to freshen things up and keep evolving things and, and yeah, I'll be bringing a new coach in. There's a new head of sports science as well coming in. Tony Strudwick has left as well. So there'll be a couple of other members of staff coming in as well that I want to add. I want to bring in a full time psychologist. Every other associations got one, we haven't. So again, we need to just keep evolving and progressing and improving and that's certainly an area that we need. Because I think the players again, will thrive on that and not just that, the psychologist will come in and be a part of the culture and making sure that the new players coming into it buy into that as well.
SD:  Is it a case of being a bit ruthless now and really doing things your way from now on.
RP: Yeah, absolutely. You know, we we've done what we've done, we've got to a World Cup. How we got there was it was incredible, but we had to be mindful of senior players in managing Gareth and managing Aaron because for me, it's not important how they train on a Thursday, it's what they deliver on a Saturday. And we were approved right  because Gareth scored the free kicks that have taken us to a World Cup. So what we did managing Gareth has worked. Now, things will change slightly. We need as much time on the grass as possible on international duty. So if it means getting them out on the ground, we'll do it.  \
SD: Ashley Williams spoke after the loss to England, Wales now needs an identity going forward. What do you think that identity is Rob?
RP: Well, the biggest thing I said we can't get too carried away with it but athleticism we needed that. We need young blood now coming into that first team and with that energy. So for me, our identity now is is we've got quality, we absolutely have we know we can score goals at the top level with young players like Brennan an it's good to see Rubin getting games for Cardiff now. And it's an opportunity for these younger players to come into the squad and bring energy.
SD: Finally, Rob, looking ahead to these games now in March. What would your message be? To the fans especially because like all of us, I'm sure there's still very much a mixed bag of emotions following the World Cup.
RP: Yeah, of course. Look it continues, it goes on. And our aim is to qualify for the next Euros in Germany. And then you know, we're looking already as far ahead as the next World Cup. That's our aim. To do that we have to be united in all together again. I get the frustration I absolutely do. There was nobody more frustrated and so on and trust me. It took me a couple of weeks to put my big boy pants on and watching the games back it hurt. It really hurt. And I bet that was a little bit of what the supporters were feeling as well. I can't thank them enough. They've been incredible. They've played a massive part in getting us there. And I want that to continue. There's a lot of exciting times ahead for us and and the plan now is to go on and get off to a good start in March and then June and qualify for the next European Championships.
---
Support our Nation today
For the price of a cup of coffee a month you can help us create an independent, not-for-profit, national news service for the people of Wales, by the people of Wales.