Sport
Ryan Reynolds teases fans with image of Gareth Bale in Wrexham kit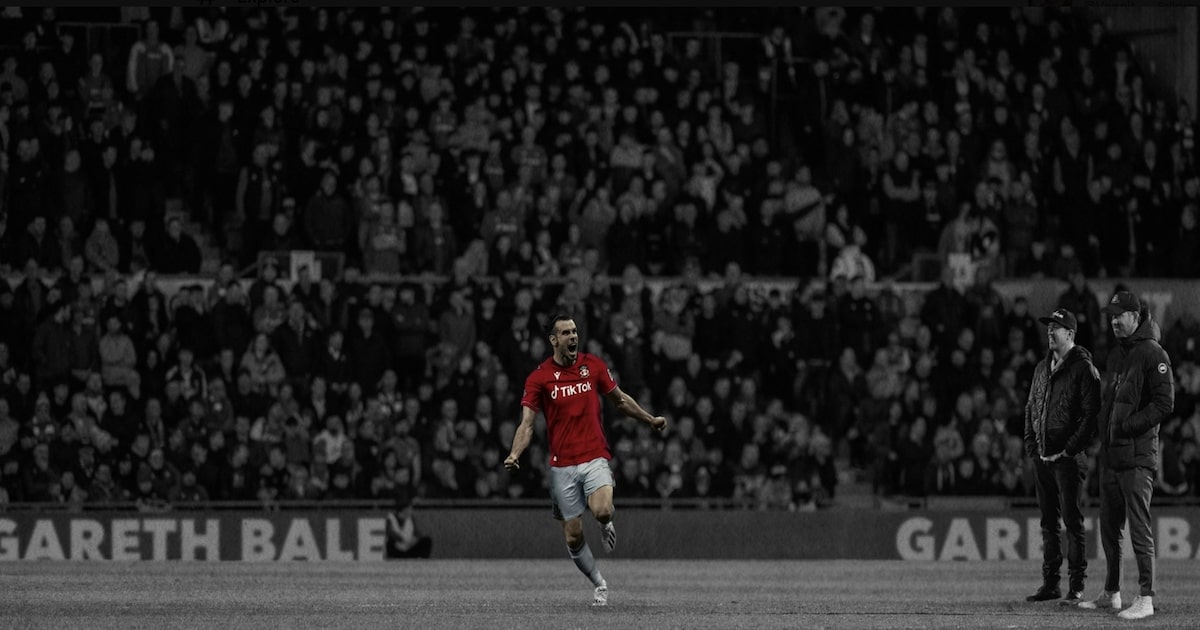 The Gareth Bale to Wrexham rumours have just taken a considerable leap forward after Ryan Reynolds posted an image of the Wales legend wearing a Wrexham kit.
The graphically enhanced pic accompanied by the words 'What if?' also sees Rob McElhenney and Ryan Reynolds casting admiring glances at the former Real Madrid ace.
In a post on Ryan Reynolds' Instagram Stories, the same image is hilariously soundtracked by Pat Benatar's '80s banger 'We Belong'.
Of course, as this is Wrexham anything can happen and probably will, but in footballing terms if this move actually happened it would be so seismic it would register on the Richter scale.
What if… pic.twitter.com/m8O8DG5U6j

— Ryan Reynolds (@VancityReynolds) April 27, 2023
If there is one thing we have learned since Rob McElhenney and Ryan Reynolds took over at Wrexham and that is anything is possible.
When your televised games are more popular than Premier League giants like Chelsea, Manchester United and Arsenal, Ant Man and Ron Burgundy are turning up at your games and the world is captivated by your story then it's only fitting that you can truly expect the unexpected.
The Bale to Wrexham teasing began a couple of days ago when Gareth Bale sent a congratulations video to Wrexham co-chairman Rob McElhenney.
While not quite a come and get me appeal, Gareth's polite congrats message to the Always Sunny star prompted a response from Mac, that while clearly tongue-in-cheek, it wouldn't surprise anyone if there was an attempt by the Hollywood owners to lure the former Wales captain out of retirement for one last swansong.
He wrote: "Let's play golf, where I totally won't spend 4 hours trying to convince you to un-retire for one last magical season 🏴󠁧󠁢󠁷󠁬󠁳󠁿 🏴󠁧󠁢󠁷󠁬󠁳󠁿 🏴󠁧󠁢󠁷󠁬󠁳󠁿 🏴󠁧󠁢󠁷󠁬󠁳󠁿 ❤️"
Let's face it, when it comes to Wrexham, well, nothing would surprise us anymore.
Hey @GarethBale11 let's play golf, where I totally won't spend 4 hours trying to convince you to un-retire for one last magical season 🏴󠁧󠁢󠁷󠁬󠁳󠁿 🏴󠁧󠁢󠁷󠁬󠁳󠁿 🏴󠁧󠁢󠁷󠁬󠁳󠁿 🏴󠁧󠁢󠁷󠁬󠁳󠁿 ❤️ pic.twitter.com/FZgXZbM4zx

— Rob McElhenney (@RMcElhenney) April 25, 2023
Those dreams were backed by Wrexham executive director Humphrey Ker who has insisted "the sky's the limit" for the newly promoted Hollywood-owned club and says English Football League spending caps will not restrict their ambition.
Heavy investment from actors Rob and Ryan, who bought the Welsh club in February 2021, was pivotal in Wrexham winning the National League on Saturday and ending a 15-year absence from the EFL.
Reynolds and McElhenney were at the Racecourse Ground to witness the title-sealing 3-1 victory over Boreham Wood and the pair – who have reportedly already spent more than £10million on restructuring the club from top to bottom – have pledged their continued financial support.
"We feel that the sky's the limit for Wrexham," Ker said. "You look at the crowds we had in the stadium all season, the crowds that were outside the stadium (on Saturday), people couldn't get a ticket.
"They just wanted to be in town, close to the stadium, close to the action.
"The last time I checked our full-time announcement (video) had 15 million views on Twitter. The interest in this club is astronomical and we believe with the squad we have right now we have a very strong chance of going up again next year.
"It gets more challenging further up the pyramid we go, but we have real faith and confidence in the people we have got in the football club to take us in the right direction.
"We want to do this again. We want to be having these parties next year and as many summers after that as we can possibly manage."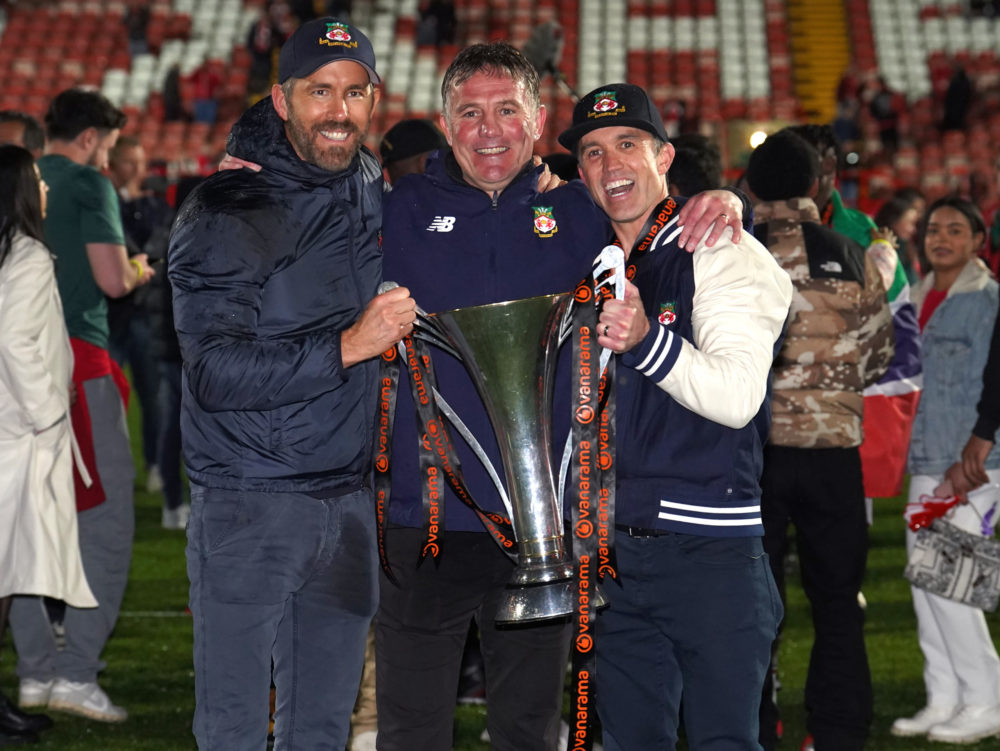 EFL salary caps for Leagues One and Two were agreed by third and fourth-tier clubs in August 2020 following the pressure placed on revenues by the coronavirus pandemic.
But the salary caps – set at £2.5m per club in League One and £1.5m per club in League Two – were withdrawn following a decision by an independent arbitration panel the following February.
The EFL returned to the previous salary cost management protocols, a control mechanism linked to the turnover of each individual club.
League Two clubs can spend up to 50 per cent of their turnover on player-related expenditure for players aged 21 and over and Wrexham, who have blue chip sponsors such as TikTok, Expedia and Aviation American Gin, are in a strong position to benefit from that situation.
Ker told BBC Wales: "The spending caps that exist are tied to your revenue.
"What you can't have is rich owners coming in and paying massively over the odds and operating at gigantic losses.
"We actually generate an extraordinary amount of revenue because of the interest in the team, merchandising, and other things.
"We're not losing too much sleep about that (spending caps). I think we'll fall well within the boundaries of what we are permitted to spend."
On strengthening manager Phil Parkinson's squad this summer, Ker added: "This is a team that has beaten Coventry and ran Sheffield United close over two games in the FA Cup.
"We've accrued a record number of points in the National League and we think we're ready to go again with some minor changes.
"Our mission will always be to try and get the best players we possibly can for each situation.
"Previously we've had to pay a bit of a premium to get people to come down to the National League because of the stigma that exists over non-league or Conference football. As we go up, I think we'll have less of a challenge attracting people.
"I know Phil and Les Reed, who has been helping us as well on the recruitment side, are inundated with incoming calls from players because this is a place where people want to come and play football."

---
Support our Nation today
For the price of a cup of coffee a month you can help us create an independent, not-for-profit, national news service for the people of Wales, by the people of Wales.