Sport
Steff Hughes – appreciating his rugby life after tough times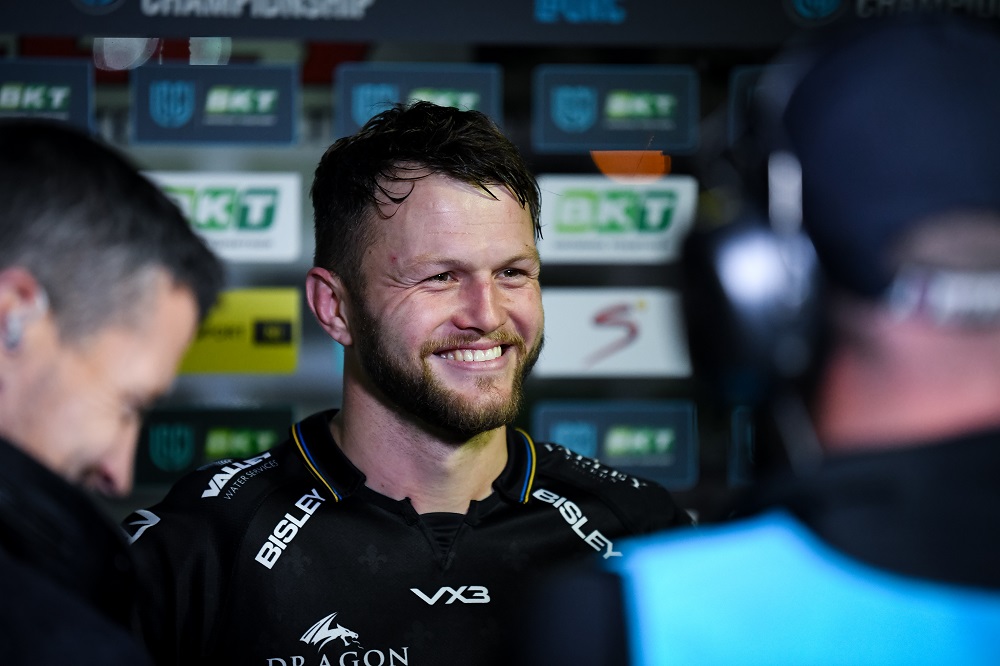 Simon Thomas
After what Steff Hughes has been through, he now appreciates life as a professional rugby player more than ever.
Last summer, he was out of work and facing a very uncertain future having been released by the Scarlets following a decade at the region. He was training on his own and wondering what lay ahead.
But then, in the autumn, he was handed a lifeline by the Dragons RFC. Their head coach Dai Flanagan knew him well from his time at the Scarlets and felt he was just the man he needed amid injury issues in the centre.
Brought in initially on a short-term deal, the former Wales U20s captain made such an impression with his assured performances that he earned an extension through to the end of the season and now he has been handed a new long-term deal.
With almost perfect symmetry, a transformative campaign will reach its conclusion when he lines up against his former team on Judgement Day at the Principality Stadium this Saturday in the final round of BKT URC matches.
Reflecting on the past 12 months, he said: "It was a difficult period obviously, leaving the Scarlets. I had been there for ten years and captained the club.

Closure
"It was difficult having the uncertainty moving forward, but also maybe not quite having the closure. It would have been easier if I'd had somewhere to go to.
"But, looking back at it now, I actually really enjoyed that period where I didn't have too much pressure. I could just train when I wanted to and take my time. Physically, I felt brilliant after that."
Then, towards the end of September last year, came the approach from the Dragons.
"They had a couple of injuries in midfield, so having the opportunity to come in and train was the first discussion," he said.
"Then it worked on a three month contract and, if that went well, potentially seven months after, so there were a lot of moving parts really."
Taking his bow in the BKT URC clash with Benetton in early October, Hughes made an immediate impact with a try on debut and went on to establish himself as a regular fixture in midfield with his footballing ability and astute decision-making.
"The work I had done while training on my own had set me up really well to go back into a team environment," he said.
"You don't become a bad player overnight, so a few months away from the game didn't do me any harm.
"I am really grateful I have had the opportunity to come into the Dragons and thankfully I have done a decent job. I have really enjoyed it.
"It's a good feeling to have the new contract. I was hoping this would be the case when I was training on my own and digging in and luckily it's worked out really well and I'm delighted that I'm able to stay. Hopefully I can kick into next season and we have a good year.
"I just love being back in a rugby environment working on my game and looking at areas to improve.
"Sometimes it takes a little bit of a hiccup or a backward step to make you appreciate what you had. I have definitely appreciated every opportunity probably a little bit more now than I did previously because of what I have been through.
"I know a lot of boys will potentially be going through a similar thing this year. Hopefully they will get the opportunities I have been given and take it with two hands."
Acutely aware of the vagaries of life as a pro rugby player, the 29-year-old has been busy preparing for the day when he eventually hangs up his boots.
Coaching badge
He coached for five years in the Scarlets Academy with their U16s and U18s, while also working with Wales U18s, and now has his level 3 WRU coaching badge. He has also completed a leadership and management diploma and is currently doing a Masters in Sporting Directorship.
Run by the Global Institute of Sport and credited by the University of East London, it's a two-year Masters course based at the Etihad Stadium, the home of Manchester City.
"It's in the chairman's lounge!" revealed Hughes, who is approaching the end of his first year.
"We have had a lot of guest speakers from different departments of sport and I have been able to learn so much in the last eight months. It's been brilliant.
"The opportunities I have had with this course have been invaluable and given me a really good understanding and perspective of a sporting organisation. I went into Manchester United and met with their leadership team there.
"It gives you a real advantage in terms of the sporting director position. Hopefully it's something I can transition into when I finish playing. I am really keen to continue to work in rugby and hopefully bring some of that experience back to the game."
In the immediate term, his focus is on the meeting with the Scarlets at the Judgement Day double header which has been resurrected after being put on hold during Covid. He insists there is no bad feeling on his part over having been let go by the west Wales region, for whom he made around 100 appearances.
"It's not personal. It's just rugby and that's how it goes," he says.
"I played ten years there and I owe the region a lot. It gave me so many opportunities and a lot of my best friends are still playing there, so that really excites me to be able to play against them.
"There is no bitterness. I am just looking forward to seeing some old friends and getting stuck into them.
"Judgement Day is a brilliant occasion and it's great to have it back. For a lot of us, we don't have the opportunity to play at the stadium very often, so it makes it that bit special. I have always really enjoyed playing in it."
Dragons RFC clash with the Scarlets will be the opening game, kicking off at 3pm, with Ospreys v Cardiff to follow at 5.15pm with the Welsh Shield and Champions Cup qualification on the line.
---
Support our Nation today
For the price of a cup of coffee a month you can help us create an independent, not-for-profit, national news service for the people of Wales, by the people of Wales.