Sport
The forgotten story of Welsh referee Mervyn 'Sandy' Griffiths and 'The Miracle of Bern'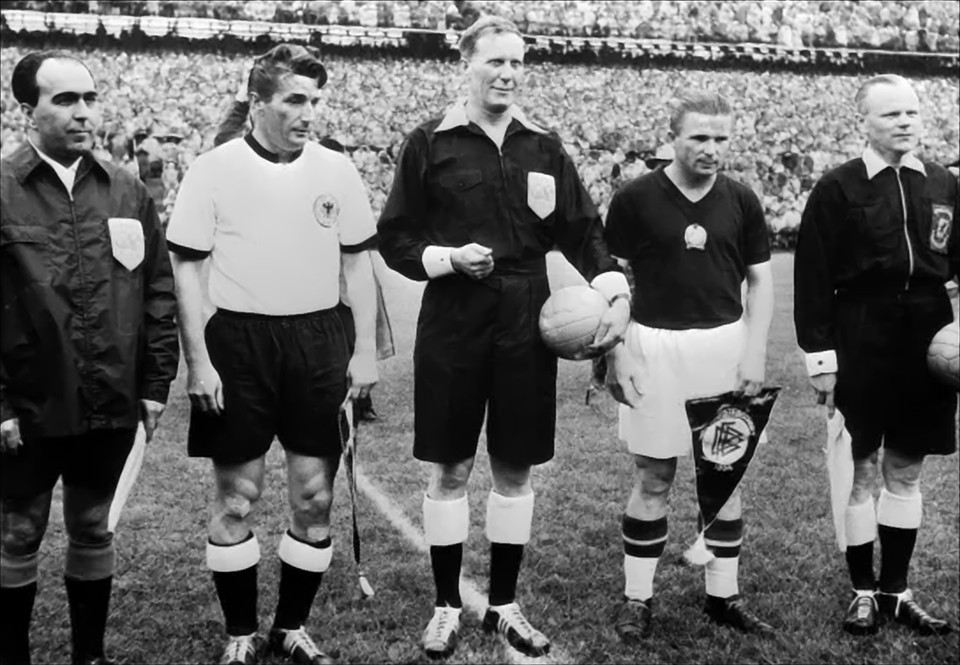 Christopher Evans
The 1954 World Cup final was seemingly a foregone conclusion. Hungary, on a four-year unbeaten run that stretched back to June 1950, faced an unfancied West Germany at the wonderfully named Wankdorf Stadium in Bern, Switzerland. However, despite Wales not appearing in the tournament, it would be a Welshman who would help decide the unexpected destination of the Jules Rimet trophy.
Led by the talismanic Ferenc Puskás, the mighty Hungarians were known as the Magical or Magnificent Magyars, a name that is thought to have derived from the Hungarian tribe 'the Megyer'. In 2016, they were listed as the best international football team in history by the BBC. This was due to the fact that between 1950 and 1956, the Hungarians played fifty matches, winning forty-two, drawing seven, and losing just once. Unfortunately, that sole defeat came in the most important match in their history.
Running the line that day in Bern was Blaina-born Mervyn 'Sandy' Griffiths. Griffiths, the only Welshman to have appeared in a World Cup final, also owns the record of being the first Welshman to referee an FA Cup Final.
Hiraeth 
Born on 17 January 1909, the Griffiths family moved around south Wales until finally settling in Newport. After leaving school and struggling to find a job in depression-gripped Wales, Griffiths began a career as a teacher in Devon. Hiraeth set in, and he soon returned to his homeland, moving back to Newport in 1932 to teach at Durham Road school.
It was whilst at Durham Road that Griffiths began his officiating career, taking charge of numerous games in the Newport and District League from 1934. As his reputation as a stern but fair referee grew, in 1939 he was appointed as a linesman in the Football League. The outbreak of World War II halted most football in Britain and delayed Griffiths' burgeoning side career, but following the Allies victory in 1945, football would once again thrive in the country.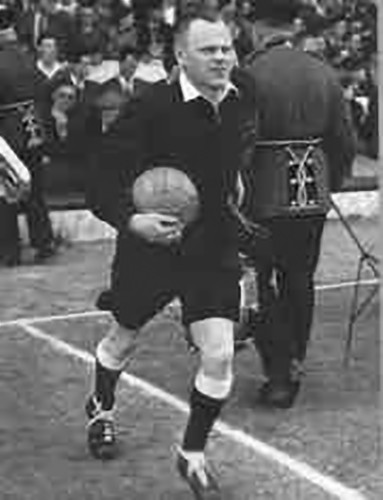 His reputable character and performances led to him refereeing his first FA Cup tie in 1949. In April of the same year, he would officiate the British Championship showdown between England and Scotland at Wembley. In doing so, in what was becoming a habit for the pioneering Griffiths, he was the first Welshman to referee an international football match at Wembley. With a team including Stanley Matthews and Tom Finney, England were the heavy favourites. However, it was Scotland who took the points – and championship – in a 3-1 victory of the auld enemy. On 16 November of the same year, Griffiths also presided over England's emphatic 9-2 World Cup qualification win over Northern Ireland at Maine Road.
Welsh Cup Finals 
 Griffiths' solid performances and fairness saw him as the standout referee in Wales. On 27 April 1950 he refereed the Welsh Cup final between Swansea and Wrexham, a match in which the Swans crushed their rivals 4-1 at Ninian Park.
Griffiths' eminence as a referee led to him being selected to officiate at the 1950 World Cup in Brazil. His fear of flying meant that the Welshman would make an arduous boat journey to South America that would take him over two weeks. It had been a meteoric rise for the Welsh teacher, but it was an opportunity that he grabbed with both hands.
On 1 July 1950 Griffiths oversaw Brazil's 2-0 win over Yugoslavia in front of over 140,000 spectators at Rio de Janeiro's famous Maracanã stadium. Griffiths would be involved in controversy, not for the final time in his career, as he refused Yugoslavia's request to delay kick-off. As the Yugoslavs left their dressing room, a pumped up Rajko Mitic had cut open his head on an iron grinder.
With no delay to the game, Yugoslavia started the match with ten men whilst their striker's injury was patched up. By the time Mitic had made it onto the field, his team were already a goal down. Recalling his experience in Brazil for the magazine Charlie Buchan's Football Monthly, Griffiths said, "The first match I refereed myself was Brazil v Yugoslavia. Brazil had to win it to go forward in the competition. On the eve of the match, Carl van de Meer, the Dutch referee, remarked: 'Enjoy your dinner Griff. It will be your last if Brazil lose!'" Despite the controversy of not delaying the game, 'Sandy' was the man in black again just eight days later in a 2-2 draw between Spain and eventual World Cup winners Uruguay at the Pacaembu Stadium in São Paulo.
Griffiths would oversee the Welsh Cup final again in 1951 in two thrilling matches which saw Merthyr Town beat Cardiff City 3-2 following a replay on 17 May. Griffiths made it a refereeing hat-trick in 1952 as he was again the adjudicator in Rhyl's dramatic 4-3 win over cup holders Merthyr at Ninian Park (Brilliant footage here
Unsurprisingly, he would also supervise the 1953 final on 27 April, with Rhyl winning consecutive cups after defeating Chester 2-1 at Farrar Road in Bangor in front of a crowd of nine thousand.
1953 FA Cup Final 
Just five days after the Welsh Cup final, Griffiths made history by becoming the first Welshman to referee an FA Cup Final. The match between Blackpool and Bolton took place in front of over 100,000 fans at Wembley and became known as the 'Matthews Final'. It is considered to be the first major television audience for a sporting event in Britain.
It was a fitting occasion, as England legend Stanley Matthews, a sprightly thirty-eight years old, inspired his Blackpool teammates to come from 3-1 down to snatch a 4-3 victory in the dying embers of the game. Inevitably, Griffiths would be involved in the final outcome of the match. With two minutes remaining, he blew his whistle for a free kick for the trailing Seasiders.
Stan Mortensen would smash the resultant kick into the top corner, and with just seconds remaining Bill Perry would send Blackpool fans wild, neatly finishing after some wing wizardry from Matthews. Despite Stan Mortensen becoming the first and only player to score an FA Cup Final hat-trick at the original Wembley, it was the trickery of Matthews' wing play that would go down in history.
Griffiths became the first referee to officiate both the Welsh and English cup finals, but it was not his performance on the pitch that his pupils back home in Newport would remember. Ever the gentleman, Griffiths had bought fifty official match programmes before kick-off to take back as presents for his class.
'The Miracle of Bern'
The 1954 World Cup finals in Switzerland would be arguably the apotheosis of Griffiths' refereeing career. He would also become infamous for his part in the final – 'Das Wunder von Bern', or 'The Miracle of Bern.' On 16 June, he took charge in the Group 1 game between Yugoslavia and France in Lausanne. Griffiths wasn't the most popular referee with the Yugoslavs after the infamous Mitic injury fiasco four years previously, but a goal in the fifteenth minute from Milos Milutinovic, that proved to be the winner, soon erased any suspicions of the Welshman.
On 30 June Griffiths was the man in the middle for Hungary's 4-2 win over holders Uruguay at the Stade Olympique de la Pontaise in Lausanne. It is often seen as one of the most enthralling matches in the history of the World Cup. However, Hungary would not be so fortunate with Griffiths' officiating the next time they would encounter the Welshman.
Griffiths' solid performances meant that he was selected to be a linesman for English referee William Ling in the final on 4 July in Bern. The match between favourites Hungary and underdogs West Germany was a replay of a group game from just two weeks previously that had seen Hungary romp to an incredible 8-3 win over their rivals.
Ferenc Puskás, who had returned from an injury inflicted on him during the first game against West Germany, was a man on a mission. The elusive trophy seemed destined for Hungary. After only eight minutes, the predictions seemed worryingly accurate for the West Germans, as goals from Puskás and Czibor appeared to put the game to bed. However, as the heavens opened to drench the players and the pitch, the Germans responded.
West Germany were inspired by their captain Fritz Walter, known as 'Walter Weather' in his homeland. This was as he appeared to play poorly during warmer weather – a result of contracting malaria during the war – but brilliantly in the cold and rain. Max Morlock and Helmut Rahn scored in quick succession to make it 2-2 after eighteen minutes. Rahn would score again six minutes from time, leaving Hungary needing a prompt equaliser.
As the 'Magyars' pressed, in the eighty-sixth minute future Real Madrid hero Puskás appeared to have scored his second with a neat left-footed finish that was set to take the game to extra-time. However, Hungarian celebrations were cut short due to a raised Welsh arm. On the far line, a Newport-based teacher had broken Hungarian hearts on the biggest stage in world football. Griffiths had flagged for a dubious offside decision. Puskás was apoplectic, the Germans relieved, and a Welshman was unperturbed. The decision meant that West Germany held on, and just nine years after the war were crowned World Champions.
For a nation still reeling from the severe consequences of World War II, the win was transformative. Speaking to the official FIFA website, German legend Franz Beckenbauer recalled, "Suddenly Germany was somebody again. For anybody who grew up in the misery of the post-war years, Bern was an extraordinary inspiration. The entire country regained its self-esteem."
In his autobiography 'The Man in the Middle', Griffiths recalls that Puskás gave him 'a dirty look' following his decision, but that he was confident that his decision was correct, which was seconded by the British press.
It certainly didn't affect his career, as Griffiths supervised the 1956 Welsh Cup final between Cardiff and Swansea on 30 April. Cardiff were reduced to ten men after Gerry Hitchens broke his leg, but this didn't stop the Bluebirds hanging on to seal a 3-2 victory over their arch-rivals in front of a huge crowd at Ninian Park. Furthermore, on 26 September he also refereed Manchester United against Anderlecht in the European Cup. The match was played at Maine Road due to there being no floodlights available at Old Trafford. Griffiths didn't have too much of a tough night, as the 'Busby Babes' ran out 10-0 winners.
1958 World Cup 
Griffiths' made a third and final appearance at the World Cup in Sweden in 1958, one that his countrymen had also famously qualified for. He refereed a group match once again involving Yugoslavia, this time against France. Yugoslavia would win 3-2, and Griffiths' performance was rewarded, as FIFA allocated him the semi-final match between Brazil and France. In a pulsating match, a certain Pelé would score a hattrick, the youngest player to do so in World Cup history. It is said it could've been five, only for the stern Griffiths to disallow two goals, seemingly a favourite pastime of his.
After a distinguished career, Griffiths retired from refereeing in 1959. He continued to teach in Newport until his untimely death.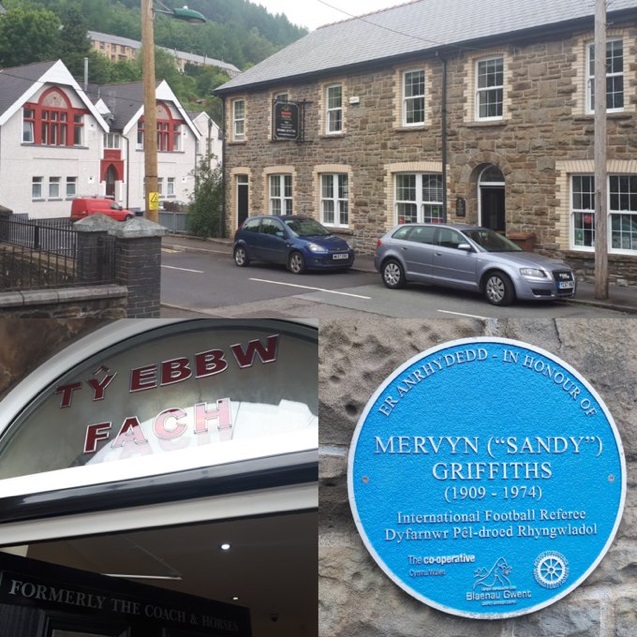 Aged 65, Griffiths passed away at the Royal Gwent Hospital after falling ill just a few days previously.
A devoted family man, he was an inspiration to his pupils, the football players he refereed, and the Welsh referees that followed in his footsteps. Speaking to the BBC in 2014, the notorious Welsh referee Clive 'the book' Thomas said, "I held Mervyn in immense respect because he was a very strict referee.
Knowing that he, a fellow Welshman, had got to the very top definitely fuelled my ambition. For me the 1953 FA Cup final will always be the Mervyn Griffiths final, not the Stanley Matthews final, as it was the first time a Welshman refereed the FA Cup final."
In 2014, Blaenau Gwent Council unveiled a Blue Plaque in his honour at Ty Ebbw Fach, in Six Bells near Abertillery. The plaque, fittingly unveiled by Clive Thomas, celebrated the life and career of yet another unsung Welsh hero.
---
Support our Nation today
For the price of a cup of coffee a month you can help us create an independent, not-for-profit, national news service for the people of Wales, by the people of Wales.