Sport
The Generation Game: Grandfather and grandson play together in season opener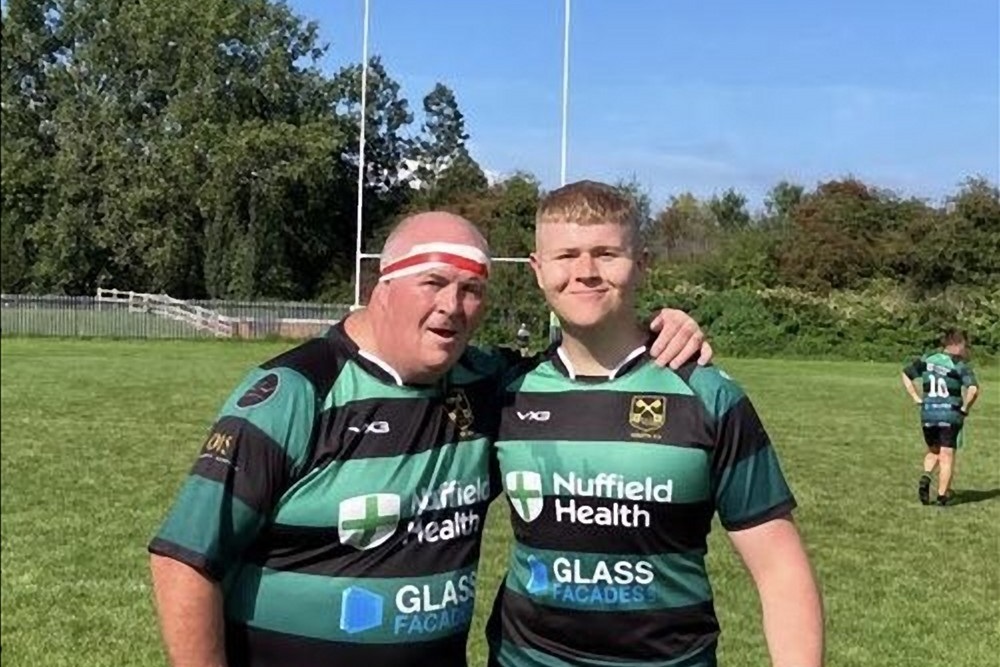 Simon Thomas
There have been a fair few cases of father and son playing together in Welsh club rugby over the years, but grandfather and grandson? Surely not.
Yet that's precisely what happened on the weekend when St Peters RFC legend Mikey Baldwin packed down with his grandson Iestyn Vagges against Cardiff Met.
Prop forward Baldwin is now 67, having first played for The Rocks way back in 1984. He hung up his boots for a few seasons in his early 60s, but then returned to action with the Cardiff club's Vets and is now turning out for their 3rds.
That's how he ended up playing alongside 19-year-old second row Iestyn for the first time last Saturday in what he describes as a very special occasion for the family.
Not that he had been anticipating coming on from the bench.
Determined
"It was boiling hot and with it being Cardiff Met, I went 'You've got to be joking'," he reveals.
"It was their 4ths, but it wasn't freshers. These boys were pretty good and could play a bit. Youth and ability is a dangerous combination.
"So I said unless somebody has their leg falling off, I'm not coming on and that was the plan.
"But they were determined to get the two of us onto the pitch together. Iestyn works some weekends, so with his shifts they weren't sure whether we would both be available again.
"He came on for the whole second half and they managed to coax me on with about 15 minutes to go.
"That's the first time we've actually got on the same pitch together. He is just starting out on his rugby journey and I am just coming to the end of mine.
"Iestyn was pleased about it. He was chuffed. It was a special day for the two of us.
"We've always been close. He's never called me grandad, he's always called me Mike.
"He's a big beast now. He's a couple of inches taller than me and a bit wider as well."

Giant-killing
Having previously played for St Davids Old Boys, Baldwin joined St Peters in his mid twenties and has never looked back. He guaranteed himself a place in club folklore by being part of the team that famously beat Cardiff 16-14 at the Arms Park in the fifth round of the Swalec Cup in January 1993.
It remains arguably the biggest upset and the greatest giant-killing in Welsh club rugby history.
"I was tighthead that day," he recalls.
"Up until the Thursday before the game, we were going to be gallant losers, whatever.
"But then Cardiff announced their team and our coach Lawrence O'Brien said 'We can win this'.
"We were all like 'What are you on?' But then he just started instilling the belief that we could win it. He went through each one of their players and pointed out their weaknesses.
"He said 'Let's just go out with attitude' and we did.
"I've got a photo and a framed programme from the game in the house.
"It's all gone so quick. I was the oldest player on the day back then, so I didn't expect to still be putting boots on 30 years later, most definitely not."
But that's precisely what he is doing, having come out of retirement.
"I was playing every week until I was just short of 60. I packed it in then as the 3rds weren't there and I wasn't fit enough or able to play in the 2nds," he explains.
"I stopped playing altogether for about three years, but then they started up a Vets team and I played about four games a season for them."
He continues: "Last season we had a bowls testimonial for one of our long-standing members. So they said 'Why don't you come and have a game of bowls?'
"I went 'You've got to be joking'. I would be looking left and the bowl would be going over to the right. I thought this isn't for me.
"Then they said we are starting a 3rds up, so I went 'Put me down for that. Go on, I'll have some of that'.
"So I went back playing for them last season.
"I don't take anybody's spot. If they have got bodies, I won't play. It's only if they are short that I will step in."
So what is it that keeps him going well into his 60s?
"It just annoys so many people down the club, so I just carry on!" he quips in reply.
"I love it. It's a good club, a real community club and I know so many people there.
"Part of it is the challenge of staying fit enough. I do spin classes and circuits a couple of times a week and I don't drink, I stopped about seven years ago.
"It's just the sheer challenge of doing it."
And Baldwin, who works in schools maintenance during the week, has no intention of calling it a day just yet.
"I will carry on playing for the duration of this season," he says.
"Props are getting thin on the ground these days, so if they still need me I will be there.
"I wasn't much of a runner when I was younger and I'm certainly not a runner now.
"The only edge I have got is I can scrummage a bit. I usually hold my own there.
"I'm not the greatest scrummager in the world, but I've got a bit of attitude and that will usually get you by!"
---
Support our Nation today
For the price of a cup of coffee a month you can help us create an independent, not-for-profit, national news service for the people of Wales, by the people of Wales.