Sport
The greatest player, the greatest match, the greatest try…the greatest jersey?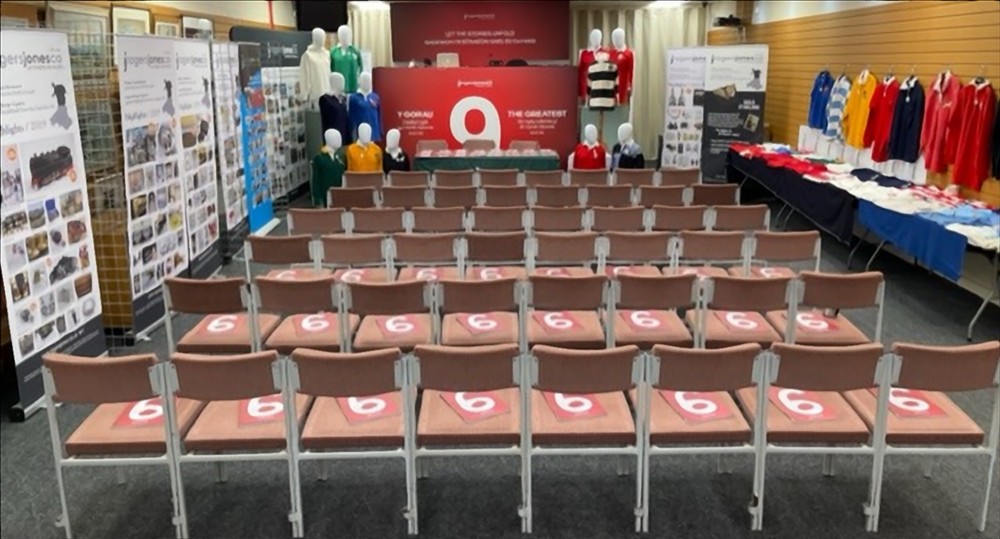 Rhodri Davies
The Barbarians versus New Zealand, January 27th 1973. Yes, that game, that try, and 'that fellow Edwards'.
If Diego Maradona's 'Hand of God' shirt from the 1986 football World Cup, which sold for £7,142,500 last year, is the ultimate in sporting memorabilia, then the famous Barbarians jersey worn by Sir Gareth Edwards on that cold winter's Saturday in Cardiff is without a doubt rugby's most prized possession.
Record sum
The current world record in terms of rugby memorabilia stands at £180,000, paid for the New Zealand rugby shirt worn by captain Dave Gallaher on the 1905-06 British Isles tour. The All Blacks 'Originals' arrived unbeaten after 27 matches on that tour, before famously losing to Wales in an iconic clash at Cardiff Arms Park.
Gallaher's shirt was sold by Cardiff based auctioneers Rogers Jones Co in 2015. Now the same team are preparing to set a new world record with the famous black and white hooped number 9 jersey worn by Edwards fifty years ago.

Since Edwards is generally acknowledged to be the greatest rugby player of all time, the '73 Barbarians v New Zealand match is often cited as the greatest match in history, and the scrum-half's opening score has been lauded for half a century as the greatest try ever scored, then the jersey he wore that day must rank among the most iconic of all.
The match itself was considered a 'de facto' Fifth Test, following on from the British and Irish Lions victory in New Zealand in 1971. Twelve of that Barbarians team had toured in '71, although it was a newcomer – Phil Bennett – who started the most famous sequence of events ever seen on a rugby pitch. It is a passage of play intrinsically linked to Cliff Morgan's unforgettable commentary:
"This is great stuff…Phil Bennett covering, chased by Alistair Scown. Brilliant! Oh, that's brilliant! John Williams, Bryan Williams. Pullin… John Dawes, great dummy…To David, Tom David, the half-way line…Brilliant by Quinnell! This is Gareth Edwards! A dramatic start! What a score! Oh, that fellow Edwards!"
That most famous of tries also feels intrinsically Welsh, scored at the home of Welsh rugby, with six of the seven players involved being Welshmen at the height of their powers. Even the Welsh language plays its part in the story, with Edwards recounting how his shout to Derek Quinnell: "Twl e'ma!" – throw it here – were the words that prompted the final pass. The game ended in a 23 – 11 win to the Barbarians, with Edwards' opening try sparking a feast of running rugby which still ranks as the best exhibition ever seen of what the game has to offer at the highest level.
Fantastic rugby
Even fifty years later, the significance of the whole occasion still resonates with Edwards himself: "It's a match that will live with me forever…That's the way the game was supposed to be played…They played some fantastic rugby that day, but as it happened, we were also able to show our ability to produce one of the all-time great matches. Wherever I go in the world people still want to talk about it."
And so to the prize itself, the match jersey worn by Edwards. It has an estimated value of £150,000 – £200,000, but then Gallaher's 'Originals' jersey had an initial estimate of between £20,000 and £40,000, so there would be no surprises if it exceeded expectations by some margin.
The Barbarians jersey is a part of Edwards' personal collection – 39 items in all – which go up for auction on Friday, February 24th at Rogers Jones Co's Cardiff base.
Memories
As Edwards himself confesses, the time feels right: "I offered the shirts to our boys, but they weren't sure what to do with them. I still have all the memories and the boys have the caps, but the jerseys themselves have been neatly tucked away in cardboard boxes for years. It's time they had a better home, although with the Barbarians jersey in particular, it would be lovely if that home were in Wales and it could go on public display for everyone to enjoy."
The collection is a rugby treasure trove and also includes the famous Lions number 9 shirt worn by Edwards during the controversial, undefeated tour to South Africa in 1974. That tour is also considered 'the greatest' by any number of players, historians and fans, with the Lions playing 22 matches without defeat and winning the Test series against the mighty Springboks by three to nil. The guide price of £20,000 – £25,000 for this particular piece of history seems like a bargain in the grander scheme of things.
Living history
According to auctioneer Ben Rogers Jones: "It's been a privilege to handle this collection, because it's effectively a living history of rugby during that iconic era. Every one of those jerseys has its context, its story, its special place in rugby's collective memory. And then of course there is that match and that try, the greatest try, which makes this the greatest jersey of all."
Also going under the hammer are a Wales Grand Slam winning jersey worn by Edwards during the1977/78 season, a 1971 Lions jersey worn by Gerald Davies on the iconic tour to New Zealand, and rarities such as the 1967 East Wales jersey, worn by Edwards during the 3-3 draw against the All Blacks – the only match New Zealand didn't win throughout that tour. Along with long-time friend Davies, there are shirts swapped with legendary adversaries over the years, including New Zealand's Sid Going, Australia's John Hipwell, France's Jerome Gallion and Scottish great Andy Irvine.
With the auction itself taking place the day before Wales play England, Edwards hopes it will be a perfect preamble – not just for collectors, but for rugby romantics the world over. Just reading the prospectus gives one goose bumps, and the day is bound to be an emotional affair on any number of levels for 'The Greatest', as he farewells with possibly 'the greatest' collection of rugby memorabilia ever sold.
---
Support our Nation today
For the price of a cup of coffee a month you can help us create an independent, not-for-profit, national news service for the people of Wales, by the people of Wales.