Sport
The greatest showman – saying goodbye to Gareth Bale
David Owens
Many of us feared this moment, but now here it is.
Monday January 9, 2023 will forever be enshrined as the day Wales' G.O.A.T. retired from football.
A captain, a leader and the proudest Welshman. He gave us hope, belief and the best of times.
He galvanized a nation, was our greatest ambassador and led us through experiences that will be talked about forever in fabled tales from Wales.
Words will never be enough to thank Gareth Bale for what he's achieved for us and our proud little country.
As I sit here, staring at my computer screen how do you even contemplate beginning to encapsulate someone who has already acquired mythical status, like a hero of the Mabinogion, writ large in Welsh history?
But try I must.
That his retirement came suddenly without warning made it all the more of a shock.
Of course the R word was never far away from any Welsh fan's thoughts. But how the collective consciousness would cope when he did finally hang up his boots, well, it didn't bear thinking about.
That one day it would happen was a certainty, that we didn't ever want to contemplate that moment was equally unequivocal
From the beginning of his Wales career to the very end he was a magnetic, magnificent presence; 2006 to 2022, 16 years of undistilled brilliance. A beacon of unyielding light through good times and bad.
From the first goal for his country, the free kick that announced his arrival on the international stage during his home debut against Slovakia at The Arms Park to the fulfillment of dreams scoring for Wales at a World Cup, with his 41st and final international goal against the USA, his has been a life less ordinary, lived through the glare of the constant public gaze.
There have been so many special moments, so many cherished memories made for a generation of football fans, many who never thought they would see their national side qualify for a major tournament let alone produce a player that continually defied superlatives, and in the occasional Champions League final – the laws of physics.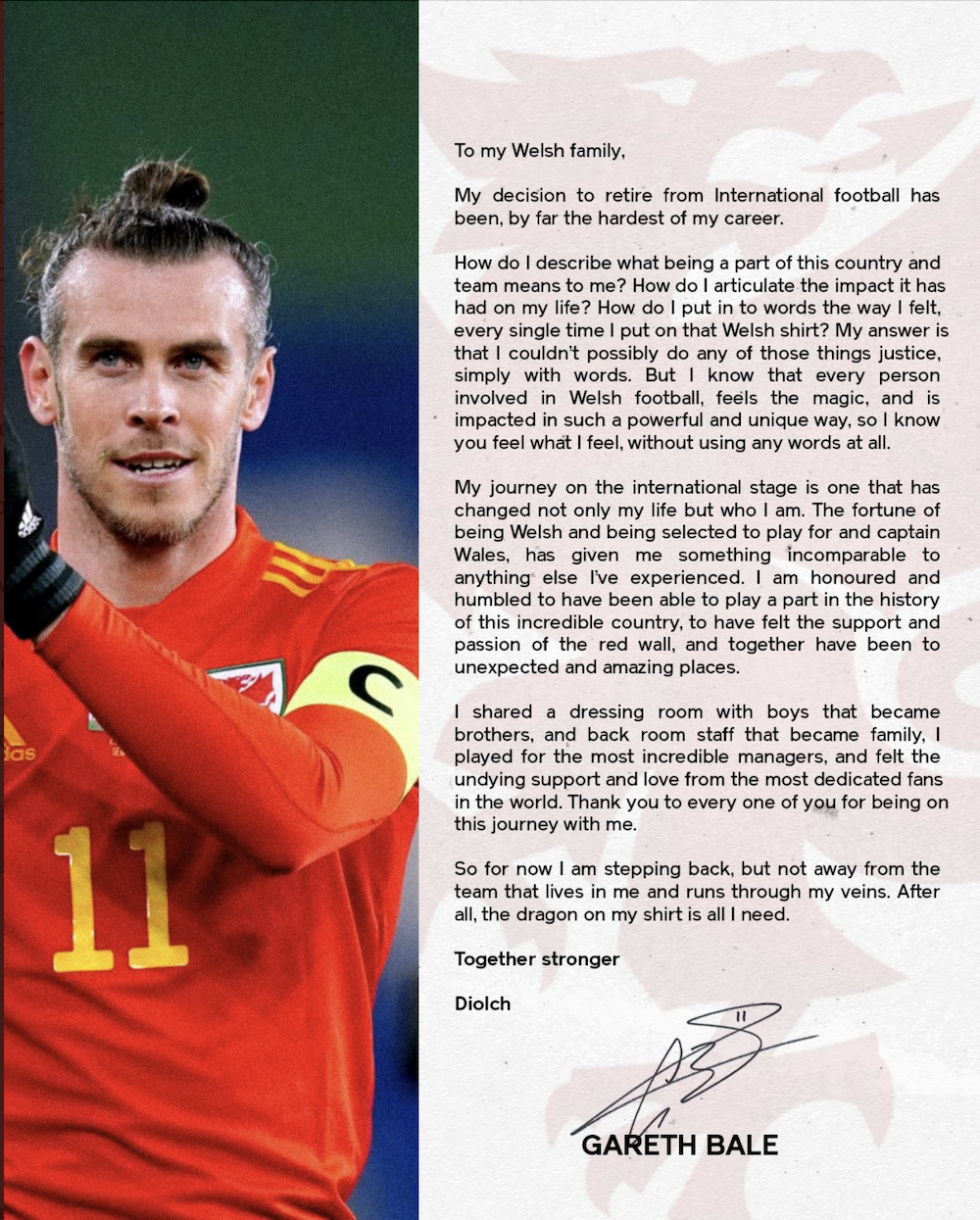 The awful, inescapable truth of his retirement is that Gareth Bale is/was a once in a generation player. Whether you believe he was created in a laboratory or sent from Krypton as a baby, the glaring fact is that he operated at a level way above mere mortals.
Crucially for his teammates, he was the talismanic presence that raised the performance levels of everyone around him.
His was the hiraeth of a love affair with his country, a grand longing to elevate Wales to even greater heights, a dragon's fire that refused to be extinguished.
There was always a purity about his playing for Wales. Unencumbered by the politics of club football, especially during the Real Madrid years, he could escape the never ending tabloid histrionics of the Spanish press and Madrid's fickle fanbase, free to tap into the innocent joy of playing with the friends he had grown up with through Wales age groups.
You saw it writ large in his game and on his face. Never were goals so ferociously celebrated than when he pulled on the red of Wales. As he once famously said, all he needed was the dragon on his shirt.
Club Cymru – was the greatest club side he ever played for.
In Wales we recognise that there is the police, ambulance, fire brigade and coastguard – and then there was Bale – Wales' fifth emergency service.
Our very own superman came to our rescue so many times during his 16 years as a Wales international, the question of what we will do without him is one only time will answer.
What's certain is that what's left behind is a footballing legacy that will live on. A captivating cavalcade of goals that were never ordinary, most often jaw-dropping and regularly world class.
When he fired in THAT free kick against Slovakia at Euro 2016 after carrying us to our first major tournament since 1958, I would have gladly stopped time and cherished that as my sole memory of Wales at a qualifying tournament.
All of us long in tooth and shorn of European Championship and World Cup experience only wanted to see us score a goal in France.
That he would propel Wales on a remarkable journey to the semi-finals in France, and beyond that, onto so much more, underlined his footballing prowess, his steadfast determination and his burning love for his country.
He led us into a glorious new era, his passion for his country coursing through his veins. He was our Glyndwr that helped forge a golden generation.
The arch alchemist, a footballing messiah – and as the joker of the squad, occasionally a very naughty boy.
He made us all believe. He made us all dream. And we did, experiencing it all together as one joyous Red Wall, never quite knowing what was coming next, the murmur of excitement every time he touched the ball a palpable thrill.
Perhaps, the two World Cup playoffs defined Bale's mercurial status as otherworldly magician at work.
The semi-final laser-guided free kick against Austria and then the deflected free kick helped into the back of his own net by Ukraine's Andriy Yarmolenko in the World Cup playoff final on arguably the greatest day in Welsh football history.
It was a huge slice of World Cup fortune where previously in the ignominious history of Welsh footballing failures to qualify for football's biggest prize there had been none.
At times it did appear there was a higher force at play. The kinetic power of Bale's left foot, like Thor's hammer encased in an Adidas Predator boot.
Gareth Bale will forever be our Pele, our Cruyff, our Maradona and Messi, rolled into one. His standing as Wales' greatest footballer is secure.
Beyond the pitch, he transcended football. Let us not forget he meant so much more. He was also the flag bearer for the astonishing reinvention of Welsh football and with it our greatest ambassador.
From the building of The Red Wall, the match day experience since moving to a permanent home at the Cardiff City Stadium, the perfecting of the anthem, the assimilation of language and culture that has given us an identity to be proud of, Gareth Bale was a totemic presence throughout.
And of course one of his most visible legacies is that he has brought knowledge and awareness of Wales as a nation to a global stage.
An all-action advert for Visit Wales, you tell anyone you are from Wales and it's likely you will be greeted with the words, 'Ah Gareth Bale!' in response.
What is certain is that we'll look back on these heady times and realise just how lucky we were to live in the age of Gareth Bale.
In the days, months and years to follow generations of families will gather in hushed reverie to tell tales of Bale, of Wales and the wonder years that have been writ large in footballing folklore.
It's been the greatest of pleasures and the most enormous of privileges to witness Gareth Bale in full majestic flight.
Of course his retirement will bring more questions. Will he carry on in football behind the scenes with the Welsh international set-up? How long will it be before he takes up golf professionally? And more pressingly, what would a giant Gareth Bale statue like the Colossus of Rhodes look straddling the River Taff?
Another day spent wondering how a giant Gareth Bale statue like the Colossus of Rhodes would look straddling the River Taff. pic.twitter.com/dQA2UI2qm2

— David Owens (@asoundreaction) November 12, 2021
If Bale's announcement has meant heartbreak for Welsh fans, on a personal note it will no doubt be something of a pacifying moment for my relationship.
For many years there have been three people in my marriage – me, my wife and Gareth Bale.
I can only ever thank my wife profusely for understanding that there were times I would have to be with Gareth (and more than 30,000 others at the Cardiff City Stadium) and she was fine with that. She knew what it meant for me and so many others.
The fire in my heart will never be extinguished.
Thank you for the memories that will live on in all of us.
We love you Gareth x

---
Support our Nation today
For the price of a cup of coffee a month you can help us create an independent, not-for-profit, national news service for the people of Wales, by the people of Wales.