Sport
The making of Jac Morgan – The inside story of Wales' new captain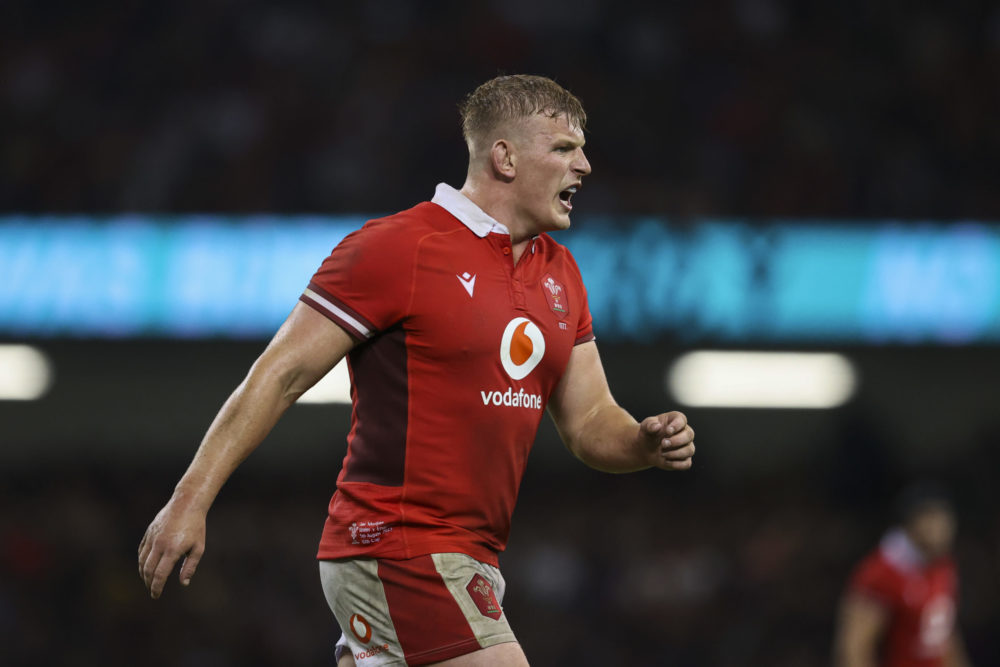 Simon Thomas
Bertie Roberts has been in tears for most of the past week.
First came the tears of sadness at the passing of Welsh legend Clive Rowlands, a man who meant so much to everyone at Cwmtwrch RFC.
Then came the tears of joy over Jac Morgan, who Bertie coached as a junior at the Swansea valley village club for some seven years.
There was a sense of huge pride and emotion at Morgan's appointment as Wales captain and then tearful delight at his Man of the Match display in Saturday's 20-9 victory over England.
"I haven't stopped crying all week. I am still crying now," admits Roberts.
Morgan was just nine years old when he first came under Bertie's wing at Cwmtwrch.
"Jac is actually from Brynamman, two miles down the road, and his father Rhodri played at-scrum-half for Brynamman RFC," explains Roberts.
"But they didn't have a junior section. I have known Rhodri all my life, I grew up with him, so he asked if he could bring Jac down to the club and it went from there."
It soon became apparent to Roberts and fellow junior coach Julian Phillips that they had a special talent on their hands.
"We always said if there was somebody going to make it all the way, it was going to be Jac," he recalled.
"The thing about him during the juniors, he was always very conscious of his height. He wasn't the tallest. He was quite small in the team.
"But that didn't make any difference on the field. He was one hell of a player. You could see he had something about him in fairness.
"He could read the game. If the opposition kicked the ball, I could guarantee you nine times out of ten, Jac would be the one to catch it. He knew where the ball was going.
"He was our captain at U13s and you could see then he was a natural leader. Everyone respected him.
"What really stood out was his attitude and commitment. Sometimes at U16s, you will have boys having a sneaky pint here and there, but no way with Jac. He was on the water every single time.
"He had no interest in drinking. That's how committed he was. He was 100 per cent."

Aberavon
A pupil at Ysgol Dyffryn Aman – the same school Shane Williams attended – Morgan played at openside flanker for Cwmtwrch from U9s to U16s. He then linked up with Amman United Youth before joining Premiership club Aberavon.
Wizards coach Jason Hyatt takes up the story: "We first met Jac when he was 18. He only had one question for us: 'How do I make Aberavon a better place?'
"For an 18-year-old boy to ask that was significant. He didn't want to know how much game-time he'd have, he didn't want to know who he was up against, he didn't want to know what we could do for him in terms of finance. His only concern was how he could help Aberavon to get better."
Morgan, a fluent Welsh speaker, proved an instant hit at the Talbot Athletic Ground.
"You see a lot of youngsters coming through and the top-end ones stand out a mile. Jac was one of those," said Hyatt.
"His first game was against Merthyr away, a tough challenge, but he ripped it up. He played over a thousand minutes of rugby until Christmas that first season and was outstanding.
"He was good over the ball, a great defender and someone who would carry hard for you, but perhaps his most significant trait was his character."
While with the Wizards, Morgan was pursuing a mechanical engineering apprenticeship with Llansamlet-based company Morganite Electrical Carbon Limited.
Enjoying his work, he found himself facing a huge decision back in 2019 – whether to focus on an engineering career or give professional rugby a crack.
In the end, he opted to go down the rugby route. As he said last week at his first press conference as Wales captain: "I think I made the right decision."
Signed up by the Scarlets, he made an immediate impression at regional level. After his debut, the team's then head Brad Mooar commented: "Remember the name because it's going to be popping up more and more.
"He's an outstanding young prospect and it looks like he has been doing it all his life."
Having captained Wales at both U18s and U20s, Morgan's reputation steadily grew at senior level, as he caught the eye with his carrying, his defence and his work over the ball.
In 2021, he switched to the Ospreys and then the following February came his full Wales debut against Scotland.
Testament to his character, he had not forgotten those who had helped him along the way. Back to Bertie.
"When Jac had his first cap, he phoned me up and said 'I have got tickets for you Bert'. That was a really nice touch for him to do that. He didn't have to do it," said Roberts.
Fast forward some 18 months and we find the 23-year-old Morgan captaining his country.
Poignancy
There's a real poignancy to that, with Cwmtwrch's most famous son – former Wales skipper, coach and team manager Clive Rowlands – having passed away last week at the age of 85.
Asked what it meant to follow in Rowlands' footsteps as captain, Morgan said: "It's massive. I was fortunate enough to know Clive for years. I played with his grandson in Cwmtwrch all through juniors.
"Most Sundays, Clive would be down watching us boys play. To know him and meet him was great. What he did for Cwmtwrch and the village was brilliant. He has been such a role model for everyone who has come through there. He had a great effect on us all."
There was a strong connection between the two families, as Bertie Roberts reveals.
"Clive and Jac's grandfather Garth – now there's two talkers for you!
"Oh my God, they would chat all day long. You couldn't get a word in edgeways between those two. They would stand together every Sunday watching the junior section.
"Clive was always there watching because his grandson Tiaan played in the same team as Jac. Jac knew Clive quite well. There was a bond there."
Roberts readily admits it has been a week of real mixed emotions for him and all in the village of Cwmtwrch.
"It's been tough, to be honest with you. I am quite close with Clive's son Dewi," he said.
"It's been a week of turmoil, very emotional. It's uncanny the week we have had really. Clive passing on the Sunday and then Jac announced as captain on the Wednesday. You couldn't write it.
"Clive would have been so proud. His famous word was calon, heart. Jac epitomises that. He has got heart. He is so humble as well. That is the word for him.
"He texts me pretty much every week and he's still in touch with the club. He came to our player of the year awards this year and he was really grounded. He's not a boy who'll forget his roots."
So Bertie, did you shed a little tear when Jac led Wales out against England at the Principality Stadium on Saturday?
"Little? I am crying now!" he replies.
"If you ask anyone in the club, I am the most emotional guy ever.
"I was crying from the Sunday when Clive passed away. I cried all day Monday listening to the tributes to him on the radio.
"Then when Jac was announced on Wednesday my phone went red hot and I've been crying ever since."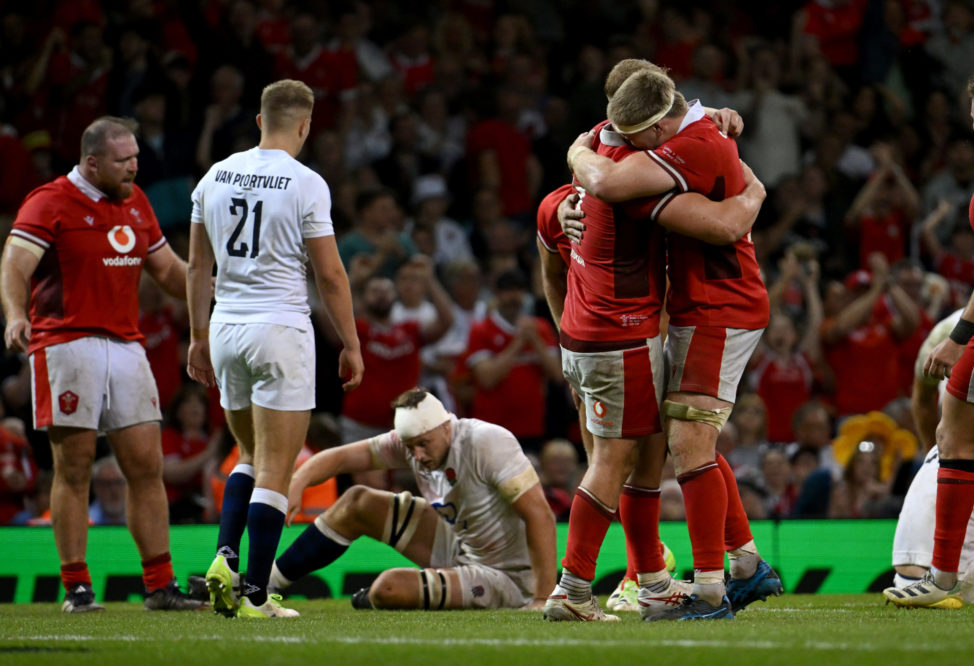 To ratchet up the emotions even more, Morgan delivered a Man of the Match display as he led Wales to victory, laying on the first try for Gareth Davies and delivering an immense defensive shift.
It took Roberts right back to those formative years at Cwmtwrch RFC.
Instinct
"When Jac ran with the ball in the junior section, he always used to move it between his two hands and away from the opposition, so he could use his free arm to do a hand off. It was instinct with him," he said.
"For the try he set up on Saturday, he did it three times within that movement. I don't think he realises he's doing it. He just does it automatically."
There were also no fewer than 25 tackles from the new Wales captain, the most memorable being a thundering textbook shunt on opposite number Tom Pearson which has rapidly gone viral.
"That reminded me of the tackle Gavin Henson did on Mathew Tait. It was exactly the same and we are going to see that for years to come," said Roberts.
"You have got to have the technique to do that. We teach them young through the junior section where to put their head in tackles. You could see that with Jac on Saturday. It went all the way through from what he was taught as a junior. I am really chuffed for him."
What then of Morgan himself? How was it for him on Saturday?
"It was a massive honour to captain the side and a great experience," he said after the game.
"We knew if we stuck together and stuck to what we have been talking about, we would get a result.
"We have worked hard in training and we really dug in deep. We knew we had more in us at half-time, especially in defence and that we could be a bit more aggressive off the line. Full credit to the boys, that's what we did, we came out firing.
"It was nice to go on the field and perform and get that win. It was a great day."
You sense it may well be the first of many more to come as Wales skipper for Morgan, with more tears of joy to flow down Cwmtwrch way.
---
Support our Nation today
For the price of a cup of coffee a month you can help us create an independent, not-for-profit, national news service for the people of Wales, by the people of Wales.