Sport
Wales and the art of football diplomacy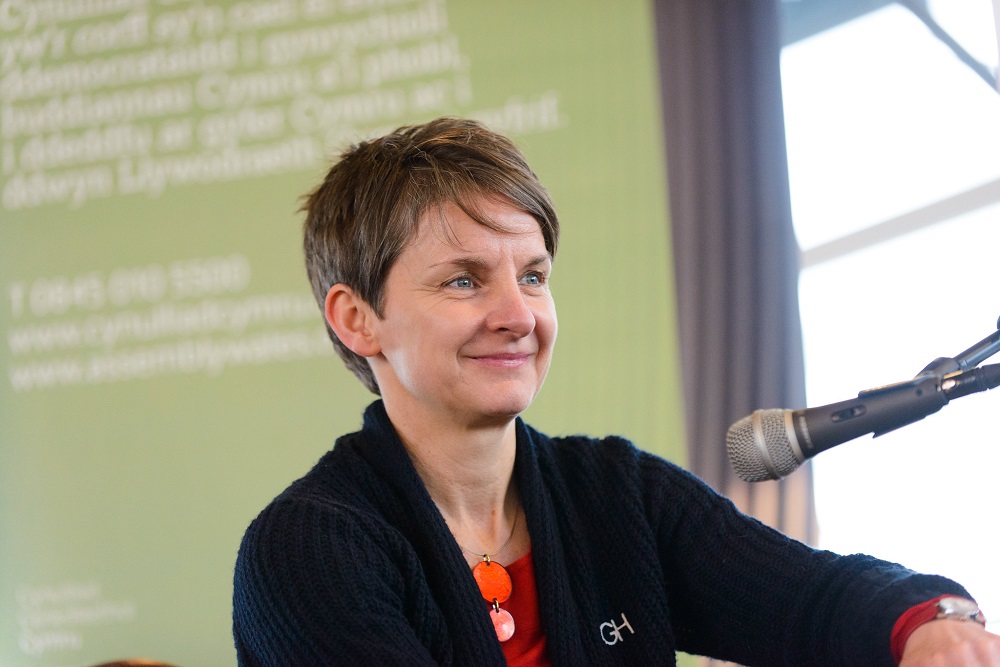 Luke James
England are trying to learn from Wales about how to use football to score diplomatic success, according to a UEFA vice-president and former Wales captain.
Wales' men's team might have been found wanting on the pitch recently, including in a 3-0 walkover for the Three Lions at the World Cup, and have none of its own official ambassadors.
But speaking at the World Congress on Sports Diplomacy in Donostia this week, Professor Laura McAllister said that, despite everything, Wales is still ahead of the game when it comes to building soft power through sport.
"It's not about population size or territory, it's about self-belief and ambition," said the first Welsh member of the UEFA executive committee.
"We can do just as much on the global sporting stage or the global political stage as any country. I think we need to move away from the concept of being small and away from the concept, by the way, of 'punching above our weight'.
"We may be sub-state in that we're not the official state that can engage in international diplomacy all of the time, but sometimes we can do it better than the formal state can because we can be more agile and more nimble. It's about people not structures and organisations."
McAllister singled out the importance of a "really political fanbase" in projecting Wales' identity.
The 24-cap international was one of four 'lleisiau Cymru' appointed by the Welsh Government to act as ambassadors for the country in Qatar during last year's World Cup.

Cultural ambassadors
Musicians Sage Todz, Kizzie Crawford and the Barry Horns were among cultural ambassadors sent to other parts of the world in an effort to capitalise on Wales' participation.
The strategy was presented in Donostia as an example of how to merge sport and cultural diplomacy, and it's one that has been taken note of across the border, according to McAllister.
"We had a very long conversation with the English Sports Minister, Stuart Andrew, while we were in Qatar," she said. "I thought no more of it afterwards, other than it had been an interesting conversation.
"But just before the final of the men's Champions League in Istanbul, I had a call from his private secretary to say 'Stuart is attending the final as a guest of UEFA, can you meet him beforehand to talk about what you've done in Wales since the World Cup?'
"This is England learning from Wales. A country of 56 million learning from a country of three million. Hence my point about small and large. Size genuinely doesn't matter in this debate in my opinion."
McAllister, who is a professor of public policy at Cardiff University's Wales Governance Centre, also gave a passionate defence of the First Minister's decision to travel to Qatar.
Plaid Cymru and the Liberal Democrats called on Mark Drakeford to boycott the World Cup over its record of human and workers' rights abuses, and Nation.Cymru revealed he was in a minority of European leaders to make the trip.
McAllister had first-hand experience of the country's discriminatory laws when the authorities confiscated her Rainbow Wall bucket hair before Wales' first match against the USA.
But, speaking in Donostia, she said: "This was the FIFA World Cup in Qatar and not the Qatar World Cup. There were 31 other countries represented in Qatar that we were seeking to build alliances with, sell Wales to, whether that's in relation to education, trade, cuisine, or sport.
"It wasn't about convincing the Qataris that their values were wrong, their politics were wrong or their economy was wrong, it was about talking to other countries that we could engage with on an informal basis and show what Wales was all about."
Independent football nation
McAllister added: "Wales was there as an independent football nation. If our first minister, effectively our Prime Minister, hadn't attended we would have been represented in every formal environment – FIFA, UEFA, governmental, ambassadorial – by the English minister.
"Now, would that be acceptable to any other national anywhere in the world? So, the First Minister of Wales had no choice in attending because it was absolutely the right thing to do and we leveraged as much as we possibly could from that engagement.
"It's critical to be in the room having conversations, even if they're difficult conversations, than it is to be outside the room looking in."
Wales is an "emerging leader" in sports diplomacy among small and sub-state nations, according to the Welsh organiser of the congress, Gavin Price.
"The key for Wales is that it's fusing sport with more conventional international relations," he told Nation.Cymru.
"It's doing sport and international trade, sport and tourism, sport and education and now it's realised that probably its powerful USP is cultural relations. That's what is really getting noticed."
Wales benefits from being one of the few sub-state nations in the world with its own recognised international sports teams, a status viewed with envy in the Basque Country, which hasn't been able to organise a match for its national football team in over two years.
But Price said the Basques and other sub-state countries could still learn from Wales' approach.
"Some people in the Basque Country say it's OK for you guys because you have national teams," said the European director of the Sports Diplomacy Alliance. "That's true but that doesn't mean to say that you can't promote your culture and heritage.
"The congress coincides with the Basques hosting the grand depart and the first two stages of the Tour de France, which is obviously a huge deal for them. It hasn't been there for a long time.
"The other areas where the Basques are particularly strong are their indigenous sports, like Basque Pilota.
"They have a really interesting mix of old and new world sports and they're not necessarily really used in a unified way to promote themselves. They've got so much to offer."
---
Support our Nation today
For the price of a cup of coffee a month you can help us create an independent, not-for-profit, national news service for the people of Wales, by the people of Wales.