Sport
Warren Gatland left with plenty to ponder after Wales' late collapse against England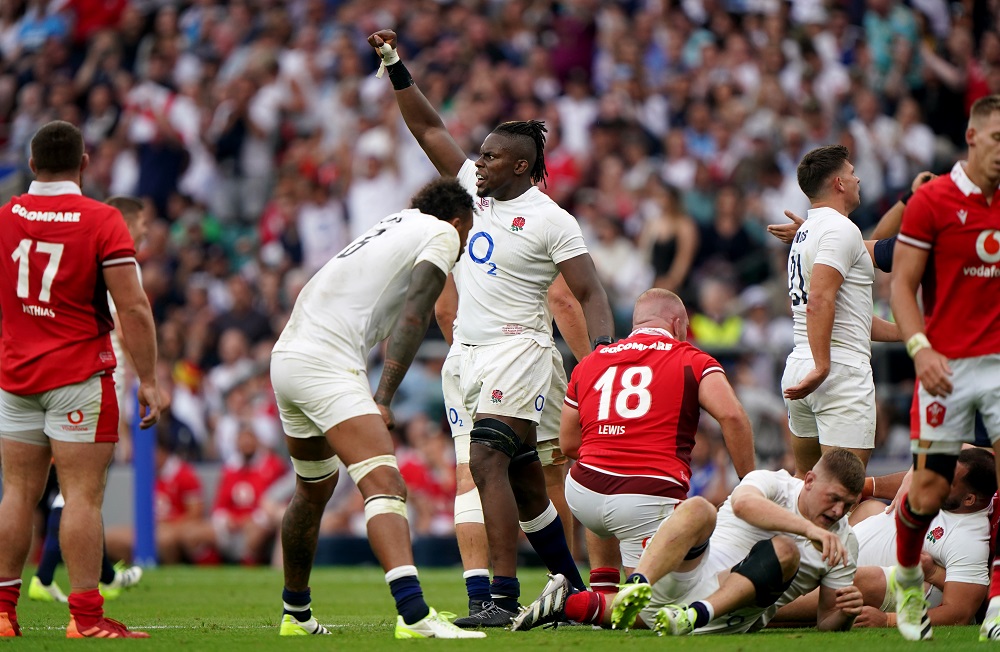 Simon Thomas
It left Warren Gatland furious and Welsh fans everywhere shaking their heads in bewilderment and disbelief.
So how did it happen? Just how did Wales manage to lose that game at Twickenham?
With less than 15 minutes to go on the clock, it seemed an impossibility. They had just gone 17-9 up through a breakout try from Tomos Williams and had a three-man advantage with England down to just 12 players following yellow cards to Freddie Steward, Ellis Genge and Owen Farrell, with Farrell's to be upgraded to a red.
They were on their way to a first win at Twickenham since the famous World Cup triumph of 2015 and to another big morale booster after last week's triumph over the Red Roses in Cardiff.
There was simply no way they could lose and yet they did, going down 19-17.
As such, a detailed examination of those fateful final 15 minutes is required, so here goes.
It all began with the English kick-off following Tomos Williams' try. This is where things started to go wrong.
Debut-making replacement centre Keiran Williams caught the ball midway inside the Welsh 22 and carried it up before being brought down by a strong tackle from second row George Martin.
Williams suddenly found himself isolated on the deck, with no supporting player on hand to provide the all-important clear-out, enabling Courtney Lawes to get in over the ball.
By the time the first Welshman arrived on the scene, in the shape of Adam Beard, it was too late and Lawes had won the penalty, with Williams pinged for holding on.
As exit strategies go, it was not a particularly effective one.

Attacking lineout
England proceeded to kick to the corner to set up the five metre attacking lineout. A threatening position, but surely Wales couldn't concede against 12 men? Think again.
What followed was how not to defend a close-range driving maul with three extra men.
Given their numerical advantage, you would have expected Wales to hurl their entire pack into the rearguard action, not having to worry about any danger further out.
Yet, as the English maul drove left and then spun round to the right, there were a couple of instances of two or three Welsh forwards standing off and not engaging it.
Fly-half Dan Biggar spotted the danger and ran in to try and help out, but by now the maul had momentum, with three English backs having joined the fray, and it was not to be stopped, with Maro Itoje the man to claim the score.
It was the only move a 12-man team could use, the only way they could score a try. Wales would have known exactly what was coming. Yet, even with three extra players, they couldn't repel it. It was disorganised and disjointed defence and it probably won't make pleasant viewing on the video review.
Nor will what happened a few minutes later. The visitors were still ahead and had an attacking foothold midway inside the English half, now with a one-man advantage.
But what followed merely served to sum up what a shambles the Welsh lineout was during the course of the game.
They had already lost a succession of balls on their own throw, so confidence would have been pretty shallow in that department. Now came a new nadir.
Chaos
There was delay, there was hesitancy, there was confusion and then there was downright chaos, as caller Beard instructed Chris Tshiunza to swap places with Dan Lydiate at the tail. It actually ended up with both Tshiunza and Lydiate standing outside the lineout just as hooker Sam Parry prepared to throw in.
So, with no pod in place, Parry ended up going for prop Gareth Thomas at the front, with Georgian referee Nika Amashukeli awarding England a free-kick amid the Welsh disarray.
Beard was left standing with his arms wide open in exasperation at what had happened. It was an image that spoke volumes about a disastrous day at the lineout for Wales. The contrast with the week before, when that set-piece had worked so well in Cardiff, could not have been more extreme.
In all, the visitors lost six lineouts on their own ball, amid miscommunication, assorted overthrows and steals conceded under heavy pressure from Lawes & Co.
On top of that, when they did manage to secure ball off close range attacking throws, the resulting maul was twice held up, resulting in possession switching over, with golden opportunities wasted.
So not a good evening at the lineout at all. It was Wales' fatal flaw, their Achilles heel.
To compound matters, their other set-piece – the scrum – imploded in the decisive closing minutes.
From the free-kick off Wales' lineout calamity, George Ford sent up a spiral bomb which the otherwise outstanding Liam Williams was unable to hold onto and, from the resulting scrum, England got a big shove on to win a penalty advantage.
Centre Joe Marchant was just unable to hold on to a cross kick for a try as play continued, but back we went for the penalty which Ford slotted. England were suddenly ahead and it was now 14-a-side with Beard binned for stepping offside during the advantage passage.
There was still time for Wales to hit back, but their last chance disappeared as replacement prop Kemsley Mathias spilled the ball near the England 10 metre line with five minutes to go.
They were not to venture into the opposition half again, as the hosts won another scrum penalty to help them see out time for the most unlikely of victories.
Furious
Gatland did not mince his words in his post-match interviews.
"I'm pretty numb. I'm a bit furious actually," said the Welsh head coach.
"The game management in that final quarter wasn't good enough. We should have been comfortable.
"We had them on the ropes and just left them off the hook, which is disappointing, but it answered a few questions for us about certain individuals. We found out about a few people today.
"We put ourselves in front, we put ourselves in a good position to win the game, but then we turned it over and gave away some soft penalties at key and crucial moments and ended up with the same numbers on the field with the yellow card. So, as I say, it answered a few questions.
"It's about players knowing their roles in certain positions and that was disappointing with some of the accuracy. We thought we were good last week and we just weren't up to the mark today, particularly at lineout time. We missed a few opportunities. That didn't function, so that was disappointing and then some indiscipline in terms of some soft penalties.
"We need to be a lot better for next week against South Africa. We were comfortable at one stage and looked like we were going to put the game away. Unfortunately, we shot ourselves in the foot. England didn't put us under a huge amount of pressure. That is a game we should have won and we cost it ourselves."
Indeed, it did look as though we were heading for a repeat of the victory from the week before.
Although it was an entirely different Welsh team, there was a similar pattern. They had been on the back foot for much of the first half and trailed by the same number of points at the break – six – before once again taking charge.
They struck first just before the hour mark. Following a final general warning to the two front rows, a strong Welsh scrum saw Genge go down on his knee, meaning a trip to the sin bin for the English loosehead.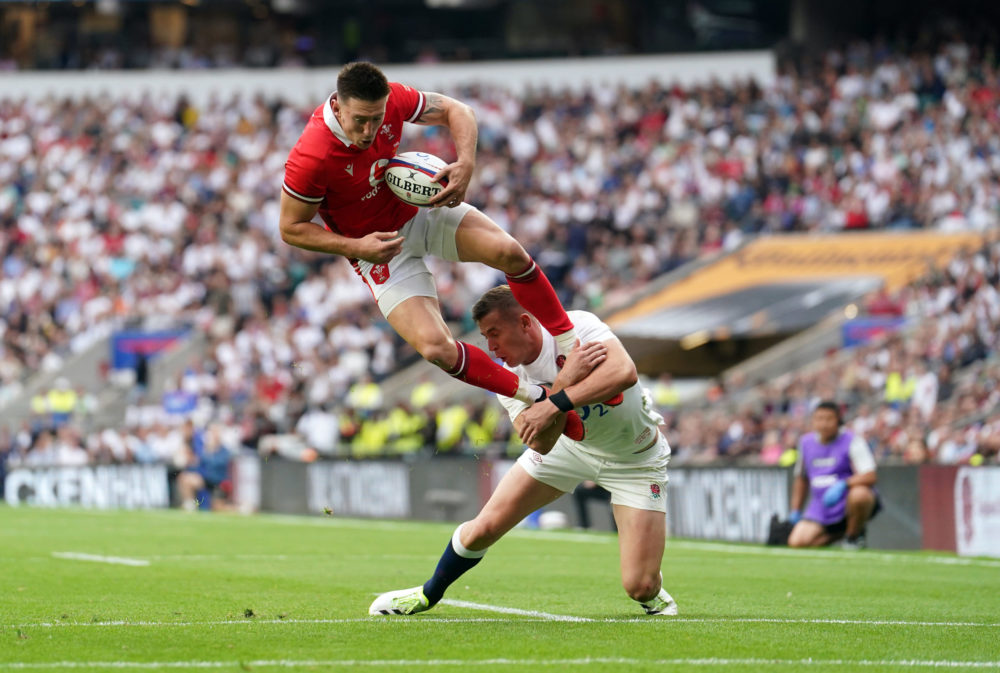 Opting to kick the resulting penalty to the corner, Wales were rewarded when a series of forward carries was followed by a pinpoint cross kick from Biggar into the arms of the leaping Josh Adams which earned a penalty try, with full-back Steward taking 50-cap wing Adams out in the air.
That also saw Steward yellow carded and he was soon joined in the bin by his skipper Farrell, whose shoulder to the jaw of Taine Basham was upgraded to a red card offence on review.
Wales swiftly capitalised on their three-man advantage, as the side-stepping Liam Williams ran from deep to launch a counter, with Biggar then dummying the kick before releasing Joe Roberts who burst through and sent Tomos Williams away to the line.
That was it. Game won, surely. Nope. We still had the crazy conclusion to come.
Given how cross he was publicly, one can imagine Gatland would have had some pretty choice words to say in the dressing room after the game. It will have been some post-mortem.
Looking at the plus points on the individual front, Liam Williams had an exceptional game at full-back. He was class and composure personified, running his way out of trouble as cool as you like and setting in motion Wales' best moments.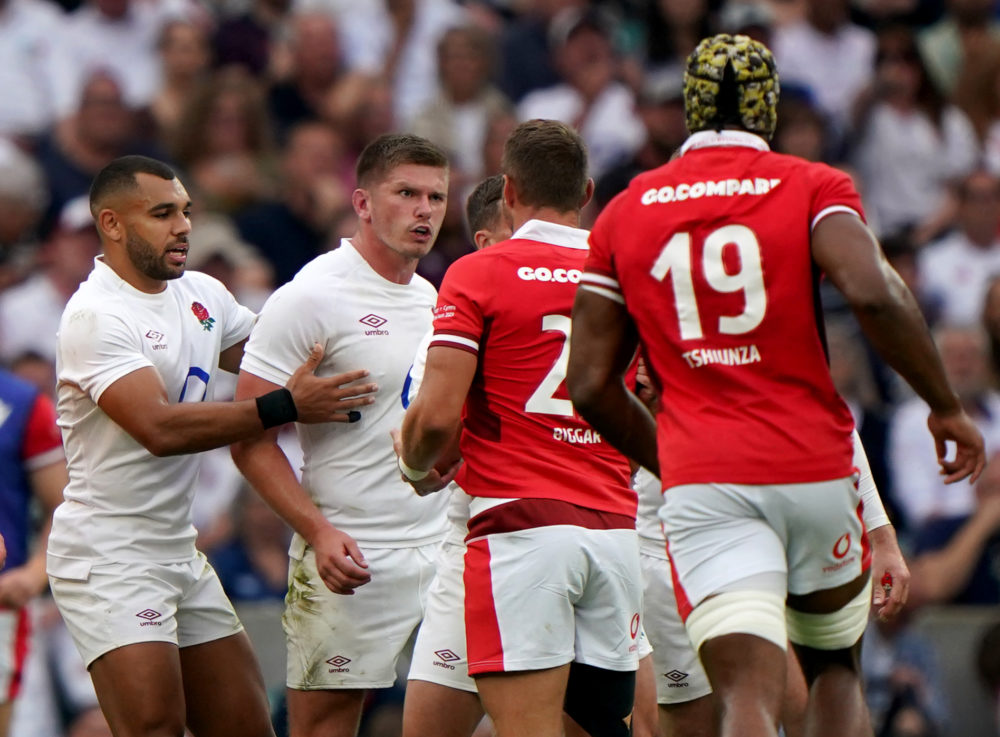 Tomos Williams had another fine outing at scrum-half, all zip and nip, with Biggar bringing control and direction after coming on, to reassert himself as the first choice 10. Elsewhere, Joe Roberts can be pleased with his debut at outside centre, showing good footwork and playing a key part in the opening try, while flankers Tommy Reffell and Dan Lydiate topped the tackle count with 19 and 18 respectively.
For others, however, it was not such a good day and Gatland's repeated comment that questions have been answered about certain individuals would suggest some may have played themselves out of contention for World Cup selection.
There are also fresh injury issues to cause concern.
Dewi Lake's first time as Wales captain ended in unhappy fashion midway through the first half as he suffered knee damage while jackling over the ball at a ruck, leaving him "gutted", to quote Gatland.
As for No 8 Taine Plumtree, his first start was also marred, as he picked up a shoulder problem, leaving the field in obvious pain and frustration.
Scans will reveal more, but they are clearly worries.
Meanwhile, we now know that forwards Ryan Elias and Dafydd Jenkins will both be sidelined for around four weeks following the hamstring and knee injuries they picked up against England last week.
Given the situation with Lake and Elias, we could now see Elliot Dee starting at hooker in the opening World Cup game against Fiji which would be some story given he slipped right out of the frame during Wayne Pivac's reign.
You could argue he should be in the side anyway on form based on the two warm-up fixtures so far. He was 100 per cent with his lineout throwing last week and put in a real shift around the field after his early entry in place of the hamstrung Elias.
It's also worth remembering this is a man with 42 caps to his name, so he is no rookie and has seldom let Wales down.
He forged an excellent lineout rapport with Dafydd Jenkins in the Cardiff clash with England and one just hopes second row Jenkins can get back to fitness in time for the Fiji game, especially given what happened at that set-piece in his absence.
So, all in all, much for Gatland to ponder over, in terms of fitness, form and various facets of the game.
In addition to the lineout malaise yesterday, Wales also conceded 15 turnovers, missed 18 tackles and were in double figures for handling errors.
They will certainly want to sharpen up those areas ahead of next week's final warm-up game at home to South Africa.
Just what kind of team Gatland picks for that encounter will be fascinating, Will he go for what he now sees as his strongest available team or will he hand some fringe figures a last chance to push for that 33-man squad for the World Cup?
All will be revealed soon.
---
Support our Nation today
For the price of a cup of coffee a month you can help us create an independent, not-for-profit, national news service for the people of Wales, by the people of Wales.