Sport
Watch: Beautiful sign language rendition of Hen Wlad Fy Nhadau honours Welsh paralympians
//= do_shortcode('[in-content-square]')?>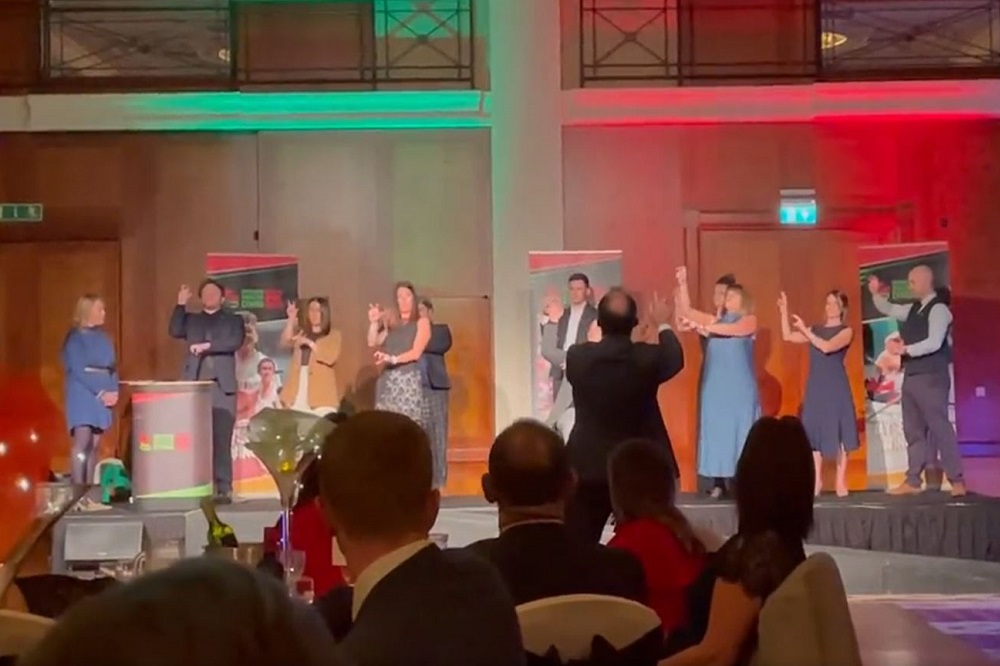 Disability Sports Wales honoured the achievements of Welsh Paralympians in Tokyo with a gala dinner and presentation ceremony last night – including a magnificent British Sign Language (BSL) performance of Hen Wlad Fy Nhadau.
The performance was captured on video by Peter Gillibrand and has been praised on social media for its style, class and inclusivity.
This was EMOTIONAL.

Wales is now the second country *IN THE WORLD* to perform a national anthem in sign language.

I am so proud of living in such an inclusive #Wales. Hen Wlad Fy Nhadau yn annwyl i mi. ❤️ 🏴󠁧󠁢󠁷󠁬󠁳󠁿🏴󠁧󠁢󠁷󠁬󠁳󠁿🏴󠁧󠁢󠁷󠁬󠁳󠁿 pic.twitter.com/zESatABrV8

— Peter Gillibrand (@GillibrandPeter) November 12, 2021
Hannah Howe responded: "Wonderful. Uplifting. Inspirational."
Anne Owen added: "This made me cry. It looks so beautiful."
"This was such a proud and emotional moment last night," Bronnie Griffiths said.
The 21 strong team from Wales, listed in full below, had a successful time at the 2020 Tokyo Paralympics, coming home with a collection of four gold, three silver and seven bronze medals, representing Wales in 12 different sports.
Para-Archery
David Phillips: Cwmbran. Event: men's open recurve
John Stubbs: Denbighshire. Event: men's open compound
Para-Athletics
Hollie Arnold: Grimsby (Wales residency qualified). Event: women's F46 javelin
Olivia Breen: Guildford (Welsh mother). Event: women's T38 long jump and 100m
Aled Sion Davies: Cardiff. Event: men's F63 shot put
Kyron Duke Cwmbran: Event: men's F41 shot put
Sabrina Fortune: Mold. Event: women's F20 shot put
Harri Jenkins: Neath. Event: men's T33 100m
Harrison Walsh: Swansea. Event: men's F64 discus
Boccia
David Smith: Swansea. Event: men's BC1 and BC1/2 mixed team
Para-Canoe
Laura Sugar: Saffron Walden (Welsh father). Event: women's KL3
Para-Cycling
James Ball: Torfaen. Event: men's B (with pilot Lewis Stewart)
Para-Equestrian
Georgia Wilson: Abergele. Event: grade II dressage
Judo
Jack Hodgson: Llantwit Major. Event: men's +100kg
Para-Rowing
Benjamin Pritchard: Swansea. Event: PR1 M1x
Para-Table Tennis
Joshua Stacey: Cardiff. Event: men's class 9 singles and men's class 9-10 team
Paul Karabardak: Swansea. Event: men's class 6 singles and men's class 6-7 team
Tom Matthews: Aberdare. Event: men's class 1 singles
Para-Taekwondo
Beth Munro: Liverpool (Welsh mother). Event: women's K44 -58kg
Wheelchair Fencing
Gemma Collis-McCann: Manchester (Welsh mother). Event: women's sabre and épée
Wheelchair Rugby
Jim Roberts: Welshpool. Event: 3.0 classification