Sport
Watch: Swansea City kitman's passionate speech ahead of derby victory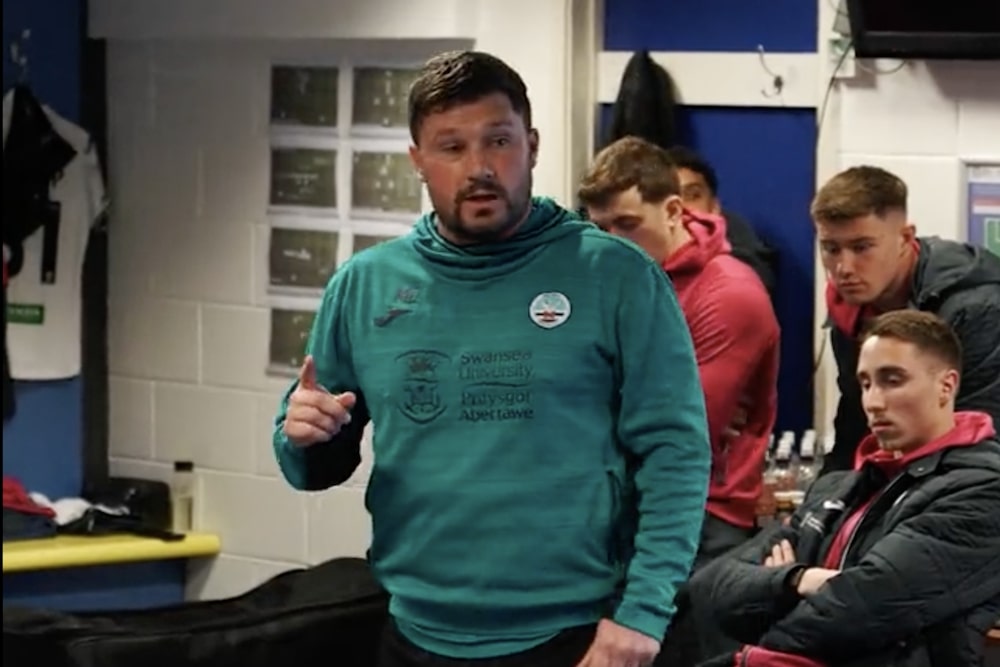 This is the moment Swansea City's kitman Michael Eames gave an emotional speech to players ahead of the south Wales derby – that even Cardiff City fans have applauded.
Invited to deliver the team talk ahead of the game by Swans boss Russell Martin, the kitman didn't disappoint.
Eames, a Swansea City fan his whole life knew what it meant to supporters to win the derby and the Swansea City players certainly knew just how much it meant to the fans by the time he had finished speaking.
To be fair given they had won the previous three derby matches against Cardiff City, delivering the first double in 110 years of these games, it's fair to say the club already has a pretty inmate understanding of the passion, desire and commitment needed for these fixtures.
Whereas, if we're being brutally honest the Swans understand this much more than the Bluebirds appear to.

Emotional
With the Swansea City players congregated in the away dressing room moments before kick off on Saturday, these are the stirring words that Eames delivered…
"You all know me. I'm the kitman, but importantly I'm a supporter.
"I was there first, I was there as a kid. My family, we were all there.
"Today, you lot playing here, you are playing for all them.
"They aren't good enough to play, you are.
"Joe Allen scored a goal at Ninian Park and I was in the crowd. Best feeling I've ever had.
"Did you see the way he celebrated? That's what it means to him and what it should mean to everyone of you who scores a goal out there today. Because you will. You'll score a few.
"I'm getting bit emotional, because it means so much to me and I know it means just as much to everyone there.
"People said that the double can't be done. 110 years, you've done it.
"Then you've done the treble, now today you're going to make it four. It's on you.
"And I know you're good enough. We all know we're good enough.
"They know you're good enough, and them next door, they've felt it.
"They know what it's like to chase you around, and they can't get the ball off you.
"And when you score one, you score two, however many you score, we are all over there at the end and we celebrate in front of everyone and we let them know that we've done it for them.
"Yeah. Come on, we can do it."
A pre-match team talk from @Kitmanswans 🖤🤍

Take a different look at Saturday's South Wales derby 🦢

📺 Watch 𝗔𝗹𝘁𝗲𝗿𝗻𝗮𝘁𝗶𝘃𝗲 𝗩𝗶𝗲𝘄 now 👉 https://t.co/41jbvNTXod pic.twitter.com/41YrG0k5Ku

— Swansea City AFC (@SwansOfficial) April 3, 2023
Understandably since being posted online last night, Eames' speech has gone viral – and it's received plaudits in the most unlikely of places – amongst Cardiff fans who had one common refrain – just how Swansea City get it and Cardiff City don't.
Responding to the video on Twitter these Bluebirds' supporters had their say.
Oliver Cassidy posted: 'Cardiff fan here. You lot all understand what this game means. Wish I could say the same about our players and staff'
Connor Davies said: 'They understand how important the fixture actually is and it's horrible to see how little it means to our team. We won't be winning a SWD for a while as they get it bang on every time.'
Ben Withers wrote: 'These lot get what it means and we haven't got a clue 🤦‍♂️
Meanwhile, popular Cardiff City Twitter account Ninian Talk summed up most Bluebirds' supporters' feelings by posting: 'Never thought I'd share something of Swansea on this page but it's a must see.
'This fixture means so much to them and they truly get how important this game is and what it means to win
'Us on the other hand have no care or passion for it. It's why we've lost four in a row
'Grim.'
---
Support our Nation today
For the price of a cup of coffee a month you can help us create an independent, not-for-profit, national news service for the people of Wales, by the people of Wales.