Sport
Watch: The many times Malcolm Allen was 'tasered' when Wales scored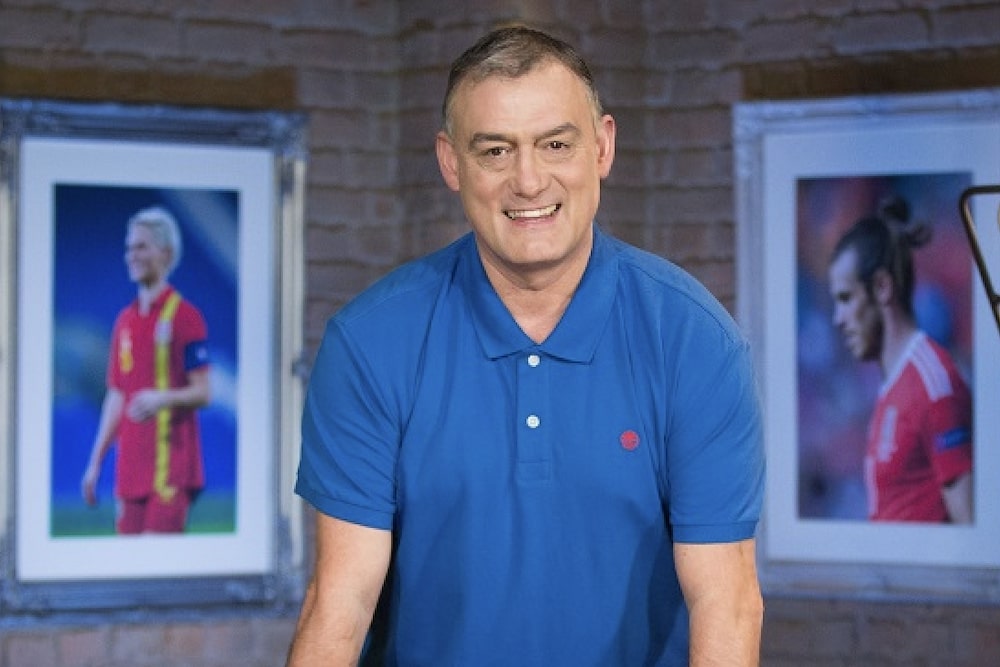 David Owens
There are many things I love. Music, sport, comedy, my family and sunshine on a crisp autumn day. Oh and chocolate raisins. God, I love chocolate raisins.
However, there is one thing I really love. A moment I now actively seek out everytime Wales win a game of football. Admittedly it's been a little too long since that happened in a meaningful match, but nevertheless, there is one thing that makes my heart sing and makes my face break out into a broad smile – and that is Malcolm Allen.
Not just Malcolm Allen per se, but the diehard Cymru fan come co-commentator on S4C, who is both the most passionate supporter and a soundman's worst nightmare.
In tandem with Sgorio commentator Nic Parry, they are the finest Welsh partnership since Rush and Hughes, a stellar footballing commentating combo.
And I don't care what anyone says but there can be no greater sound in sport than Malcolm Allen screaming when Wales score a goal – even if it might sound like he's been tasered – multiple times.
When Wales hit the back of the net, Parry is ever the professional holding things together like the consummate commentator he is, while Allen is all of us, a Welsh fan screaming with delight while the S4C engineers struggle to keep a hold on the sound levels.
To me it is nothing but a life-affirming joy. His screams of delight at Euro 2016 are now the stuff of legend, a defining moment of Welsh culture and folklore.
That's what endears us all to the former Newcastle and Wales striker – above all he is one of us – and we love him for it.
Here then are the many times Malcolm Allen was 'tasered' watching Wales score.
Carry on screaming, Malcom!
There is no greater pleasure than listening to Malcolm Allen being tasered while celebrating a Wales goal. #MDAWAL pic.twitter.com/SbZk1ge5mZ

— David Owens (@asoundreaction) September 5, 2017
There is no greater pleasure than listening to Malcolm Allen being tasered while celebrating a Wales goal. pic.twitter.com/OJOMwEOftq

— David Owens (@asoundreaction) July 1, 2019
Little known fact outside Wales: we made a Faustian pact with UEFA – every time Wales score at the EUROs the Welsh language 2nd voice, Malcolm Allen, is tasered. https://t.co/DAefv913zA

— Ifan G Hughes (@IG_Hughes) June 9, 2021
Nothing beats Malcolm Allen screaming after a wales goal https://t.co/17xXFpkYLt

— lewisrocke (@lewisrocke1) June 5, 2022
You can't beat the sound of Malcolm Allen being tasered when Wales score. https://t.co/EDXqC5rBp2

— David Owens (@asoundreaction) October 14, 2020
Come for Cian Ashford's last-minute equaliser for Cymru in an #U21EURO qualifier. Stay for Malcom Allen screaming on the commentary.pic.twitter.com/xbAhirUSe4

— SCOUTED (@scoutedftbl) October 13, 2023
READ MORE: The new life of former Wales star and Sgorio presenter Malcolm Allen

---
Support our Nation today
For the price of a cup of coffee a month you can help us create an independent, not-for-profit, national news service for the people of Wales, by the people of Wales.