Sport
We're not leading Wrexham transfer plans, say Ryan Reynolds and Rob McElhenney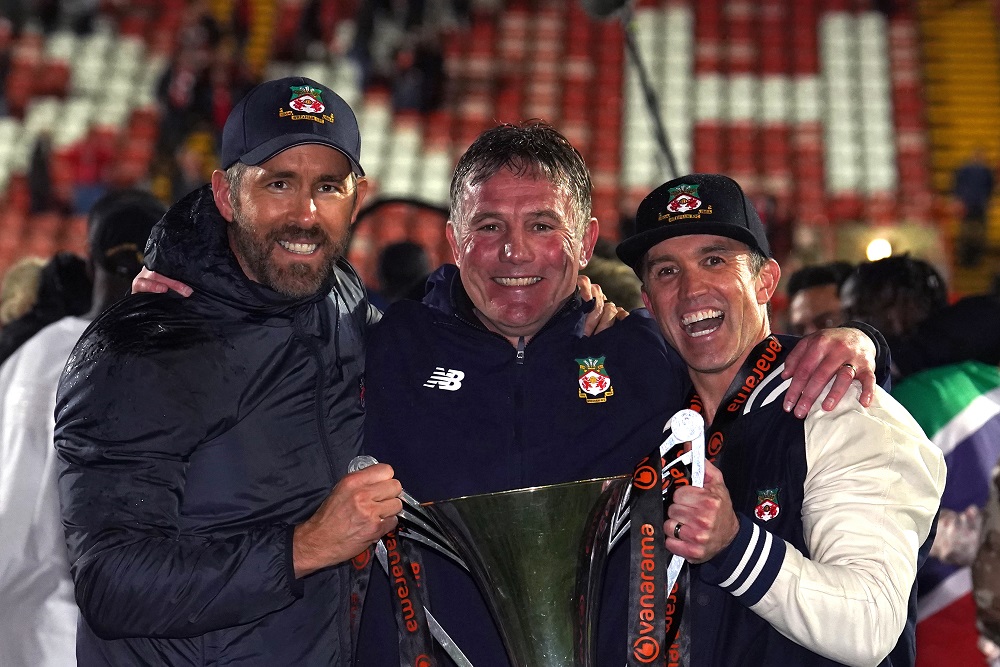 Wrexham manager Phil Parkinson will take the lead on any new transfers as the club prepare for life back in the Football League, according to co-owners Ryan Reynolds and Rob McElhenney.
Parkinson's side produced a fitting Hollywood finale to their Vanarama National League promotion bid by securing the title to end a 15-year exile.
Both Reynolds and McElhenney were at the Racecourse Ground for the victory over Boreham Wood last month, joining in with the post-match celebrations among joyous fans on the pitch.
Wrexham are set for a bus parade on Tuesday evening to mark the club's achievements, but attentions are already on plans for next season and life in Sky Bet League Two.

Transfer plans
While there has been a tongue-in-cheek offer for former Wales captain Gareth Bale to sign up, it will be down to Parkinson to advise the celebrity owners on what realistic reinforcements are likely to be needed.
Asked about the club's transfer plans for the summer window in an interview for S4C, to be broadcast on Tuesday, McElhenney said: "We defer to Phil. We are actively talking about that right now. I know for a fact he feels as though we have a very strong side.
"No decision that we have made over the last two years hasn't kept the future in mind, so we never make a short-term decision. Any player that we have signed, we have signed to at least a three-year deal, except for one (goalkeeper Ben Foster).
"He is the guy we are going to work on, but other than that, I think we have a very strong side.
"If Phil says we need somebody else, then we will do our best to go out and get them."
Although McElhenney insisted there was "seriousness from our side" over attempting to sign Bale, the former Tottenham and Real Madrid forward has already knocked back the idea of coming out of retirement.
Reynolds added: "I'm also weirdly happy for him to do exactly what he wants to do with his life, because he has given up so much for a sport that he loves – but it is fun though.
"I like that we can kind of do some stuff that is a little outside the box of convention when it comes to goofing around."
Restructuring
Reynolds and McElhenney have reportedly already spent more than £10million on restructuring the club from top to bottom.
As well as strengthening the playing squad, there has also been significant investment in infrastructure, including at the stadium.
"I don't think we're necessarily concerned with losing money as much as we are concerned with making the club sustainable, that was always our intent," said US actor McElhenney.
"It is interesting to see a lot of the media that has come out over our annual report from this past year, because it is not taking into account so many different things.
"We don't respond to it because we know what the truth is, which is that the club is certainly on its way to becoming sustainable and that's what our goal is."
Deadpool star Reynolds also stressed Wrexham's long-term future would always remain front and centre.
"Ultimately, like any business, you want it to be able to self-perpetuate and continue growing. You don't want to lose money, but I don't think either of us are in this to make money either," he said.
"It's just about growing the best possible club and finding value in any place that we can find value, whether that is financial or emotional, sometimes it can be indistinguishable."
Reynolds added: "At the end of the day, you can count on us to do whatever is in the best interest for the club and the community, but often the two of those are the same."
---
Support our Nation today
For the price of a cup of coffee a month you can help us create an independent, not-for-profit, national news service for the people of Wales, by the people of Wales.