Sport
When Gareth Edwards became a global Superstar – and it wasn't for playing rugby!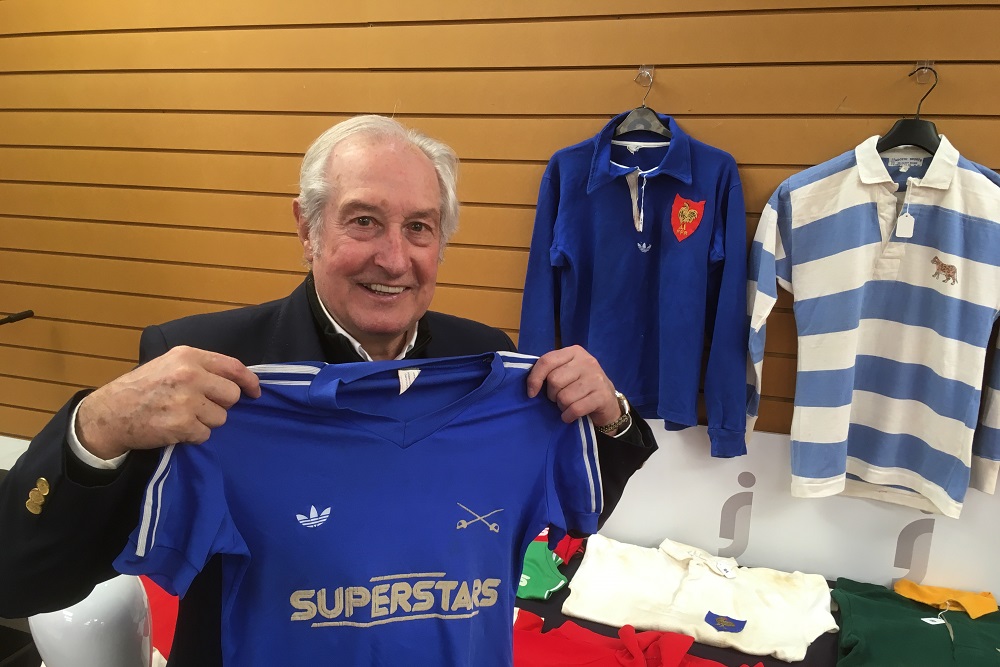 Simon Thomas
Sir Gareth Edwards enjoyed plenty of magical moments during his sporting career but none more surreal than playing table tennis against Bjorn Borg!
That was just one of the unlikely experiences he had through taking part in the Superstars TV programme.
For those too young to remember, Superstars was a hugely popular show in the 1970s and early 1980s that involved big names from different sports competing against each other in various disciplines.
They would try their hand at a range of activities including sprinting, swimming, rowing, cycling, football, kayaking, weightlifting, tennis, shooting and the infamous gym tests.
One key rule was you weren't allowed to compete in your own specialist sport.
Wales rugby legend Edwards took part in the programme four times, progressing from the 1976 UK final to a European heat and then the Euro final, with his run culminating in him taking part in the World final out in the USA in March 1977.
Incredibly, he competed in that event in Georgia just days before playing for Wales against Scotland at Murrayfield in that year's Five Nations!
For the great scrum-half, a Superstars adventure that was to conclude with a trip to the deep south of the States began in the somewhat less glamorous surroundings of Aldershot – the setting for the 1976 UK final.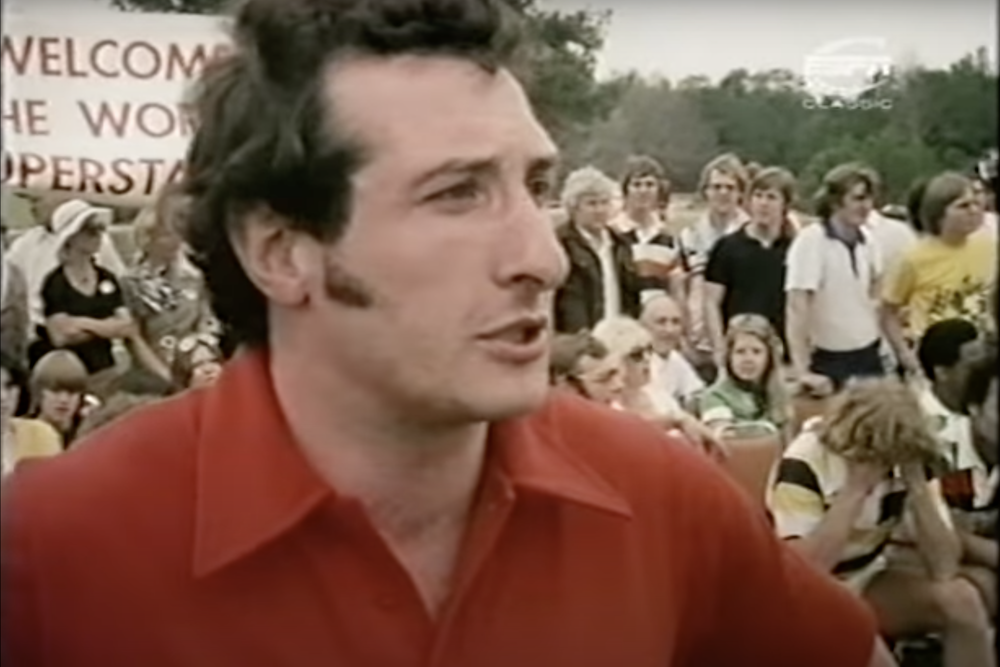 He found himself up against an array of household names including that year's Formula One world champion James Hunt, boxer John Conteh, Olympic gold medal winning athlete David Hemery, footballer Malcolm McDonald and fellow rugby stars JPR Williams and David Duckham.
It was to prove an eventful couple of days, with Conteh, MacDonald and football's Stan Bowles all capsizing during the kayaking, while Bowles managed to fire through the table in front of him with his .38 caliber pistol during the target shooting event, causing his fellow competitors to duck for cover.
"I was next to him," recalls Edwards.
"They said 'Shoot, put the gun down; Shoot, put the gun down'.
"All of a sudden, bang, he did it the wrong way. He shot right through the table!"

James Hunt
Edwards won the soccer test and the weightlifting to finish fourth overall, with JPR unsurprisingly winning the tennis given he was a junior British champion in the sport.
For the second time, the UK title was claimed by 1968 400m hurdles Olympic champion Hemery.
Edwards then went on to compete in a European heat in Vichy, France, which saw him facing the likes of Tour de France great Raymond Poulidor and athletes Guy Drut and Ivo van Damme.
It also meant taking on five times Wimbledon champion Borg in table tennis.
"His father had been a world champion at it as well," recalls Edwards.
"A few years back, I was talking to some guy who said he had met Borg. Apparently, he said 'The only Welshman I know is Gareth Edwards'."
So how did the table tennis contest with the Swedish legend end up?
"I think he just about squeezed through!" chuckles Edwards.
Borg topped that European heat, with Edwards again finishing fourth after winning the weightlifting and the gruelling gym tests of parallel bar dips and squat thrusts.
That saw the Cardiff No 9 reach the 1976 European final in Amsterdam where he came sixth, after victory in the soccer skills, with Swedish pole vaulter Kjell Isaksson crowned champion.
Then came the invitation to travel to the USA for the first ever World Superstars final in 1977. The only problem was the event was scheduled for the final week of that year's Five Nations Championship.
"I asked the WRU if I could do it. I asked the selectors, I asked the coach John Dawes," he recalls.
"They said 'Oh what a great honour, fantastic, yes, but you've got to be back for training'.
"Anyway, I went out on the Saturday and the Scotland game was the following Saturday.
"I remember I was nervous out in America. I was beginning to think 'Oh God, did I do the right thing?'
"I told the organisers I had to get back for the game and I couldn't afford to miss the plane home.
"They said 'Oh we will get you there, don't worry. If you miss the plane, we have got a private jet'. I said that's a bit different to what I am used to!"
The world final saw Edwards competing against the likes of Kiwi Olympic gold medal-winning middle-distance runner Peter Snell, Dutch soccer star Rudi Krol, boxer Conteh and a number of high-profile American Footballers.
"OJ Simpson's name was in the programme, but he wasn't released from doing a film at the time," recalls the Welshman.
"I remember I was running against this NFL wide receiver and I said 'What's your best time for the 100m then?'.
"He said 10.2 or something like that and the British record was only 10.1. I was just thinking I hope I'm not going to pull a hamstring here!
"They were fantastic out there. It was a great experience."
Olympic Champion
The event was won by Olympic champion Bob Seagren who finished ahead of fellow pole vaulter Isaksson.
Once he had completed his events, it was then time for another sprint from Edwards."I did the dips and the chin-ups and then it was 'Right, I have done it, off I go'.
"I jumped into a taxi and then it was a mad dash to the airport.
"I got a connecting flight to New York and then an overnight flight back to the UK.
"I slept on the plane, but when I woke up I was muscle bound because I hadn't had time to warm down after the gym test.
"There was a car to meet me at Heathrow and I was straight down to training. The jet lag was beginning to play up now and I was so stiff.
"I told Gerry Lewis (physio) and he said to have a run and then say I had a little bit of a twisted ankle, just an excuse to get me in.
"He gave me a rub-a-dub and the next thing I know I was playing the following day up in Murrayfield!"
Edwards proceeded to play his part in an 18-9 win over the Scots which featured the sensational side-stepping score from Phil Bennett which has been voted the greatest ever Welsh try.
Fond memories
As for the whole Superstars experience, he looks back on it with fond memories.
He won a fair amount of prize money along the way, not that it swelled his bank balance.
"I wasn't allowed to keep it, I had to give that to the Union," he says.
"A lot of the professional sportsmen were training hard for it because they could keep the money.
"We didn't have time to train or go on a bike. We could all cycle, but these guys were buying racing bikes and practicing. They were spending money to make money.
"Really, for me, it was the experience of it all. You would meet people from different sports and different countries.
"I was looking at some of the programmes the other day and there were some great names in there, while to go to Georgia was a real eye-opener.
"Yes, I've got some good memories from it and I can always say I played against Bjorn Borg!"
---
Support our Nation today
For the price of a cup of coffee a month you can help us create an independent, not-for-profit, national news service for the people of Wales, by the people of Wales.