Sport
When Newport County went behind the Iron Curtain – and had a brush with the Stasi
Christopher Evans
The turbulent history of Newport County has certainly had more downs than ups. Their story is littered with off-field problems, bankruptcy, near-misses, disappointments, and despair. But there has also been elation, famous FA Cup victories, and last-minute winners, one so important that it kept them in the Football League. There is never a dull moment, and County fans wouldn't have it any other way…
One of the most intriguing stories of Newport's sometimes surreal history is their famous run in the 1981 European Cup Winners' Cup. Just five years previously in 1976, the County's financial problems were so dire they had come frighteningly close to bankruptcy. To add to their woes, performances on the pitch had been poor throughout the season, meaning the club would finish a lowly 22nd in the old Fourth Division in the 1975/76 season. Along with fellow strugglers Stockport, Southport and Workington, it was deemed necessary for them to apply for re-election if they wanted to retain their Football League status.
The 1976/77 season wasn't much better, with County finishing 19th, but there were slow signs of improvement. The appointment of Liverpudlian Len Ashurst as manager in 1978 proved to be a turning point for the men in black and amber. An 8th place finish in the 1978/79 season had buoyed both the club and its loyal fanbase, but it was the following season that had the 'Amber Army' dreaming.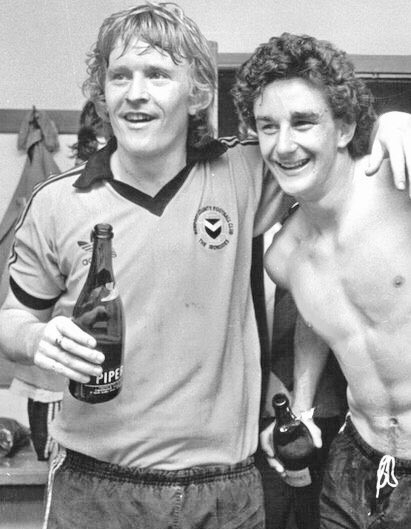 The £25,000 club record signing of Tommy Tynan, along with a young and unknown John Aldridge, provided Newport with a formidable frontline that scared the life out of opposition defenders. In what was one of the club's most successful seasons, the County would finish in a lofty third place, gaining promotion to the Third Division in the process. However, it was a comprehensive 5-1 aggregate win over Shrewsbury in the Welsh Cup final that would lead to arguably their greatest ever adventure.
Newport's Welsh Cup victory meant that they qualified for the 1980/81 European Cup Winners' Cup. It was the start of a special story that would see them travel across Europe and behind the so-called 'Iron Curtain.'

First and Second Round
The first round provided Newport with a not so glamorous tie against Crusaders of Northern Ireland. The part-time team from north Belfast were duly swept aside 4-0 at Somerton Park on 16 September 1980, the goals coming from David Gwyther, Kevin Moore, David Bruton and future Liverpool star Aldridge. The return leg in Belfast would be a drab and forgettable 0-0 draw, the County easing into the next round. A trip to Haugesund in Norway to play Haugar awaited Newport in the second round, with the Norwegian team keeping County at bay with an admirable performance in a goalless affair.
However, Newport weren't so kind in the return leg on 4 November, Haugar on the receiving end of a 6-0 pummelling from the Welsh side. John Aldridge was on the scoresheet again, but it was a brace from County legend Tommy Tynan that stole the show. Tynan, known for his long flowing blonde hair, work rate, and never-say-die attitude had been an apprentice at Liverpool. After stints with Swansea, Sheffield Wednesday and Lincoln, it would be at Newport that Tynan would really shine. Speaking from his home in Plymouth, where he also became a cult hero, Tynan says he remembers the Cup Winners' Cup run with fondness. "It was great. To be honest, I remember us thinking that because of the draw we had, we felt we had a great chance of progressing through the tournament."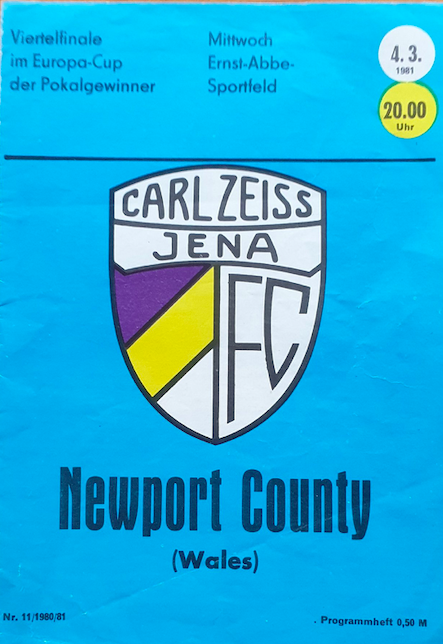 East Germany
Newport's reward was a quarter-final tie against East German team Carl Zeiss Jena (CZJ). Founded in 1903 by workers at the Carl Zeiss AG optical systems and optoelectronics factory in the East German town of Jena, the club plied their trade at the Ernst-Abbe-Sportfeld stadium. Named after Ernst Abbe, a German optical scientist, entrepreneur, and champion of socialism and labour reform, Abbe was instrumental in the introduction of the eight-hour working day at the Zeiss plant where he worked as a research director.
CZJ had finished third in the DDR-Oberliga (the top tier East German league) and had won the FDGB-Pokal (East German Cup) in 1980 to qualify for Europe. Led by coach Hans Meyer, who had previously managed the wonderfully named FC Karl-Marx-Stadt, it was expected that the team from behind the Iron Curtain would outplay and outclass Newport. This was not without warrant, as Jena had beaten both Roma and Valencia en route to the quarters.
Tommy Tynan says that Newport's trip to the Eastern Bloc was an experience that players and fans will never forget.
"It was very, very strange. We had to travel by coach for four or five hours, and every 30 or 40 miles there was a checkpoint. They came on and actually searched the coach, and I mean properly searched the coach. They had guns on them. It was quite surreal really. But there was no hassle, I just suppose they were doing their job. It was a long, long journey and I always remember you'd be on a stretch of road and you wouldn't see anyone or anything for miles and miles, then you'd get to a town and basically it was just blocks and blocks of flats with television aerials all over them.
Odd
It was an odd experience, but we never felt threatened. When we got to Carl Zeiss Jena the people there were absolutely brilliant and looked after us. It didn't have a lot there to be fair. You'd have a little walk and the only decent shop was the sport shop. It was lit up and everything, whereas everything else was just basically doom and gloom. Even at the fruit shop the fruit and vegetables seemed grey."
In his autobiography 'Left Back in Time', County manager Len Ashurst recalls the trip, and how "there was not a soul in sight and not a car in view" when they arrived outside the hotel. The County had actually arrived in East Germany during the Fasching carnival, an important pre-lent celebration in German-speaking countries.
Once inside, Ashurst allowed his players to have a drink and join in a party that was happening at the hotel on the premise that the players "were in their beds at midnight".
He also tells of a hairy encounter with the notorious Stasi, the East German secret service, as he visited the local Greek Orthodox Church with journalist Tom Lyons whilst his players 'prepared' for the following day's all-important quarter final.
"Tom had noticed two or three men tucked away in the shadows watching and waiting. They wore civilian clothes, but he maintained, as he gave me a running commentary of what he had spotted in a whisper, that they were the Stasi, the feared East German secret police. They would not deny people from entering, but they were there to note who were following their religion and risking that knock on the door in the middle of the night. This communist state did not like a cult following anything other than their red flag. Religion was a major no-no.
Apparitions
What followed was like something from a Bourne movie. As we arose from our wooden pew, Tom calmly made his way straight for one of these men in black and proceeded to open a conversation in German. I was astonished. I stood and watched as within seconds he was surrounded by a number of hostile-looking police who appeared like apparitions from everywhere. Tom had clearly struck a nerve with whatever question he had asked and had put himself in grave danger.
I stepped forward, assuming one of them would understand English. 'I am the manager of Newport County football club from Britain. If you arrest him, you will have to arrest me and that means we will not play a football match against your team'.
A sharp discussion took place between their growing number and, decision made, we were then hustled out and bundled into a windowless jeep along with three armed Stasi officers. We were driven straight back to our hotel where the music and revelry was still in full flow. The locals were now well inebriated and never gave us a glance as we were whisked up to our bedrooms by one of the officers who we knew held a light revolver under his heavy police coat. He told us that if we did not leave the building again the matter would be forgotten."
The first leg at the Ernst-Abbe-Sportfeld, Jena.
The 200 travelling County fans, unperturbed by their surroundings, were in full voice, despite being heavily outnumbered by the home fans. With nothing to lose, Tynan says that the County were not at all overawed by their opponents or the magnitude of the match on 4 March.
"When we got there, they were quite surprised because we were so relaxed, probably because at the end of the day nobody expected us to do anything against them. But we went there and played very well on the night. The crowd were superb, there were about sixty thousand there, I think. But there was no real intimidation. I think they thought 'oh, it's just Newport County, Welsh minnows, they don't have a chance', but it was a really good and close game on the night."
On a waterlogged and churned-up pitch that must have made them feel at home, Newport, without their other star striker John Aldridge who was missing through injury, started the match well. Despite the visitors holding their own, the hosts took the lead through a goal in the 22nd minute from Jürgen Raab following a scramble in the 18-yard box. However, five minutes before the break the irrepressible Tynan would shock the Germans, slamming the ball past keeper Hans-Ulrich Grapenthin following one of his trademark turns. With an away goal in the bag, the County would begin to grow in confidence before half time.
Following the break, CZJ began to turn the screw, but some resolute defending from Newport kept the East Germans at bay. As the pressure mounted, the home team would get their second goal just five minutes from time, another scrappy goal from Rabb seemingly giving CZJ a lead to defend in the return leg in Wales. The County had other ideas, and it was that man Tynan again who would get the equaliser.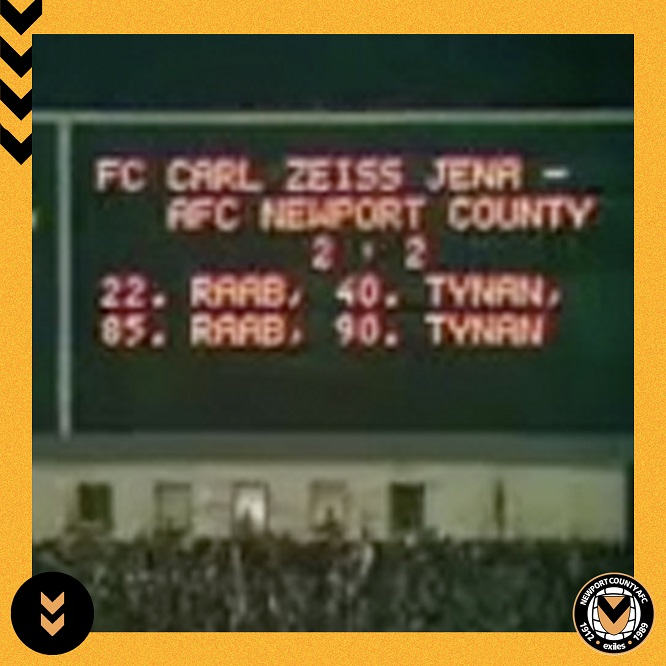 "I remember the second goal more than anything, as it obviously got us the draw. Dave Gwyther went on a hell of a run and beat two or three players and crossed it in. The ball fell to me and I managed to turn and put it in the back of the net. I think we might've got a penalty anyway if it hadn't gone in, as Steve Lowndes was badly fouled in the box just before. Luckily the ref gave the goal! And possibly, and I don't mean this disrespectfully to them, but we had another chance that was going in that hit a defender in the face. He didn't have a clue what was happening – we might have won that game 3-2."
In his book, Len Ashurst says that "against a backdrop of poor floodlighting and armed police surrounding the playing area, a 2-2 draw at the home of the East German champions was a feat of great magnitude achieved by my players and staff."
Euphoric
The Newport fans who had made the arduous trip to Jena were euphoric, confident that anything could happen back in Wales.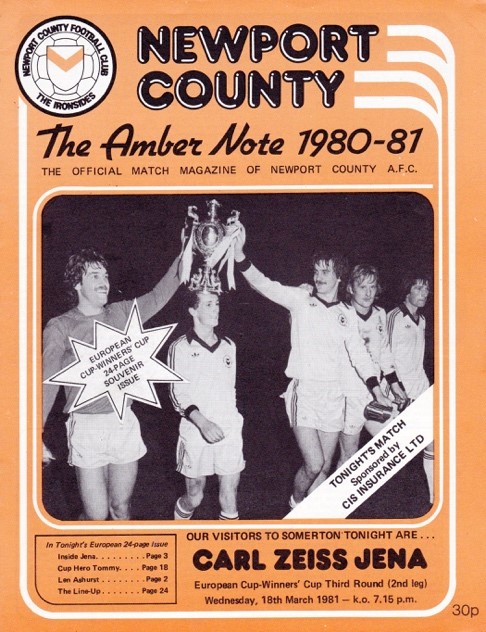 The return leg on 18 March saw Newport's legendary old ground Somerton Park (which was sadly demolished in 1993) packed to the rafters, with an estimated 18,000 in attendance. The city of Newport was expectant. The County fans knew their team could match anyone when playing at their beloved home ground.
Tynan remembers Newport's old stadium fondly, despite its reputation for being tattered and dated. "The stadium wasn't really up to much, but the crowd made the atmosphere anyway didn't they! I think there were over 14,000 there on the night, or something like that. For Newport that was a huge crowd. And they were just brilliant."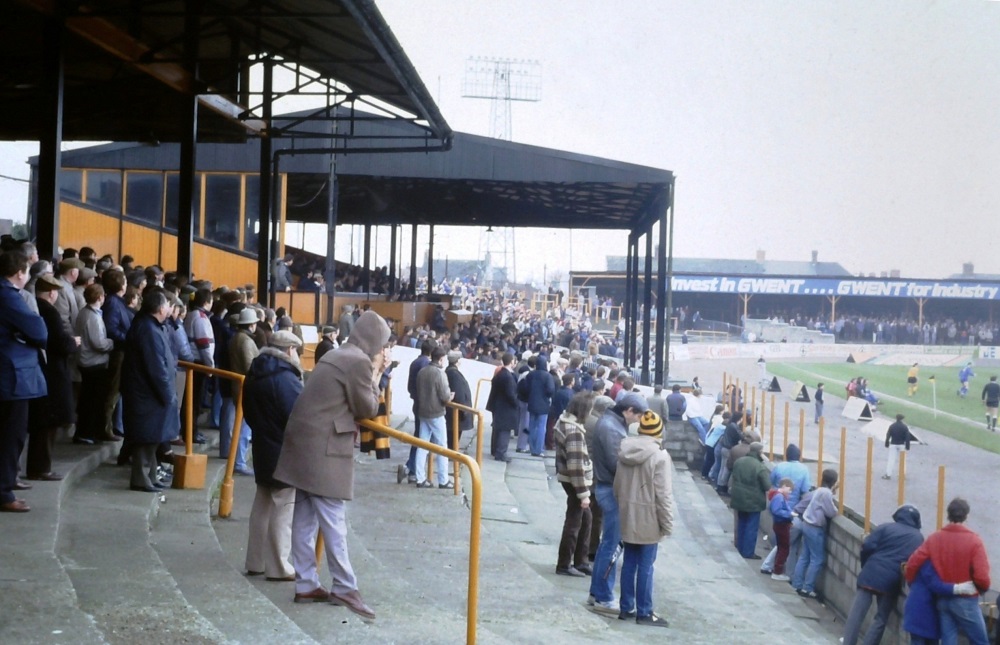 CZJ had arrived amidst an array of injuries and suspensions, and from the off Newport took advantage of this. It had been pitted as David against Goliath, and the so-called 'Welsh minnows' began to sling everything at their opponents. It was an onslaught from Newport, with both David Gwyther and Keith Oakes having efforts cleared off the line.
Newport players were adamant that their headers had crossed the line and would be vociferous about the refereeing decisions following the game. CZJ goalkeeper Grapenthin was proving an unbeatable figure between the sticks, but the men in black and amber continued to test the imposing German. As is so often the case in football, the ball would end up in the back of the net, unfortunately it would be Newport's. Lothar Kurbjuweit's tame first half free-kick came against the run of play. It was a killer blow for the County and totally underserved for the visitors.
Shitty
As Len Ashurst bluntly reflected, "the shitty free-kick with which Carl Zeiss Jena opened the scoring, which ultimately settled the tie, bobbled along the floor and deceived our keeper Gary Plumley."
The second half continued in the same vein, wave and wave of County attack being thwarted by the seemingly invincible Grapenthin. Tommy Tynan says that County thoroughly deserved the win, but that it was "just one of those days".
"To be honest, it was one of those games where you come off at the end and you think 'how have we not scored?!' I hit the bar in the second half, and we had other great chances too.
But they defended very well. Right near the end their keeper pulled off a brilliant save from our captain Keith Oakes. If that had gone in, we would've gone through on away goals. We played so well, but it just wasn't our night unfortunately. It was particularly disappointing as we would've played Benfica in the semi-final. And the thing is, the semi-final would've been big money that could've kept the club going for a few years. Jena went to the final and lost. It was meant to have been the most boring cup final ever too!" (against Dinamo Tbilisi)
In his autobiography, Ashurst laments his teams' luck in the second leg.
Dominated
"We totally dominated our opposition that night at Somerton Park and bombarded their goal with shots and headers. The woodwork came to their assistance on numerous occasions. Finally, in injury time, when a goal would have got us level at 1-1 and ahead on away goals, a cross from Karl Elsey arrived perfectly onto Keith Oakes' forehead. The big defender crashed the ball goalward, but it was brilliantly turned away by the German goalkeeper Grapenthin. So near, and yet so far."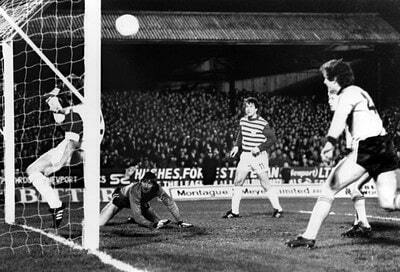 So near, and yet so far could sum up the history of Newport County. But the Newport fans who witnessed those special games in 1981 have memories that they will cherish forever. Despite the heartbreak, it was a herculean performance from the Welsh side that was applauded throughout European football.
A bond between the two clubs was created over the two ties, so much so that they have played in friendlies in both Jena and Newport in 2013 and 2014, respectively. It was the last time Tynan has been back to his old club. "Newport invited me down for the friendly game against Jena in 2014. It was a really enjoyable game and experience. I got to catch up with some of the lads and the fans were lovely as always. I really enjoyed the visit."
Tynan says he has nothing but great memories from his time in south Wales. "Most of my memories are football related. But I did get married in Newport, so the place is quite dear to us. I must admit, with the group of lads we had, I think we had the best team and the best of times that Newport had had for a long, long time."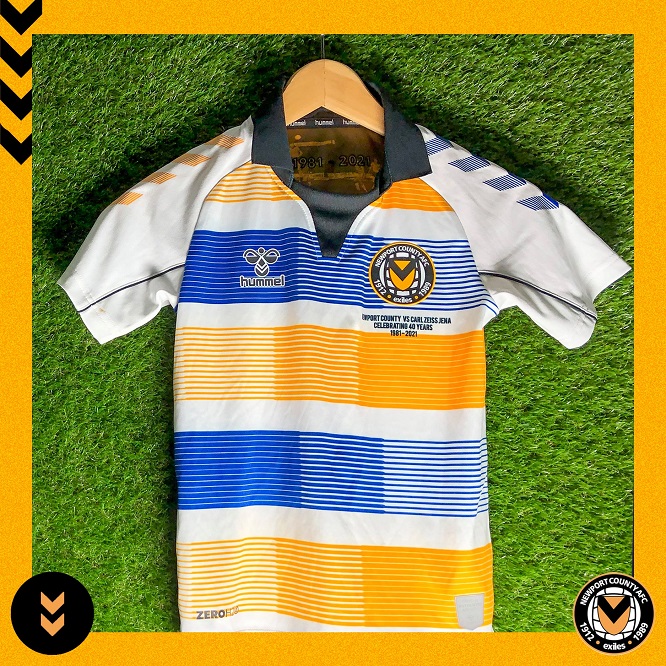 Football is often said to create divides. But the meeting and kinship of Newport County and Carl Zeiss Jena is evidence that football, and Europeanism and internationalism, more often than not establishes relationships and creates everlasting friendships. There is no cold war between these clubs. Indeed, in 2021 Newport released a 40th anniversary shirt celebrating their affinity.
Newport band Flyscreen immortalised the tie in perhaps their best-known song, simply titled 'Carl Zeiss Jena'. The chorus perfectly sums up the memories of every member of the Amber Army who witnessed those historic matches in 1981.
And on and on and on we sang,
On and on and on,
We sang forever.
And on and on and on we sang,
'till Carl Zeiss Jena broke our hearts.
 A special thanks must go to Gary Wood (son of former Newport County great Allen Wood) for all of his incredible help when researching this article.
---
Support our Nation today
For the price of a cup of coffee a month you can help us create an independent, not-for-profit, national news service for the people of Wales, by the people of Wales.