Sport
Wrexham promotion: why the Wrexham Supporters Trust deserves as much credit as Rob and Ryan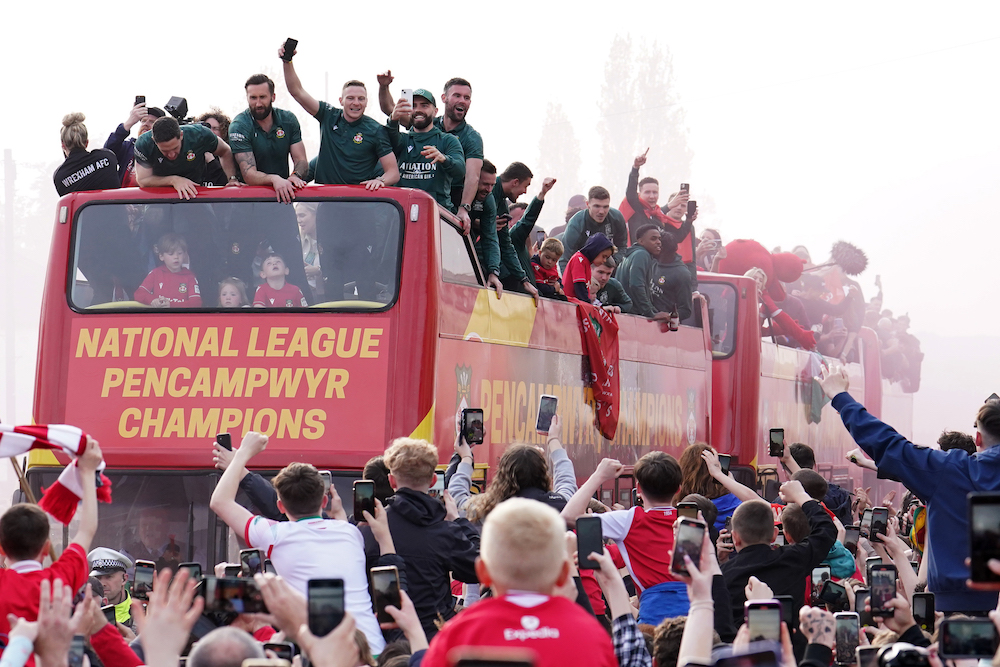 Leon Barton
There's a programme on BBC One Wales tonight called 'Wrexham: Hollywood or Bust', the twitter announcement of which drew the following response from former Wrexham Supporters Trust director Spencer Harris. "Thank you BBC for making the programme, I'm sure the content will be great. The title is a very unfortunate choice of words given 4,000 supporters trust members took over an insolvent business, turned it around and handed (it) over with cash in the bank after a global pandemic".
Harris's riposte to the BBC is unsurprising given the way the high-profile takeover has so often been framed; there are countless 'how Ryan Reynolds and Rob McElhenney SAVED Wrexham' media features currently doing the rounds.
Saved from what exactly?
"Rob and Ryan have saved us from non league obscurity' Olympic weightlifter and Wrexham fan Gareth Evans recently said, a statement which 100% falls under the category of 'fair comment'. But this came after Evans had also – equally fairly – said 'the fans saved the club from extinction'.
As Sgorio producer and fan since the '80s Gary Pritchard puts it, 'the part played by the Supporters' Trust in ensuring there was a club for Ryan Reynolds and Rob McElhenney to purchase can not be overstated'.
Yet the fact that a decade of Trust stewardship couldn't get Wrexham out of the National League was an increasing sticking point between the board and many fans.
'I wanted promotion as much as anyone else', Harris, a Red since the late-seventies, told the Fearless in Devotion podcast. 'Fans don't expect to see Wrexham in non-league, but we simply couldn't get back up into the Football League' he explained to FourFourTwo magazine. 'Some people lose faith and that can cause tension'
That tension was caught on camera in one of Welcome to Wrexham's most memorable scenes so far, when Rob and Ryan met fans in The Turf, the pub next door to the The Racecourse ground. When McElhenney asks for their opinion of the Supporters Trust it's as if the air conditioning has been dialled to deep freeze.
"Lacked ambition" says one. "Shitshow" spits another.

Ambition
The oft-stated "lacked ambition" criticism always struck me as strange. Who on earth is more inclined to want success for their football club than its supporters? Surely by "lacked ambition" what those fans really mean is "lacked money"? And the kind of power that comes with money (the power to go out and get the best striker in the league above, to give just one example)
McElhenney responds to the "shitshow" comment with an emphatic, "I can tell you – they saved this club from insolvency".
Spencer Harris explained this on Fearless in Devotion. "When the Trust took over, the number one thing was, the club had to survive. We took on half a million pounds of debt and (the club was) losing three quarters of a million per year… it was a basketcase. Those first years were a real struggle…(but) we broke even within three. We ran the club sustainably. During Covid, we had no income but still had costs. Yet we handed over a debt-free club".
It's not the sexy stuff that most fans give much thought to, but many of the (unpaid) hours and hours that WST's hierarchy put in concerned the essential groundwork necessary to place the football club on a strong footing for the future.
Spencer Harris again. "When we took over the club, relationships with all civic establishments were shot… so we built strong relationships with Glyndwr University, the local council, Welsh government, the FAW.."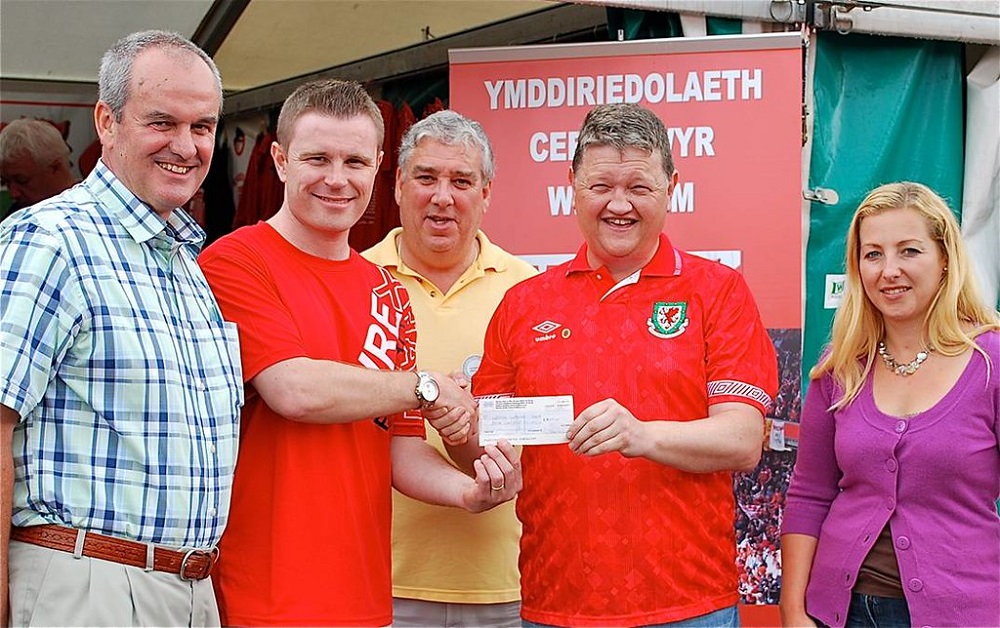 As journalist and Southend United fan Matt Slater recently told The Athletic podcast "Wrexham are a perfectly good solid football club". But then added the caveat; "they have been punching below their weight for quite some time".
Of course, that's where the rub lies. Harris can bang on about all the things that the Trust achieved off the pitch until the cows come home. If success on the pitch doesn't follow, most fans don't care.
The National league's antiquated "two up (only one automatically) two down" promotion system makes it  "probably the most difficult league to get out of" according to Harris. "That's a reason, not an excuse. Three of the ten years the trust were involved with the club we reached the play offs…we had a 98 point season…"
98 points is a record points total in the top ten divisions of English football without gaining promotion or winning a trophy. (Notts County will beat that record if they don't go up via the playoffs) It wasn't enough to go up thanks to Fleetwood Town getting 105, and a 31 goal contribution from a certain Jamie Vardy (whatever happened to that guy?)
In some ways I'm glad it took two-and-half years under the new owners for promotion to come, despite some of the high-profile player additions and the appointment of a proven promotion-winning manager in Phil Parkinson. Those who have said getting out of the National League is the hardest step may well be proved right.
Managerial appointments
The WST often faced criticism for some of the managerial appointments. But it wasn't their fault Dean Keates left for Walsall, or Sam "the snake" Ricketts jumped ship for Shrewsbury when, on both occasions, the Reds seemed all set for a serious promotion push. As a National League club, Wrexham were unable to compete with the kind of salaries being offered to managers in League One. The "level-footing" that the WST were so concerned with would eventually pay off when a debt-free club was handed over.
Not just that, but the very model of ownership that Wrexham had was key to its appeal for McElhenney and Reynolds. Harris is perfectly entitled to state "we attracted two philanthropic Hollywood superstars to purchase the club" in his rollcall of the Trust's achievements.
Executive director and the man who got McElhenney into football Humphrey Ker even says so himself: "In preliminary talks with other clubs it was like, 'well, it will cost you £2 million to buy this club off me'… you can give a rich man £2 million, or you can put it into the operating budget of a community-run club…the objective was to use it as a philanthropic engine; a way to generate more positivity and investment in the town."
It's often been stated that McElhenney and Reynolds "bought" the club for two million pounds but that's not what happened. They were basically given Wrexham AFC in return for the promise of investment. Another model of ownership would not have permitted that to happen.
Ker has named some of the other clubs that were under consideration before Rob and Ryan plumped for Wrexham. "Hartlepool was looked at vaguely, Macclesfield was talked about… we knew from the jump we wanted to find somewhere that needed a helping hand or needed a stroke of luck. This sounds a bit naff, but we also wanted to buy somewhere that deserves it."
Why Wrexham?
"Why Wrexham?" is the question Ryan Reynolds says he's been asked the most since the takeover.
Ker again explains. "A variety of reasons…the season before we became involved, they were averaging 4,500 a week at the Racecourse when they were 19th in the National League. An unbelievable number of people, and that told you they were the definition of a sleeping giant, a fallen great of the game".  Those attendances were achieved under the stewardship of the WST.
"We had the highest average attendance at the club in over thirty years…an average of over 5000 in the stadium across an entire season for the first time since we were in the Championship (equivalent)…better than any season we were in League One" Harris told Fearless in Devotion.
Yet, that longed-for promotion back to the football league simply wouldn't come and as a result, frustration amongst certain sections of the fanbase was building.
Over twelve years of non-league football was drowning the spirit of many supporters in a well of disillusionment.  As Wayne Jones, landlord of The Turf, forlornly puts it in Welcome to Wrexham, 'I couldn't see a way out'.
With the desired success on the pitch out of reach, scapegoats were sought. Stories that the WST had turned down outside investment swirled around on message boards and social media.
Harris admits there had been "dozens" of enquiries about buying Wrexham over the years but says most sounded like phishing scams. But when Portsmouth CEO Mark Catlin got in touch to ask if the WST would be interested in speaking to Steve Horowitz from Inner Circle Sports (a company that had previously brokered deals to purchase Liverpool, Portsmouth and Crystal Palace) Harris 'knew this was different and they were serious.
As soon as serious people with serious money and seriously good intentions were involved, the WST were all ears.
Welcoming
As Ryan Reynolds tells some of the biggest detractors in Welcome to Wrexham, "when we entered the picture (the Trust) were incredibly welcoming… they weren't like 'we got this', they were like, 'great, lets go!'."
The work done by the WST has also been crucial in allowing the new owners to push ahead with plans to expand operations and build better infrastructure. Those bulldozers probably wouldn't be behind the goal right now if it hadn't been for the pressure they applied.
"That began in October 2017" Harris told FourFourTwo. "Me and a couple of other directors went to Cardiff to present to the Welsh Assembly and highlight Wales' unequal distribution of facilities. That began the Wrexham Gateway partnership".
The WST gained a commitment from the Senedd to invest in a major redevelopment plan that included the dilapidated Kop stand. The Welsh government had already purchased the land before McElhenney and Reynolds even entered the picture.
I love Rob and Ryan as much as any Wrexham fan. They deserve all the compliments that have come their way for their approach. As Matt Slater says, 'if you're fair-minded, you cannot help but be impressed with these guys… these outsiders that have come in. They've done it right'.
I just think it's worth pointing out that they wouldn't have had the opportunity to 'do it right' without the crucial role that the Trust played in ensuring that they had a stable, well-supported football club to take over in the first place.
---
Support our Nation today
For the price of a cup of coffee a month you can help us create an independent, not-for-profit, national news service for the people of Wales, by the people of Wales.