Sport
Wrexham's 'USA invasion' continues to win fans over after success in San Diego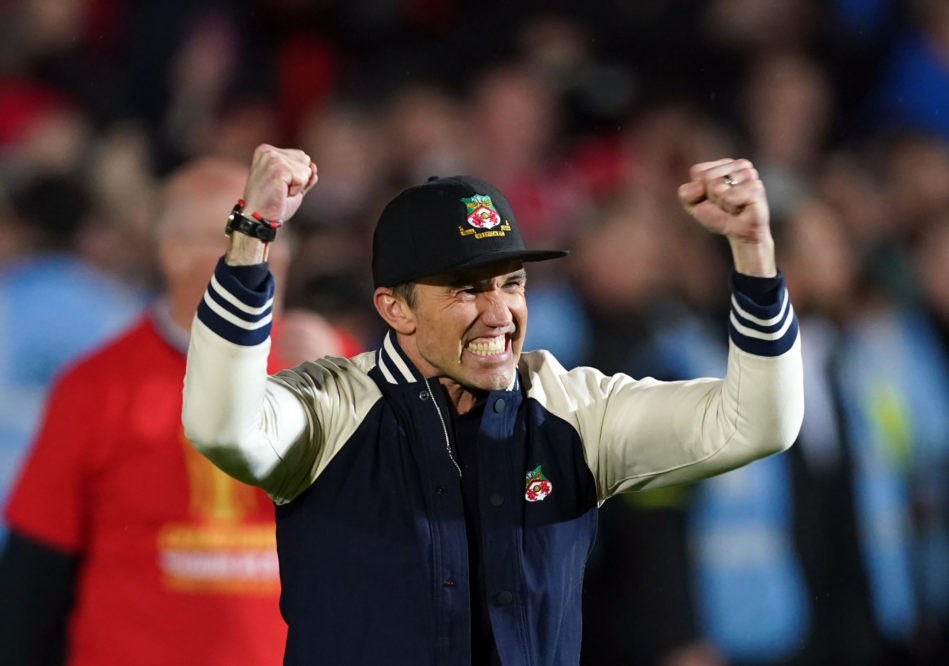 Wrexham's 'USA invasion' has won hearts and minds this summer as Ryan Reynolds and Rob McElhenney's club continue their seemingly inexorable rise.
Last July's pre-season got under way at Nantwich Town, whereas this time more than 50,000 were in attendance in North Carolina as the EFL new boys began preparations for life in League Two against Chelsea.
A 4-0 victory against LA Galaxy II followed before taking on Manchester United's youngsters in San Diego, where Wrexham's impact meant that, incredibly, they felt like the home team at times.
Goalkeeper Nathan Bishop was booed mercilessly by fans for injuring star striker Paul Mullin, while fireworks and Wrexham celebrations filled the air as Phil Parkinson's men took a two-goal lead at sold-out Snapdragon Stadium.
Elliot Lee and Aaron Hayden scored before Marc Jurado reduced the deficit for United, only for Sam Dalby to wrap up a 3-1 win after Dan Gore received a harsh-looking red.
McElhenney looked in dreamland as his team soared in San Diego – a night when fellow owner Reynolds was absent due to filming Deadpool 3 in London.
This summer's US tour is the latest chapter in a remarkable story that has seen Wrexham go from the National League quagmire to become one of the world's most talked about teams in 30 months.
Reynolds and McElhenney put the club on the map with the critically acclaimed FX docuseries 'Welcome to Wrexham' and have overseen a rapid improvement in fortunes.
The second series starts in September and documents last season's dramatic National League triumph, when they pipped Notts County to the title and ended their 15 years in non-league.

Stars
Viewers across the world have been hooked and Wrexham players have become stars, with thousands of the club's new fans making journeys from across the US to catch a glimpse of their heroes over the past fortnight.
Keri Eaton, who took the 90-minute flight from Salt Lake City, Utah with husband Todd to be in San Diego, said: "As soon as I heard Rob and Ryan bought the team I did a deep dive.
"I was really excited and kind of just spiralled from there. I watched as many games as I could.
"I like the fact that they were kind of at the top and then have been the underdogs for so long.
"Then to turn around and have owners that come in that are passionate, and not only care about the club but the town. That's what I fell in love with."
The American fans' passion was palpable and their interest visible, with queues for merchandise snaking around the ground. The impressive engagement with fans also came with reminders of their home 3,800 miles away.
Every sign was in Welsh as well as English, with a food truck outside the stadium serving free Welsh rarebit and Welsh cake. Supplies ran out long before kick-off.
Wrexham's fan fest offered a chance to see if supporters could take a throw-in like captain Ben Tozer and visit a giant mock-up of The Turf – the much-loved pub next door to the Racecourse Ground.
Landlord Wayne Jones features regularly on 'Welcome to Wrexham' and still struggles to get his head around the whole experience.
"I'm proud, I guess, but it's just surreal, isn't it? You know, it's crazy, it's bonkers," he told the PA news agency. "This is the third one now – obviously we had one in Chapel Hill, one in LA and now we've got one in beautiful San Diego.
"Bonkers, just insane. Everybody's enjoying themselves and the weather is a lot nicer here than it is in Wrexham, right? Having a whale of a time.
"People ask me all the time if life has changed. You know, I'm just the same person. I'll be cleaning the toilets this time next week, for example.
"But I'm in San Diego, with a mock-up Turf with thousands of fans all cheering on Wrexham, so of course life has changed but it's all for the better.
"All I really cared about was that the football team continues to grow and becomes better, and the town is thriving, and that continues."
Surreal
To underline that how surreal Jones' life has become, Californian brothers David and Chris Hudson were quick to get a photo with the landlord inside the giant mock-up of his pub.
"It's the real underdog thing," Chris, from Fresno said of his passion for Wrexham. "I really got into soccer during the pandemic so it just kind of all came along all at the right time for me.
"Then all of a sudden there was this show on TV and then I'm hooked. What can I say?"
David, who lives in Los Angeles, added: "Total underdog story, promotion and relegation.
"I mean, how can you not root for someone in the National League trying to come up? It's just a great story."
The pair would wait with bated breath for the next episode to drop on Disney+ and are excited for League Two action after streaming National League games at awkward times.
As for the possibility of Wrexham securing back-to-back promotions, David said: "A lot of the soccer pundits say we have got a chance… Wrexham, I can't say we."
Chris – wearing a red Wrexham t-shirt featuring a dragon – interjected, saying as he put a hand on his brother's shoulder: "Oh no, we're part of it now." Ends
---
Support our Nation today
For the price of a cup of coffee a month you can help us create an independent, not-for-profit, national news service for the people of Wales, by the people of Wales.