Culture
A different energy: The Gentle Good at Clwb y Bont, Pontypridd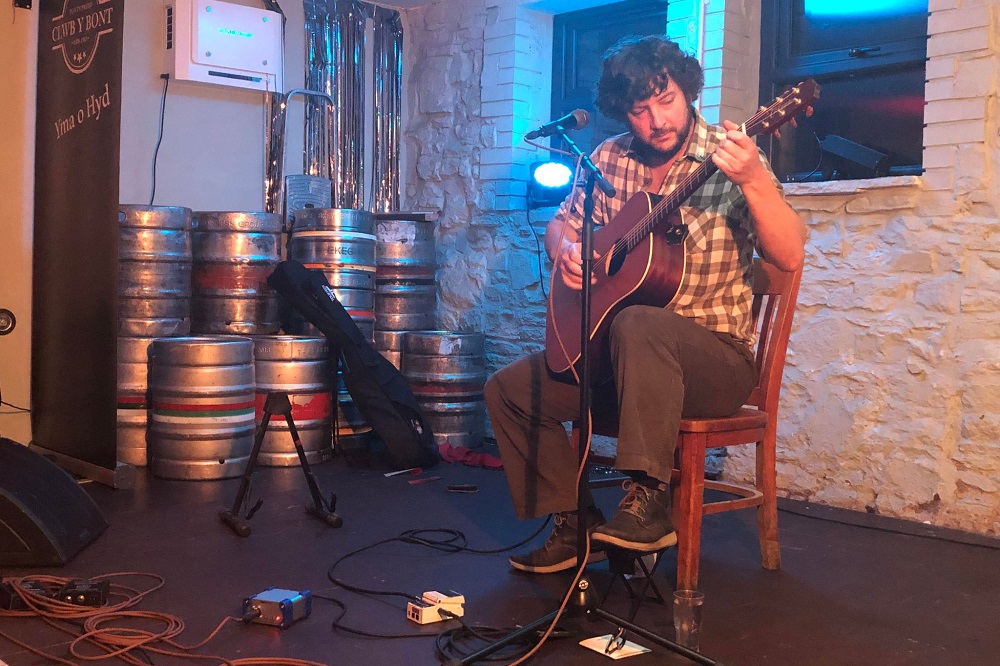 Ben Wildsmith
I've heard too much news this week. Telly, YouTube, radio, Twitter, Facebook are swirling round me in a bloody froth of cruelty and despair. The jabber of partisan opinions that accompanies everything nowadays sounds hollower yet when applied to the horrendous events in the Middle East.
Don't you get it? This is actually happening, as you speak, unfolding in the lives of living, crying humans. Nobody cares what you think. Be quiet.
So, we go out, my wife and me. Since Covid, we're out of the habit, well I am. I'm becoming a miserable old sod.
It's alright, though. We catch the bus so I can have a couple and socialise more like a person who volunteers for it. Things could do with a little blurring, I reckon.
Clwb y Bont in Pontypridd is an effortlessly welcoming venue. Its relaxed authenticity is reflected in the easy manner people take on in the place. Nobody is on anybody's case. Your anxiety starts to think it can have a night off.
Y Dail's urgent guitar pop is what Friday nights are for. Quirky chords, melodic bass, chiming keys and four on the floor are a platform for Ponty's Huw Griffiths to seize his moment and knock you into yours. It's delivered with the conviction of musicians who knew you'd love it but are keen to make sure.

Transfixing
The Gentle Good, Gareth Bonello, is a different energy altogether. Conceding to showbusiness by taking off his jumper before mounting the stage, he is a performer whose calm assuredness owns a room.
Seated like a classical player, he sweeps arpeggios across his steel-strung guitar that flutter into place behind the woodwind sweetness of his voice. It's transfixing; music to fill a silence.
Behind him there is a banner: 'The Welsh Language Is For Everyone!'
The songs speak of landscapes and what it is to inhabit them. Bonello coaxes the rivers and peaks of Cwm Elan into the room with the nurturing empathy of their mother tongue. The music plants no flags. Rather, it takes you by the hand and shows you the riches beneath the soil.
Between songs, he patiently translates everything for those with no Welsh and the kindness of it prickles my shame a little. I should learn, I know I should, I'd like myself more if I did.
Once a song starts, I have to concentrate on the fine guitar work to compensate for the words. I'm missing out on something I could have if I'd only learn. I might. I will.
I'm terrified of being someone who never learns. In my fevered newsfest this week, did I really read about a university professor angrily blaming traffic signs for his inability to read them? Duw, Duw…
Grace
Waiting for the last bus back up the valley, conversations are ringing around the concrete in the key of RCT.
'I'm telling you, that dust comes from the Sahara!'
I check my phone for the latest news from Gaza. Make it stop…
When the bus arrives, we gather round it and nod at each other. There are pensioners, teenagers, and us in the middle. The doors open and nobody moves. We all want each other to get on first, waving our arms to insist.
Finally, grace gives way to respect and the eldest lead on with the youngsters cheerfully taking up the rear.
The gentle good, indeed.
The Gentle Good continues his Welsh tour [to Memo Arts Centre, Barry tonight]. His 5th album Galargan, a stripped-back exploration of Welsh folk song, is out now.
Y Dail are at Sŵn Festival on Saturday 21st October 2023 (Fuel Rock Club: 1pm).
---
Support our Nation today
For the price of a cup of coffee a month you can help us create an independent, not-for-profit, national news service for the people of Wales, by the people of Wales.