Culture
Del Hughes beats the New Year blues with her Christmas ukulele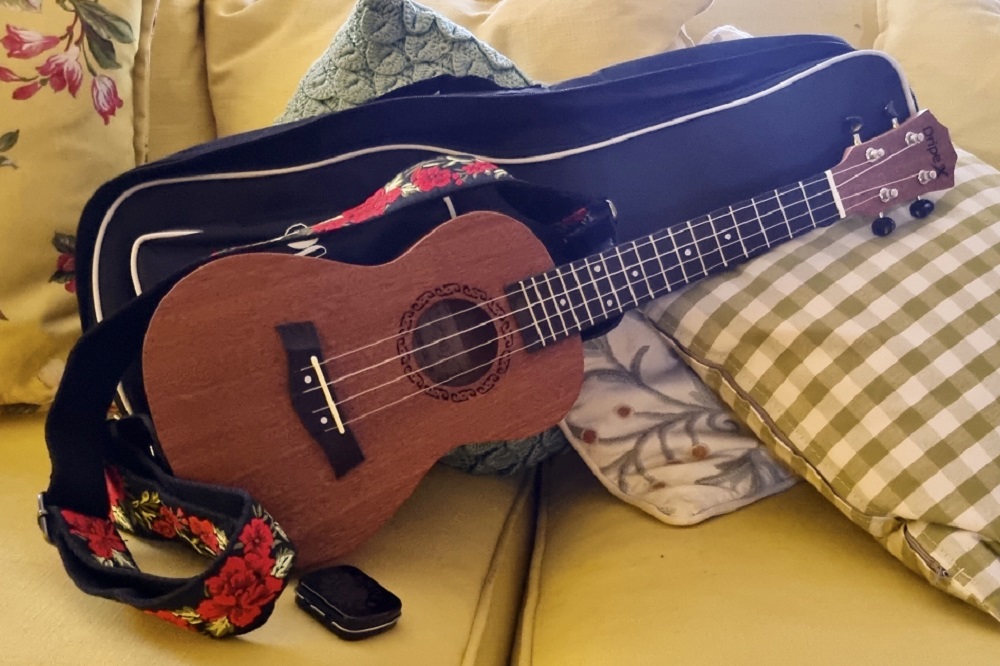 Del Hughes
Every Boxing Day morning, without fail, Dad would greet us with a cheery, tongue-in-cheek, 'Well, it's as far away as ever', and Mum and I would groan at him for casting a dampener over the remainder of the festive season.
But now that the Christmas sparkle has been boxed up and stuffed back in a cupboard for another year, in the words of Soul II Soul, we're definitely, 'Back to life, back to reality', with a bleakly depressing bump.
The bridge between those festive frolics and the dark and dismal blanket of January is, obviously, New Year's Eve, a time when we often reflect on the achievements (or failures) of the last twelve months and set goals for the coming ones.
'New Year, New You!' is a phrase I've seen plastered across social media ever since Facebook became a thing, and I admit, I've bought into it; in the past I've thrown myself into resolutions with gay abandon – stop smoking, lose weight, give up chocolate, blah, blah, blah. . .
But that I oft repeat these same promises on the 31st of (most) Decembers, tells you all you need to know about me – I try, but never quite manage to stick with them for the long-haul. In fact, being totally honest, they rarely last past January, sometimes less.
One year I gave up meat, but caved just six days later when, after a particularly boozy night out, I found myself in a local curry house, halfway through a Chicken Korma and a Keema Naan before I, guiltily, remembered my heartfelt pledge to all animals. (I tried restarting the next day but Tim makes a mean bacon butty and the temptation was just too great.)
So basically, December 31st sees me setting myself up for yet another year that showcases my total lack of resolution and self-control. Sigh.
Giving up 'giving up'
But this year, I'm approaching it differently – I'm giving up, 'giving up'. Instead of intentions littered with transitive verbs that are heavy with prohibition, I've decided that 2023 is going to be a wholly positive and upbeat twelve months.
Yep, I'm diving into this shiny new year with an optimistic mindset and am focusing on more favourable verbs such as 'to start', 'to gain' and 'to persevere'. (The one rider I'll add is that, when I say 'gain', I don't mean weight . . . well, I sincerely hope not.)
So that's why, on 3rd January 2023, Geoff (my Kangoo) is idling in the deluged car park of Dunvant Rugby Football Club (DRFC), while I give myself a mental pep talk on why I ever thought this was a good idea. Right now, I'm seriously debating whether I should just drive back home.
See, I'm not here for the rugby, either as a spectator, or player (though with my bulk, I'd make a great prop forward. . . but only if I could use my mobility scooter for scrums.)
Nope, I'm here because of a stupendous Christmas gift that I got from Tim – and which, given his normal custom of panic-buying Bayliss & Harding on Christmas Eve, was hugely surprising.
So, unwrapping an irregular-shaped oblong box, I was staggered to discover that it contained a mahogany, concert ukulele. Crikey.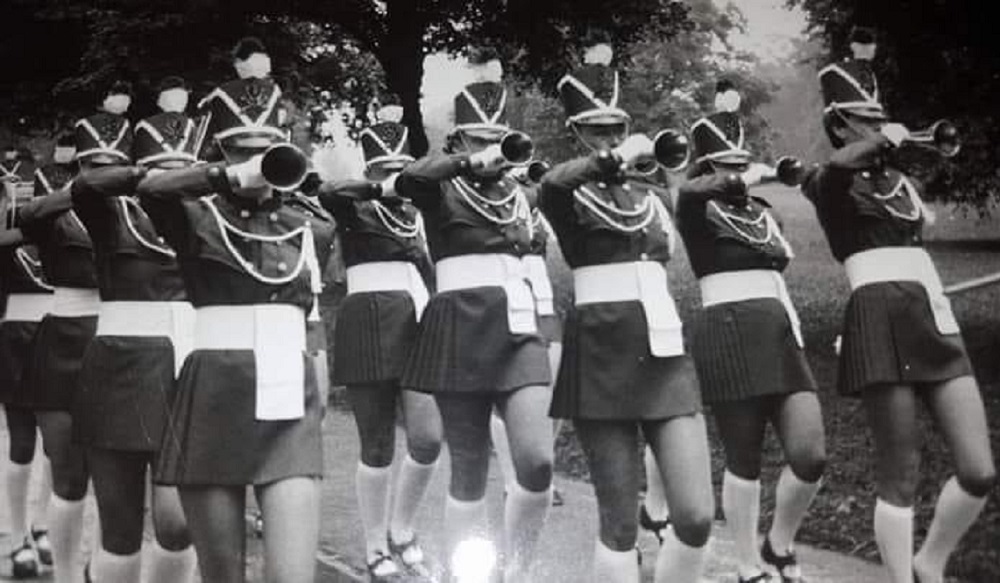 Frightful fipple flute
Okay, bit of background. Firstly, I'm not of a musical bent. . . at all. I can't read music, I've never, properly, learned an instrument, and have only ever tried three, all of which met with limited success.
My inaugural attempt was with that old family favourite – the recorder. Those of you of a certain age will recall learning to play this frightful fipple flute in primary school – and kudos to Mum and Dad who, I now realise, were tortured for many months by my breathy, grating and barbarous attempts at 'Baa Baa Black Sheep'.
Then, in the late 70s, when marching bands became big business, I joined the newly created, 'Tycoch Silver Spurs.' I was hoping for drum major but since I wasn't able to twirl the mace without injuring myself (and others – I'm still really sorry about your eye, Tracey Woodman), I was instead handed an instrument that required little expertise and could cause little damage, other than to eardrums. . . the kazoo.
This version had a large trumpet-like flared end, which acted as a megaphone for tuneful (and tuneless) humming and was a very simple way for any child to make excruciating sounds that were guaranteed to induce migraines in long-suffering parents.
Every summer Saturday, we'd don our uniforms and stomp around local carnivals, fairs and competitions, giving our all to 'When the Saints Go Marching In' and butchering the less traditional, 'Six Million Dollar Man' theme tune.
Resplendent in black cowboy boots, mint green mini dresses with silver chording and tassels, and topped off with a jauntily-angled Stetson, we were a sight to behold. Yee-haw!
(I stopped going when my kazoo – somehow – got furniture polish in the blow hole and, no matter how hard I hummed, I couldn't rid myself, or it, of the taste of Pledge. Plus, my arch-enemy, Sharon Peters, was promoted to drum major, and watching her flinging the mace around with consummate ease was just too much for my youthful heart to bear. Grr.)

Tinkle the ivories
Finally, there was the piano. Both Grandpa and Mum were accomplished pianists and I used to enjoy playing easy, one-handed duets with them when I was little. But then I hit my teens, discovered the joys of boys and, as my hormones waxed, any interest I had in learning that instrument waned. And this remains a lifelong regret.
Whenever I watch Jools Holland's Hootenanny, I always mourn my inability to sit at any old Joanna I might stumble across, tinkle the ivories and get a pub, or party, rocking, as everyone marvels at my skill.
I guess I'm secretly a frustrated entertainer. And so, since I don't have a piano, or the funds for lessons. . . the ukulele it is.
In recent years it's become a popular choice, with clubs popping up all over, but the initial craze passed me by. I think it was because, whenever I heard the word 'ukulele', George Formby's nasal, 'Leaning on a Lamp Post', would leap, unbidden, to mind and, though my older relatives loved him, I was definitely not a fan.
But, after spotting some videos on YouTube, it seemed that this little strummer might just be the perfect instrument to try and master. Fingers crossed (literally. I mean, have you seen some of those chord charts!)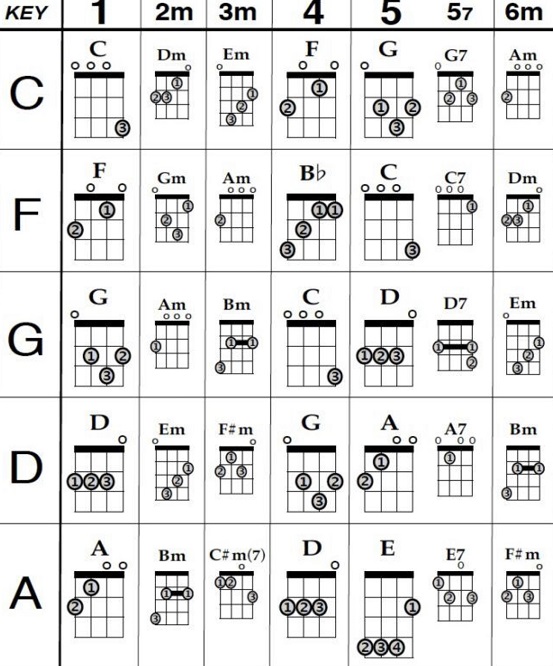 Twanging bollocks
So, over the twixtmas period, I spent an inordinate number of hours tuning, plucking and strumming my new toy, whilst splashing a fair chunk of my Amazon Gift Card (also from Tim – this year the boy did good) on books to help me get to grips with Duke (my uke).
Within an hour, I was playing 'You are my Sunshine', and delighting Tim with both the music, and vocals. No, it wasn't great, and the chord changes were a huge challenge, taking me several seconds to move from C to G (or even F), but still. . . I was making music, after a fashion, and I was hooked.
Over the following days, I added 'House of the Rising Sun' and, a personal favourite, 'Leaving on a Jet Plane', to my repertoire – again, nowhere near perfect, but I think I made a fair fist of them. Then I began practising chord transitions.
By the 29th December, Tim kindly suggested that I might be able to concentrate better if I was in a different room and away from the TV – he's so considerate – but then ruined it by adding, '. . . because all this twanging bollocks is doing my head in.' Humph!
(Actually, he had a point. Some of my practice sessions were a tad discordant, which I'm putting down to water-retentive hands, a pathetic span and a distinct lack of dexterity in my digits.)
But I kept at it, doing a little more each day, and that brings me back to the rugby club. Frankly, if I hadn't spotted a couple of smiley ladies carrying ukulele cases, I might still be dithering in the car park, but. . . bugger it! I'm going in.
I was nervous for two reasons. #1 – It's always a little disconcerting meeting a large group of new people for the first time. #2 – These people were part of a ukulele band. Yep. A band. A real band. For proper ukulele players.
What the hell was I thinking? This was clearly a massive mistake.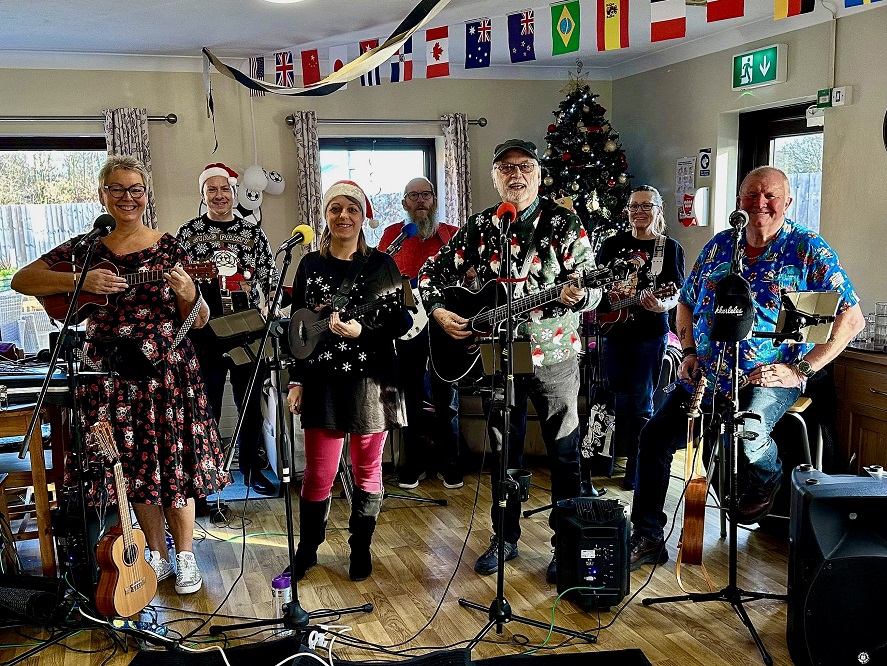 Smorgasbord
Turns out, it 100% wasn't. Within minutes of anxiously crossing the threshold, I'd been warmly welcomed by the genial John, Richard, Debra, Josie, Jean, Maggie, Lynsey, several Chrises and Ian (plus others), and was cosily ensconced beside Dawn, a beaming beauty – think rockabilly Julie Andrews with a wicked twinkle – who, metaphorically, held my hand all night.
She helped me tune up, she shared her music, showed me the chords – numerous times – and taught me more in a couple of hours than I'd learned during a whole week of solo sessions.
And, as well as ukes, there were other instruments in attendance – a double bass, drums, keyboards, guitars, harmonicas and a tambourine. I was surrounded by a veritable smorgasbord of musical talent but, despite my extreme amateur status, I strangely didn't feel out of place.
Me, who'd only been sort of playing for seven days, was shamelessly strumming along with a roomful of real musicians. . . and it felt bloody wonderful.
We did a whole gamut of crowd pleasers – 'Great Balls of Fire', 'You Never Can Tell', 'Brown Eyed Girl', 'Three Little Birds' – and, when it came to request time, as the newbie, I was asked to choose. Well, there could be only one. . .
'Leaving on a Jet Plane?'
'Yep, we've got that.'
And away we flew.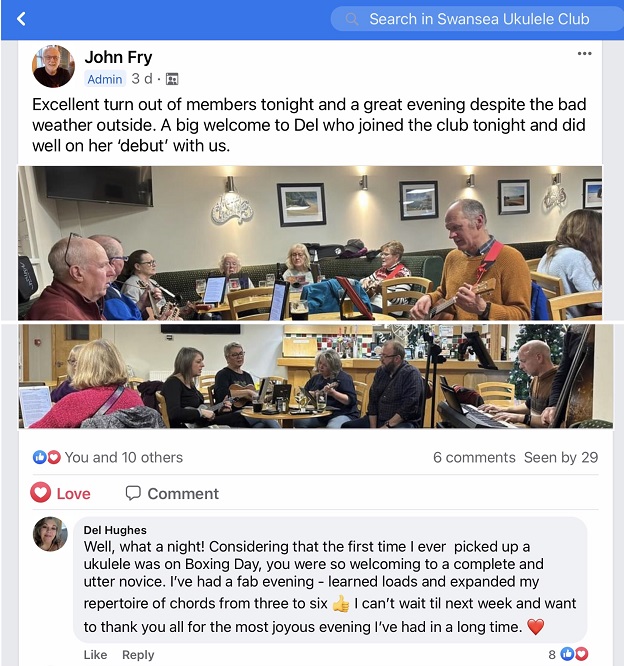 Joyous
Of course I made mistakes. I got completely lost during most of the songs, ground to a sudden halt during 'Crying in the Rain', repeatedly had to put down Duke and watch how others changed chords, and was easily defeated by F7, E major and the finger-squishing D, but none of that mattered. All that mattered was that I was there, I was trying. . . and I was having a ball.
It was the most joyous evening I've had in a very long time. The music, the singing, the laughter, the supportive atmosphere, the sense of achievement, the cider (DRFC has a very competitively priced bar. Woohoo!) . . . everything was just marvellous.
And even as we began packing away, someone launched into 'Piano Man', and we belted it out in true rugby club fashion. It was the perfect end to a perfect evening.
So, you can probably guess that, yes, I'll be going again. In fact, every Tuesday evening until my fingers finally seize up with old age, I'll be there at DRFC, strumming, thrumming and singing my heart out.
And I know, beyond doubt, that this is one resolution I'll have no difficulty keeping. (Though I'm betting that F7 and E major will forever remain my bête noires. Sigh.)
Whether you're an absolute beginner like me, novice, intermediate or expert, Swansea Ukulele Club is a great place to learn, socialise or just come for a gentle strum and a good old sing song. Visit their Facebook page for more details and maybe I'll see you there?
To catch up on the rest of Del's adventures, follow her link on this map
---
Support our Nation today
For the price of a cup of coffee a month you can help us create an independent, not-for-profit, national news service for the people of Wales, by the people of Wales.