Culture
Extract: Paris Requiem by Chris Lloyd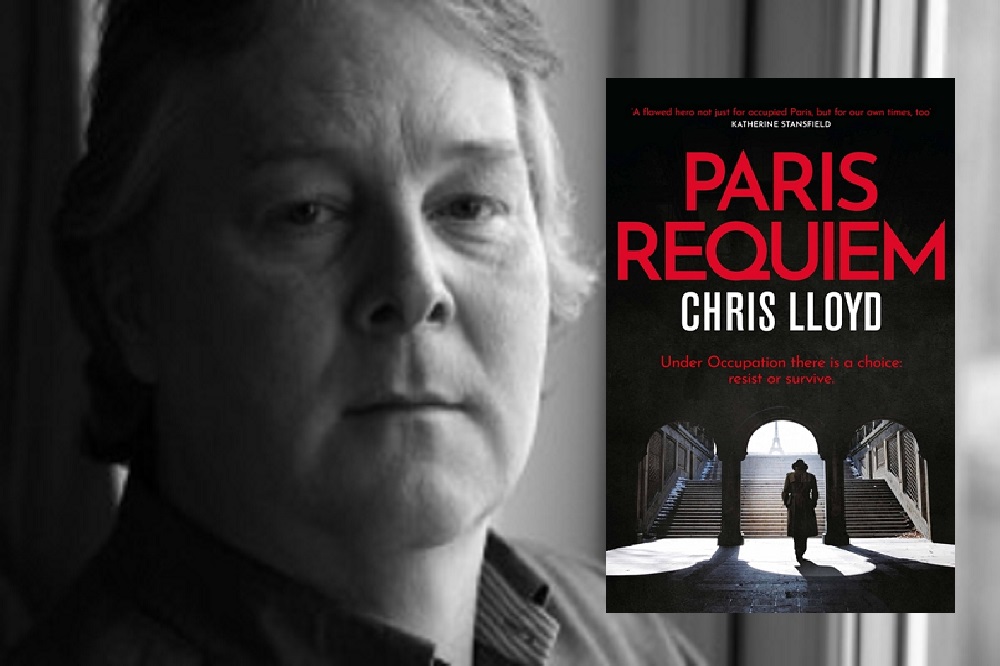 Penarth-based crime writer Chris Lloyd's latest book 'Paris Requiem' has been garnering rave reviews. In the second part of his historical-noir 'Occupation' series, Lloyd returns with Paris police detective Eddie Giral – a compelling creation with a dark soul we first met in The Unwanted Dead, Nation.Cymru are delighted to publish an extract from it here.
Chris Lloyd
Overture: September 1940
'I'd've been more than happy staying down south.' Boniface paused and took a delicate sip from his coffee. 'But the missus wanted to get back to Paris in time for my three girls to go to school.'
The other cops in the Bon Asile nodded sagely at Boniface's words, like it was the most natural thing in the world. Through the tobacco-brown café window, I saw a German jeep slowly cruise past.
Paris was under the Nazis and Boniface was worried about his kids missing the start of the school term. He wasn't the only one. I watched two small boys follow in the wake of the German soldiers, dawdling to learning like it was any other September.
'And she missed the shops,' he added. 'Not that there's much in them.'
He had a voice like a Venus fly trap. Syrup-smooth behind sharp teeth, hiding a nectar-filled void. And like a carnivorous plant, form was everything with Boniface, substance a sugar-lined con.
Some of the younger cops seated on smoke-stained chairs soaked up his every word. Others, not so much. Me, not at all.
Not bothering to stifle a sigh, I folded the newspaper and took my cup of coffee to the bar. The Bon Asile, a misnomer at any time, was a dingy temple to coffee and cigarette smoke in the narrow streets of the Île de la Cité behind Thirty-Six, our name for the police station on Quai des Orfèvres.
'Coffee,' I told Louis in a low voice, sloshing my nearly full cup on the counter. 'None of this ersatz rubbish.'
Behind his bar, Louis shrugged expansively.
'Rationing, Eddie. Can't get hold of the proper stuff.'
I glanced back at the other cops seated around the table, still enthralled by Boniface's stories, and turned to Louis. I pointed to the cupboard at the rear of the counter and spoke in a low voice. 'Real coffee, Louis. Or I'll tell your wife what you keep in that other cupboard.'
He blanched and made me a new cup. The smell alone left me swooning.
Back at the table, Boniface was still holding court. 'Dunno why you ever left the south, Giral,' he said to me when I sat down again. 'I found the chicks there very welcoming.'
'They must have been devastated when you left.' I took a sip of the strong coffee and forgot where I was for the moment.
'So why did you leave, Boniface?' one of the other cops who could be bothered asked him. 'You wouldn't have caught me coming back.'
'I was tempted,' he told them. 'Boy, was I tempted. Lie low in the sun down south and leave Paris and the Boches to you lot. But as I said, the missus wanted back. The kids, you know, school.'
'Which missus?' the first one asked, the ensuing laughter around the table raucous. Boniface was lauded among the more gullible cops for his boasts of having both a wife and a mistress in the city, each with a family spawned by him.

I picked up the paper again. I wanted to choose which lies I paid heed to. His voice washed over me. It was almost soothing when you didn't listen to what he was saying.
He also had a habit of winking knowingly at his slightest utterance. And with his brilliantined hair with its tiny flourish above the right ear, he looked like he wished he was Maurice Chevalier.
To me, he was more like a half-hearted Madame Pompadour.
'Surprised they had you back,' Barthe, one of the older cops, commented, knocking back his breakfast brandy.
Boniface laughed. 'Commissioner Dax nearly had my hand off, he was so eager for me to get back in the saddle. Spot of virile blood around here. Dax knows it wouldn't go amiss.'
'And because we're hopelessly undermanned, what with the war and everything,' I commented, without raising my eyes from the paper.
'But we always got you, Eddie. You're part of the furniture.' I could hear the surprised annoyance in his voice.
I glanced up. The triumphant look on his face wavered as he noticed the other cops looking away, their expressions sheepish.
'Inspector Giral,' a voice broke the silence.
I turned to see a young uniformed cop had come into the café. The uniforms usually kept away, leaving this place to the detectives.
'What is it?'
'Commissioner Dax wants to see you. Says it's urgent.'
I got up and towered over the kid. He paled. 'Where were you ten minutes ago when I needed you?'
'You missed a trick there, Eddie,' Boniface told me. 'Should've made it back down to the wild south when you had a chance. Put your feet up with the other goat-eaters. No one in Paris to miss you.'
Bending down, I patted him heavily on the cheek. Everyone around the table looked everywhere but at us. His own look was one of growing surprise.
'You may have noticed the Germans in town,' I told him, my eyes staring intently into his. 'Well, they're not the only thing that's changed.'
Paris Requiem is published by Orion and is available here and from all good bookshops.
Read Chris Lloyd's experience of Being a Writer in Wales here
---
Support our Nation today
For the price of a cup of coffee a month you can help us create an independent, not-for-profit, national news service for the people of Wales, by the people of Wales.