Culture
Extract: 'things found on the mountain' by Diana Powell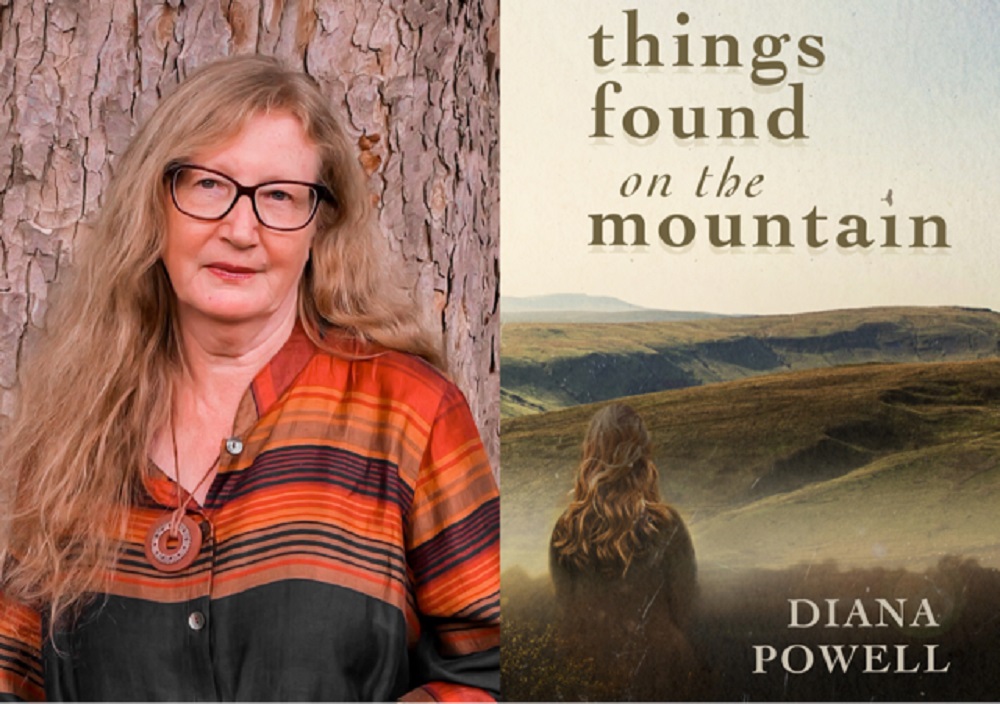 Diana Powell
'See, I'm painting our stream. What do you think? Is it right?'
The coat. She found herself wanting to touch the coat, thinking of Daniel, the last time she had seen him, the time he had come back on leave. And the puzzle in this man's eyes, the same look as Daniel's back then, even after all the years that had passed.
She looked at the painting. Her stream, their stream. Curves, darkening, lightening, thickening, fading. Smudges of grey, yellow, brown, on white. Sometimes no more than a thin line.
A thicker line at the edge, where the stream ended and the land began. But there was no line that she could see. She couldn't see any of it like this. The colours, the trees, the bridge and fence, even. The mountain, that rose behind.
But the coat, his eyes. She smiled, and nodded.
'Yes,' she said. And he smiled, too.
They sat together in silence for a while, until there was a noise behind them. They both turned. She felt something in the man then, a muddle in his body, as he rose from his seat.
It was the girl from the monastery, one of the two who had helped her with the sheep.
'Petra,' he said. 'This is Petra, my fiancée. This is… but I don't know your name.'
'Hallo again. It's all right, David. We've already met. We're having a picnic. Would you like to join us, Beth?'
Of course, she would say 'no'.
'No' even more, when Petra said 'others will be coming, too. It'll be fun.'
No was the right answer.
'Not my father, though. He's away again.'
Laughter
And then the 'others' announced their arrival with their usual noise, the laughter, the shouts, singing. And they were there, around her, and somehow, she stayed, as if they had caught her in a web of their hands, arms, voices, strung across from person to person.
Words. Here. Try some of this. Delicious. Mother's bread. The rain has stopped, at last.
'Where did you say you lived?'
This from Betty, the older girl, she knew now. She raised her arm upwards, as she had done when they asked before.
'Oh, good. You know the mountains, then. You'll be able to show them to us in the spring. We've hardly explored above here, yet.  It'll be fun.'
Fun was something they seemed to want, even when they worked. She wasn't sure she knew what 'fun' was, just as she wasn't sure what laughter was any more. And yet, she felt the corners of her mouth lift, as they had done in answer to the painter. Perhaps…

Canvas
But the Spring was for lambing. For the sheep. Days, nights spent with the animals, with little time to sleep, some weeks.
Her father, and her, and Gwyn, come across from the Gader, doing their best, but she would see, sometimes, the sinking of her father's shoulders, the furrowing of his brow. He was older than his years, he had been like this since Daniel left.
She must help, always. It was how it was.
Once, taking an errant lamb back up, she came across the painter – David, she must call him – painting the mountains this time. She sat behind him, to rest for a while, both of them not minding, saying nothing.
He would look, then dip his brush in the paint and put it to the canvas. Look again. She noticed how, when his eyes were upward, the puzzle and pain in them eased. That was the same as Daniel, too.
Colours
And now the mountains were on the paper in front of her. It was different from what she saw, as the stream had been different. Yet she and the painter were looking at the same thing.
She didn't understand. She thought people's eyes were the same – what could be seen from them. Not what they felt – she knew that could change. But what was in front of you… The colours, for instance.
There was a tint of pink on them, this day. And the green was its rain-washed, just dried colour. But there was none of this in the painting. Here, the colours were grey and brown, and a drab green, almost the colours of the soldiers' uniforms, beneath their great-coats. Was that what he saw? Was the war always in his mind, so he must put it down on the canvas? Could he never forget, like she never forgot Daniel?
Remembering
Couldn't he forget the cut trees, their logs used to build the trenches, the horses used for dragging them, and the guns? Daniel had told her all about them when he came back from the Front that time.
And they were here, in the painting. Tree-stumps. Ponies. But there were none in front of her. There were some further down, closer to the house, but here, they were nowhere to be seen. Was the painter remembering them, too?
She wanted to ask him. She wanted to ask about the war. She had this thought that he might have known Daniel. He was Welsh, he had told her. Yes, he was 'Jones'.
Perhaps he had served in a Welsh regiment, perhaps they had fought together, perhaps he would have seen what had happened to him. But no, it was foolishness. Remembering was foolishness. Better to think of the words – those that remained.
'things found on the mountain', published by Seren Books, is available from all good bookshops, or direct from the press.
Diana will also be talking about it in Hay Castle on the 28 June, 7 p.m and in Y Gaer, Brecon on the 2 August, at 4.15.
---
Support our Nation today
For the price of a cup of coffee a month you can help us create an independent, not-for-profit, national news service for the people of Wales, by the people of Wales.