Culture
Food Tales from Wales: the con of Welsh Cawl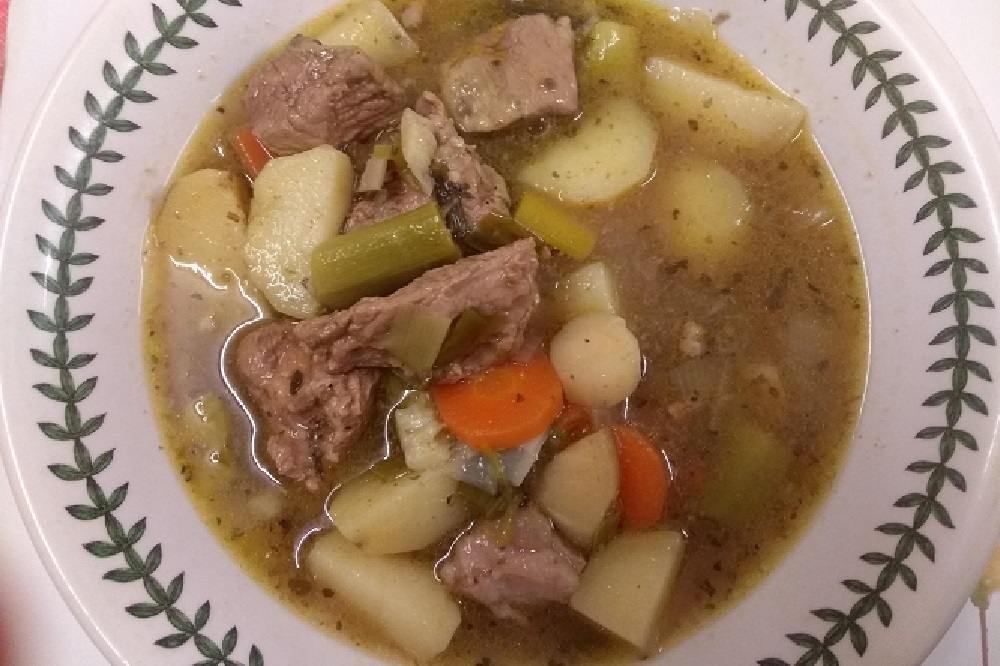 Carwyn Graves
'Lamb cawl is considered to be the national dish of Wales and was traditionally eaten during the winter months'. So states confidently many a guide to Wales, with ruminations on the deep connection between the country's pastures, ample rainfall and production of lamb. Which latter meat, we are given the distinct impression, must have been introduced from time out of mind to innocent Welsh babies from the age of two.
Except that most of this is balderdash; lamb cawl is certainly considered the Welsh national dish today, and there are good reasons for that, but the notion that it was traditionally eaten here is nothing more than a great Welsh con.
What is cawl, when it comes to it? The Herald of Wales had a ready answer in February 1897 as its Victorian-era readers prepared in anticipation of St David's Day:
"Let the Saxon have his roast-beef and plum pudding, the Gael his porridge, and the son of Erin his stew, but let a Taffy at any rate have his Cawl, which to him is the most savoury dish on the face of God' s earth… Nowhere does one find such a relishable, lip-smacking, and pleasing combination of animal and vegetable ingredients and salt"
Fighting talk in tune with the mood of the day no doubt, and the piece goes on in much the same vein for another two thousand words, detailing all the ways Cawl should and should not be prepared, how to get the thickness right, when to test it and how to serve it. But all without, as it happens, a single mention of lamb.
Parsley is indispensable, as are of course leeks (though not in 2023 – perhaps we should grow more here?) – and the bread should be made of barley, of course (who knew?) But there is no question in this Victorian newspaper's eyes about the options for meat; they are either bacon or beef, and preferably both.

Cawl cennin
In fact, these paeans to cawl are a fairly common thing in Victorian literature, and include gloriously detailed descriptions of St David's Day meals (such as that of the Swansea Cymmrodorion in 1894 which included oysters and cawl cennin or 'Welsh broth') and paeans to various parts of Welsh cuisine in verse:
Cymmysgfa fawr, byth-enwog saig,
Ddarpara gwraig i ginio,
Yw'r hyn dderbynia yn ddidawl
Yr enw: cawl Sir Benfro.
Mae llawer math o gawl i' w gael
Ar ddaear hael y Cymro,
Ond nid oes un yn haeddu mawl
Fel hyfryd gawl Sir Benfro.
(A great mixture, illustrious dish
That the wife serves for lunch
Received with care, its name?
Pembrokeshire Cawl
There are many types of cawl to be had
On the Welshman's generous earth
But not one deserves its praise
As does the lovely cawl of Pembroke…)
Afanwy in Seren Cymru, 1888. My own translation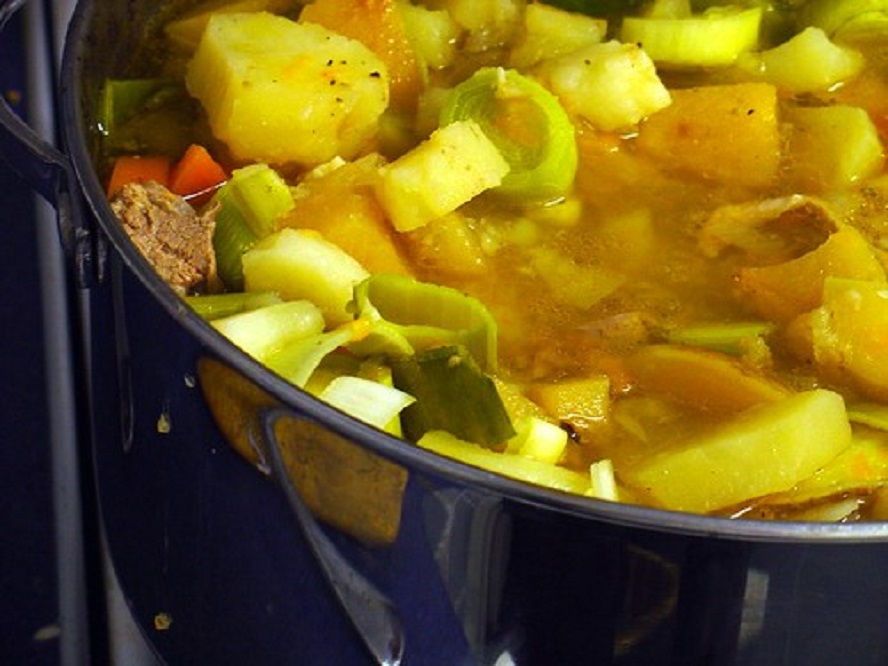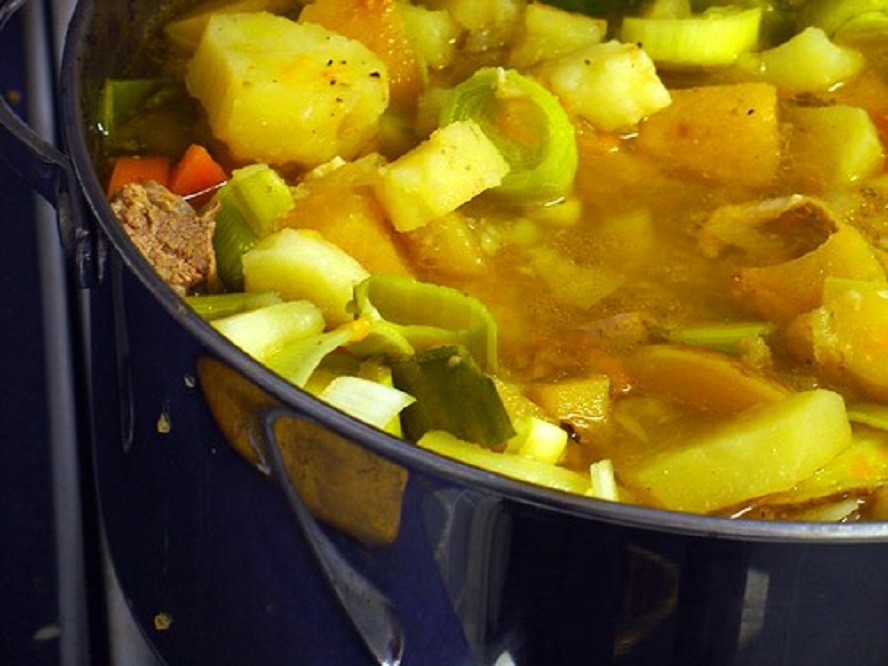 Signature dish
But here also, the key ingredients as listed include leeks, potatoes, veg and bacon – but nary a mention of lamb. The closest we get to lamb is mutton, now horribly out of fashion but appearing in some recipes of the period for cawl.
Does that make all the many lamb cawls served up this year at St David's Day in houses, community meals and at eateries horribly inauthentic? Are we dealing here with the great Welsh cawl con, whereby this small and plucky nation managed to convince the world that its signature dish was based around one of the prime products of its modern agricultural system, rather than that which actually sustained generations of forefathers and -mothers?
Probably not. No living tradition is a museum piece, frozen in place for all to observe. One of the glories of cawl is that it remains very much part of the fabric of life for so many of us, a tasty, filling and nutritious winter warmer that uses ingredients which are fully in season here for six months of the year and cost as little as any fresh veg ever can.
I have friends who spent half a year eating only cawl for dinner in order to save time (batch cook, freeze and reheat for cawl eildwym) and money towards their house deposit. Nutritionally, this is one of those cheap dishes that actually works, which is probably why it remained a staple of school meals in many parts of the country until the 1980s (and would be a significant improvement on the stodge my daughter currently gets given in Carmarthenshire).
So for lamb, which became one of the chief products of Welsh farming over the past century, to be paired with cawl makes about as much sense as anything could in our current food system. This is evolution of a thoroughly traditional dish that has always showcased local ingredients in season at their finest and when they are most welcome.
If anything, we could do with more cons of this sort.
This is part of a monthly series on nation.cymru on the diversity of Welsh food culture by Carwyn Graves, whose book Welsh Food Stories has a whole chapter on cawl and is out now. You can read the other installments of the series here.
---
Support our Nation today
For the price of a cup of coffee a month you can help us create an independent, not-for-profit, national news service for the people of Wales, by the people of Wales.