Culture
Just a Perfect Day: Del Hughes embarks on a journey of the heart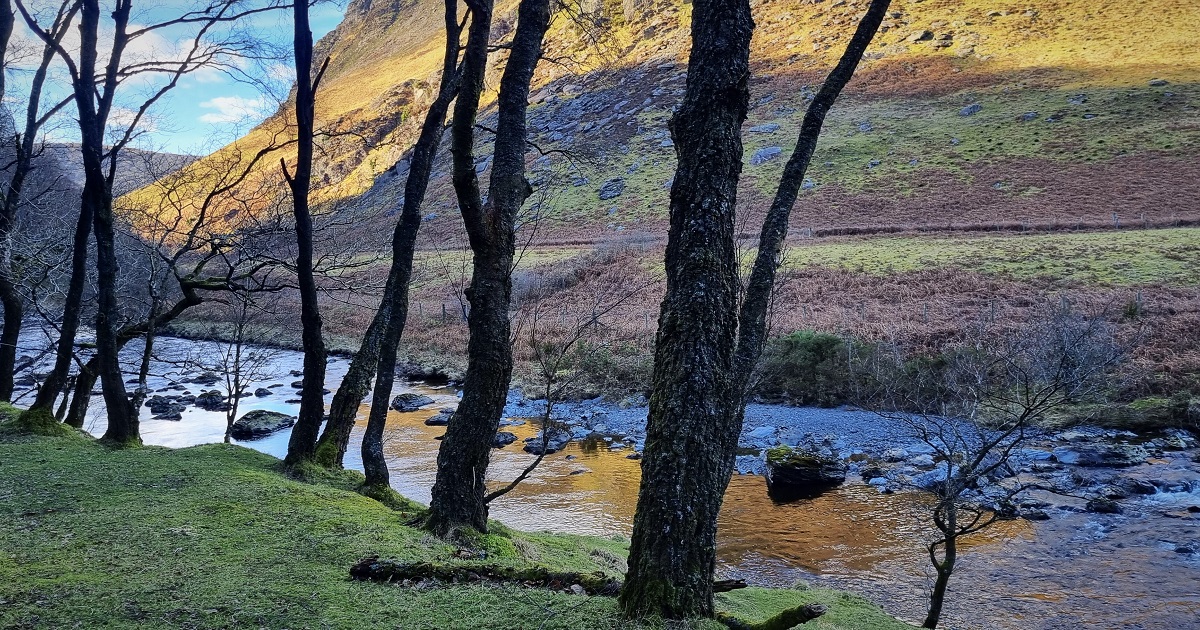 Del Hughes
Road trip. I bet that when you read those two words, you immediately thought of Route 66, maybe the Big Sur, Australia's Great Ocean Road or, a corker that's a little closer to home, Scotland's North Coast 500.
(That is, unless you're an avid antiquer, in which case, those words will have you dreaming of hopping in a vintage Triumph, with Catherine or Phil, and visiting a couple of National Trust properties.)
For me, I hear Road Trip and it sparks vague memories of the romance and excitement of youthful galivants that my fifty-three-year-old, somewhat stolid, soul still hankers for. As snowdrops surge through grassy verges and daffodils tentatively trumpet beneath a cool sun, that wanderlust I often experience at this time of year, eagerly asserts itself.
Four weeks ago, I wrote about the joys of virtual globetrotting and how, to some extent, it has satisfied my travel bug. But, as the skies lighten and we welcome sporadic spring-like days, I confess that I yearn to throw a few essentials in the car, take to the open road and leave financial responsibilities and adult drudgery far, far behind. Sigh.
So, I got the maps out – and by maps, I don't just mean Tim's road atlas – and began planning an adventure. . . or maybe it's more accurate to call it a pilgrimage? Whatever, Tim was on half term, the BBC weather app showed Thursday as a fat yellow sun, and I'd plotted a long, weird and winding route that hit upon places I'd visited, and loved, when I was young. All that was left was to load up the car and head off on a voyage of discovery – destination, Ystradffin.
Okay, so when I say road trip, I guess it could, technically, be called 'a little run out', but that lessens the allure of our undertaking, and it is around one hundred miles so, 'Epic (1 day) Road Trip' it is.

Last wishes
And it wasn't only Tim and I who were going. We decided to take John & Wolfie, our pups, because leaving them home alone for more than an hour meant returning to chewed kitchen cabinets and a scene worthy of White Christmas, with drifts of sofa stuffing blanketing the laminate.
We were also taking my mother, or around one fifth of her, and our two ex-dogs. All three died in the past couple of years and they've been sitting, patiently in their urns – two small wooden caskets for Tom and Barney, and a Moët Jeroboam for Mum (don't ask) – ever since.
Before she died, we were lucky enough to have time to make detailed notes of her last wishes. And there were many. In amongst direct cremation, buffet food choices, music and even the clothing that Stepdad, Tim and I were ordered to wear for her 'Death Party', she made sure to tell us exactly where she wanted to be scattered.
And Mum being Mum, and a woman with her own unique brand of wanderlust, she didn't make things easy. Not for her, the local garden of remembrance. Nope. As she said, 'I haven't done enough in life to stay in one place for eternity, so add these to your list.'
There are some far-flung places on Steph's Farewell Tour, but unless we land a lottery win, they'll have to wait 'til either the cost-of-living drops, or Tim cultivates enough fresh veg to make a killing. (Have you seen supermarket shelves lately?)
And, even then, when it comes to taking her abroad, I'm still, mildly, haunted by a French coach trip where several implacable customs officials wanted to know exactly what I'd stashed in my five I Can't Believe it's not Butter tubs. Apparently, Dad's ashes resembled something a little more Class A. Eek!
(Fair play though. After I'd clarified, in halting French, that 'Mon père veut être dispersé dans l'eau de France', I was warmly hugged, given twenty Gauloises – Eh? – and our coach was waved through without further ado.)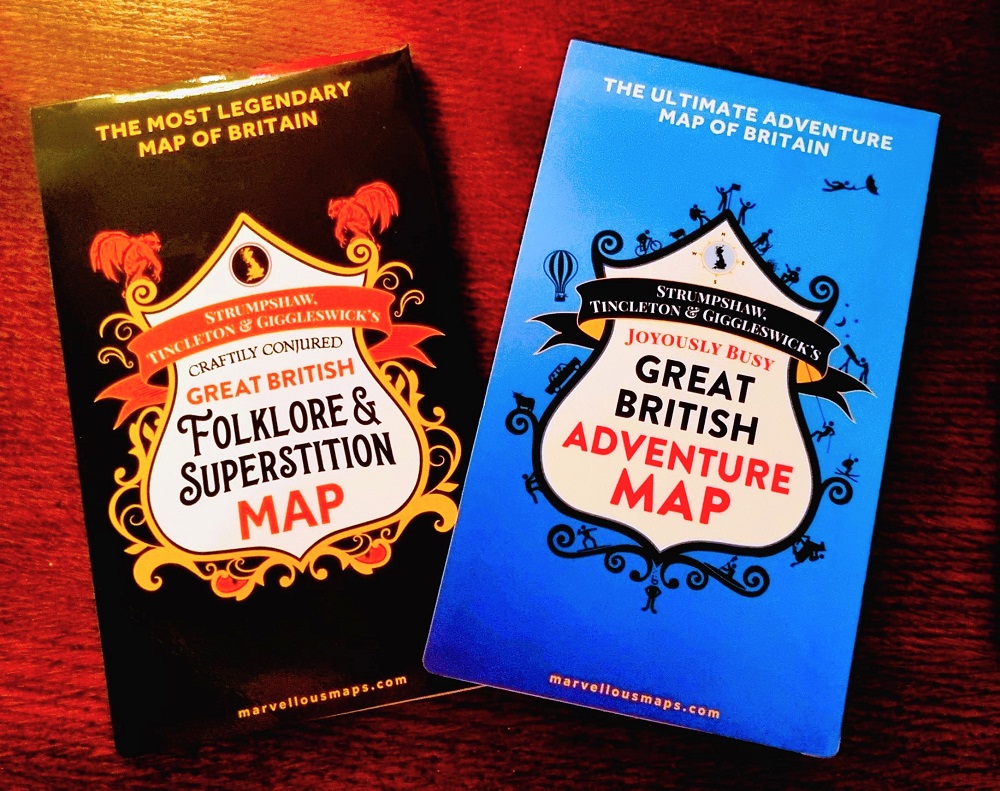 Top spot
Anyway, Mum's top three are:
Pembroke – where Mum's brother, Uncle Clive, lives, and my grandparents are buried.
Mumbles Pier – because she had cheery recollections of playing beneath it as a child, though there was also the less cheery recollection of Uncle Clive nearly drowning there so. . . I dunno? I've never fully understood my mother.
And, taking the top spot, Twm Siôn Cati's Cave – the place where we'd deposited the other half of Dad, twenty-four years previously.
So, since Pembroke and Mumbles Pier requires the gathering of our clan, which is a logistical nightmare, I decided to start small and simple with Ystradffin.
The irony is that, in life, Mum wasn't keen on road trips. For her, the purpose of driving was to get from A to B in the shortest, fastest time, whereas Dad and I enjoyed sauntering around country lanes, via the other twenty-four letters of the alphabet.
And wherever we stopped, Dad would always have a story, legend or tale about the place, the people or the folklore. For me it was magic, for Mum, monotonous.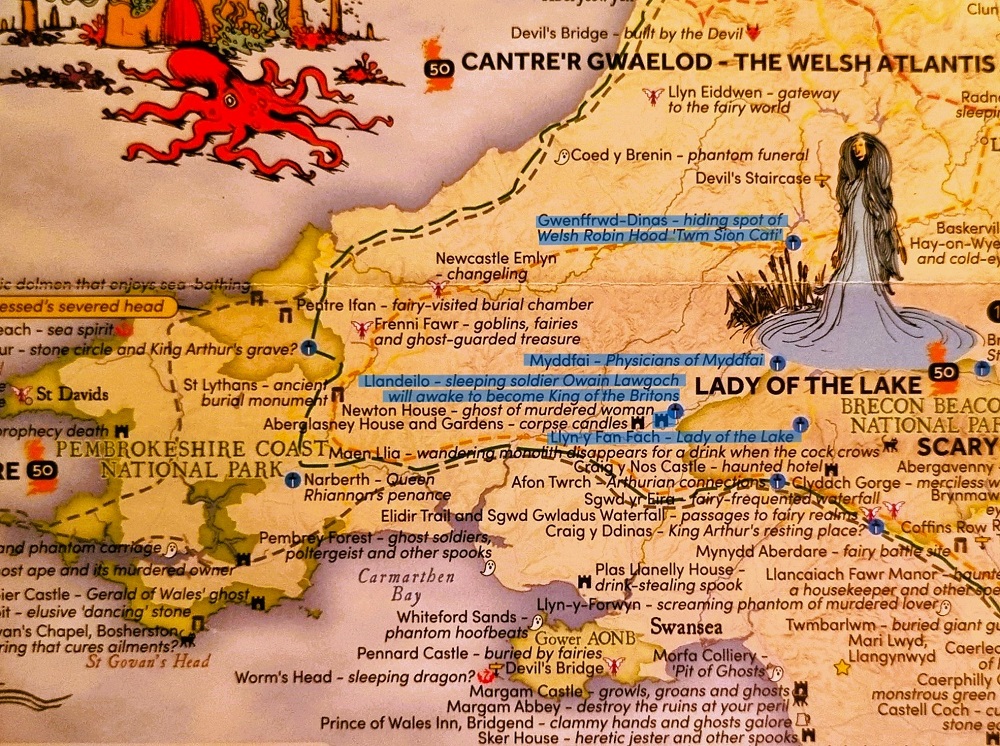 It was time
However, when we'd gone to scatter Dad, Mum and I had meandered, ambling along the Tywi to the exact spot below Twm's hideaway where Dad asked to be sprinkled. We'd had a wonderful time visiting the places he, and we, held dear, and that's what I was aiming for today.
It was time to set Mum, and our past pooches, free. But there was another reason, one that's wholly selfish. See, I've been struggling. For months, I've felt down, depressed, and totally lacking my usual vim. Not even upgrading my uke helped – I had to replace my Christmas one because the knobs snarled and the G-string went saggy – and my mood has continued to sink with every passing day. . . and I blame Mum.
Because I still expect her not to be dead. I still reach for the phone to ring her, still expect to see her in her riser-recliner when I pop round for a cuppa, still send her text messages and expect a reply.
Of course, my head knows she's gone. . . but my heart just won't take telling. So, my thinking is that, if we begin dispersing, it might help me start to accept the reality of the here and now, and gee me up a bit. Fingers crossed.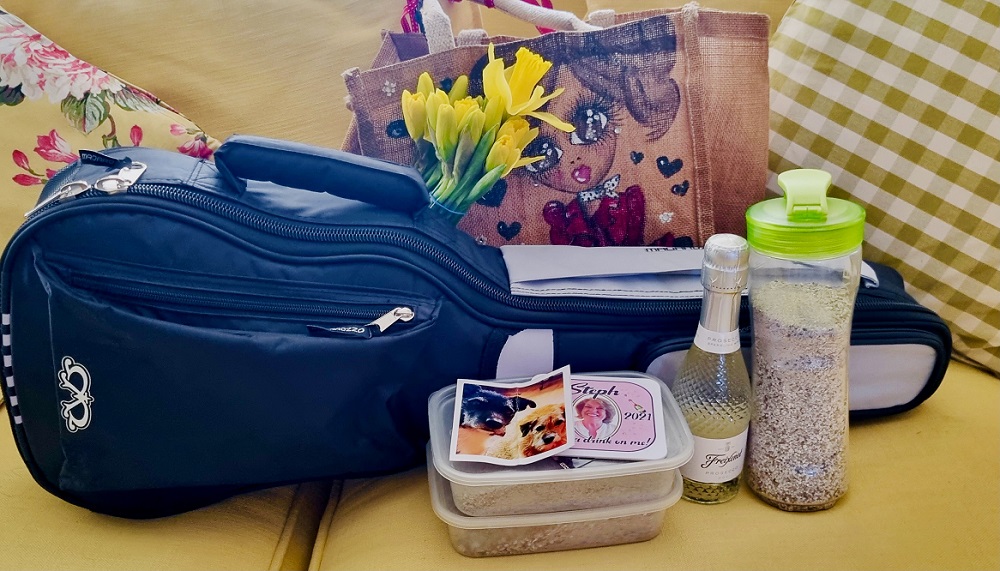 Carreg Cennen
Thursday dawned, a dazzling spring day, and Tim made his usual emergency flask of coffee, 'in case we break down.' Then we squeezed everything into the car – pups, daffodils, mini Freixenet, plastic cups, one whole kitchen roll (Tim likes to take them on journeys for 'possible spillage disasters.' Sigh.), Crème Eggs, a couple of photos, three ash-filled Tupperware containers and Trevor, my new tenor uke – and we were good to go.
I navigated, refusing to let Tim use the sat-nav as I wanted to keep some stop-offs secret, and directed him along roads that evoked happy memories and made me smile, despite Tim's frequent exclamations of, 'This isn't even a sodding lane, it's a bollocking footpath.' (Lol! Okay, so that made me smile too, especially when a padlocked gate meant he had to reverse for half a mile before he could spin round.)
First stop, Carreg Cennen Castle, a jagged black ruin, perched high on a limestone crag. It dominates the skyline and casts dark, looming shadows over the river and surrounding farmland.
These days, getting up to the fortress is a step too far, so instead we pulled over on a z-road, shared a beaker of tepid coffee – note to self: Buy new flask before next day out – and I told Tim about our family visits, and how we'd creep along the hidden vaulted passage that led to the secret cave.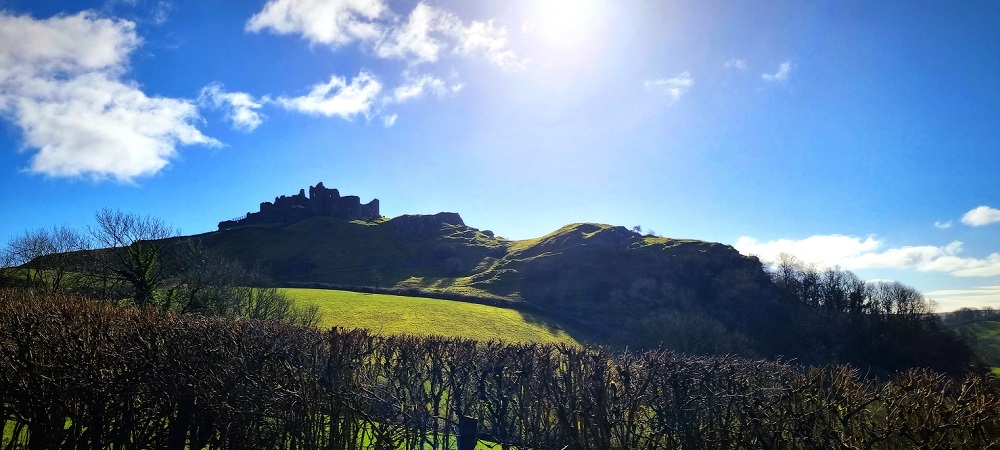 Magical healing
Next, Llyn y Fan Fach, home of The Lady of the Lake (possibly). Each time we walked around the waters, Dad would tell the same story, making it last the full circumference of the lake. A very brief version = Farm boy meets watery fairy princess, woos her with a perfect loaf of bread (well, it was simpler times), marry, have three sons, princess leaves boy (look it up, she had her reasons) and sons grow up to become the famous Physicians of Myddfai, skilled in the magical healing of the fae.
(Annoyingly, the access road that runs from the car park was blocked, so my sneaky plan to drive up and take a few pics was scuppered. But, if you're mobile, it's worth the walk to visit this glacial lake and the craggy cirque that surrounds it.)
On to Myddfai, a small village boasting a gift shop which sells paintings by local artists, and a café that makes artisan cakes and 'Hollywood Handshake' bread – Tee hee. We were tempted to stop for a cuppa, but we'd already gone off track once, adding fifteen miles to our journey, and Tim was fretting about his fuel gauge. So, we motored on towards the bright lights of Llandovery.
It really is a charming market town. Colourful houses line the entrance from the east, and the main street bustles with interesting independent shops. We parked up and tried the West End Café, Tim hoping for an extremely late brekkie, but they'd stopped serving at eleven.
But worry not, because upon seeing Tim's downcast face, they knocked us up three bacon baps – lightly toasted baguettes, crispy bacon, and brown sauce. Mmm. And yes, when we'd finished, we both regretted giving the third to the pups.
Epic car park
One downside of Llandovery was that it cost 20p to use the public loos. Unfortunately, we didn't have even one penny of physical money on us, but fortunately, a lady who was exiting, saw me coming and held the door so I could wee for free. Plus, the car park is genuinely epic, and there's not many car parks you can say that about.
As you drive in, you're greeted by the castle ruins and an impressive 16ft stainless-steel statue of Llywelyn ap Gruffydd Fychan. I hadn't heard of him, but a helpful plaque explained that he was a hero of the Welsh resistance, brutally executed in 1401 for his loyalty to Welsh prince, Owain Glyndwr.
A carapace of helmet, cloak, shield and spear leaves visitors free to fill the void with their own imagined version of the man who would have worn such trappings, and I found it rather moving – this sculpture which commemorated, not just the man himself, but the rebellion, barbarity and complex historic past of this area of Wales.
Giddy up
We headed north. But now, en route to our last stop, I felt anxious. Silly, I know, but I wanted this part of the day to go off without a hitch. So, obviously, we got lost, again.
However, we happened upon a wonderfully eccentric lady, speeding along in a pony and trap, who gave us detailed directions and waved us off with a strident 'Giddy up, Bessy', and a flick of her whip across our back window!
And then, sometime later, on our right was the farmhouse where, 'the bloody handprint of a maiden, murdered by her brutish father, still appears to this day. . . no matter how many times it's painted over.' Or so Dad said.
On our left, the churchyard where, 'above the grave of a child, stands a stone angel whose blank granite eyes follow those who dare pass by.' Or so Dad said.
And ahead, the car park for Twm's cave, now part of the RSPB's Gwenffrwd-dinas nature reserve. We had arrived, and with twenty-five miles left in the tank. The diesel gods were on our side.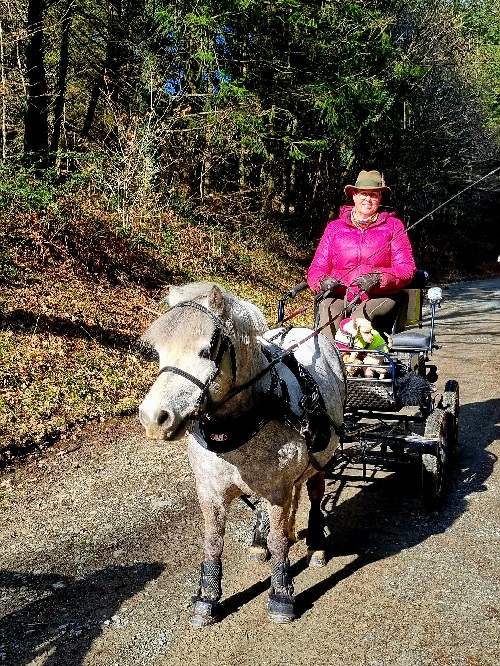 Copper glow
It took a while to reach the scatter spot. Tim was, literally, dragged ahead by the pups, and I hobbled along the snaking boardwalk, taking in the mountain air and ancient woodland. The sun was all but hidden behind the Dinas, but the final rays, hitting the gorse and bracken of Craig Clyngwyn, cast a copper glow over the Tywi and turned the clear waters russet.
We set up camp on a mossy bank and got organised. We started with Tom and Barney, sprinkling them into the water, accompanied by our favourite photograph of our much-missed boys, and a couple of Schmackos, their favourite treat. And then it was Mum's turn.
As Tim scattered, I got Trevor, and we all belted out some of her favourite songs to see her on her way – 'Everybody's Talkin' (loved by us both), 'Sea of Love' (Mum and Dad's wedding song), 'Half a World Away' (only added to the mix because I'd learned it at uke club, but it was fitting nonetheless).
Yes, my renditions were discordant, laboured and littered with expletives, but I persevered, knowing that somewhere in the ether, Mum and Dad were holding their sides and hooting with laughter at my musical homage.
Tim launched the daffodils as far into the river as possible – pups, unaware of the solemnity of the occasion, kept retrieving them – and I continued to, inexpertly, strum a few rock and roll crowd pleasers. Then we popped the Prosecco, raised a toast to Mum, Dad, Tommy and Barney, and I embraced the hiraeth of this place, and this moment, glad that Tim had brought Regina XXL.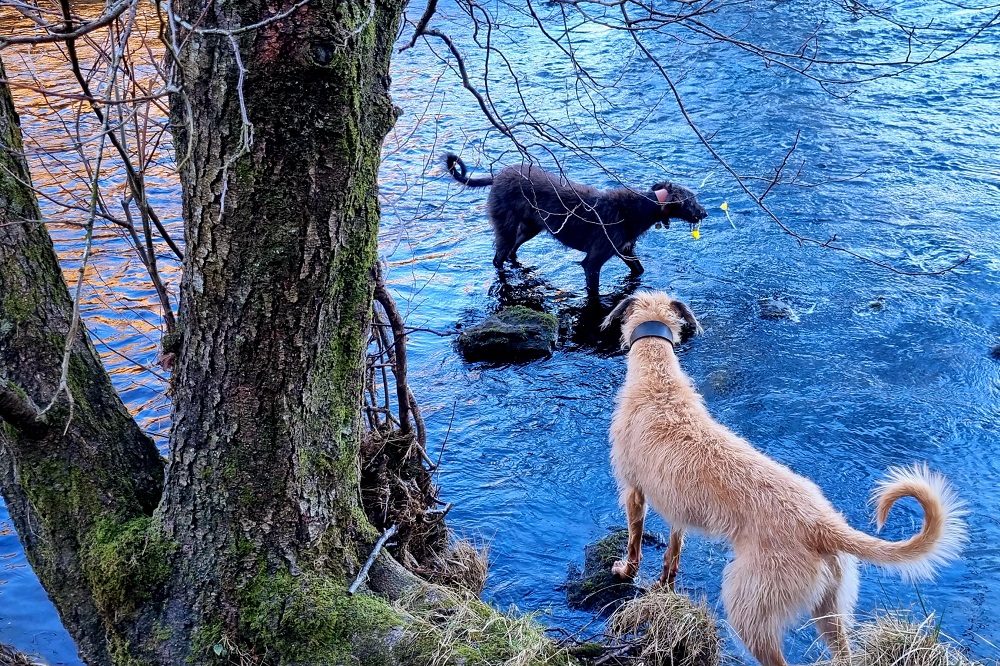 Gentle grief
Packing away, we heard distant cheering, and looking up to the mouth of Twm's cave, noticed a youngish couple who had obviously been admiring the view – and had caught the entertainment. But they seemed to have appreciated it so. . . What the hell! Guess I can call it my first public gig.
What a day. I'd reminisced, recalled conversations and details from my childhood that I'd thought long forgotten, and enjoyed hours of laughter, adventure, and gentle grief. In the words of Lou Reed, it was, 'Just a perfect day', and I'm so glad I spent it with them.
(And, I've been thinking that our road trip requires a suitably iconic name. So, if you have a day free and fancy an adventure of your own, consider the 'Stephy Sprint 100.' I guarantee you'll love it.)
If you'd like to learn more about the people, places, myths, folklore and history that I touch upon here, the Literature Wales Land of legends website is an excellent starting point, as is Visit Wales.
You can find more of Del's adventures for Nation.Cymru by following her link on this map
---
Support our Nation today
For the price of a cup of coffee a month you can help us create an independent, not-for-profit, national news service for the people of Wales, by the people of Wales.