Culture
Magpie Farm: Invasion of the garden pests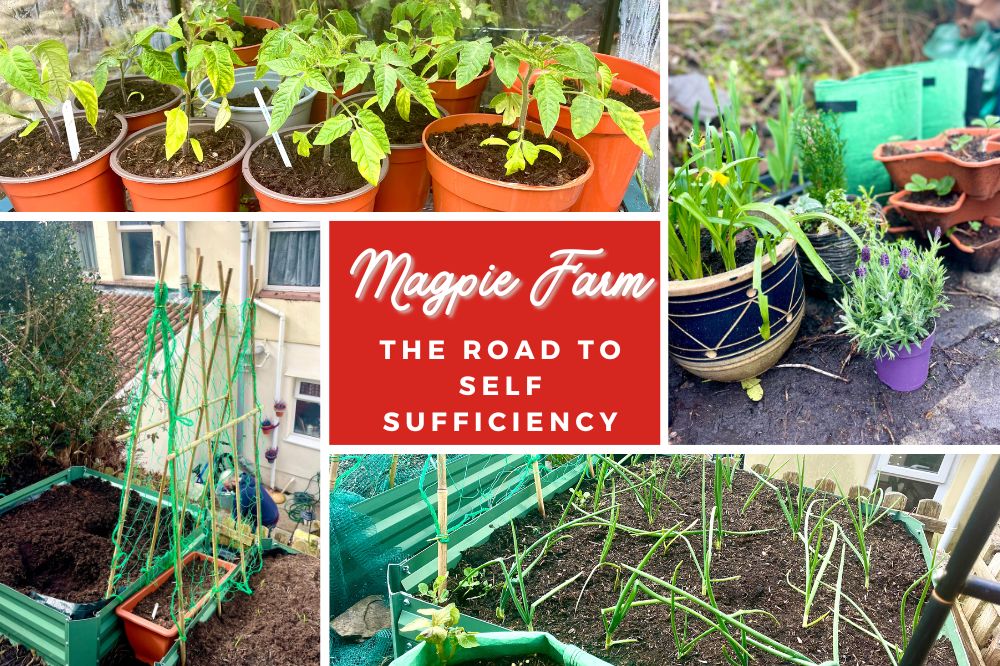 Magpie Farm, April – Emily Price
I prepare myself for the skirmish the same way I have been since the beginning of April. Gloves on, torch in hand, hood up against the misty rain. My choice of weapon? A rusty trowel. My opponents? Every garden beastie you can possibly imagine.
The months of late winter offered some protection to Magpie Farm as the ice and snow drove away all the creatures who seemed to have one very irritating mission – to munch and decimate every seedling in sight.
It's been almost four months since we embarked on our dream of a more self-sufficient life. The end goal will hopefully one day lead us to a mid-Wales farm abundant with home grown produce, chickens and even bees.
For now, we agreed to spend a year or so as a practice run in our old miner's cottage nestled in the south Wales valleys before we start the hunt for a fully-fledged small holding.
The cool and dark of the night was the perfect time to seek out slugs, scare off mice and waft away flying creatures all looking for an easy meal.
On a gloriously sunny spring day, I planted a bed full of cabbages and carrots which sprung up to happily greet the warm weather. One morning, I climbed the old stone steps to the raised beds and found the vegetable patch completely barren.

Annihilated
But how? I had been cautious by covering it with netting and sealing the edges tight against a gardener's most mortal enemy – the cabbage white butterfly.
Yet something had still annihilated the entire crop way before it had reached its prime.
A few days later, I noticed the first of my pea seedlings had popped through the earth in readiness to reach for the sky via a climbing frame I'd botched together using bamboo canes.
A few days later, all the seedlings had been torn up from the ground by a critter looking to reach the juicy pea shaped seed below.
Judging by the tiny tunnels in amongst the onions, the culprit could only have been mice.
I replanted the peas but this time left them in pots on an old garden table out of reach from tiny pink hands. When it comes to allowing them to climb, I'm not sure what I'll do – but I'm sure they won't appreciate a life in a window box atop patio furniture.
The creating of Magpie Farm was never just about growing food, it was also about feeling more connected to nature, living in tune with the seasons and appreciating the here and now instead of getting lost in the screens of electrical devices for hours on end.
Instead of a lawn, we emptied boxes of wild flower seeds to attract bees and other pollinators. We put up bird boxes in the trees and watched with bated breath as a pair of blue tits moved in with beaks full of moss and feathers.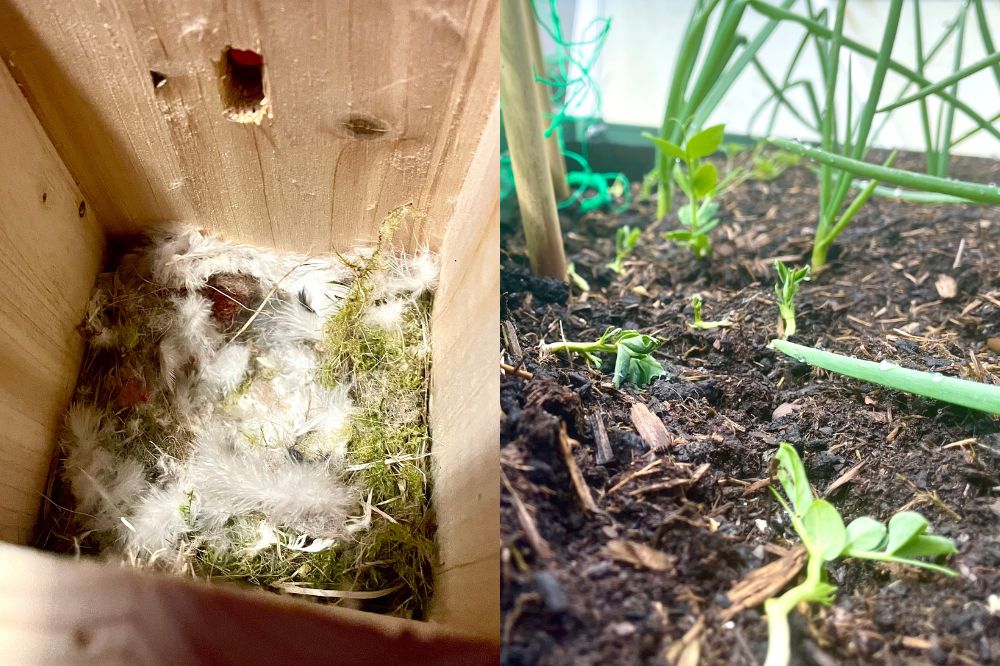 Harvest
One morning before starting my day as Nation.Cymru's news editor, I looked out of the upstairs window and to my horror saw the bird box was laying on the ground.
I rushed outside wearing pyjamas with wellies and found the box tipped on its side with the wooden lid completely torn off.
Inside were the remnants of the tiny bird's hard work. I mended the box and attached it to the tree more securely – but the birds didn't return.
That evening, I sat on a bench on the farm and asked myself – why have I even bothered with this journey. I cant even keep peas alive. My imaginings of a late autumn harvest with baskets heaped full of homegrown food was just a pipe dream.
As I made my way back inside, I noticed a raised bed I'd planted with herbs. The rosemary and thyme had expanded to fill the space and green leaves were spilling over the side.
I bent down and picked a few bunches. Inside I washed and chopped the herbs and gleefully scattered them over carrots.
It was just a handful of herbs but it was Magpie Farm's first harvest. I may be losing a few battles, but I would certainly win the war.
Magpie Farm will return for another instalment in May…
Catch up on the story so far here
---
Support our Nation today
For the price of a cup of coffee a month you can help us create an independent, not-for-profit, national news service for the people of Wales, by the people of Wales.