Culture
Magpie Farm: Jack Frost and tomato seeds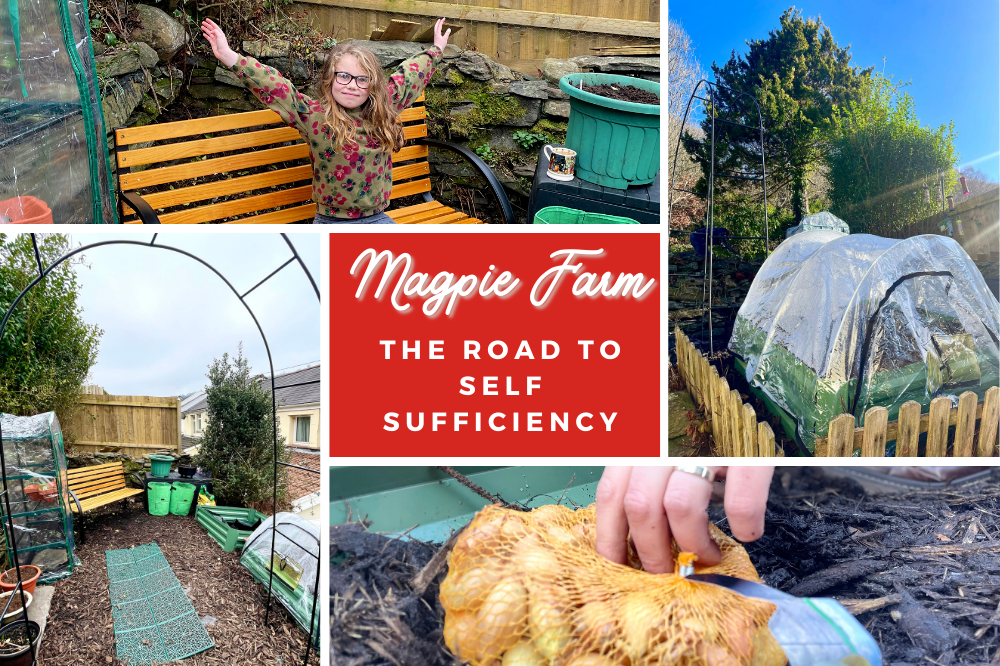 Magpie Farm, February – Emily Price
My breath misted the air in great plumes on a chilly February morning on Magpie Farm.
Not a farm at all really, but a back garden on a terraced street in the south Wales valleys. Although it's no dream small holding surrounded by land and brimming with veg and farm animals, it is a promise to ourselves that one day we will reach our goal of moving off grid to mid Wales on a voyage to self-sufficiency.
Our plan is simple, if we find that we can grow our own crops successfully on a tiny piece of back yard land during 2023, then we will know that taking the plunge into full-time farm life won't be a complete gamble, but a feasible change of lifestyle.
Our future farm would include chickens and perhaps pigs but that was a dream life still as yet without substance.
For now, we had our beloved Magpie Farm which had changed beyond recognition in its first month of life, moving from a bramble strewn wilderness to a few fairly neat square meters that had become a sanctuary to spend our weekends as we planted promises into the cold ground.
In January, we had tackled the thorny jungle and cleared the ground until it was bare muck. This month, we spent ice weekends laying down weed covers to keep the brambles at bay and used every pot we could find on the wasteland as a planter for veg.
We had a rule we wanted to stick to throughout the journey; if we can't eat it, we won't grow it. That is, aside from the daffodils, which had begun to reach high in their readiness for their St David's Day debut.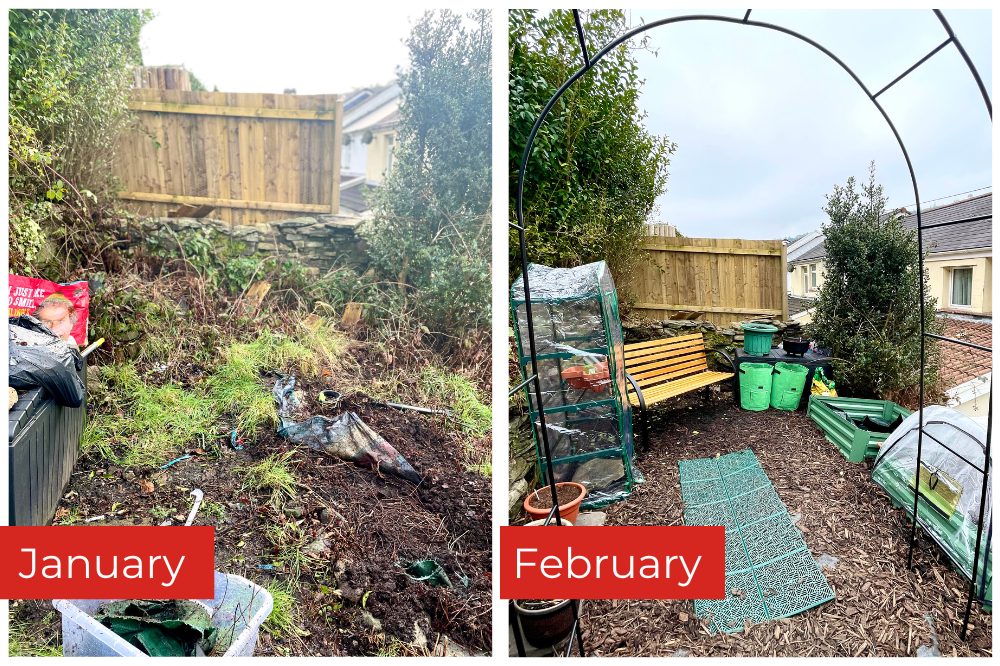 We planted onion sets in our first shiny raised bed and carefully tucked tiny tomato seeds into seedling trays placed on a sunny windowsill. We marvelled at our work! 45 seeds planted and within a week or so most of them had sprouted up. We imagined a bountiful summer brimming with our own tomatoes splashed with balsamic vinegar on sourdough toast, sweet cherry tomatoes in our own homemade pasta sauces and precious crimson fruits carefully wrapped in brown paper bags and handed out as gifts to friends and family.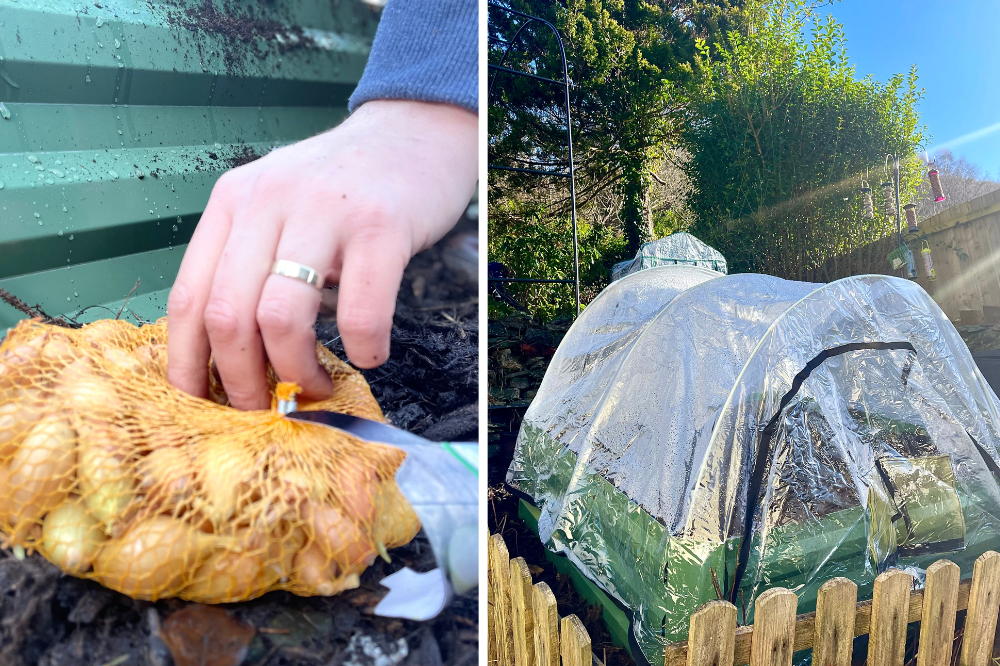 Eager
The seedlings reached higher and began to bend towards the light pouring in through the spare room window. As the days became suddenly unseasonably warm, our eagerness to see large leafy plants full of swollen toms led us to the decision that they'd do better in the greenhouse on Magpie Farm.
We donned our wellies and climbed the old stone steps which had led the way to the mountainside garden since the days when miner families filled the street. We placed the seedling trays into the empty greenhouse and zipped them in tight for their first night's sleep outdoors. The condensation running down the inside an indication of warmth and safety for our precious crops.
The next morning, I woke early, the light coming through the bedroom window had a bluish tint about it that could only mean one thing…
Frost.
I grabbed my wellies, threw on my coat and raced up the old stone steps to the farm. A robin sang mournfully nearby as I unzipped the greenhouse to find all 45 seedlings dead. Not just wilted by the overnight frost, but completely obliterated by the subzero temperatures as if the ice had blasted them from their seed trays.

Wrong choice
When I'd proudly zipped them in for their first night outside, I knew deep down it was the wrong choice, but the pleasure of seeing something grow from scratch by your own hands can brew up wishes to fast forward the seasons when really playing the long game was key to small holding success.
We replanted and protected the tomato seeds in a propagator tray carefully placed in the sunshine indoors. I wondered if we should give up now as we couldn't even keep seedlings alive. Dreams of wandering around Magpie Farm plucking food from a leafy harvest on a late August afternoon suddenly seemed ridiculous.
Then, during the week as a tomato and cucumber supermarket shortage hit the headlines, a particularly sunny late February morning drew me to check the propagator. As I removed the lid, I saw a tiny pale green seedling pushing its way through the surface of the damp soil. I replaced the lid and opened the curtain wide to allow the sunlight to bathe the seedling. This time we would keep them inside until the risk of a re-visit from Jack Frost had fully passed us by.
This time, we would be patient.
Magpie Farm will return in March for its third instalment. To catch up on January's instalment, click here.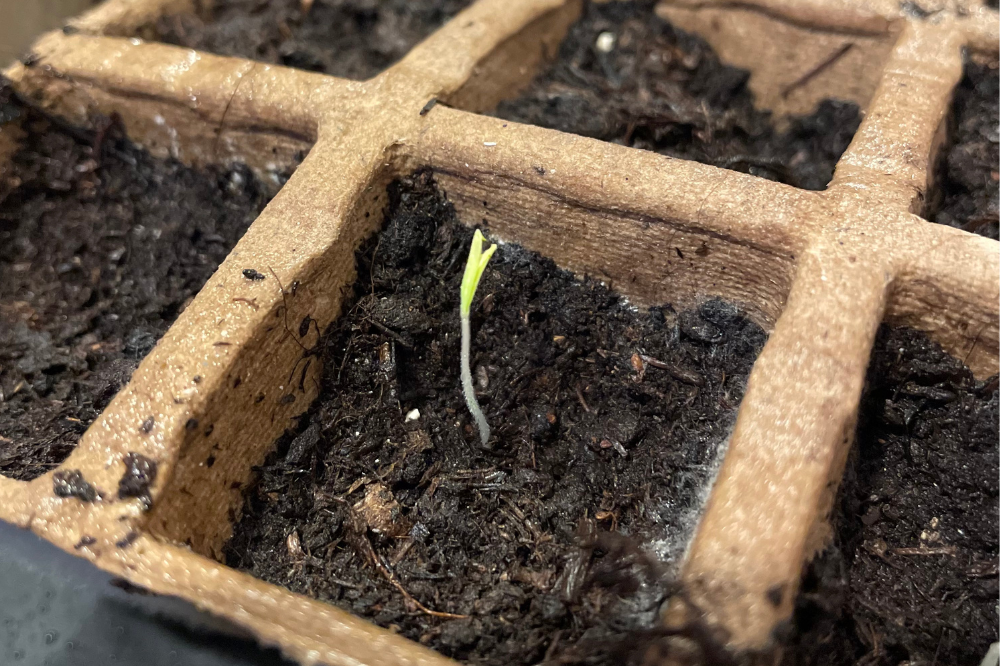 ---
Support our Nation today
For the price of a cup of coffee a month you can help us create an independent, not-for-profit, national news service for the people of Wales, by the people of Wales.