Culture
Review: Vulcana by Rebecca F. John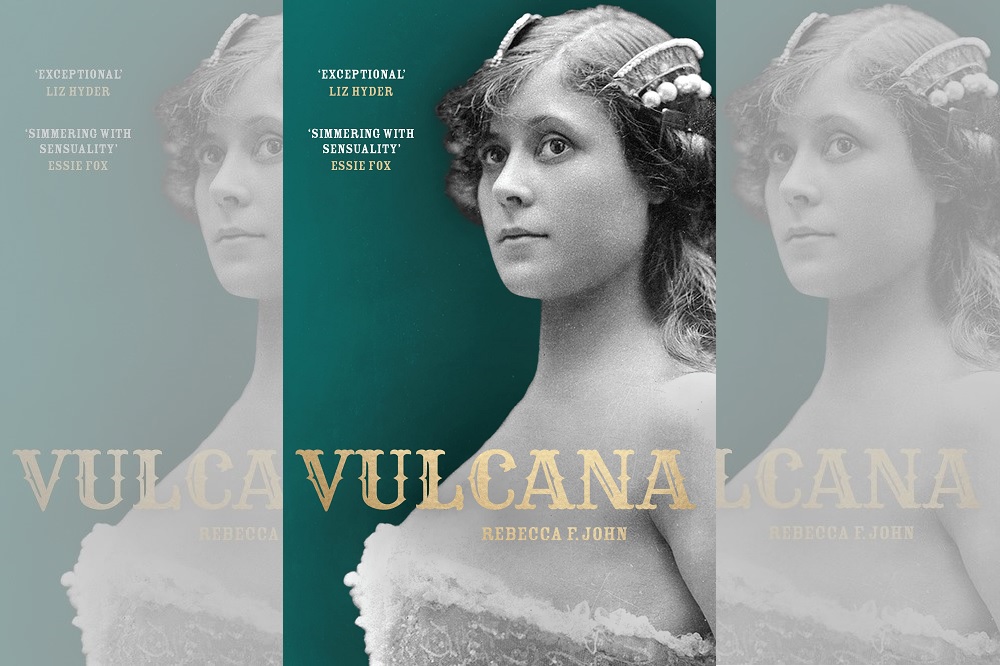 Rajvi Glasbrook-Griffiths
Vulcana opens in 1892 with a decision to leave, a decision to go out into the world.
'Even the rain does not wish to stay in Abergavenny,' thinks the narrator, Kate Williams, occasionally Kate Roberts, and known to the world as Vulcana.
Vulcana is Rebecca F John's third novel for adults, and a fictional account of an extraordinary woman who lived ahead of time, beyond expectations and with immense courage, not be confused with fearlessness; the kind of deep courage that is rooted in conviction, 'in holding your head up high…and sticking to what you believe.'
With this novel, Rebecca F John has reinforced her reputation as one of Wales' most versatile and interesting voices.
Heroism
The voice through this novel is that of Kate Williams, a preacher's daughter. She is fifteen when she meets William Roberts, Atlas to her Vulcana, at a local women's gymnasium. He is older and married to Alice, with children. But they fall in love.
What ensues is a life of global success, the music halls of Britain, Europe and Australia, and a lifelong relationship.
A career that begins at the Pontypool Strongwoman Competition, pans out over the decades into countless accolades, commendations and authenticated feats of strength, success, and heroism.

Time
Time is important in Vulcana. The chapters frame and mark important periods in the protagonist's life. They also mark them in the lives of those with whom Kate's life is inextricably bound: her daughters, Nora and Mona, and Alice, William's wife, who raises her daughters
It is the start of a new century, an era marked with new promise, the latest Kodak Brownie, phrenology, and fixed notions of what constitutes a woman's role.
Yet, the mother's guilt that lodges a knot within Kate is by no means unfamiliar today. 'Motherhood' or 'stardom', she is asked, what is to be her choice?
Female strength manifests in many forms. Kate is a strongwoman whose record-breaking bench presses and overhead lifts leave audiences in awe, be it in slower clapping with hearty and deep voices (Scotland), chorus of appreciation (Wales) or whoops and claps (Paris).
Manifold strengths
However, 'Vulcana is the world's strongest woman in the same way a café might claim to make the world's best cup of tea'.
Is she stronger than women living on the tips of Scandinavia doing daily battle with the elements for survival? Is she stronger than women picking tea in plantations with their babies tied to them by cloth?
Is she stronger than William's wife, in Abergavenny, raising Kate's daughters by her husband, William, as Kate tours the world, with that same husband?
Rebecca F John is sensitive and astute in the way she presents the manifold strengths of women, physical, spiritual, emotional, the getting on with.
Health matters
Health and wellbeing are central within the Curriculum for Wales, but also hold vital value across all spheres of life, for all of us.
In a context of prevalent inequalities within healthcare, and a media reality of 'beauty' that bears very little resemblance to what is beautiful, Vulcana's 'forward-thinking attitudes to women's health' are important.
Rebecca F John's clear portrayal of Vulcana as a woman of exceptional physical ability and fame, with menstrual and post-partum bleeding, 'uneven legs', a 'slightly wider left eye', 'heavier right breast', and unconventional relationships, is not just relatable but essential to mainstream perception.
Very real
There is a necessary place, both within and beyond schools, for a recognition and understanding of Vulcana and others like her.
She was as exemplary as she was flawed; she was as conflicted as she was certain; she had worldly success, but she suffered; she was very real.
It is serendipitous that at the time of Vulcana being published, Welsh strongwoman, Rebecca Roberts, from Bangor, is making national news for her close bid to win the World's Strongest Woman title.
Rebecca Roberts' story is one devoid of airbrush; it is one of mental health struggles, suicide, sexual abuse, and sadness.
Her battles are a part of her outward achievements, and just like Vulcana, her experiences are those from which others can draw compassion and strength.
Vulcana is written with heart. In an interview with Nation Cymru, Rebecca F John talks about being asked if she writes with a Welsh accent.
If that implies a lyrically but understated turn of phrase, sound narrative timing, and a rhythmic lilt, most readers will be inclined to agree that indeed she does.
What she also does is walk a good distance in the steps of the people whom she puts into words.
Vulcana by Rebecca F. John is published by Honno. It is available from all good bookshops.
---
Support our Nation today
For the price of a cup of coffee a month you can help us create an independent, not-for-profit, national news service for the people of Wales, by the people of Wales.