Culture
Review: Wild Isles by Patrick Barkham and Alastair Fothergill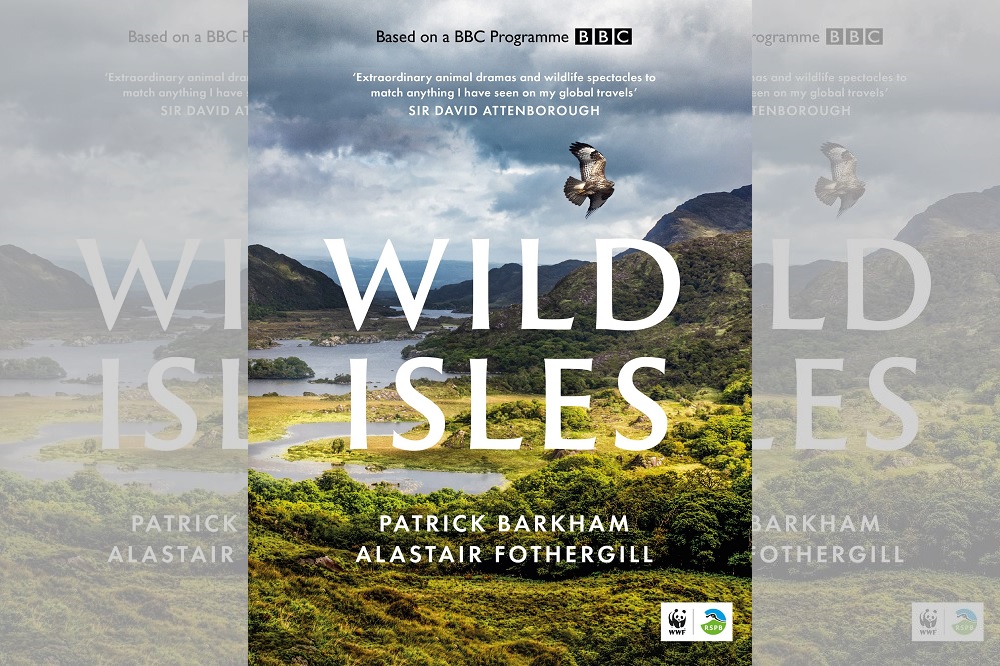 Jon Gower
The recent appearance of a wild beaver in a garden in Pembrokeshire reminds us that with nature you can expect the unexpected.
The species was hunted to extinction in the 16th century for the meat, fur and the oil in the scent glands but have been reintroduced – ironically enough on the River Otter in Devon – and the beaver has since set up shop on the river Avon near Bristol and the Tay in Scotland.
How this lone animal got to west Wales remains a mystery but for now individual is being given up enough peace to build a lodge for itself.
Amazing
You can find out all about this amazing mammal in Patrick Barkham and Alastair Fothergill's Wild Isles, a glorious, coffee-table companion to the TV series presented by the evergreen David Attenborough. For amazing it is, an animal so industrious it has become a common phrase, 'as busy as a beaver' which has, in turn, worked its way into our lives.
Despite being languid in their movements, beavers fell trees with their bright orange teeth, both to eat the leaves but also to provide construction material for beaver dams. These help create areas of deeper water where the sinuous, slow herbivore can feel safe.
By coppicing trees the rudder-tailed mammals open up the landscape to sunlight, inviting in more flowers, insects and birds, thus creating ponds and dams which can help spread the flow of water and prevent flooding.

This fine, superbly illustrated book has plenty of such information alongside an array of superb photographs, So we learn about other creatures associated with freshwater, the dragonflies, described as the helicopter gunships of the airspace above lakes, ponds and waterways:
Zigging and zagging in rapid straight lines with abrupt changes of direction their wings flick far faster than the human eye as they patrol in search of airborne prey. A dragonfly's own large compound eye is a superlative thing, containing up to 30,000 miniature lenses and able to detect light both above and below them.
Indeed these insects have colour vision superior to human beings despite their eyes being so very much smaller.
Urgency
Wild Isles is a celebration of exceptional wildlife but it is a celebration tempered by the pressures on nature, from pollution, habitat loss and, most prominently, from climate change.
Every chapter in the book has ample evidence of the fundamental and often very rapid changes being wrought by humanity's seemingly out of control experiment in which the entire planet is the laboratory.
It poses perhaps the biggest challenge for Atlantic salmon, so that in places such as the Highlands of Scotland summer droughts triggered by climate change can leave water levels too low for the salmon to swim up river. It makes salt marshes – so beloved by wading birds ¬– reduce in size.
And it may even change the temperature of the Gulf Stream, as the cold waters of melted glaciers meet warmer seas. If you want to learn more about the sheer urgency of the situation read Tom Bullough's Sarn Helen: A Journey through Wales, Past, Present and Future.
Delighting and warning
So the two authors have to pull off a balancing act, between delighting in what we have and warning about how easily we can lose it all. Thus they include many stories of successful conservation such as that on Ramsey island, off the Pembrokeshire coast.
Here the populations of seabird species such as Manx shearwater and storm petrel had been depleted by the attentions of rats, which find it all too easy to raid nests to eat eggs or chicks. In the winter of 1999/2000 a specialist team from New Zealand set traps for the Ramsey rats which could ensure that harmless bank voles would not be caught.
It was a very successful eradication programme which got rid of all the rats, allowing the abundance of seabirds on the island to bounce back, so that by 2022 there were over 6,000 Manx shearwater pairs as well as a small population of the storm petrel, a tiny bird the size of a budgie which spends much of the year far out at sea.
Fate
Towards the end of the book the great naturalist John Muir is quoted, suggesting that 'When one tugs at a single thing in nature, he finds it attached to the rest of the world.'
The book reminds us that just as one creature's fate is entwined with many others, so 'our fate is entwined with the rest of life on Earth too.'
Its authors manage to turn a red alert moment into one of beautiful contemplation, by seeing what there is and what can be lost, from the soaring sea eagle to the benign industry of the pollinating bee, from the hunting orca and the hunting honey buzzard to the rooting wild boar and the flowering orchid.
All sharing increasingly cramped space with us, making our lives so immeasurably richer.
Wild Isles by Patrick Barkham and Alastair Fothergill is published by William Collins and is available from all good bookshops.
---
Support our Nation today
For the price of a cup of coffee a month you can help us create an independent, not-for-profit, national news service for the people of Wales, by the people of Wales.