Culture
The heartbreaking story behind Ren raising thousands for the RNLI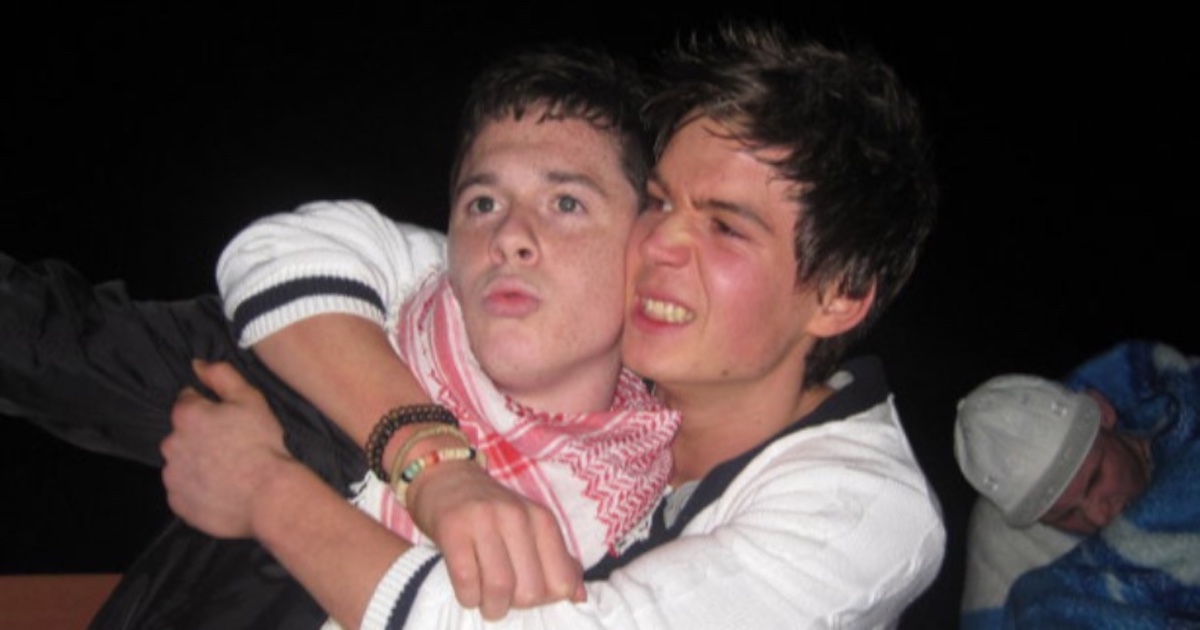 This week Ren Gill was back in Anglesey.
The island off the north west coast of Wales is where the musician went to school and grew up.
Much has happened in the intervening years since he left home to live in Brighton.
He has battled a rare debilitating illness which has seen him seek specialist treatment in Calgary in Canada. He has also fought his own personal demons to attract millions seek out his videos on YouTube.
A word of mouth sensation, he's achieving success under his own steam. Resolutely under the radar, he's become a grassroots phenomenon.
His full name is Ren Eryn Gill. To those who love his music he's simply known as Ren
With an ever growing following, he recently turned to his loyal army of fans to help him raise thousands for Beaumaris RNLI in Anglesey.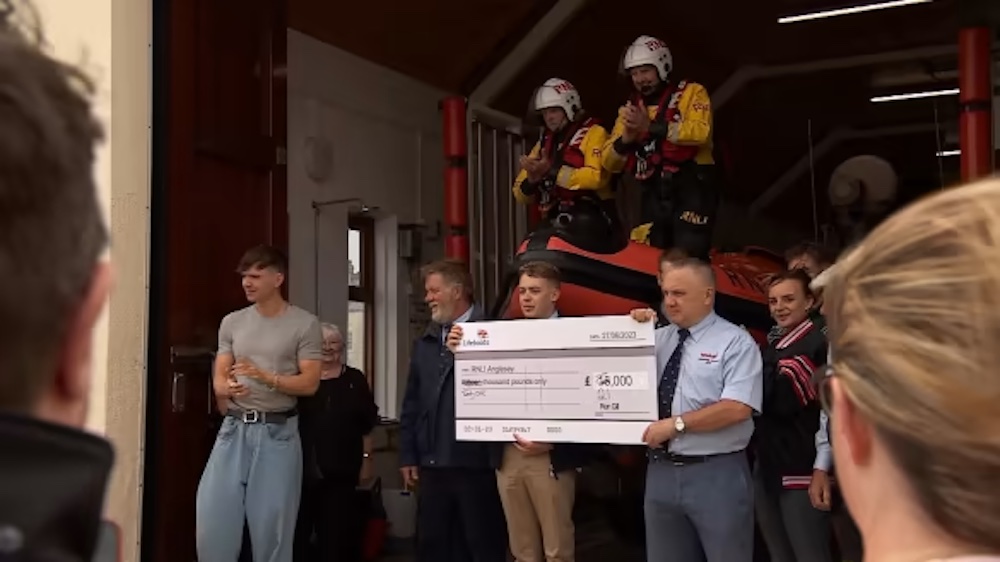 There is a heartbreaking story behind the fundraiser and Ren's latest single, 'Suic*de'.
The musician returned to his childhood home to present a cheque to volunteer RNLI crews who tried to find his best friend, Joe Hughes.
The initial target was £5,000 but that was "smashed in a day" and the figure kept going up.
Ren presented RNLI crews on Anglesey with a cheque for £21,000 that he and his fans helped raise to thank the volunteer RNLI crews at Beaumaris and across the island for their efforts in searching for Joe, who went missing on the Menai Strait, aged 19, after he had taken his own life.
The singer dedicated his debut solo album Freckled Angels and title track to Joe.
On his Facebook page Ren posted the story of the fateful night Joe went missing.
He paid tribute to his friend and the RNLI crews who searched for days for his missing friend.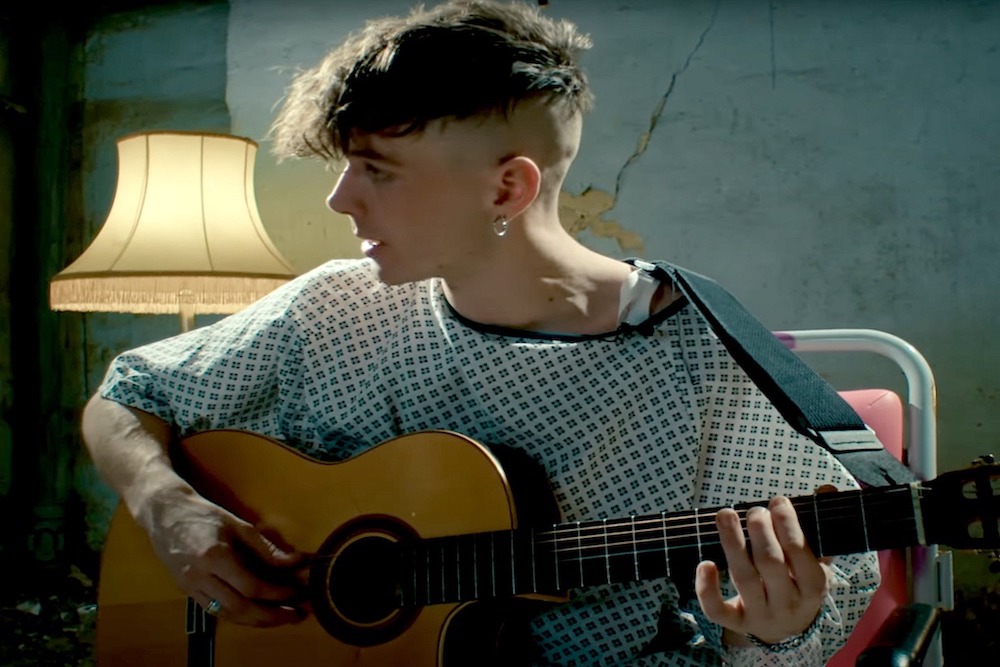 Here is Ren's moving post in full….
Trigger warning: This content contains themes about suicide
I first met Joe when I was 8 years old, my friend Josh said I had to meet this guy, so we both walked over to his, it took about 10 minutes from my house. I was greeted by this kid covered head to toe in freckles, he grinned at us, climbed onto the back of his sofa and screamed "Swanton Bomb!" then front flipped off the top and landed right onto his back on a stone floor. He lay still for a moment, twitched a few times, then got up, grinned at us, brushed himself off, and did it again.
This was Joe. He'd do anything to make people laugh. He ended up becoming one of my best friends. He was there when we stole our first cigarettes out of his mum's pack, way too young. He was there when I had my first kiss, with a girl twice my size on the back of the 42 bus. He was there when I first got so drunk I threw up in the woods after drinking as much White Lightning Cider as we could. I was there when he did his first backflip on skates, and saw him do a 720 off of the pier cave, that moment became legendary.
Joe was the funny one in our friend group, he'd make us laugh till it hurt. No one had a bad word to say about him. It was impossible not to like him. Usually we put celebrities, athletes and actors on pedestals, turn them into role models and admire them from a far. The person I admired was Joe.
He knew every word to the songs I'd write, we'd get drunk at parties and they'd be singing along as loud as they could. It gave me a lot of confidence back then.
On Christmas Eve 2010 I was sitting in a pub with Joe, he'd been feeling low after a couple of consecutive break ups. He tried to check himself into a mental health outpatient facility a few weeks earlier but they turned him away because he didn't have an appointment. He turned to me and said that sometimes he wished he could just walk into the sea and keep walking. He said it in a kind of half joking throw away comment type of way, then took a sip of his drink, walked over to the juke box and put Dig by Incubus on.
If I knew that was the last time I'd see Joe I'd have hugged him, told him how much I loved him, how much I looked up to him, how much we all loved him, and I wouldn't have left that pub. I didn't know that, so I finished my drink, said Happy Christmas and left.
Two nights after Christmas I got woken up by a phone call at 3am, it was my friend Ella. She told me Joe was on the Menai Bridge, a large suspension bridge connecting the main land to the Isle of Anglesey where we lived. He'd been on the phone to her in tears saying goodbye. He told her to tell everyone he loved them. I pulled on my clothes as fast as I could and started running toward the bridge. It was up a hill. I lived about a ten minute walk away, I could run it in five. As I ran I started dialling then redialing his number. The line was busy, which was a good sign, it meant he was still on the phone to someone.
As I got about halfway, the busy tone changed. It told me the line was out of service. I got a sinking feeling and picked up my speed. I arrived to the bridge minutes after I left my house. It was deafeningly quiet. I was the first person to arrive. I got there probably about 2 minutes too late.
Joe's body was never found.
Initially we refused to believe he was gone. The coastguard came out that night, with boats, and helicopters. Me and my friends spent the next 10 days putting up missing posters everywhere we could, walking up and down beaches with flashlights, getting about 3 hours sleep a night. When you're walking up and down a beach with a torch when its dark everything looks like a body. We still haven't found Joe.
As his birthday came around, I wrote a song, Freckled Angels, a song I dedicated to Joe which I sang in front of his friends and family. A charity football match was put on for him, raising money for the RNLI where I won two bottles of wine in a raffle, I drank them both as quickly as I could, naturally, turned to my friend and probably slurred something along the lines of "This is the last time I ever drink" That was 12 years ago, I haven't touched a drop of alcohol since.
My first ever album I named Freckled Angels in tribute of one of the best people I ever knew.
Skip forward some years. I'd been sitting on this song I wrote a few years ago. It always felt a little incomplete. It was going to be my next release, but I was dreading it because of this feeling of incompletion. I decided, very last minute, to do something about it.
I sat by my piano, and the rest of the song fell out of me. I hadn't thought about Joe in a little while, and the song initially wasn't going to be about him, but the words all fell out of me. I wrote and recorded a whole 2 minutes extra, recording each part as I wrote it. Tears spewing out of my eyes pretty much the whole time, and decided not to do my usual thing of perfecting each line, I just recorded every line as it came.
That song is Ren's latest single Suic*de. During the campaign for the single he raised money for the RNLI, and also donated 50% of the profit on all copies of the 'Freckled Angels' album directly to Joe's family.
We managed to raise an incredible £21,000 for the RNLI, an incredible team of volunteers, who risk their lives without pay to aid calls of distress from British shores. The night Joe went missing they were out on the choppy stretch of water between Anglesey and the Mainland, until 5am, looking for Joe, without pay, from the goodness of their hearts. They continued the search efforts for the entire following week until hope dwindled. They owed us nothing, and gave us everything.
I decided to pay a visit to Joe's mum and dad. I was asked to play them the new live session I recorded in Calgary. It was probably the most nervous I've been playing someone a video that I'd made. The topic isn't an easy one, especially for parents who have lost an incredible son. I nervously hit play, and the gravity of what I was showing sunk in and I began to cry. In the end we sat in silence, silently sobbing. Joe's mum turned to me and smiled and we hugged, and I felt much lighter.
It made me really realise I guess what I've always known. Music is far more than music. It's a channel of communication for the things that are impossible to say. It's a bridge between the living and the dead. It's a way to stay immortal. It's a way to resurrect the dead. It's a universal language. It cuts down barriers of the parts of you which are encapsulated in steel cast iron. It allows frozen rivers to thaw and become un-stagnant. I owe myself, my life, everything I am to music. Music is the closest thing to god I know. I am so grateful to be doing what I do and to tap into this mystic force. My life, my energy, myself, I eternally devote to it.
If you'd like to donate to the RNLI click HERE
You can purchase the Freckled Angels album HERE
If you are experiencing suicidal thoughts ring Samaritans on 116 123
Help is also available HERE
READ MORE: Ren the Welsh musician attracting millions to his extraordinary music

---
Support our Nation today
For the price of a cup of coffee a month you can help us create an independent, not-for-profit, national news service for the people of Wales, by the people of Wales.