News
Andrew RT Davies: Brexit £350m per week 'does' go to the NHS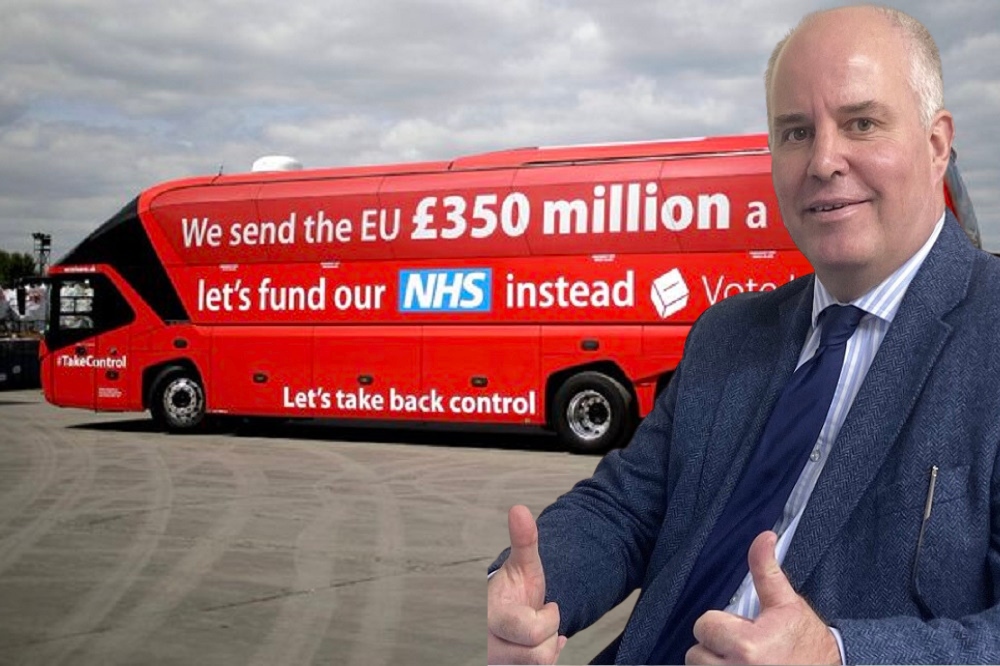 The leader of the Welsh Conservatives, Andrew RT Davies has once more come under fire on social media for making claims that have shown to be factually incorrect.
In a series of Tweets which began with him hitting out at Welsh Labour's record with the NHS, he claimed that the NHS is in receipt of the £350m per week that former PM Boris Johnson promised Brexit would make available.
Responding to an article by Wes Streeting, UK Shadow Secretary of State for Health and Social Care, about Labour rebuilding the NHS in two terms, Mr Davies said that after 24 years in power, waiting lists and ambulance response times under Welsh Labour are 'far longer than England's' and that 'Labour cannot be trusted with the NHS.'
Almost immediately, one twitter user responded with an image of the notorious Brexit bus used by the Vote Leave campaign which claimed EU funds would be directed into the NHS if Britain left Europe, asking 'Where is this funding Andrew?'
Mr Davies replied: "Our NHS has received this funding (and some more on top). Brexit has been good for our NHS"
Our NHS has received this funding (and some more on top). Brexit has been good for our NHS.

— Andrew RT Davies (@AndrewRTDavies) April 23, 2023
Fact check
The claim that the UK sent £350m per week to the EU and would have it 'going spare' following Brexit was made by Vote Leave and repeated several times by former PM Boris Johnson in 2017.
At the time it was found to be false by Full Fact, a fact checking organisation.
On the Full Fact website it states that the claim was declared "a clear misuse of statistics" by the UK Statistics Authority.
The website says: " We have never paid the EU £350 million a week and we have never owed the EU £350 million a week. After we leave the EU, that means we cannot take back control of £350 million a week.
"However you adjust the claim to make it more accurate, it will always miss the key context: economists on both sides during the referendum predicted that the impact on the economy from changes to trade and more would be far bigger than the UK's EU membership fee."

Distorting the truth
Last week, Nation.Cymru reported that senior Tories were accused of "distorting" the truth over inaccurate reports in the English press that the Welsh Government plans to give asylum seekers a monthly £1,600 hand out.
Andrew RT Davies and Secretary of State for Wales David TC Davies both criticised the supposed plans and did not give any context to the fact that the Basic Income for Care Leavers pilot was for all eligible young people leaving care, including a small number of asylum seeker children who were raised in care.
RT Davies tweeted a screen grab of a story from The Sun about the pilot scheme in a post that read: "This plan from Labour is genuinely one of the most extreme policies I've ever seen. Thank goodness we have a Conservative Government to step in and block it."
Counsel General of Wales, Mick Antoniw MS hit back at Mr Davies saying: "But you know this is an inaccurate and distorted story. Are you really so desperate electorally?"
---
Support our Nation today
For the price of a cup of coffee a month you can help us create an independent, not-for-profit, national news service for the people of Wales, by the people of Wales.