News
Daily Mail attacks 'extremist' Welsh place names petition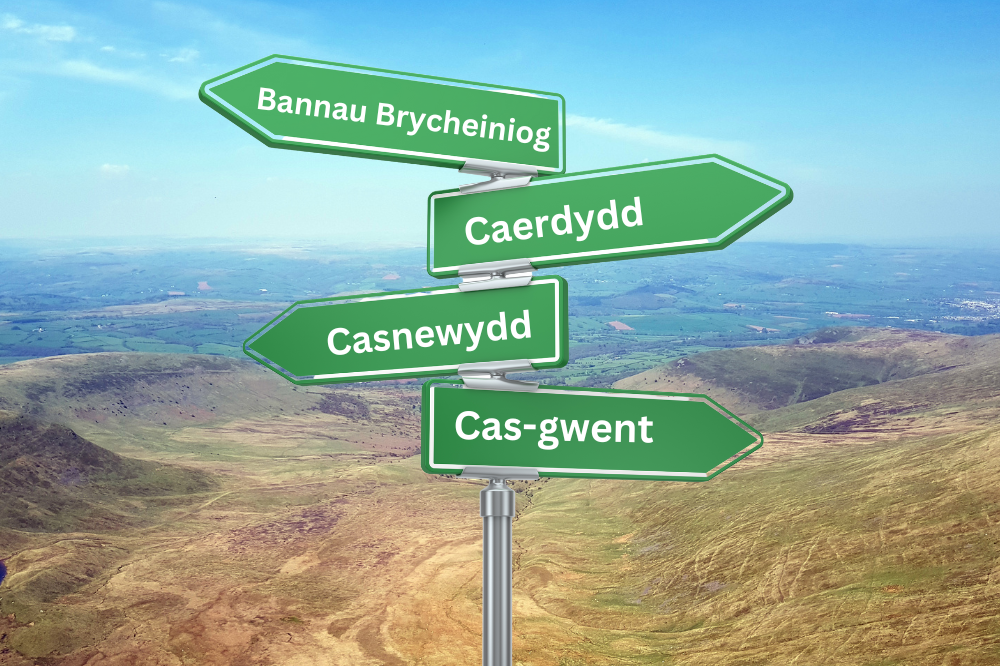 The Daily Mail has attacked the petition calling for non-Welsh place names to be scrapped and described the man behind it as a language extremist.
The petition – which had been set up by Mihangel ap Rhisiart via Change.Org – was started in December 2022 and went fairly unnoticed, beginning with only a modest target of 200 signatures.
Since the move to ditch the English version of Brecon Beacons which even saw Downing Street enter the row, the petition started slowing picking up momentum and the target was changed to 1000 signatures.
After hitting the new target, he switched it to an official Senedd petition so it would stand a chance of being debated.
Mihangel, who is a researcher at Cardiff University, said that the petition is in the "spirit of respect for Wales as its own nation" and explained that scrapping non-Welsh place names would acknowledge "cultural oppression historically inflicted on Wales".
The Mail piece, written by James Tozer, complains: "All English place names could be erased from Wales under a campaign launched by a language extremist.
"Emboldened by the controversial renaming of beauty spots Snowdonia and the Brecon Beacons, branded "bonkers" by critics, language purists now claim the continuing use of non-Welsh place names and spellings highlights the 'cultural oppression historically inflicted on Wales'.
"Their radical proposal would see the names of the nation's biggest cities outlawed, including Cardiff, Swansea, Newport and Wrexham.
"Instead Cardiff would be officially known just as Caerdydd, Swansea as Abertawe, Newport as Casnewydd and Wrexham as Wrecsam – with all English signs banned."

Colonialism
Mihangel said: "I started the petition because I don't think places in Wales should need two names.
"I do think there is an issue of colonialism, no matter how many centuries it might be since Wales was conquered and then subsequently made legally part of England.
"However, even without this the Welsh place names have existed for a lot longer than the English versions and there is no justification in saying that it is forcing the Welsh language on people because there is no need to be able to understand the meaning of the place names in order to simply say them.
"We don't think it wrong to expect people to use names like Worcester and Loughborough even then there is no way of knowing from the spelling how they should be pronounced, and I certainly have no idea what they actually mean.
"At least with Welsh there are clear rules of pronunciation which mean the manner of pronouncing Abertawe or Rhydaman is easily known even without an understanding of what they mean."
Backlash
The decision to revert to the original Welsh name Bannau Brycheiniog for the Brecon Beacons National Park last week has sparked a furious backlash from Tory politicians.
Welsh Secretary David TC Davis described it as "virtue signalling" and "one of the more bonkers ideas I've heard in some time".
Brecon and Radnorshire's Tory MP Fay Jones questioned the cost and impact of the "symbolic" rebrand and demanded to know why local people were not consulted.
"I'm amazed that a change of name should be imposed on those who live and work in the National Park without any consultation," she said.
"I am worried that this is symbolic. This is about looking trendy and jumping on a sustainability bandwagon for PR purposes."
Andrew RT Davies, Leader of the Welsh Conservatives, also posted a bizarre tweet on Saturday morning (22 April) which attempted to link the Daily Mail's coverage of the petition to the UK Labour leader Sir Keir Starmer.
Under Labour, here in Wales we face many extreme policies.

They are not just dangerous but a major distraction.

It's why we have far longer NHS waiting lists than England.

A warning of the dangers a Starmer government would do 🥀 pic.twitter.com/TZKEkLB6kD

— Andrew RT Davies (@AndrewRTDavies) April 22, 2023
Earlier in the week Mr Davies said: "Wales has a rich and valuable culture that we should celebrate.
"Many places rightly embrace their Welsh language names, but I do not support change for change's sake.
"Out of touch Labour ministers in the Senedd are presiding over longer NHS waiting lists than England, slower ambulance response times, smaller pay packets and worse education results.
"Fixing this must be the priority, not pet projects to please their nationalist coalition partners."
---
Support our Nation today
For the price of a cup of coffee a month you can help us create an independent, not-for-profit, national news service for the people of Wales, by the people of Wales.