News
Doctors call for 'urgent' inquiry into Welsh Government pandemic management
//= do_shortcode('[in-content-square]')?>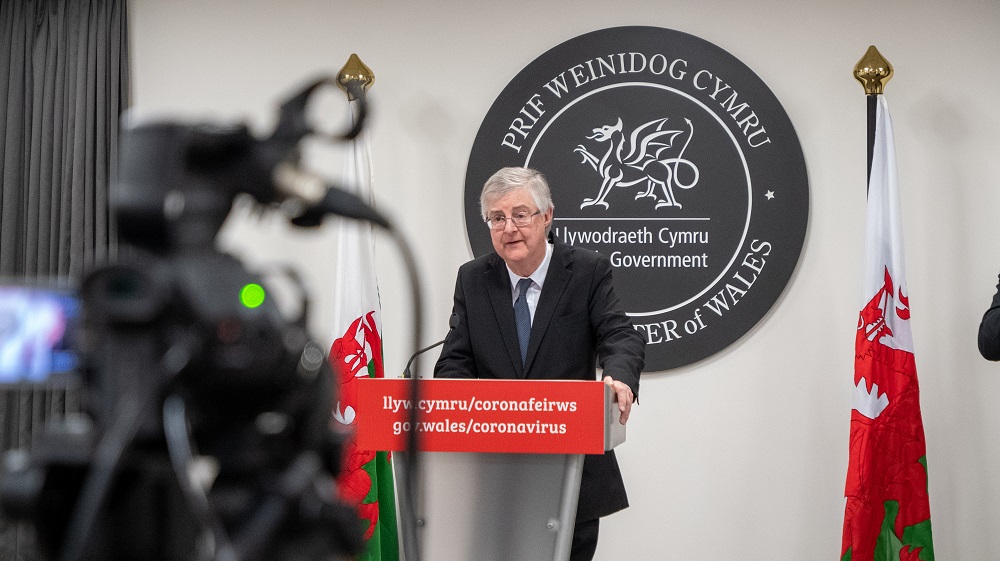 A group of doctors and health professionals from across Wales have called on the Welsh Government to launch an "urgent investigation" into its handling of the pandemic.
The 35 signatories said that avoiding an immediate official inquiry will "certainly lead to further economic harm, long term incapacity and unnecessary loss of life" as a third wave hits.
The group, Medics4MaskUpWales, formed in June last year to put pressure on the Welsh Government and Public Health Wales to adopt effective guidance and strategies to reduce Covid-19 transmission.
They said they were now demanding "an urgent investigation to identify weaknesses in systems and processes in order to prevent further avoidable death or harm".
The Office for National Statistics recently reported that more deaths have been registered than births in 2020-2021 for the first time in 40 years, and that signified a catalogue of serious incidents related to Covid-19 that warranted a serious investigation.
"The nation has undergone two large waves of COVID-19 infections and despite a successful vaccination programme, we are unfortunately at the start of a third wave driven by the Delta variant," their letter said.
"The pandemic in Wales has directly caused over 5,500 deaths, unmeasured levels of ill-health and chronic disability related to long-COVID, more than 6 months of missed education days, major economic consequences as well as an increasingly insurmountable strain on the Welsh NHS.
"We believe that there is an urgent need to look back at the experiences of the last 15 months, to scrutinise the decisions and actions undertaken in line with the growing scientific evidence that has developed both nationally and internationally; to review best practice and to reflect on and learn from any mistakes that were made.
"Lessons learnt can then be used to inform responses to the pandemic going forwards."

'Implore'
Some of the critical questions the group of doctors and health professionals are asking to Welsh Government to set up an investigation to address are:
How can we improve Track, Trace and Protect in Wales?
How can healthcare organisations be guided to reduce the morbidity and mortality related to in-hospital Covid-19 transmission?
What factors undertaken in educational establishments (primary and secondary schools, further and higher education institutions) helped to reduce transmission and how can this be improved upon?
What were the effects of delayed implementation of masks and a lack of emphasis on ventilation?
89% of patients admitted to hospital with Covid-19 had symptoms up to two months afterwards and 2 million in the UK have had Long Covid. What level of support has been given to those affected in Wales?
What led to the initial problems with procurement of PPE and PCR tests and how can procurement problems be prevented in the future?
Why was Primary Care not involved in delivery of the vaccination programme from the outset?
How can our leaders develop rapid and responsive decision-making processes in the face of a rapidly evolving pandemic?
"We strongly urge the Welsh Government to signal the deaths and other harm related to SARS-CoV-2 as a serious incident and use its devolved powers to urgently initiate an investigation into the handling of the pandemic in Wales," the letter states.
"We implore that any investigation is undertaken without delay so that lessons can be learnt as we head into further waves of COVID-19 infections with the possibility of new vaccines resistant strains ahead and normal winter pressures.
"Not only will prolonging the instigation of a comprehensive investigation impede any meaningful return towards a routinely working health service, but it risks increasing pressure on an already overwhelmed NHS."
Signatories
Dr Siôn Edwards, General Practitioner
Ms. Awen Iorwerth, Trauma and Orthopaedic Consultant
Dr Carol Tang, General Practitioner and Breast Cancer Physician
Dr Glyn Jones, Consultant Psychiatrist (retired).
Lorraine Morgan, Gerontologist
Gwion Rhisiart, Former Welsh Parliament Member for Cardiff Central
Dr Eilir Hughes, MBChB, MRCGP, General Practitioner
Dr Soma Meran, MBChB, FRCP, PhD, MRC(Neph), Clinical Academic & Consultant Nephrologist, Muslim Doctors Cymru.
Dr Kasim Ramzan, General Practitioner, Medical Doctors Cymru
Professor Jonathan Richards, FRCGP
Dr Esyld Watson, Consultant in Adult and Paediatric Emergency Medicine
Dr Gwenan Huws, Consultant Rheumatologist
Professor Sue Williams, M, BA Hons Fine
Dr Suzanne Hughes, General Practitioner
Dr Catherine Grose, Geriatric Medicine registrar
Hannah Broughton, Tutor in Public Health
Dr Manon Kirkwood, General Practitioner
Professor Tayyeb Tahir, FRCPsych
Dr John Jones, General Practitioner
Dr Sayma Ahmed, General Practitioner, Urgent Care Doctor, Muslim Doctors Cymru
Dr Anna-Jane Thomas, General Practitioner
Dr Tina Gordon, General Practitioner
Dr Theresa Howe, MBBCh BMedSci MRCP, FRCR, Consultant Clinical Oncologist
Dr Suzanne Thickens, General Practitioner
Dr Rebecca McGee, General Practitioner
Dr Mohammad Alhadj Ali, Clinical Lecturer Diabetes and Endocrinology, Muslim Doctors Cymru
Dr Kate Baker, General Practitioner
Dr Ian Jones, General Practitioner
Dr Edward Curtis, Consultant in Anaesthetics and Critical Care.
Dr Linn Järte, MBBS iBSc DTM&H DMCC, Junior Anaesthetist.
Dr Talar Amin, Consultant in Obstetrics and Gynecology, Muslim Doctors Cymru
Dr Emad Alauddin, General Practitioner, Muslim Doctors Cymru
Dr Abdul Hafeez Farooq, General Practitioner, Muslim Doctors Cymru
Rt. Hon. Ann Clwyd (Former MP and prominent health campaigner)
Ms Majella Kavanagh, Nursing Academic