News
Magpie Farm: From patch to pan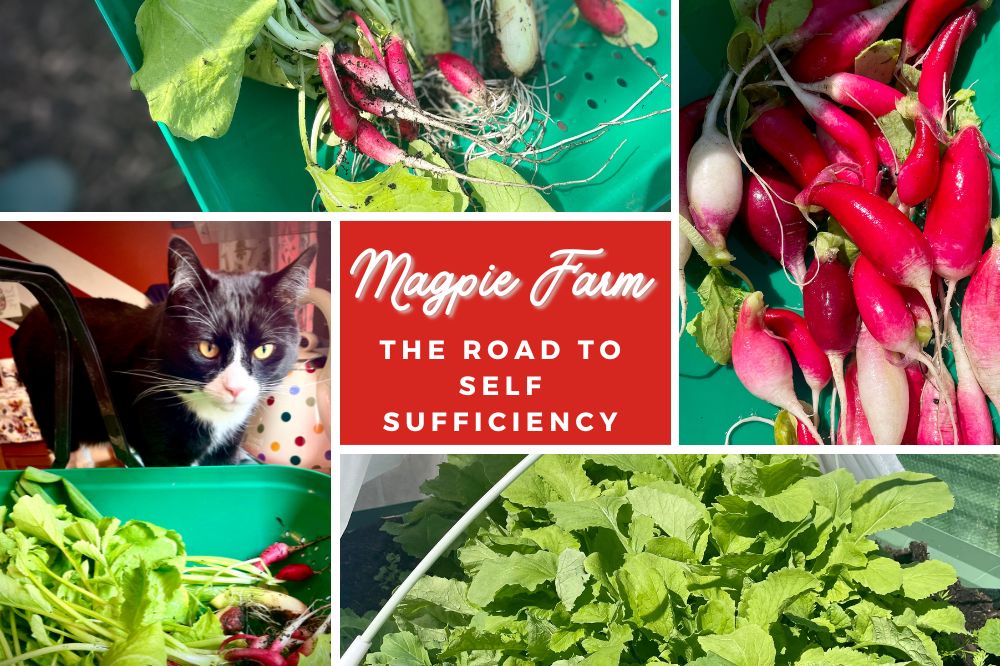 Magpie Farm, May – Emily Price
I donned my gardening gloves and began climbing the old stone steps to Magpie Farm with a harvest basket in one hand and a steaming mug of tea in the other.
My husband was inside the cottage preparing dinner and I had offered to take care of the side salad. In the past that would have involved a trip to the supermarket to select some perfect quality controlled salad veggies being suffocated in some form of plastic prison.
Not now though. Now I could grocery shop in my own happy home made slice of self sufficient heaven.
I gently pulled pinky white crimson globes from the warm soil and marvelled at the crop that had spilled over the sides of the raised bed, defying our doubts from the early months of this project.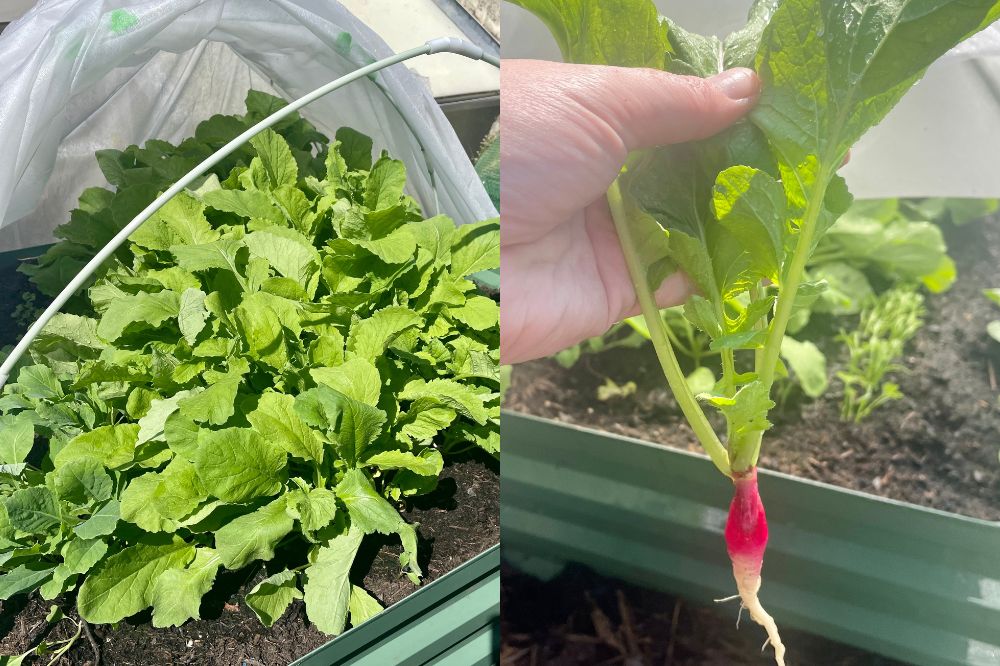 Wonky
I proudly laid our glut of oddly shaped radishes in the basket besides chunky spring onions which had spent the last month protected from garden beasties with multiple layers of garden netting.
My daughter reached into the patch and pulled a radish. She looked at it carefully and then promptly took a bite.
"Why's it so wonky?" she asked as she crunched it up, savouring the peppery tang.
"It's not wonky, you just think it looks different because in the supermarket only the perfect ones are picked for sale," I replied.
"Our's taste nicer," she said and hurried off to watch the blue tits as they popped in and out of a bird box I had installed at the back of the farm.
Last month, an unknown predator had knocked the box to the floor, removing the lid and exposing the perfect nest within which was being built in readiness for eggs.
I thought the parent birds would never return but shortly after fixing it more securely to the tree, they came straight back and continued building.
I climbed the steps past the first level of raised beds and looked out towards the mountains overlooking Aberfan.
The scene from this high up was breathtaking and although we had promised that our space was for growing only – the views had demanded a rocking chair and gazebo.
I paused with my basket beside containers brimming with lettuces and began grabbing fistfuls of leaves in every colour of green, red and purple imaginable.
Next was herbs. I only had to follow my nose.
I passed the lavender and wildflower meadow we had planted to encourage pollinators and began selecting mint, chives, rosemary and thyme.
It's been five months since we embarked on our dream of a more self-sufficient life. The end goal would hopefully one day lead us to a mid-Wales farm abundant with home grown produce, chickens and even bees.
Our eight year old daughter had dubbed our test run in our back garden nestled in the south Wales valleys 'Magpie Farm'.
Earlier this year when garden pests had annihilated our cabbage seedlings and Jack Frost had nipped off the tops of our potato plants, we had our doubts about whether this was even a good idea.
In January, I had imagined a future version of myself filling a basket with food ready for a meal that had been picked only moments before.
Now we were finally reaping the first rewards of our first bountiful harvest and judging by the overflowing greenery tumbling from every bed, container, basked and window box – this was just the beginning.
As I made my way back to the house, I had to the urge to rummage in the potato bags lining the path that had grown tall, bushy and green.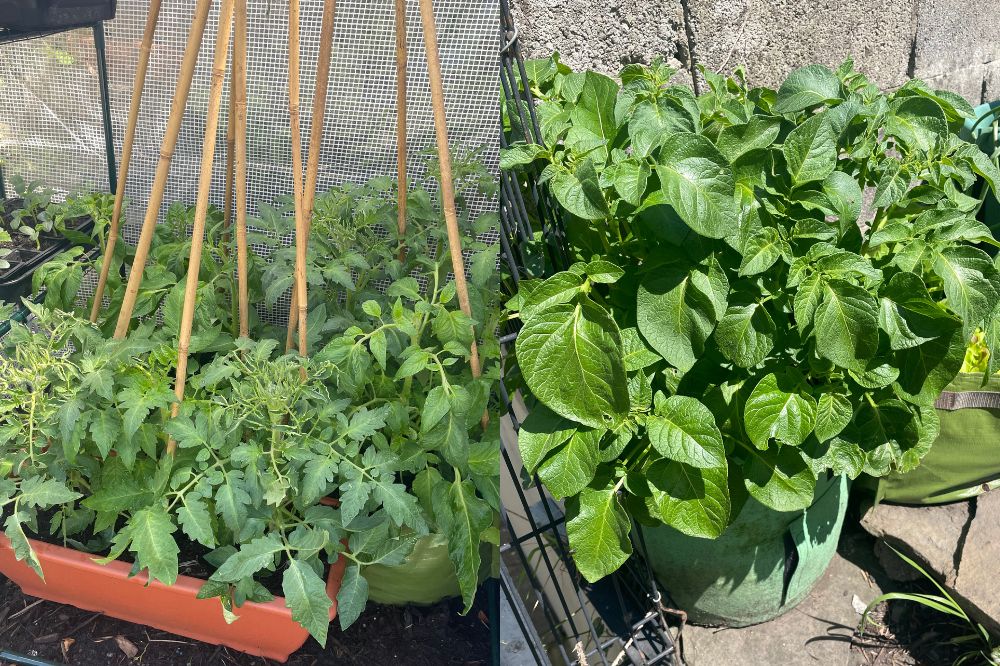 Hobby
Wait until they flower and die back then we can eat them, I tell myself for the millionth time this week.
Our tomato plants – which we had coaxed from seedlings on our bright bathroom window – were suddenly becoming stocky as they filled out the space in our greenhouse.
Red fruits were yet to appear but the whisper of the first yellow flowers had begun to unfurl and our pepper plants were showing the first signs of green fruits too.
Broccoli, pumpkins and cucumbers were never part of out original plan but the radishes had grown fast and convinced us we were more than just novice gardeners – so we planted more and more.
I opened the back door as my husband sloshed oil into a hot pan. I washed and chopped the onions and listened to the welcome sizzle as they hit the pan.
Magpie Farm had began as a gardening hobby but had become a form of therapy and support for our wellbeing.
As the weather warmed, I had been spending early morning's on the very top level of Magpie Farm breathing in the scent of the lavender and garlic and listening to the sound of woodpeckers and nuthatches.
It brought me peace and helped me prepare myself for the day ahead. I thought I had started this project of self sufficiency to grow food – but I felt that I was somehow growing myself.
My time spent weeding, planting, watering and growing was giving me time away from the never ending scrolling cycle of social media and I felt far more fulfilled than I ever had in my adult life before.
On weekends, it made me smile when my daughter would listen for the click of the back door as I carried out my regimented twice a day watering routine.
My eight year old would thrust aside any tv show or tablet device in favour of a day laying in the wildflowers and picking lettuces on the farm.
Magpie Farm was more than just growing food, it was about feeling more connected to nature, living in tune with the seasons and appreciating the here and now.

Farmhouse
During the late May bank holiday, my family and I popped into our local town for lunch. On the way we passed an estate agent and gazed through the window at an advertisement for a beautiful stone farmhouse surrounded by land on the outskirts of Pontsticill.
That night I dreamed of writing in an office overlooking my own land with chickens scratching about in an open field filled with patches of veg as far as the eye could see.
I knew I had to do everything I could to make the dream a reality.
Magpie Farm will return for another instalment in June…
Catch up on the story so far here.
---
Support our Nation today
For the price of a cup of coffee a month you can help us create an independent, not-for-profit, national news service for the people of Wales, by the people of Wales.