News
Moving Trident to Wales 'ruled out' as site would be too close to key oil and gas refineries
//= do_shortcode('[in-content-square]')?>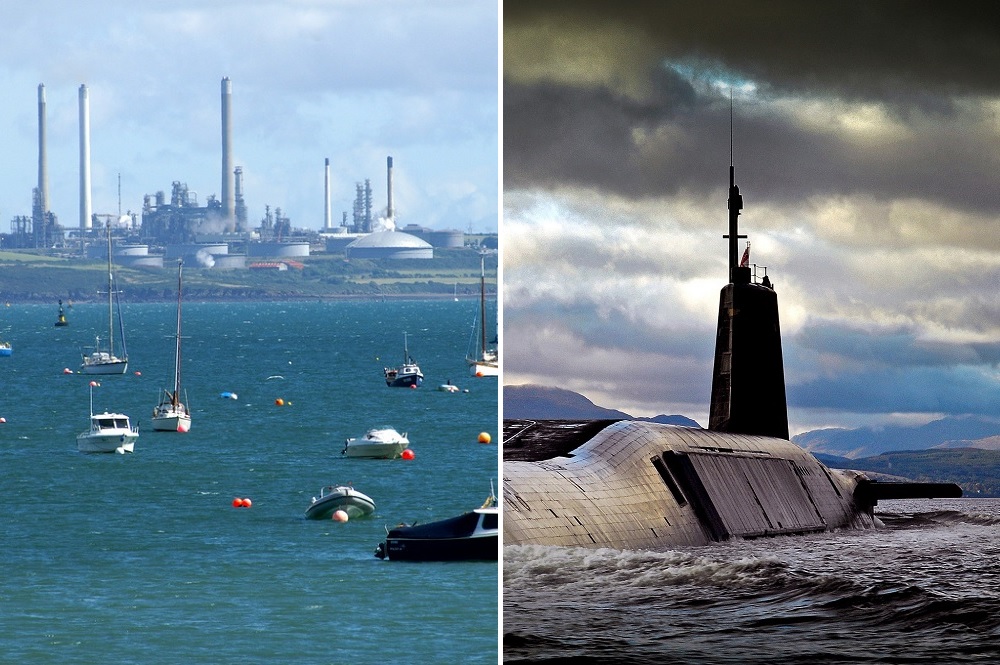 Moving the Trident nuclear submarine fleet to Milford Haven in Wales in the wake of Scottish independence has been ruled out because of the oil and gas refineries there, according to a government source.
An unnamed minister told the Financial Times that the most favoured site within the UK was now the Devonport naval base on the south coast of England, which already refuels and overhauls the navy's entire nuclear submarine fleet.
"Several other potential British locations have been ruled out. Milford Haven on the Pembrokeshire coast in Wales was vetoed because of the nearby refinery and oil and gas storage facilities," the newspaper said.
Milford Haven dock is home to one of the biggest Liquid Nitrogen Gas terminals in the world, with a pipeline that stretches across the south of Wales and which plays a key role in the United Kingdom's energy sector.
The revelation that Wales is out of the running comes after the Times newspaper said that Pembrokeshire was being actively considered by the UK Government as one possible location to house the Trident submarines if they are ejected from Scotland.
The SNP has been working on a road map to move nuclear warheads and submarines from the Clyde, and will debate the issue at next month's conference.
They have already rejected the idea of allowing the government of what would remain of the UK to retain a 'nuclear Gibraltar' – a patch of extraterritorial UK land within the newly sovereign Scotland.
A third possibility was moving Trident to an allied country, thought to be either the United States or France. But the Financial Times quotes the unnamed minister describing a move to France as "totally absurd, a political death warrant".

'Impact'
In 2012 then Welsh First Minister Carwyn Jones said that the Trident nuclear submarines would be "more than welcome" in Wales if they left Scotland.
At question time in the Senedd, Mr Jones suggested the nuclear deterrent could come to Pembrokeshire if forced to move from the Clyde.
The Ministry of Defence employs 4,700 people around the nuclear submarines base in Argyll and Bute, accounting for 34% of the total local jobs.
However, the SNP want them out if independence does happen. All candidates in this year's Scottish election backed the UN treaty on the prohibition of nuclear weapons.
The Labour party in Scotland have criticised the move, saying that the SNP risked losing thousands of jobs, and that simply moving the nuclear weapons would do little for nuclear disarmament.
Jackie Baillie, the Labour MSP who represents Dumbarton, said: "The SNP are happy to simply move Trident over the border without a thought for the jobs and the impact on the local economy. They talk about diversification but this has not succeeded in the past and would take much more than three years."