News
Prime Minister criticised for misleading claims over Wales' 20mph default speed limit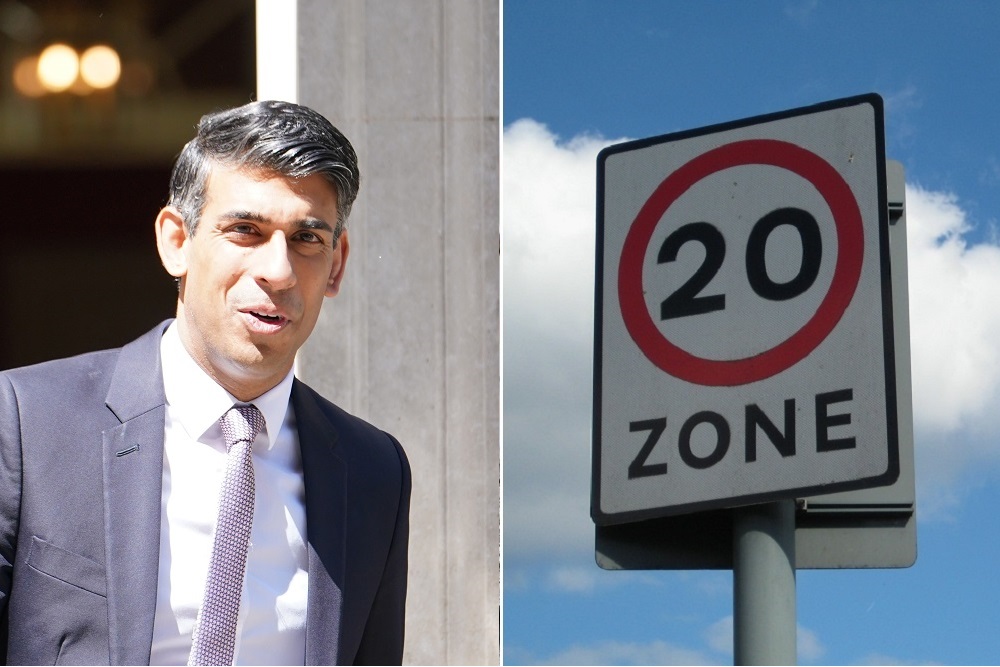 The Prime minister has been criticised for making misleading claims about Wales' recently introduced default 20mph speed limit, during an interview with the BBC's Laura Kuenssberg on Sunday morning.
His comments come as the Conservative Party prepares for its annual conference, in Manchester, with Rishi Sunak claiming he is "slamming the brakes on the war on motorists," after announcing a slew of pro-driving policies ahead of the conference.
The new speed limit has sparked a fierce backlash among some drivers in Wales with over 450,000 people signing a Senedd petition.
Campaigners against the default speed limit also staged a slow-driving protest on some roads across Wales yesterday (30 September).

Blanket limit
During the interview on the BBC's flagship politics programme, Mr Sunak parroted the discredited claim that Wales has introduced a blanket limit and suggested that the speed limit, which was a Welsh Labour manifesto commitment was "imposed on local people" without their consent.
"What we have seen in Labour-run Wales is a blanket imposition of a 20 mph speed limit and hundreds of thousands of people have risen up against that," he said.
Laura Kuenssberg pointed out to the Prime Minister that the changes introduced in Wales are very similar to those proposed by the conservative council in Cornwall, adding "even in your own part of the words in North Yorkshire, there are, I think more than 100 parish councils who want to have a 20 mile an hour limit".
Clarifying the Conservative Government's position later in the interview, Mr Sunak indicated that councils in England will still be able to implement 20mph zones for drivers, if they have local consent and follow Government guidance.
"What this is about is making sure that the statutory guidance that goes to local councils from Government is clear about making sure that councils – which are obviously in charge of what's happening in their local areas – are doing things with the support and consent of their local communities, taking into account the needs of their communities, and not imposing things on them without their consent and say so," he admitted.
"What they (councils) should be allowed to do in all cases is act in accordance with the Government guidance."
Disappointing to see the Prime Minister misleading people on 20mph, whether intentionally or inadvertently.

This isn't a blanket restriction. Speed limits on a large number of Welsh roads are unchanged, with journey times taking up to a minute longer.

This will save lives.

— Mark Drakeford (@PrifWeinidog) October 1, 2023
In a post on X (formerly Twitter) Wales' First Minister Mark Drakeford said: "Disappointing to see the Prime Minister misleading people on 20mph, whether intentionally or inadvertently.
"This isn't a blanket restriction. Speed limits on a large number of Welsh roads are unchanged, with journey times taking up to a minute longer.
"This will save lives".
A Welsh Government Spokesperson added: "It is profoundly disappointing the prime minister is inadvertently or intentionally, choosing to mislead people about the introduction of 20mph.
"It is not a blanket restriction. Speed limits on a great number of roads in Wales are unchanged and journey times take around a minute longer. This will save lives and make our communities safer."
Welsh Conservatives
The leader of the Welsh Conservatives has been at the forefront of claims that the new default speed limit is a "blanket ban".
Andrew RT Davies, who previously supported the introduction of the 20mph limit, along with most of the party's MSs, always characterises it as "blanket 20mph" and even uses the hashtag "blanket" in social media posts.
As Nation.Cymru revealed in an analysis of the claims being made by Mr Davies, it can be fairly argued that the trail of the government's default speed limit in Buckley between 2021 and 2022, was most definitely a "blanket" approach.
But during the pilot, the Welsh Government found that changing all 30mph roads to 20mph wouldn't work.
Subsequently the guidance was strengthened, allowing local authorities the flexibility to keep some roads at 30mph where appropriate.
Legally, local highway authorities are responsible for local roads – the Welsh Government is not.
In theory, if a local council wanted to revert every 20mph road back to 30mph, they could and there would be nothing to stop them from doing that in law.
Some councils have chosen to rigidly stick to the exact wording of the Welsh Government guidance – even though there is the option to exempt roads from the default.
Other councils in Wales have been fairly bullish with their approach to road exceptions and have chosen to keep all main roads at 30mph.
With the new road regulation still settling in, it's anticipated that changes to and from 20mph roads will continue for some time.
The Welsh Government has also said that in a year, the guidance for local authorities will be reviewed to decide whether the current flexibility is enough for councils.
---
Support our Nation today
For the price of a cup of coffee a month you can help us create an independent, not-for-profit, national news service for the people of Wales, by the people of Wales.