News
YesCymru launches Crown Estates sand art campaign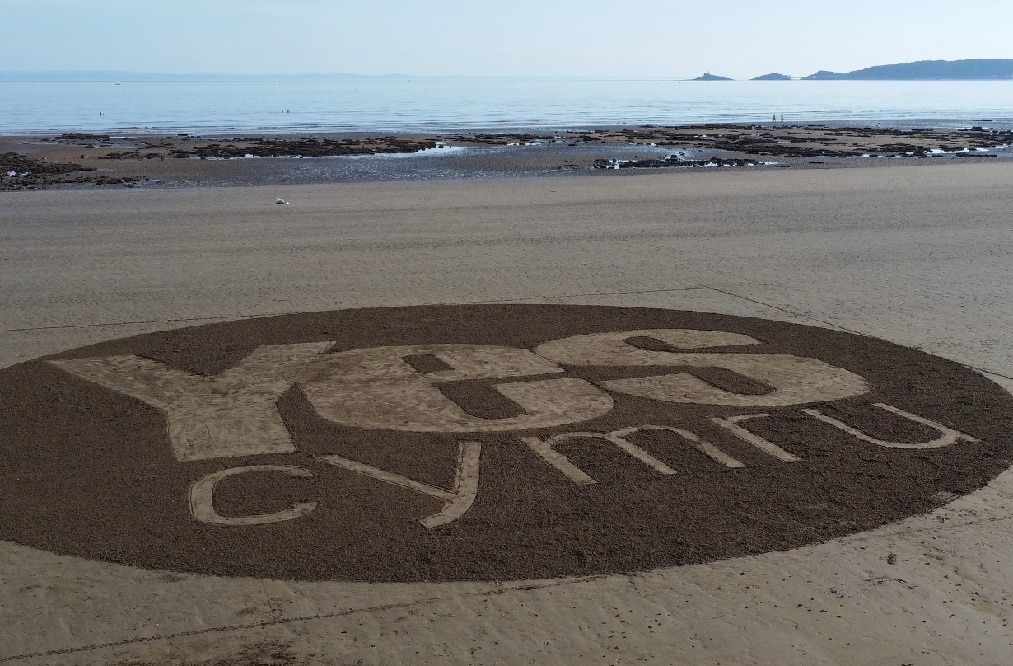 YesCymru Abertawe is harnessing the creativity of its members to come up with new ways of getting the Welsh Independence message out there.
Swansea is full of creative people and during May's Independence March in the city, local members took to social media with a number of striking images to promote their cause.
Along with a yarn-bombing campaign across the city, a 'virtual' YesCymru bat-signal appeared over Swansea landmarks, an iconic Swansea seagull was dressed in YesCymru merchandise and a series of graphic GIFs showed the disadvantages Wales faces from the Westminster Government.
The latest creative output is a giant YesCymru logo on Swansea Beach, designed, made and filmed by talented branch members earlier this month.
YesCymru will be doing a nationwide campaign on beaches across Wales throughout October and the Swansea branch is getting ready for it with a brand-new Sand Art design, based on the Crown Estates situation.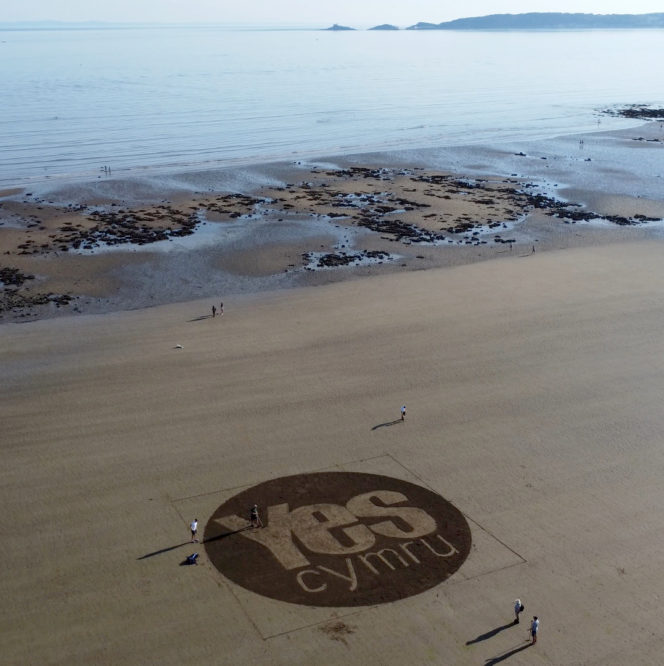 The Crown Estate, which makes up a large part of Wales' coastal waters, is currently owned by the King, who gets 25% of the profits, with the rest going to the UK Treasury.
The Crown Estate has already been devolved to Scotland, and the Welsh Government and Plaid Cymru have called for the same to happen in Wales.
However, the UK Government has opposed any moves to devolve the Crown Estate to Wales.

Income
Artist and YesCymru Abertawe branch chair, Rose Davies said: "We're the city on the beach, we don't make enough use of it.
"We also have a huge tidal range so it suddenly seemed obvious to use it for Sand Art. Some of our creative members took up the idea and flew with it.
"Our creative team has come up with new design and film ideas to get over the message that Wales does not get the income from the Crown Estate around our coast, while Scotland does.
"It's a lot of money being drained out of our country that, frankly we really could do with here."
Earlier in September, Gwern Gwynfil. CEO of YesCymru wrote: "The people of Wales continue to be robbed. The staggering asset value of the Crown Estate in Wales, none of which belongs to the people of Wales, with not a penny of the profits staying in Wales, makes this clear."
If the weather holds members can come along to help draw the new Indy Sand Art design, about the Crown Estate protest.
Members are invited to bring a picnic and meet at Swansea Beach in front of The Civic Centre on Sunday October 1st at 2pm.
---
Support our Nation today
For the price of a cup of coffee a month you can help us create an independent, not-for-profit, national news service for the people of Wales, by the people of Wales.