Opinion
Getting away with it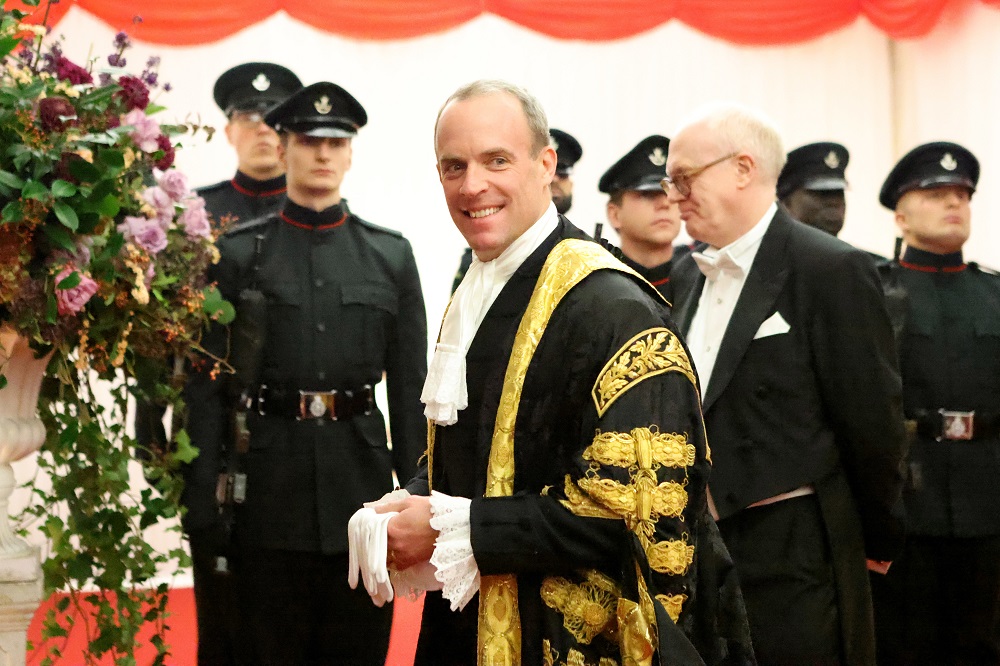 Ben Wildsmith
'If you don't believe in God, all you have to believe in is decency. Decency is very good. Better decent than indecent. But I don't think it's enough.'
This Harold Macmillan quote should rightly enrage the principled atheist who asserts that their moral compass is efficiently calibrated by sensitivity to the plight of others and does not require a divine technician.
By instinct, I agree that ethical behaviour that is motivated by obedience lacks the personal discipline required for Godless virtue. But then there is Dominic Raab.
Asked if former Chancellor and current Conservative Chair Nadhim Zahawi would still be in the party in a month's time following revelations that he paid a £1 million penalty for irregular tax declarations, Raab chuckled and observed that, 'A month is a long time in politics.'
A variation of this cynical aphorism is often attributed to Harold Wilson, but even that noted practitioner of the dark arts would surely blanch at the fetid pond in which UK politics is currently conducted.
Implicit in Raab's airy dismissal of the charges against Zahawi is the assumption that these people are accountable to nobody.
Rishi Sunak's second fixed penalty notice, this time for filming himself in a car without a seatbelt, was similarly waved away by the Deputy Prime Minister, for whom all transgressions are morally equal.
Whether trivial or serious, all that distinguishes a wrongdoing in Raabworld is whether the wrongdoer has the political clout to ride out the accusation.
Malfeasance
Raab, of course, has good reason to subscribe to a code of ethics last seen jotted down on Nero's Grade 3 violin book.
Mired in multiple accusations of bullying and inappropriate behaviour, he has chosen to brazen it out. He has 'no apologies for having high standards apparently. I'll say.
The endless personal scandals that occupy journalists week on week, however, are foothills obscuring the mountainous malfeasance that is the raison d'être of this failed administration.
During the 2017 election campaign, I saw a voter in Barrow-in-Furness explain why he was switching his vote to the Conservatives. He had observed neighbouring Tory constituencies receiving regeneration funding and concluded that if Barrow returned a Tory MP, 'they'll look after us.' Barrow went Conservative in 2019.
Much has been written about the 'Red Wall' Conservative voters, largely patronising bunk about alienation and cultural values that had led former Labour voters to abandon their own interests in favour of tax breaks for hedge fund managers.
The truth is that many of these voters were alert to the Tories' willingness to reward constituencies that voted for them at the expense of neighbouring ones that didn't.
The 'levelling up' agenda that has been at the heart of the post-Brexit Conservative offer amounts to little more than vote buying and was understood as such by the voters it targeted.

Baggies
This attempt to widen the Conservative base is redolent of Margaret Thatcher's sale of social housing. That too offered a direct financial reward for voting Conservative and did so at the expense of people who weren't in a position to take advantage.
The difference, however, is that people actually got to buy their houses.
Friday's announcement of levelling up projects reveals that the Government has pocketed the Red Wall votes and failed to come up with the goodies. As ever, the South East of England has received the lion's share of Government largesse and the North East the scraps.
Any criminal knows that you have to serve your clientele. A drug dealer might be wreaking havoc on an estate but his customers, at least, get their fix.
Michael Gove et al have been doling out baggies of bicarbonate of soda to the Red Wall while the stockbroker belt parties on. As A&E departments face collapse, ministers are high on their own supply.
'Rough Trade'
If areas that voted for the Tories have been stiffed, then it can be no surprise that those that didn't are treated yet more contemptuously.
Twitter personality, Andrew 'Rough Trade' Davies sought this week to parlay his social media dominance into influence over UK policy by demanding that Wales receives a share of the HS2 budget.
The UK Government, however, does not accept Twitter likes as legal tender and with the Tories facing electoral wipeout here, even Mr. Davies' charms will not entice back the cash we have paid in.
Squalid state
In the face of all this, you might expect Keir Starmer to be coming on like Martin Luther, nailing a proclamation to the door of Downing Street in righteous fury at the squalid state of the nation.
Instead, the Richard Briers of British politics pootled off to Davos and declared that Labour would be 'open for business'. Finding favour amongst the global elite, Starmer later opined that it was a far nicer place to be than Westminster.
As the old song goes, 'He was only a toolmaker's son, but he knew how to engineer a derivatives-based financial instrument that would, in the fullness of time, provide a return to the Treasury that might allow him to look again at public sector pay demands in the future.'
Nobody benefiting from things as they are fears any accountability from the system we have. Neither electorally nor legally do we have any levers to pull that will effect substantive change in the way the resources of Britain are distributed and managed.
Our politicians may not fear God anymore, we must find a way to have them fear us.
You can find more of The Shrewd View and the rest of Ben's writing on Nation.Cymru by following his links on this map
---
Support our Nation today
For the price of a cup of coffee a month you can help us create an independent, not-for-profit, national news service for the people of Wales, by the people of Wales.