Opinion
Living and thriving with 20mph in Wales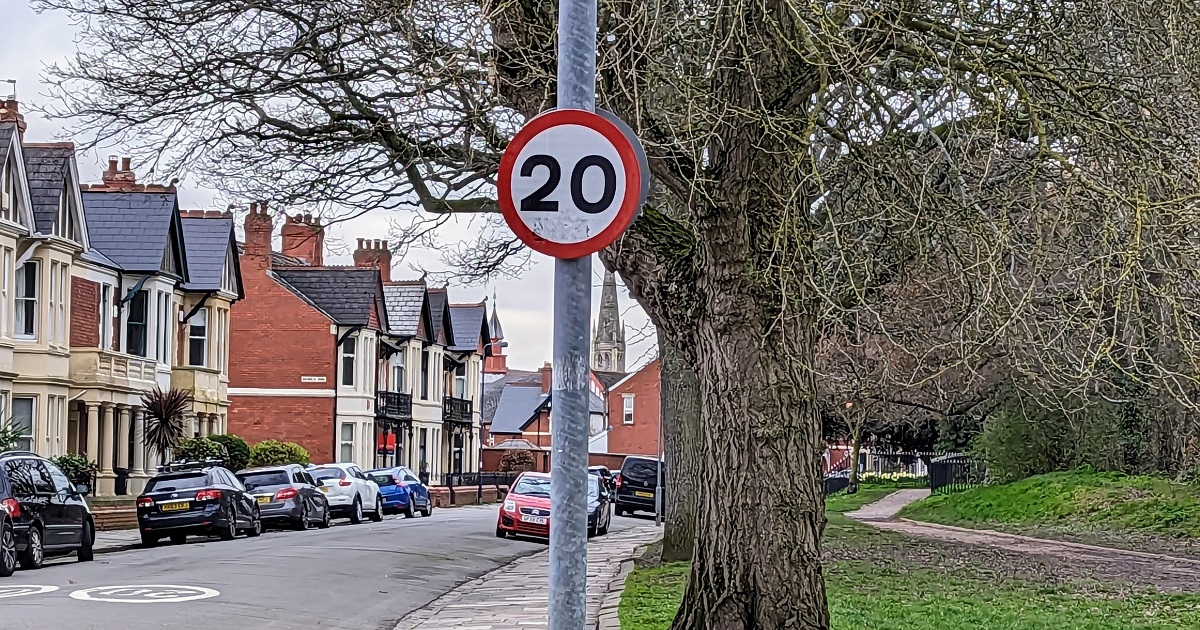 Stephen Cunnah, Sustrans Cymru' Policy and External Affairs Manager
Before 2017, I hadn't given a great deal of thought to 20mph speed limits.
That changed when Cardiff Council introduced a 20mph zone in Canton, the area where I live.
I've spent the last six years living with my own young family in a 20mph community, as well as having regular conversations with neighbours, friends, and other parents, listening to and learning from their experiences.
I've been a keen and confident cyclist for a while, but since 2017, I've had two children and this significantly changed how I view things.
When I became responsible for protecting two young and vulnerable children, I had a heightened perception of risk.
Children display riskier behaviour because they're still learning about the world and how to interact with it.
I know from experience how scary it is for a toddler to have a tantrum next to a busy road!
And even as they grow up, risks remain – I remember people in my family getting hurt on roads where I grew up in North Wales.
That's why I feel thankful that my children have grown up knowing nothing but 20mph limits on the streets around them.
A calmer speed limit doesn't eliminate all risks – nothing can do that completely – but there's strong evidence that shows lower speeds result in fewer collisions.
Research by the Transport Research Laboratory, a private independent organization, has shown that there's an average 6% reduction in collisions with each 1mph reduction in average speed for urban roads with low average speeds.

Good reasons to change our behaviour
When the 20mph zone was first introduced in Canton, the change itself and the need to adjust to it made me more aware of my driving habits.
I'm sure many other people drive more carefully and are more conscious of their speed now when driving in 20mph zones.
They've also helped me have confidence with my family and our travel habits.
I adapted my bike with one seat at the front and another at the back, and my daughter was riding with me from nine months old – I still remember how much she'd laugh from travelling around on the bike!
Both my children now attend school and nursery, and I've never felt the need to drive them to school.
They'll walk with me or their mum, hop on the bike, or scoot to school – it's not easy keeping up with them!
In the past few months, my son and I have started cycling on the road together.
He really enjoys it, it gives him confidence to travel semi-independently, and it brings us closer together by doing an activity together.
 Adapting to 20mph as a community
In the years since the 20mph zone was introduced where I live, the number of people not convinced by it has been exceptionally small.
Meanwhile, I've been struck by the volume of people wanting a wider coverage of the limit, better infrastructure to emphasize it, and more activity to enforce it.
This seems to be reflected in wider evidence too, where public approval for lower limits has gone up after they've been introduced.
In one study, approval was at 72% before and hit 80% six months after it was introduced.
When it was introduced in Canton, some residents were disappointed that it wasn't rolled out soon enough on their own streets.
From my experience, very few people want speeding vehicles on their own street.
They want safer neighbourhoods for themselves, but also for the wider community.
Challenges facing the changes
From the start, the single biggest concern was that a 20mph speed limit would be ignored.
People wanted to see enforcement more than anything else.
Residents wanted speed cameras for 20mph limits, something that we're still campaigning for.
Where in-person enforcement's concerned, in 2017 South Wales Police wouldn't enforce 20mph limits at all, saying it was a policy decision.
That's now changed after community campaigning, but we still know that enforcement alone isn't a silver bullet.
The police still use quite restrictive criteria for which roads they'll carry out enforcement on, and these conditions rule out lots of urban streets.
And even where there is good enforcement activity from the police, we still see some drivers who choose to ignore the limit.
We know from data that a 20mph limit reduces average speeds, even without any other interventions.
Things aren't perfect with the 20mph zone, and nobody's trying to argue that it'll solve every problem, but there's some important things to remember.
There are – quite rightly – concerns with enforcement of 20mph speed limits, but these shouldn't be taken as criticisms of the limit itself.
You see the same issues around enforcement in areas where the limit's 20mph, 30mph, 50mph, or 70mph!
What the rollout in Canton has shown for me, my family, and the people who live here is that introducing a 20mph limit has meant where we live feels safer.
Change can be scary, or difficult to adapt to at times, but this isn't anything groundbreaking – don't we want safer streets for our children to play on?
---
Support our Nation today
For the price of a cup of coffee a month you can help us create an independent, not-for-profit, national news service for the people of Wales, by the people of Wales.