Opinion
Living with Hydrocephalus: my greatest accomplishment
Ant Evans
Hydrocephalus Awareness Week falls between the 6th and the 12th of March this year. Hydrocephalus (water on the brain, I've previously discussed causes, treatment etc in another article here) is a condition which impacts each individual differently. In my case, remembering names and directions has always been a challenge (I'll be forever grateful that Google Maps exists). Worrying had always been an issue for me, too. Though with a lot of support from family members and friends, that's more or less sorted, in that I now tend not to worry any more than your average person, I suppose.
Challenges
As I'm talking about a condition which means different things to different people, life with Hydrocephalus can look different for each person living with it. For example, I once remember mum mentioning a friend I had when I was about 3 years of age. He had Hydrocephalus, but unlike me, didn't require a shunt. I remember being blown away upon hearing this, though mum explained that he'd had his own challenges as a result.
Speaking of challenges, a continuous challenge for myself growing up revolved around education. That is why my greatest accomplishment is graduating from university.

Before I go any further, I feel I must point out that I don't see myself as anything special and this hasn't been written to give myself a pat on the back. My hope in writing this is that (whilst remembering Hydrocephalus means different things to different people) parents of children with Hydrocephalus who are told what my mum was told don't lose heart. And that any young person with Hydrocephalus who feels as I once did perseveres.
Bullying
My education wasn't the easiest of experiences. Mum had been told that, as I have Hydrocephalus, going to school would be pointless. Educating a child is never pointless and I sincerely hope no parent of a child with Hydrocephalus today hears what my mum was told. Anyway, I ended up starting school aged 6, a year later than I should have, due to points of view that belong in history books. Sadly, what followed were years of bullying, from children and teaching staff alike.
The worst experience by far was probably when I got beaten up by a group of kids in primary school one break time when I was about 8. Over the years, mum had withdrawn me from school on several occasions, insisting that something be done to deal with the bullying. The last time she'd done that, I was 15 years old.
Opportunities
On my 16th birthday, I got up and informed mum I had no intention of going back to school. You might think this would have resulted in an argument. But no. Mum told me she understood exactly why I'd come to that decision. What followed was a discussion about my opportunities if I didn't return to school. I remember very clearly, mum told me "With your disabilities, employers will use every excuse they can think of not to employ you. So you need to stay in education as long as you can and get as many qualifications as possible, so that they have no excuses".
Greatest accomplishment
Fast forward to July 2011, the day the photograph I've included was taken. I'd just graduated from Bangor University with a 2:1 in Linguistics and French. My greatest accomplishment without a doubt. But I also have no doubt that I wouldn't have gotten to that point were it not for my mum. So as far as I'm concerned, this accomplishment was as much hers as mine. I then went on to complete a Masters in Language Policy and Planning (also at Bangor).
Sadly, by the time I'd graduated the second time around in 2015, mum had passed away. But I don't need to wonder how she would have reacted upon hearing I'd gotten my Masters. This photo tells me exactly how she would have felt.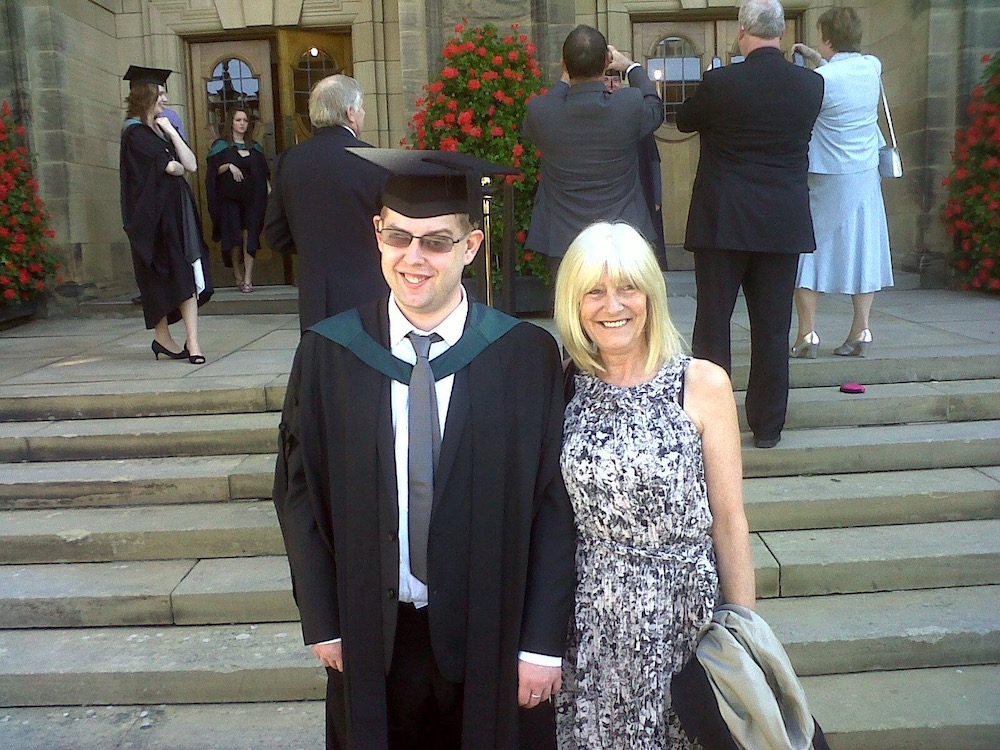 For more information about Hydrocephalus Awareness Week you can look here.
---
Support our Nation today
For the price of a cup of coffee a month you can help us create an independent, not-for-profit, national news service for the people of Wales, by the people of Wales.