Sport
Why Wrexham's new home shirt has not United the fanbase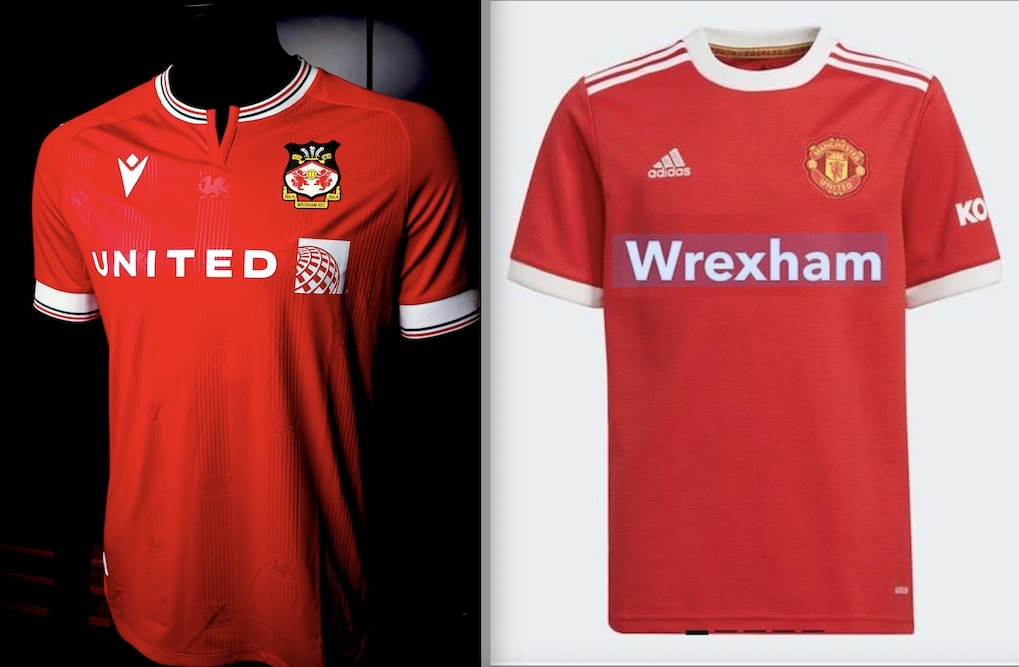 To paraphrase a well known saying 'you can't please all of the people all of the time.'
When it comes to football fans and the launch of a new club shirt, that phrase has never rung so true.
If there is one thing that will divide a fanbase, the appearance of a new kit will definitely do it.
Take Wrexham's unveiling of their eagerly awaited new home shirt launched in typically humorous fashion yesterday by co-owners Rob McElhenney and Ryan Reynolds, who teased their announcement with a graphic which read 'Wrexham United', which was enough to give fans kittens fearing a drastic name change.
To us the new shirt looks stylish, modern and the addition of Welsh and dragons woven into the designs is always a winner in our eyes.
However, it appears that the unveiling of the shirt sponsor United Airlines is causing something of a difference of opinion, and that's putting it mildly, in fan forums and Wrexham fan Facebook groups.
Like I said nothing causes more heated debate than a new shirt.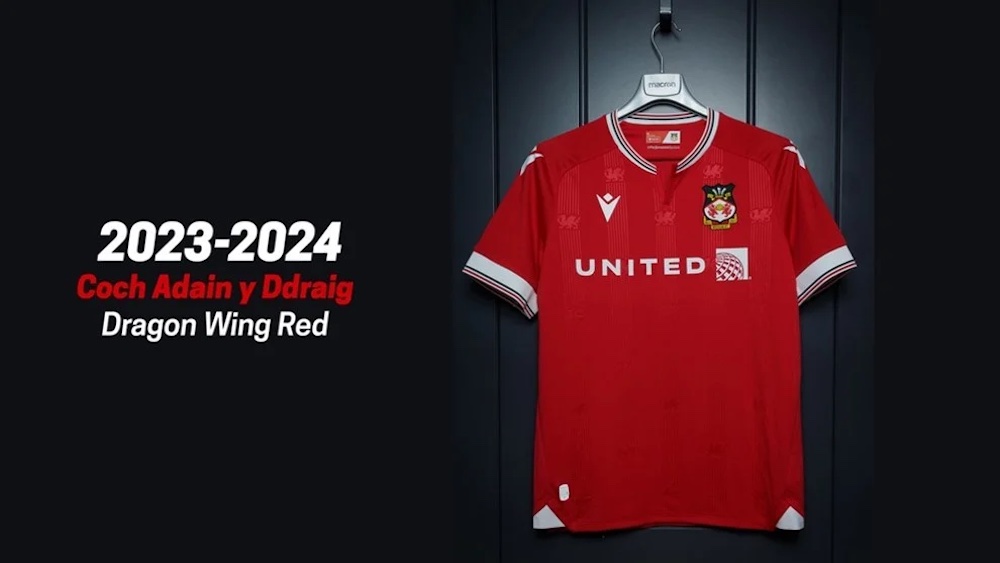 The main cause of the ire amongst those objectors appears to be the fact the shirt has the United Airlines logo on it.
Many Wrexham fans who may also have a lifelong affinity to Merseyside teams Liverpool and Everton also have a natural aversion to Manchester United.
With the logo on the front of the shirt just saying 'United' this has caused some fans to state they would never wear anything with United on it.
Those naysayers included such comments as:
'Is it April the 1st?'
'No thanks not walking around in anything with United on.'
'Couldn't think of anything worse to be written across it.'
'I also support Liverpool and would not be seen dead wearing anything with United on it.'
'It needs Airlines on it to get away from the United name.'
There were those however who took a much more reasoned, less knee-jerk stance. These comments included:
'Why is everyone kicking off. They've just given us millions. They could put pink spots on it for all I care!'
'It's a sponsor and it represents a major airline company that's paying us mega money, it doesn't represent another football club! I don't care what the shirt looks like or who sponsors us, its the crest on the front that matters! After years of being in the crap let's embrace what's happening to us!'
'Nice looking shirt. So long as the players will be proud to wear it so will I. This company have clearly given us a lucrative sponsorship of which we should be thankful. Onwards and upwards.'
'All these people saying 'not for me' Good! Means I might get a chance at a first team shirt this season 😂😂 it's putting money into the club to allow growth for the future, suck it up 😁'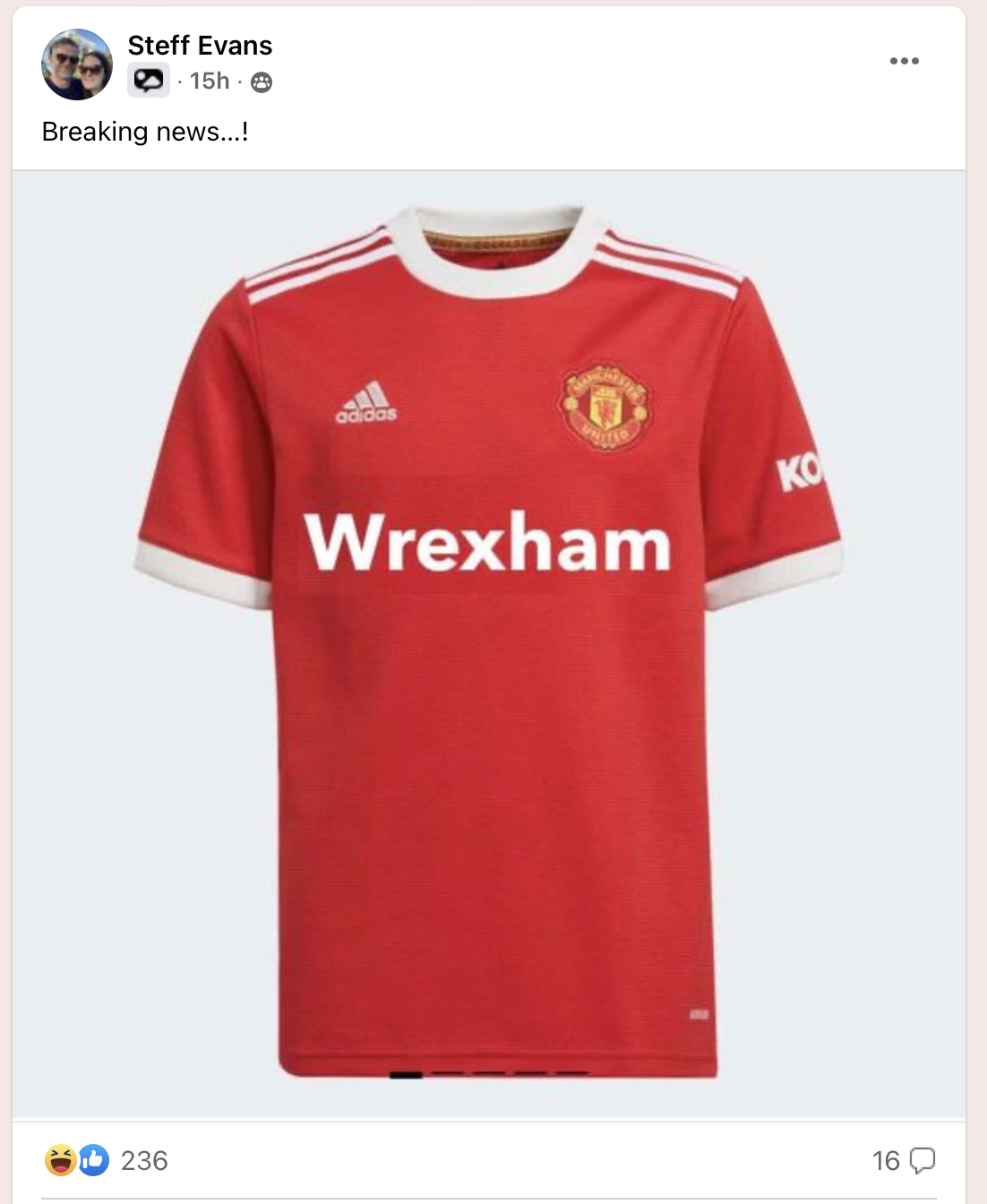 The difference of opinions did spawn some particularly funny graphic work. Big shout to Wrexham fan Steff Evans whose 'Breaking news' image of a Manchester United shirt with Wrexham on the front caused much hilarity!
Whether having 'United' on the front of a Wrexham shirt is a dealbreaker for some, what is certain is that despite these initial protestations the shirt will sell in huge numbers when it goes on pre-order at 9am on Monday, June 12 via shop.wrexhamafc.co.uk
Find out more about the shirt HERE

---
Support our Nation today
For the price of a cup of coffee a month you can help us create an independent, not-for-profit, national news service for the people of Wales, by the people of Wales.