News
Why I 'heckled' Charles and why on his coronation I say abolish the monarchy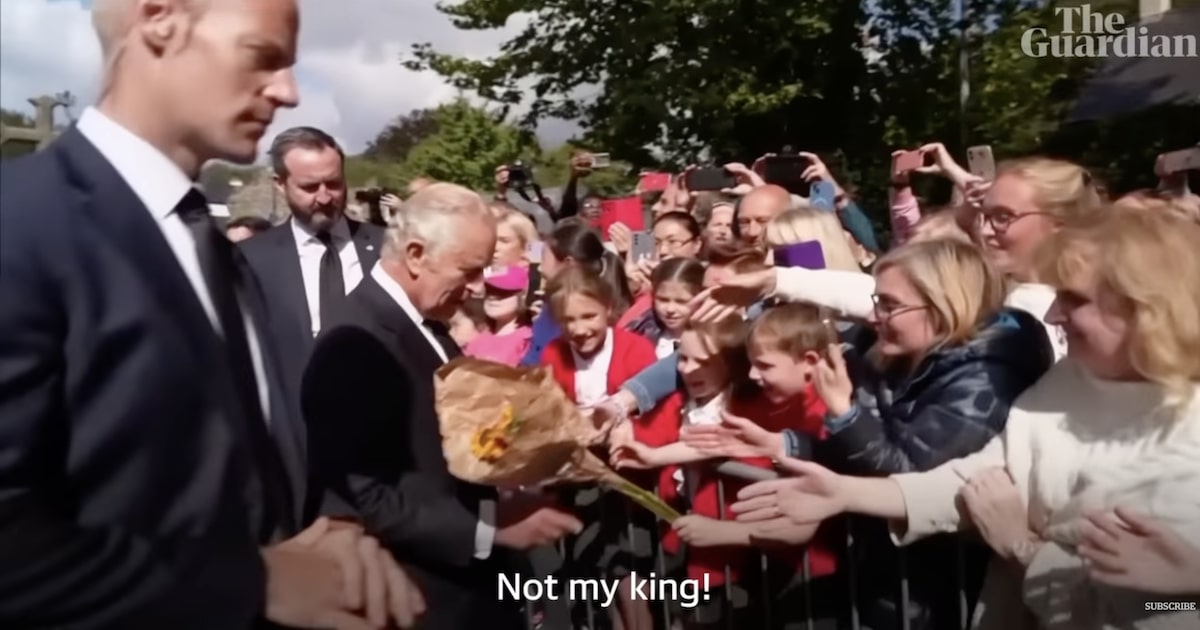 A Welshman made headlines worldwide when he confronted King Charles outside Llandaff Cathedral in Cardiff last year.
His words to the monarch were captured on camera: "While we struggle to heat our homes, we have to pay for your parade. 
The taxpayer pays £100m for you, and what for? 
Nid fy mrenin; not my king."
The story of one man's protest went global hitting the headlines across the globe and bringing into focus a growing sense of resentment in Wales towards the monarchy.
Now for the very first time he is speaking out about why he decided to confront the King and why it's time to abolish the monarchy.
While he wants to remain anonymous, he's decided it's important to speak today – the day of King Charles' coronation.
"The people of our country are suffering. And yet, we struggle to afford to eat and heat our homes. Following the death of Queen Elizabeth II we have to pay for the coronation of an unelected head of state despite him having a wealth of £1.8bn.
"How is that fair? How is that patriotic? I do not believe that it is either, and I'm convinced that most British citizens would agree.
"'While we struggle to heat our homes, we have to pay for your parade'. This was the central tenet of the message that I delivered to Charles on Friday 16th September 2022, outside Llandaff Cathedral in Cardiff. It was to highlight the grotesquely unfair disparity of British citizens having to pay for the wasteful procession of a man who could personally afford to foot the bill 10 times over, whilst those citizens simultaneously struggle in the cost of living crisis to afford basic necessities.
"This, however, was not my only reason for putting my civil liberty on the line. Far from it. There is so much more that underpins my belief in the need to abolish the monarchy.
"When you weigh up all the evidence, this is – at least in my mind – the only logical position to take.
"I had planned carefully what I would say to our new "King" if I had the chance. I wanted it to be something that was fair and inoffensive, and that resonated with the people.
"Believe it or not, I didn't set out to offend Charles. Rather, I merely sought to remind him of an uncomfortable truth. After all, when has he – indeed when will he ever – struggle to afford basic necessities like we do?
"While there was plenty more I could have said that, while legitimate, would be considered overtly crude or offensive, I didn't plan on saying anything that might warrant illegitimate arrest; something that unfortunately many others like me have suffered for simply exercising their right to free speech and offering a dissenting opinion.
"Why is it that, despite there being no basis in law to prevent you from opposing the monarchy – for example it isn't classed as hate speech – doing so can land you in jail? What is so special about this arbitrary family to mean that the very foundations of our country – freedom of speech and the rule of law – no longer apply?
"Fortunately, I managed to avoid arrest that day – much it seems to the disappointment of many on social media. After saying my piece, I swiftly ducked back through the crowd and made a quick exit.
"Later that day I returned home from work (indeed I am a taxpayer) and was pleased to see that my decision to make the "heckle" about the cost of living crisis had led to the clip going viral.
"Of course that's what I wanted, for the simple reason that it might draw renewed attention to the cost of living crisis – an issue that seemed largely to have been swept under the rug and at times felt almost entirely absent in the months following the passing of Elizabeth.
"Not because the issue had gone away of course, quite the opposite. Rather, because the mainstream media – with very few exceptions – clearly viewed it (and anything else for that matter, unless it involved The Queue, David Beckham, or Philip Schofield and Holly Willoughby) as entirely unimportant.
Here's BBC News Presenter Clive Myrie saying that the Energy Bills Price Crisis is "of course insignificant now" given the "gravity of the situation" regarding news of the Queen's health. pic.twitter.com/G0fDGmDFf4

— Tom D. Rogers (@TomDRogers1) September 8, 2022
"The BBC put it best at the beginning of the enforced period of national mourning: "[The cost of living crisis] is, of course, insignificant now given the gravity of the situation we seem to be experiencing with her majesty". No surprises then that the clip of the "heckle" was never shown by the BBC.
"In the heat of the moment, and following a dismissive "ugh" from Charles, the second half of my message, "We pay you £100m, and what for?" didn't quite come out as intended.
"It wasn't helped by the fact that one of the Special Escort Group – Charles' private entourage – slid in front of me, as if shielding a master from his serf. Clearly the remit of the most privileged man in the country is not one that should have to include actually responding to or even acknowledging the real issues faced by his subjects.
"In any case, online my message seemed to have been heard and understood – the fact of course that not only are we, the taxpayers, footing the bill of this weekend's proceedings, we also have to foot the annual bill of our royal family's activities. I however made an error on the day outside Llandaff Cathedral– it's not £100m per year, but more like £350m.
"The issue of money however wasn't even the main argument of my second sentence, but rather the "what for?". Because indeed, what do we really need the monarchy for? What is it that the monarchy will ever do for us that we couldn't do for ourselves?
"Between the period of enforced national mourning and today's coronation, inflation has remained at 10.1%, energy prices have risen by 80% on the back of a previous rise of 54% in April 2022, and mortgage rates have effectively doubled.
"Two in five UK households are now struggling with or falling behind on their housing costs and 4.2 million children are living in poverty. And yet, the taxpayer is still expected to foot the £250m bill for the coronation and a further £370m for palace refurbishments, while the state provides greater funding to Charles and his family than ever before.
"In the last decade, the funding provided to the Royal family by the state has increased more than 10-fold. Why is it that while we struggle to afford to pay for our basic human needs, we are footing the bill for Charles' life of luxury?
"As you would expect, I won't be tuning in to the coronation and, to put it plainly – it's time to abolish the monarchy."

---
Support our Nation today
For the price of a cup of coffee a month you can help us create an independent, not-for-profit, national news service for the people of Wales, by the people of Wales.