Sport
Paul Mullin on his F**k the Tories boots – and that song in McDonalds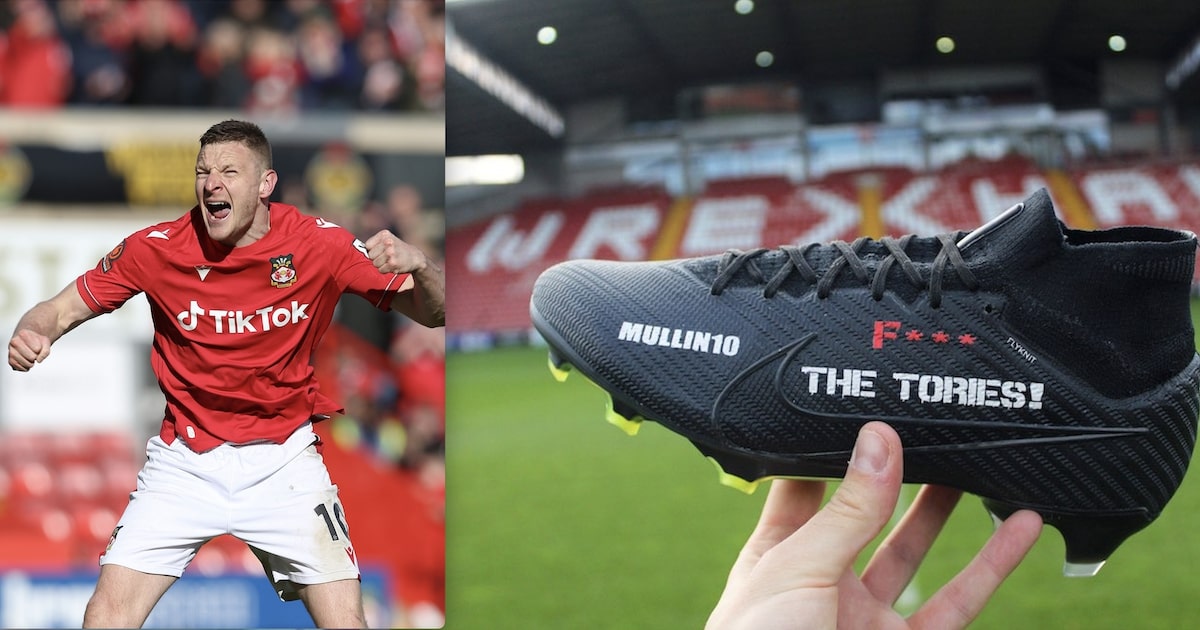 Wrexham's star striker Paul Mullin has opened up on the furore around the custom pair of boots he had made with the words 'F**k the Tories' on them.
Back in October the goal ace hit the headlines when he was banned from wearing a pair of custom boots he'd had made with artwork depicting the skyline of his home city Liverpool on one boot and the anti-Tory slogan on the other.
In a wide-ranging interview with GQ magazine the player explained why he had the boots made and why he's pissed off that the words on the boots offended some people – given the state of the country right now.
"The lad who [designed] the boots for me asked me if I wanted anything done, so the missus said why don't you get This Place by Jamie Webster and the Liverpool skyline, I thought it was class," he told the magazine. "And then I just thought on the other one, me and me mates are always messing around saying "fuck off you tory" because in Liverpool, that's genuinely offensive.
"But obviously at the same time, Boris Johnson was just doing whatever he wanted while people were missing their granddad's funeral, and heating bills are rising, and kids are eating out of food banks, so I just put that on me boots.
"Didn't think anything of it. I took a picture and put it on Instagram, and fell asleep. When I woke up it was on every TV channel, I go to the shop and it's in every paper, back in the car it's on the radio.
"The bit that really pisses me off is that three words on my boot offended the country a lot more than kids starving. That's what I can't get me head around."
There was also the little matter of a certain chant ringing out in Wrexham McDonalds at 2am in the morning after Mullin's side had secured promotion to the EFL after 15 years.
"It was quite mental actually, we walked in and the staff asked us to come behind the counter to get a photo," he recalls. "So we did and then I turn around and all the fans are singing "f**k the tories" to me. And I've joined in, and then the next day the headline reads in the paper "Paul Mullin leads fans in singing f**k the tories with two teammates". I'm like, put the teammates names in for one, and two, get it right! They started I joined in! Then I enjoyed me Maccies – six nugget meal, class. Medium coke."

---
Support our Nation today
For the price of a cup of coffee a month you can help us create an independent, not-for-profit, national news service for the people of Wales, by the people of Wales.