Culture
Letter from Mathry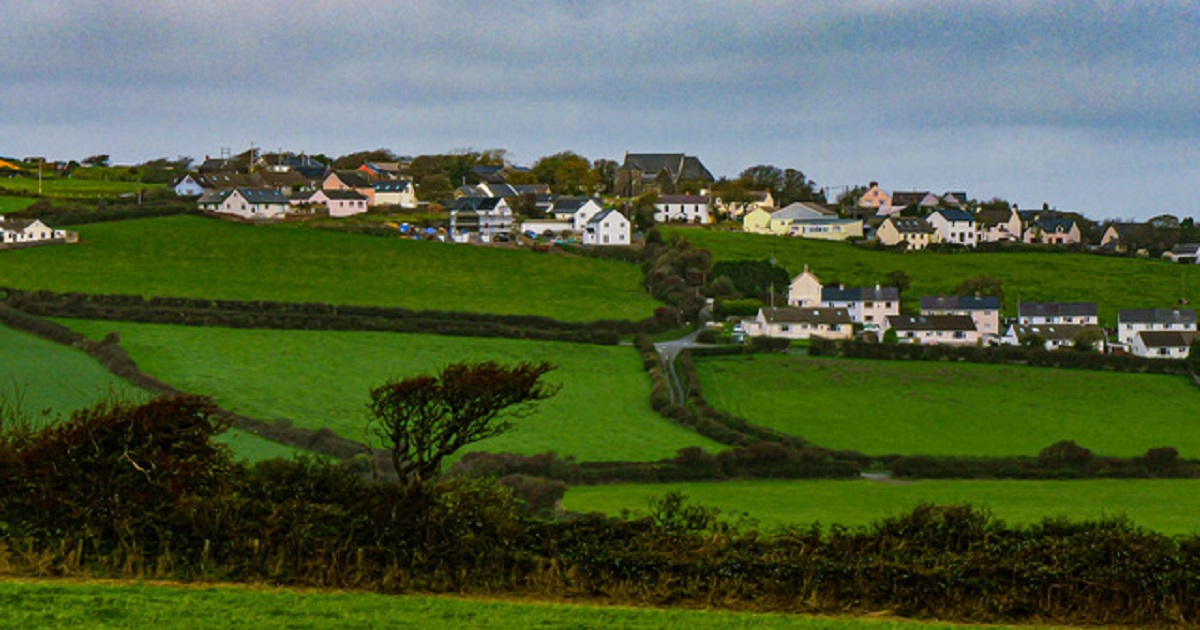 Diana Powell
'Where do you live?' they ask – those who have lived in Pembrokeshire for generations, or those who are visiting, in one guise or other. They like to know – as if pinning you down in the map of their minds helps to fix who you are.
So I say 'Mathry' and watch their heads nod, because, yes, they know that name.
Some recognise it from estate-agent's parlance of 'the sought-after hilltop village'; some, because they've seen the sign, as they travel between Fishguard and St David's, and notice it rising above the road to the north… while the farming locals will know it, because, once upon a time, Mathry was a centre of their agricultural community.
'Hill-top' it certainly is – a description which has defined it through the years, marking it as a site of an iron-age fort, giving its occupants a commanding view of any enemy approaching below.
Later, its prominence allowed it to serve as a beacon for the ships coming in to Abercastle, its little port – the steeple on its church showing them 'safe harbour'.
And it called the pilgrims to it, so they could rest on their way to the holy city – a Celtic Christian community, with pagan antecedents, witnessed by its stones.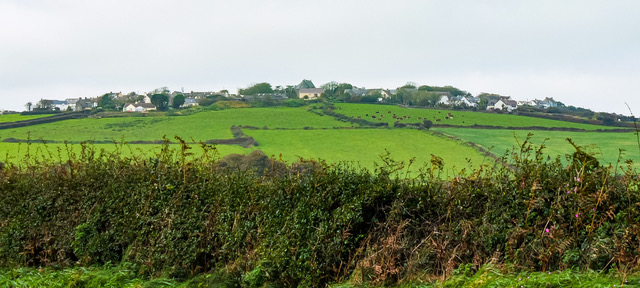 Fading away
Lockley calls it 'a perfect example of a medieval hill-top village' and yes, a charter was granted for a market and fair at that time. And Gerald of Wales, churchman, scholar, traveller held the prebend, among his many other responsibilities. Lockley also says 'All roads seem to converge there' as if it is an important destination – the place to be.
But he was writing in the nineteen-fifties. Now, it's all too easy to pass it by, because, little by little, it's been fading away, with so much that was important gone.
Yes, the church holds fast; it has a pub and a café (of debatable opening hours), and a village hall. But, otherwise, 'was', 'used to' are the constant refrains.
The school has gone; its magistrates' court; the garage; that mart and fair. The village shop – its General Stores and Post Office – has closed to acquire fame as a faded façade snapped for postcards or photographer portfolios, its detritus of rural consumerism still on display.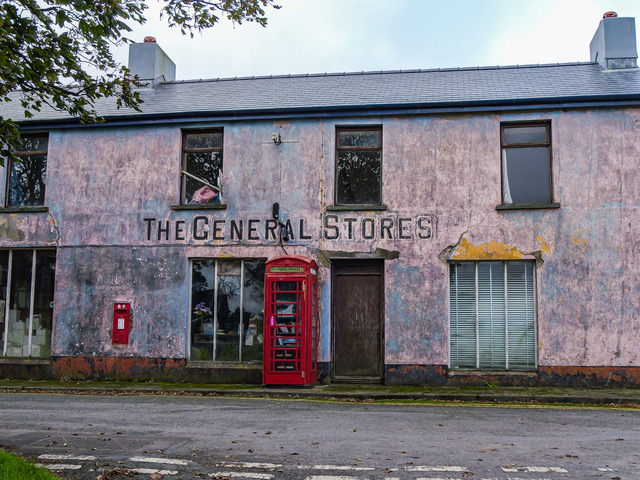 That landmark for the safe-keeping of mariners – the church steeple – was blown down in a storm centuries ago. A new one was scheduled to be included in the present building but was ruled out for cost considerations. To lose two steeples…
So that, now, more has gone, than remains.
Yet, still, people know Mathry, so that's what I say. I've even become the 'writer from Mathry' or 'Mathry writer.' Belonging is useful in author's parlance, too.
Except… I don't really live there. Yes, from my bedroom window, I'm level with its roof-tops. And yes, we're within its parish boundaries. But, no, not in the village itself…
And if there's little enough left in Mathry, there's even less where I am, caught half way up, and half way down, lost among trees, clutching at the source of the Cleddau for some kind of geographical labelling, but never quite finding it among the thorn and the bracken.

Neither here nor there
How can I explain to those who ask that I'm neither here nor there, the middle of nowhere, floating in a liminal space? They won't understand.
But the liminal is where stories exist.
It may take a while, but, in the end, they will come to you. A few lines read in an old book, or a lone fact spotted during the idle trawling of websites. Some words overheard while waiting for your car to be repaired ('the largest farm in the world!'). Or… no more than the wind, blowing up the valley or through the leaves.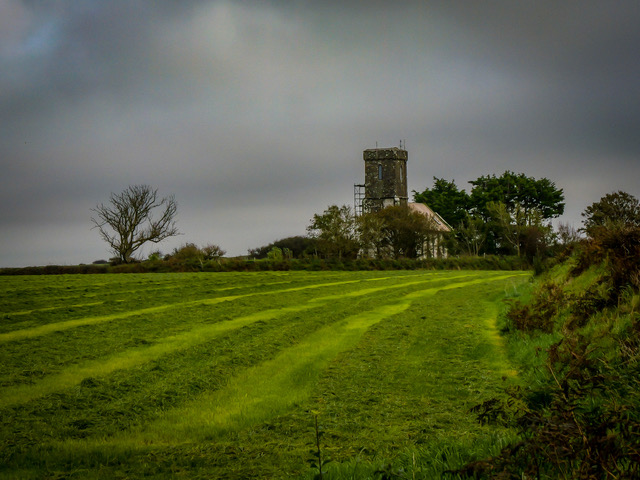 Dour church
Follow a footpath up, and then on, down the narrow road, to see a dour church across the fields – another 'in the middle of nowhere'.
And when you get home and research it online, you find it is St Edren's, part of Mathry parish, where folk tradition holds that eating the grass of the churchyard will protect you from rabies.
Look across to the village, but to the east, and there is a ridge cutting between two roads, above some marshy land. Llanbedr-y-Moch. And there it is, in Francis Jones's 'The Holy Wells of Wales', part of the route Saint Gwyndaf followed on his way from Whitchurch to Llanwnda. 'Llanbedr-y-Moch, near Mathry.'
And then, maybe, these hints will find their way into your own stories – so that when you are writing about holy wells, this – 'Can we not stop on this ridge? A pleasant spot, a stream below, a fenland around.'
Or there's a short story you know you must write, after seeing that distant church.
'The church always looks lonely. It stands there on its own, the nearest dwelling hidden behind the trees. It belongs to a saint no-one knows anything about, or why he should have a church here.'
If a place has stories, it will always exist. And if it's true of my 'nowhere' dwelling, it's even more true about Mathry.
 They are there, waiting to be written, perhaps by me, perhaps by others. A tale about the seven saints – the boys rescued by St Teilo – who give the church the legend of its name. Or about the shipwrecks off its port at Abercastle. What about John Hearne, the 'gentleman of the road' buried in the churchyard? Or Rebecca Mabws, the preacher-lady?
And Jemima Nicholas, who may or may not have let the attack to repulse the French on their Last Invasion of Britain. (I think that one may have been done already!). For it seems, now, that Jemima was born in Mathry.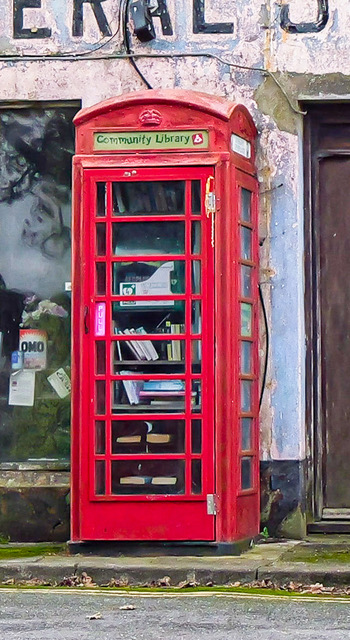 Stories which might end up in an old telephone box, outside a neglected General Store. A kiosk shape-shifted into a community library.
Stories which will keep Mathry alive for a long time, yet.
Stories which people will know, even if they can't match them to a place.
Diana Powell's latest book is 'things found on a mountain' which is published by Seren Books. It is available from all good bookshops and you can read an extract here.
---
Support our Nation today
For the price of a cup of coffee a month you can help us create an independent, not-for-profit, national news service for the people of Wales, by the people of Wales.